Bench Racing Ammo: New Nation
The great part of every round of the Amp'd Mobile AMA Supercross series is the fact that each race tells a different story, which gives us our ammo for this online feature. Well, this past weekend's race in St. Louis had a couple interesting storylines and our guns are loaded.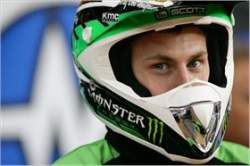 New Zealand's Ben Townley
photo: Simon Cudby
First of all, let's start with the winner,
Ben Townley
. It was the first career win here in America for the Monster Energy/Pro Circuit Kawasaki rider as a professional. (He told us yesterday in the
Monday Conversation
that he raced at Ponca City, OK, when he was 12, so we're not sure if he won there as an amateur or not.) Regardless, the win was a landmark victory for the modest New Zealander, as he has always dreamed of racing and winning in the U.S. Now that he achieved that goal, he goes down in the AMA record book as being the first New Zealander to win a Supercross Lites main event in the United States, joining a very elite group of foreigners to have won Lites main events. Let's look at that list…
One of the most successful foreigners to have competed in the 125cc class is France's Mickael Pichon, who tallied 10 victories and two Eastern Regional championships (1995, '96) on a Pro Circuit-backed KX125. Pichon wore the #101 through his tiddler dominance, and you'll probably be reading more about that on our website tomorrow.
Another Frenchman who experienced success on the small-bore indoors was Stephane Roncada. "Ron Ron" won seven main events and took the 2000 Eastern Regional championship while at Yamaha of Troy.
David Vuillemin is regarded as probably the most successful French import. Although he has the least success out of himself, Roncada and Pichon in the 125cc class (with four career wins), DV12 made up for it in the 250cc class with seven career 250 supercross victories, and he's still here thriving on the Xyience/MDK Motorsports Honda team. Pichon nor Roncada have ever won a 250cc SX. (If you're wondering why we never mentioned Jean-Michel Bayle, remember, we're talking about foreign riders who have won in the 125cc/SX Lites class only.)
Finally, the newest French import is Christophe Pourcel. He is the defending MX2 World champion, and he has already proved that he will be a contender in the Supercross Lites class after he won the Phoenix supercross back in January.
The Central American country of Costa Rica is well represented in the Supercross Lites record book by Ernesto Fonseca. In his rookie season in 1999, Fonseca came out swinging on his YZ125, winning the first five East Region races before Brock Sellards put a stop to him in Pontiac, MI. Ernesto won the final two races of the season going away, and won the title over Nick Wey by 53 points.


After a less than stellar 2000 season, Fonseca switched to the West Coast—and to a four-stroke—and won another championship for YoT. When all was said and done, Fonseca left the 125cc class with 12 wins (five of them coming on a 250F), which ties him with Brian Swink and Damon Huffman for third on the 125cc…er…Supercross Lites overall wins category.
Australia is listed on the 125cc supercross class all-time wins list with Chad Reed. In 2002 Craig Dack invited Reed over to contest the Eastern Regional SX Series for Yamaha of Troy, and Reed delivered them six 125cc victories and a championship, as well as adding another country to the win list.
South Africa is another country on the 125cc supercross wins and championship list with Grant Langston. The 2000 125cc World MX Champion has parlayed that world success to the regional supercross level and won the 2005 Eastern Regional championship as well as the 2006 Western Regional championship, riding for the Monster Energy/Pro Circuit Kawasaki team. Langston is now a member of Team Yamaha, but is currently sidelined with a collarbone injury.
Finally, the last country with at least one 125cc supercross victory is Mexico! The rider was the likable
Pedro Gonzalez
, who was just featured last week on Racer X Online in our popular
Where Are They Now
feature. Gonzalez won the 1994 San Jose SX on his way to finishing second overall in the Western Regional standings, behind Team Suzuki's Damon Huffman.
So, what country will be next? Eh, I'm putting my money on Canada!
For our second part of today's installment of Bench Racing Ammo, we noticed the St. Louis Supercross Lites main event was a family affair for not only the Alessi brothers, but also for the Sipes'. SoBe No Fear/Samsung Mobile Honda's Ryan Sipes finished 8th, while his younger brother, Justin, riding for the Gateway Cycles Kawasaki shop, finished 15th. It was the first time both Sipes raced together in a professional race, as this is the Justin Sipes' rookie season. Good job, guys.
But they lost "best brothers" award in St. Louis to the more famous Mike and Jeff Alessi, who went fourth and seventh, respectively.

The next set of brothers? Anyone heard of the Hahns?