Monday Conversation Part 2: Ben Townley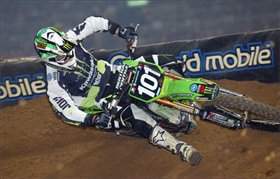 Ben Townley took his first victory in America in the heartland of America, St. Louis.

Ben Townley hails from New Zealand, has a strong following in Europe and is now trying to make a name for himself on the AMA circuit. His first year here was a wash, as "BT101" only got to do two races due to injuries. And when he finally raced his first East Region SX last weekend, his bike locked up at the halfway mark as he was challenging for the lead.
Seven days later, Townley, the 2004 FIM World MX Champion, finally realized the dream that's been deferred for a year and a half: He won a thrilling 250f main event in front of 58,000 Amp'd Mobile Supercross fans in St. Louis. Needless to say, the kid who's been working closely with Ricky Carmichael and friends since he got here felt great about his first U.S. triumph. He's also ready to get to work on win #2.
Racer X: You knew it was going to happen, eventually, but did you think it would take this long?
Ben Townley: Oh, that's just part of the racing. Sometimes things are tough to swallow. We just try to learn from it and not make those mistakes again. Obviously just being able to watch and learn as much as I can and put in the practice laps I can has helped. We had to swallow a hard one again, but we managed to come back and get a victory out of it.
As far as what it means to you personally, let's start out with the lessons. You won a race the same night as your teacher, RC, won a race, and that's not going to happen many more times.
Oh, I was stoked! To come over here and be a part of what I have been with Aldon [Baker] and Ricky—they didn't have to do that for me. I just got to say a big thanks to them, and the entire Carmichael family. But emotionally, what it means to me is just huge. I mean, I did numerous interviews after the race, and have said this has been a life-long dream ever since my parents brought me over to race Ponca City when I was 12 years old. It was to see if I could measure up against American kids, and that's what I wanted to do ever since then—to come over and race here. I achieved that dream, so for my whole family it was a huge occasion. It was the pinnacle of my racing so far, not to say that winning a world championship wasn't amazing, but I've always dreamed about winning a supercross.
The Townley clan was all smiles Saturday night

This has been a long time coming. To be on the sidelines for a year and a half—I mean, the last time we saw you at 100 percent was the des Nations in 2005.
Yeah, no doubt. I still don't think that I'm back to there yet. I say that just because this is supercross and I'm still learning every time I go out there. This was also the first that I've led a supercross, so that's a huge thing for me to be leading. And I think that I'm only going to improve, and then come the outdoors I think that I'll start to get back to where I was in '05.
And you have a lot of good friends over in Europe, from Stefan and Joel Smets to Tyla Rattray and all the guys you raced with. Do you feel that those guys are happy for you, since you're representing them in part.
Yeah, it's two different worlds. Racing motocross full-time to being over here and racing motocross and supercross in the same season, it's just completely different. So, to be able to achieve a chance to do both at such high standards, it's a big accomplishment for me. I still follow the racing over there, because it was a big part of my life, and it's something I still keep in touch with.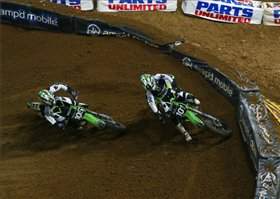 The final lap battle between Ben and his teammate Darcy Lange (105) was one for the ages!

Tell me about the last lap and the battle with Darcy Lange, and even earlier with Ryan Dungey right there.
Yeah, I didn't even realize Ryan was there. I thought it was just Darcy the whole time. I actually just watched it five minutes ago, and I didn't feel that I was the fastest out there, especially after seeing it on tape. There were a lot of things that I wasn't doing fast enough, but I was leading and there was that whoop section after the triple, and they were launching five or six whoops deep in there, and I wasn't doing that. So, my speed wasn't what it should've been. But the last lap I was pinned! I went over the finish line and saw the white flag, and I couldn't believe that I led 14 laps and then Lange was going to win the race. But at the same time, I thought to myself to not throw this away. It's still going to be a great finish. But then we came over that triple and in to those whoops, and I saw what he did for once, so I did that finally and got a great drive in to the turn, and he made a small mistake. I wasn't going to triple going into that last one before the start straight because it was just getting so sketchy. He went for it and ended up going down, and the rest is history.
But finishing the race, I know I looked like a goon on the finish line, but I just couldn't believe it. I put my hand on my head and I was just so emotional. To have my dad there, my mom and sister listening in, it was huge for my whole family.
I also have to throw out a thanks to everyone at Pro Circuit. It was a tough one last year, and they didn't get to see me ride much, but they stayed behind me. Mitch, Bones, Aaron, Jack, Craig, my mechanic, everyone there has been behind me. Back here in Florida, Ron and Lucy, and Aldon—everyone is keeping me on a straight road when things were down. But now things are going good, so we have to cherish these moments.
You've got four days to get ready for Daytona.
See you DC!