Where Are They Now: Pedro Gonzalez
Back in 1994, Pedro Gonzales was riding for Mitch Payton's Pro Circuit Kawasaki team and came away with a win in the 125 AMA Supercross at San Jose. It was his only win as a professional but his love for racing kept him on the pro tour for many years after that. I've been fortunate to meet a lot of the riders but Pedro has to be one of the nicest guys that you have ever met. When I was visiting Pro Circuit I ran into Pedro and we sat down in lobby and talked for a while.
Racer X: Pedro, how are things?
Gonzalez: I'm doing really good and staying busy.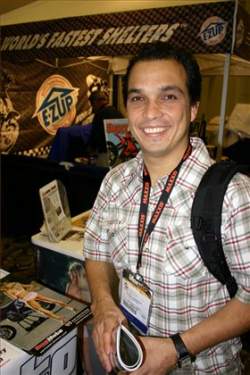 Pedro Gonzalez won the '94 San Jose 125cc SX

photo: Mike Farber

What exactly are you doing in Monterey?
I have a business down there and it's called PG Racing. It's a local shop and I also have a distribution company that import things from the U.S. that we distribute in Mexico.
What brands are you carrying?
Fox, Pro Circuit, Twin Air, Works Connection, One Industries, and Asterisk. I've been really busy trying to distribute those companies in the shops in Monterey. Plus, I also have a team that I run, Kawasaki Mexico.
How many riders do you have?
I have two riders right now. One in the Expert class and the other in 85cc class. We're trying to raise him up through the ranks.
Are you still riding yourself?
I get to ride about twice a week but I only race when I have a chance or it's a big race. I would love to race more but I'm so busy with running my business. But when I do have a chance to race it's still really fun.
Who are some of your sponsors?
We ride for Kawasaki of Mexico, we have Fox as our clothing sponsor and Pro Circuit does are engines. We also brought on Tecate as a sponsor last year.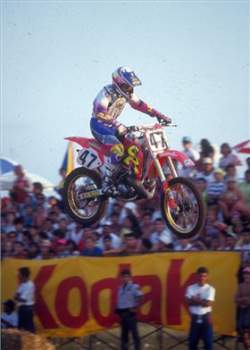 A rare photo of Pedro at the '94 Acapulco SX

photo: Davey Coombs

Didn't you have Tecate as your sponsor when you were racing in the US?
Yes, they sponsored me back in 1998.
So what brings to California?
I'm just out on a tour right now visiting the companies that I distribute, and trying to get some more business for my company. I'm going to hit some of the supercrosses this year, too.
Are you going to do some riding in California?
For sure, it's always fun coming up here and going riding.
Can you still throw down some fast laps?
I try but I'm not in great shape like I use to be. I can still go pretty fast but then my arms feel like their going to fall off from holding on so tight! I enjoy riding so much more now because it's for fun and I have no pressure on me.
Pedro, it was good talking to you and I'll see you at the races.
Thanks, Fubar