Welcome to the future. Saturday night will see #4 hanging out in the press box with the old #3 and Ralph Sheheen, leaving the battle for #1 down to #7, who used to be #259….
Wow, it's harder than I thought to make this exciting. With Ricky Carmichael parked, Chad Reed hurt, Kevin Windham off his game and James Stewart absolutely on fire, this weekend's second Anaheim SX could be a long night for everyone but Team Kawasaki. Stewart has been riding with a smooth confidence that does not bode well for the competition, and he's already done something RC failed to do in his record-collecting career: he's swept the first two rounds of AMA Supercross.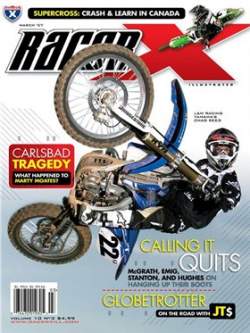 The March issue is here!
Funny thing about Reed: We were already at the printer with the March '07 issue of
Racer X Illustrated
when he crashed and hurt his shoulder a couple weeks ago. No way anyone can blame the old cover curse on that! He's still playing catch-up, though with RC gone, he stands to lose only three points if Stewart wins again, rather than the five per race he's lost since New Year's.
Regardless of JBS' dominance, CR's injury, and RC's departure, CBS will be there to show the AMA Supercross class the very next day at 12 p.m. EST, with West Coast viewers able to wake up to supercross at 9 a.m. You can also listen to all the action live as Jim Holley and Jason Weigandt call the race on www.supercrossonline.com beginning at 10 p.m. EST Saturday (7 out West). And don't forget to watch the laps and lap times click off all day long at www.amaproracing.com.
One thing's for certain: With Ricky up in the CBS booth, the opening ceremonies should be a little shorter than they've been (though Live Nation gets two thumbs up for both the RC tribute film and the cool James Stewart-gets-ready clip).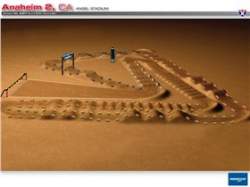 Here's the track design the riders will be seeing tomorrow
In the Lites class, Kawasaki is a perfect 2-for-2 there too. A longtime war seems to be shaping up between mop-topped
Ryan Villopoto
and his imported teammate
Chris Pourcel
. Villo is the AMA Motocross Champion; Pourcel is the MX2 World Champion. They have traded wins this season, and with Pourcel all signed up for 2008 and '09, we could see them battling for years to come. And it sounds like healthy rivalry too, as Pourcel himself told
Racer X
this week through an interview with
Eric Peronnard
.
"The riders here are really good and everyone is very professional," Chris told us. "Ryan is obviously very fast, and I like to race with him because he rides clean and we can have a good race and not worry about bumping each other." To read the whole interview—including how he got his truck towed because they don't have the same handicapped-parking signs in France—click here.
It's also high time for Josh Grant to show up. He was hurt at Anaheim 1 and tried his best to even ride, but last weekend he had a miserable night in Phoenix. He should be all healed now, and ready to make something happen for his struggling SoBe/Samsung Honda team.…
Actually, not everyone on that team is struggling:
Travis Preston
has put in the two best back-to-back weeks on a 450 of his career. No longer a factory rider, Preston says the pressure is off and he's able to really enjoy his riding and training. I asked him yesterday what was going on with the abundance of recent injuries on the racetrack.
"We're just on two wheels, and you're bound to go down sometimes," said #11. "You've got so many guys racing, and it's not like the same guys are getting hurt every year. It's just your time and it's bound to happen. And everyone is trying to keep up with Ricky, Bubba and Chad, so everyone is trying to push harder and harder and you're bound to make mistakes." To read more, click here.
This week's Troy Lee Designs Racer X Poll Question asks, With RC off, who will be next up on the box? Vote here.
Another struggling Honda is that of MDK's
Nick Wey
. He's been hurting ever since he tore a muscle lifting weights at his in-laws' house at Christmas (seriously) and is just now able to ride again during the week.
Simon Cudby
got up with him yesterday for a cool, short film over at Racer X Films and learned that Nick lost $1,510 on that red-flagged start in Phoenix: $1,500 in "Holeshot Heaven" money from Progressive and $10 that he had bet Villopoto that he would get the holeshot.
Speaking of that start, David Vuillemin told us he's very, very sore, but otherwise he should be good to go tomorrow night. His frightening crash, captured on the SPEED TV helmet cam, is destined to be a staple on future highlight reels. It also made for some good Bench Racing Ammo: When was the last time an AMA Supercross was red-flagged?
We went back to 2003, when the Daytona SX heat race was red-flagged, but then we found out we had overlooked an unfortunate crash from last year, as Racer X reader Jeff Whitton reminded us: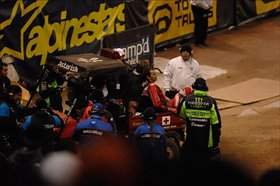 DV12 took a beating, but he'll be back for A2
photo: James Lissimore
"Last year's San Diego SX was red-flagged and restarted after the tragedy involving James Marshall. It happened right in front of me, and I was holding my breath, and squirming in my seat, watching though binoculars as they tended to him. I watched it on TV the following day. I've kept it on Tivo and have been afraid to watch it, and afraid to delete it, but just watched it again now. It was in Heat Race #2 on February 11, 2006. It deeply affected me then, and it still makes my heart sink now. Good luck, James."
Whitton added a reminder to visit this important site: www.HelpJames.com.
Funny thing about Phoenix: There were two Red Bull sky divers at Phoenix for the opening ceremonies, but only one made it into the stadium. Here's how our friend Frank Hoppen described what happened in his weekly letter to editors and advertisers: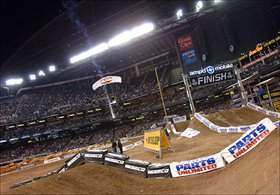 This guy made it into the stadium; the other guy didn't
photo: Carl Stone
"Well someone, who must know how to make new friends very well, thought it would be the right time to have 2 Red Bull parachute jumpers bring in the starting flag to the floor. That genius idea meant opening that darn roof. Only that just one of the two made it into the stadium, though. The other one did miss the opening and was flapping like a fish on dirt on the roof trying to find a way down. So the roof was kept open because with all the mechanical movements involved in closing it and not exactly knowing about the second Red Bull guy location, who wanted to have body parts raining down onto the spectators that early in the night?"
The guy eventually made it to the podium and then gave a funny interview to Terry Boyd on the podium. And that makes this a good place to turn it over to Ping, who knows what really happened: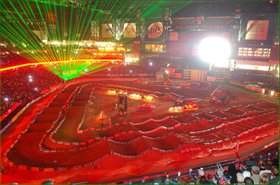 The Phoenix SX had an eventful opening ceremony
photo: Steve Bruhn
Last weekend's Amp'd Mobile Supercross opening ceremonies including the Red Bull Air Force skydiving team. Two of their guys,
Eli Thompson
and
John Devore
, were supposed to drop in through the hole in the stadium roof and glide down to the start straight to land. The crowd ooooh'd and ahhh'd as the first guy came cruising through, but nobody ever saw the second guy. I happened to be in the Red Baron Racing suite with several of the Red Bull staff and they started freaking out when we didn't see the second guy. About twenty minutes later, both Red Bull divers came walking into our suite and explained to us what happened.
Apparently, when John pulled his chute, the hand brake got tangled in the parachute rope and he was spinning out of control because he couldn't grab it. He was just about to cut the primary chute and deploy the backup when he grabbed the handle. By that time, he explained, he was several hundred feet off to the side of the stadium and didn't think he could make it into the hole on the roof. He veered off and landed out in a parking lot beside the stadium. Those guys are good; completely crazy, but good.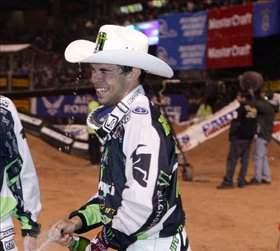 Brokeback Gosselaar
photo: Steve Bruhn
You've probably seen pictures of
Chris Gosselaar
wearing a white cowboy hat on the podium in Phoenix. He and
Ryan Villopoto
made a bet before practice that whichever rider turned the slowest lap time had to wear one of two cowboy hats they bought the night before at dinner. Sadly, Goose was just off Ryan's best time and had to "cowboy up" when he made his way to the podium. Okay, guys, how about
Abe Lincoln
top hats for Anaheim this weekend? Goose, you up for it?
Red Bull had a special guest in Phoenix: top Formula One driver Scott Speed. Scott has attended the first two rounds of the series and is a fan of supercross racing. You don't often get the chance to talk to an F1 driver, so I couldn't help but pick his brain. Here's what I found out: his last name really is Speed! I was certain that it was a stage name and his real last name was a polish mouthful, like, Tripkowitski or something. But he pulled out his driver's license and proved me wrong.
The general consensus among F1 drivers is that NASCAR racing is silly. Those aren't his exact words, but you get the idea. He also said that by the time a driver reaches his mid-thirties, he is past his prime in Formula One racing. The average budget for an F1 team is between $200 million and $500 million for one season. He lives in Austria now and his team is located in northern Italy. He thinks about 90 percent of the girls he's seen since he's been back in the U.S. are fat. He's also a big MotoGP fan. Scott got his start racing go-karts in the bay area in California.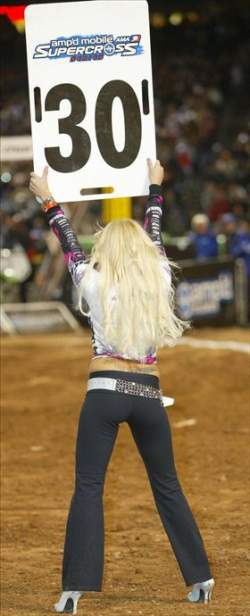 Okay, Scott Speed would probably agree this girl isn't fat
photo: Steve Bruhn
Coincidentally,
Jesse Rooke
was in the Red Baron suite with us, and he used to race against Scott in some of the bigger regional carting events before he got into building choppers. It's a small world.
Chris Pourcel is the real deal. It's difficult for me to give new French riders props, but this kid is just good—really good. One of his strong points is his great starts. The Monster Energy/Pro Circuit Kawasaki rider has been at the front of both main events this year. His starting style is also drawing some attention. Apparently, he releases the clutch enough that the tension on the chain causes it to tighten and jump around wildly just before the gate drops. The rear wheel is on the verge of breaking loose before the gate even drops. I've seen guys try this technique before, but it is usually at an amateur race and I am usually laughing. Pourcel is making it work, though. Look for it when you watch your next SX.
Just got a call from Grant Langston, who is already bored out of his mind after breaking his collarbone during a Thursday test session last week. I spoke with him last Wednesday to see how he was doing from his Anaheim crash, and he told me everything was good. Well, the next day, he hit a false neutral at the test track and things weren't so good. He also has a bruised lung, which is causing some problems. The doctors won't operate to fix the break because of complications that can occur with anesthesia when someone has a bruised lung. GL won't know if he needs surgery for another week or so.
In the meantime, he and his wife, Chelsea, took their son to the Monster Truck Jam at Anaheim stadium. While Damon Bradshaw wasn't at that round, the whole family did fall in love with the El Toro Loco truck.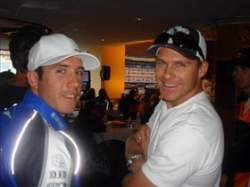 Langston is on the sidelines, going loco (and watching El Toro Loco) with Albee
photo: Scott Wallenberg
I talked to
Shaun Palmer
this week. He was on his way back from a skier-cross event in Idaho where
Daron Rahlves
absolutely destroyed everyone. Ever-confident, Palm thought he might have had something for the former World Cup downhill, but a big crash kept him off the podium. Still, he was amazed at the talent Daron has on skis. Shaun is recovered from his blown Achilles tendon that he suffered right before the winter Olympic Games last year and is focused on the Winter X Games that start next week. He will compete in the Snowboard-cross and Ski-cross events there. His biggest competition on skis will be Rahlves, who recently retired from full-time racing but is having some fun at events he couldn't compete in before (like the X Games).
Seth Wescott
and several others will be competing for the gold medal in the snowboard event.
"I'm ready to go, man," Palmer said. "My ankle is good. Moto fans are going to be pumped on my gear at X Games. I can't really say more than that right now. For a long time I've wanted to race the nationals during the summer and something always falls apart at the last minute. I think I might finally have something set up for this year. I'm pretty stoked about it."
John Farris dropped me a note this afternoon about the new ESPN the Magazine, which features a story on Palm where he talks a lot about his motocross jones. Check it out on newsstands now.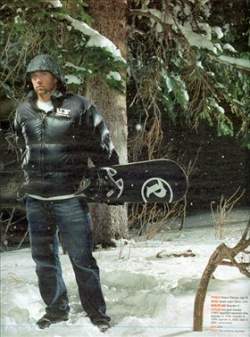 Palm is featured in the latest ESPN The Magazine
Palmer's deal for the nationals is performance-based, but Shaun says he will definitely put in the work to make it happen. He is going to head down to southern California shortly after the X Games to start riding and training.
The annual Oakley basketball game is back! The unique court inside the Oakley headquarters has been destroyed to make room for more office cubicles, but the game will go on, Friday, February 2 (before Anaheim 3) at Evolution Fitness in Murrieta, CA. Chipotle is providing food, and Oakley will have prizes for the winning team and a DJ spinning all night. This is one of the great industry get-togethers of the year, so don't miss it. Players contact Ryan Fedorow at r.fedorow@oakley.com to get signed up. The gym is located at 39400 Murrieta Hot Springs Rd., Murrieta, CA 92563. Warm ups start at 5:00 pm and the first game starts at 6:30 pm.
Finally, one of the first things a factory race team does with their bikes is take the screen out of the air filter cage. The screen is there to keep flames from getting to the filter when the bike backfires and catching it on fire. When it's removed, the bike gets more air and makes more power as the bike's RPMs climb. You don't hear a lot about bikes catching on fire from removing this screen, but it happened recently to Broc Hepler. The factory Yamaha rider tipped over at the test track several weeks ago. Sometimes, depending on how the bike is lying on the ground, fuel can spill out of the carburetor and get on the filter. When he picked it up and tried kicking it back to life, it backfired. Right about there is where things got strange: The filter caught on fire, and when Broc saw flames pouring out of his airbox, he dropped the bike and backed off. His bike then slow-roasted to the ground, like a game bird on a rotisserie. Remember this story the next time you think about pulling off that screen.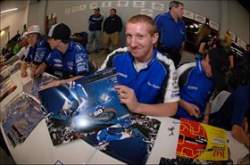 Hamburger Hepler apparently overcooked it one day
photo: Carl Stone
That's it from Ping. By the way, there's a feature of Ping doing some hillclimbing in the new
Racer X
. In fact, some of the event he attended is already on
Google Video
.
Also if you have some free time this weekend, check out: www.ridehappyracing.com.
Earlier this week, we let folks know that Spanish rider Manuel Rivas is having trouble even getting from race to race, even though he's qualified for the main each of the first two weeks. He was 18th at Anaheim with stock suspension—the airline lost his trombone case!—and then 12th in Phoenix, which is the best ever finish for a Spanish rider in AMA Supercross.
Lots of people responded to Racer X Online's call for help for Rivas, and Manu and his father (neither of whom speak much English) were very grateful. Mike Showen has been acting as a liaison, and the Spaniard may end up in a truck here before too long. Thanks to everyone who responded, and keep an eye out for #921.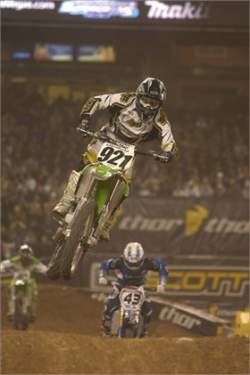 Manuel Rivas is trying to make it happen here in the USA
photo: Kinney Jones
And now a related letter:
"It might not make the headlines there, but now that you mentioned the accomplishment of Manuel Rivas, rider Antonio Balbi was the first Brazilian to make his way to an AMA Supercross main event. Actually, it was his second. The first one was on 2005 Anaheim 1 via a draw – so I'm not counting that. Congratulations to both.
Renato. Sao Paulo, Brazil
Here's something Weege added before he left for the Big A:
The big talk at Phoenix surrounded bike setup, as the riders are so closely matched nowadays in speed and training that often a few small engine or chassis setting changes can allow for big gains at the races. Case in point is Travis Preston: Travis said his Sobe/Samsung Mobile/Factory Connection Honda 450 produces a more "four-stroke-type" power than his full-works factory Honda bike last year, which produced very little engine breaking and had lightning-quick response. His '07 FC bike, with a Pro Circuit engine, revs slower and has more compression breaking. With two fourth-place finishes, the combination is obviously working for Travis.
This is also true for James Stewart and Ricky Carmichael. Last week at Anaheim, Carmichael said he struggled to get his front end to bite in the 180-degree corners (like the right-hander he crashed in), so the Makita Suzuki team tucked in the forks on his bike to improve turning. It worked much better, as Ricky collected the fastest lap times in practice—a big difference from Anaheim, where he was almost a second off of Stewart's pace.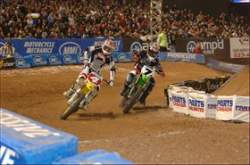 These guys were just fractions of a second off each other each lap
photo: Carl Stone
Conversely, Stewart was struggling with his bike. James ran the same settings that worked so well for him in Anaheim, but the Phoenix track was much faster and the dirt was quite a bit different, so his bike didn't work as well. The Monster Kawasaki team chased it through practice and the heats and finally had it working right by the main event, where he was able to find the combination to run with and ultimately defeat RC.
After the race, Carmichael said the race came down not to raw speed, but line choice and bike setup. "I don't think that James found much speed, but he found some fantastic lines. As far as raw speed, there was no difference. James just had the track nailed," said Carmichael.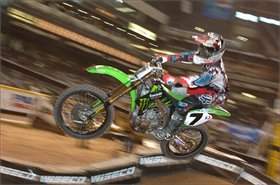 Without Ricky around, how hard will James push it?
photo: Carl Stone
"James and myself are so close on speed that it does come down to the bike," added the five-time AMA SX Champion. "My bike works great in areas and so does James'. It just depends on the track at times. Obviously, there is a little bit of skill involved and twisting the throttle. It's just so close, and I think we're riding the bikes as fast as they'll go and as fast as the tires will allow us. It's getting a lot like car racing it seems like."
Similarly, Stewart said he and his team will work to find more options on bike setup, so the next time they get to a new track and find their old setup doesn't work, they'll be ready to make changes.
We spotted this on the weekly notes from Live Nation: "Director of Supercross Dave Prater says this weekend's track will include seven lanes instead of the typical six. He also added that they toned down the technicality of the track. 'This weekend's track will be less technical and more wide open, which will make for some great racing.' He also added that it's going to be 'different' seeing Ricky Carmichael in the television booth instead of on the track. 'The guy's had an amazing career.'"
A reader sent this note along-- "This would look nice in your lobby"—plus an eBay Motors link.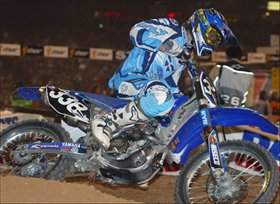 J-Law is still getting support from Dave Osterman
photo: Steve Bruhn
Remember when
Jason Lawrence
thanked departed Yamaha of Troy team manager
Dave Osterman
from the Anaheim 1 podium? Osterman doesn't work for the team anymore, but he's still helping. He posted this on the Mototalk message board this week:
J-Law and Kyle Cunningham:
Guys,
Keep 'er going. A2 this coming week. J-Law, it's all about the points. Keep 'er steady. Lap times are right there still. "A2 buddy"......
Kyle, good job. Top 10 finish. Baby steps, she'll come around. Stay focused, watch all your rivals. Learn. You'll be fine, more to go. See you guys at A2.
Dave O.
Check out this note from AMA Board Chairman Dal Smilie:
"Remember the entire Klinger clan, formerly of Cycle News? They have just put out a second issue of RV Xtreme magazine. Lots of the RVs seem to show cycle-related graphics or cycles.
"In olden days I used to haul my MX bike in a 1948 Studebaker pickup, with a can of bulk oil in the back. Getting to that nostalgic age (racing AHRMA after all) I found another 1948 Stude to haul bikes. And our 1949 Curtis Wright trailer. I saw similar trailers at an early version of the AMA's Vintage Motorcycle Days, at AHRMA's Steamboat Springs races and at the Del Mar vintage motorcycle event. This Stude doesn't require bulk oil, using an updated V8 and everything else!"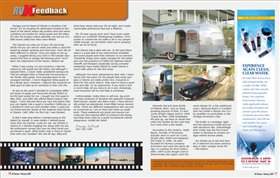 Dal Smilie's super-retro hauler is featured in the new RX Xtreme magazine
Two-stroke fans aren't going to like reading this note from
Pat Schutte
:
"Boss Racing's Robbie Malinoski drove a prototype Yamaha snowmobile to victory in round three of the 2007 WPSA PowerSports Snowmobile Tour at Brainerd, Minnesota. History was made today, as this was the world's first National Snocross victory by a four-stroke sled. Just as Doug Henry gave Yamaha the first ever Supercross victory by a four-stroke motocross bike (the YZM400 in 1997), and the first ever National Motorcross victory by a four-stroke (the YZ400F in 1998), Malinoski's historic performance on a special Yamaha sled proves Yamaha's four-stroke technology can go ski-to-ski with any two-stroke out there.
What's Scott doing this weekend in Boise, ID? This!
Do you enjoy watching The Motocross Files on Speed TV? This Tuesday, fans near Fullerton can get together with producer Todd Huffman and some of his crew, beginning around 6 p.m., to watch this week's episode—featuring none other than Jeff Ward—at the Slide Bar, which is located at 115 W Santa Fe Avenue (half-block east of Harbor on Commonwealth). The phone number is 714-871-7469. The show starts at 7:30 p.m. West Coast time.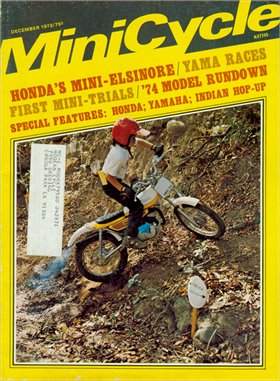 That's Jeff Ward on a Yamaha, in the fall of 1973
By the way, I've been digging into the Dick Miller Archives for old photos and magazine covers for each show, and I stumbled upon a rare 1973
Minicycle
magazine cover featuring young Ward doing some trials riding on a Yamaha!
The next subject for the show is Danny LaPorte, followed by a special episode featuring the late, great Jim Pomeroy. I have an amazing collection of photos of Pomeroy, and hopefully some of them will get on that show.
Take a look at the "e-cards" Larry at SupercrossKING.com created. "The graphics are not mine, but I got permission to use them in this fashion. I think the kids will like them."
If you haven't seen it already, make sure you head over to Racer X Films to watch Simon Cudby's great new piece on Billy Laninovich. A special thanks to Poor Bailey for helping us out with the music on this one. This San Fran Bay-area band is really good, so be sure to check them out.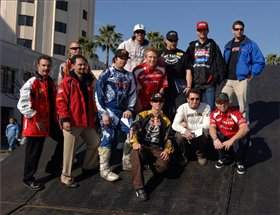 These riders attended the Loma Linda Big Air Kids Fair

photo: Carl Stone

Racer X contributor Carl Stone was on the go this week in Southern California, visiting both the Chaparral Fan Appreciation Party and Steve Bauer's annual MX benefit for the children at Loma Linda Hospital. Here's his report:
The 5th Annual Big Air Kids Fair at the Loma Linda Children's Hospital was once again a big success. Freestyle riders Jeff Tilton, Ronnie Renner and Myles Richmond put on a spectacular show for the kids and their families in the parking lot.
There was a big crowd outside watching and from all the oooohs and ahhhhs, followed by clapping it was more than obvious all had a good time watching the show. This was followed by going inside the hospital with Honda riders Jeremy McGrath, Kevin Windham and Andrew Short.
All the freestyle riders also came inside after the show along with Li'l D (Donnie Elmer) from FMF. They all went from room to room to meet the kids passing out posters, shirts, banners, backpacks, stickers and toys. Stopping at each room and talking to the kids and signing everything they gave them followed by pics if they wanted one.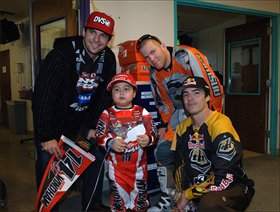 Windham, Richmond, Renner, and a very happy fan
photo: Carl Stone
Most of these kids are really ill but it was obvious by the smiles on their faces as the riders gave them stuff and talked to them it really made a difference, and for the time the riders were there they seemed to forget their pain and troubles. They all had the biggest smiles on their faces afterward, and it was really a great feeling to see that.
Special thanks has to go out to Steve Bauer for once again putting this all together. At the end of the day all the riders were given copies of crayon drawings the kids had done of motorcycles jumping. Everyone that got one was stoked—these kids really are amazing.
So to all involved in this day and all the companies that donated the items that were given out, a big thank-you from all the staff at the hospital—they really enjoyed it also. Can't wait to do it again next year.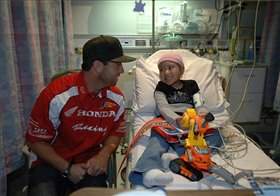 MC shares a laugh
photo: Carl Stone
Finally, the Loma Linda Children's Hospital dedicated this year's Big Air Kids fair to Marty Moates, purchasing a deed to a star in Marty's name to honor the late motocross legend. Marty was a big supporting of the hospital and the kids.
Congratulations to Kristen Young, who was just hired by Next Level Sports Management to handle the PR for all of Kawasaki's race teams, which include supercross/motocross, road racing, off road, ATV, drag racing and Team Green amateur motocross. I'm sure she'll be very busy this upcoming year!
Racer X Canada contributor James Lissimore posted a photo report from Phoenix which you can check out right here.
Now, to some very sad news. First, from Paris-Dakar:
Last week we mentioned Elmer Symons, the South African who perished in the Dakar rally. Elmer was a great guy and well-liked on the GNCC circuit where he raced in '06, as well as every other stop he made all over the world preparing for Dakar. The good folks at Powersports GrafX have created a link where you can donate to Elmer's family, who had incurred quite a bit of debt paying for Elmer to race the event. Check here.
And finally, a farewell to Marcel Fortney, one of the nicest guys you might have ever met around the motorcycle industry. Marcel suffered a fatal heart attack on Monday afternoon at his home in Paso Robles, CA. He was 49 years old, and was most recently the U.S. agent for AGV, the Italian helmet maker, through Parts Unlimited.
"It's unbelievable that Marcel is no longer with us," said Parts Unlimited chief Jeff Fox in a press release. "I've known him since he was representing Pirelli back in the '80s and there wasn't a more knowledgeable or personable guy in the business."