5 Minutes With ... Travis Preston
Travis Preston has had a long, strange career. The tall, charismatic Californian has climbed through the ranks, going from privateer team to satellites like Fast-by-Ferracci Husqvarna, DeMarini Suzuki and Factory Connection Honda, all the way to factory Honda. But his tenure there didn't go well, and he's taken a step back down to Sobe/Samsung Honda… And he's doing better than ever! Preston nailed down a pair of fourths the last two weeks in Amp'd Mobile Supercross, and now he's poised to take a step up on the box now that Ricky Carmichael has begun shifting down. From our conversation yesterday, Travis sounds ready.
Racer X: Travis, congratulations man. I have to say that as far as AMA supercross goes, you've been the revelation of the season so far.
Travis Preston: Yeah, it's been a good run. It's just two races, but I'm hoping that I can keep the ball rolling.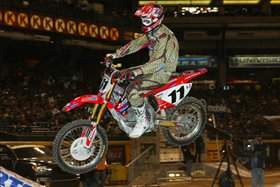 Preston is on a roll right now

photo: Steve Bruhn

Well, it's been a tough time for Honda, there's no doubt, with what happened with all of the guys on the main team, and your teammates, Kevin Windham and Josh Grant, have been struggling. I know that you've been around through thick and thin, so you have to be excited right now.
It's just working out good. Even though I don't ride for Honda, I still ride at the Honda track. And if I ever need anything, those guys are always willing to help me out, so I'm just glad that I'm still up there and doing well. As long as a Honda is up there, it's good.
When you got back from Canada, how were you feeling about the season? It was an interesting couple weeks up there, and like you said in that interview on SPEED TV, you were thinking about just going out and ramming people, because you got more attention for what happened with that than your results.
[Laughs] I guess I got proved wrong on that one. I got two fourths now, and people are actually paying attention, so that's nice.
Right now, why is supercross so tough? Why are so many guys hurting?
We're just on two wheels, and you're bound to go down sometimes. You got so many guys racing, and it's not like the same guys are getting hurt every year. When It's your time it's bound to happen. And everyone is trying to keep up with Ricky, Bubba and Chad, so everyone is trying to push harder and harder and you're bound to make mistakes.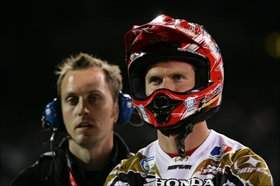 Shawn Ulikowski and Preston are reunited for '07

photo: Simon Cudby

It was obvious in Phoenix that it was a tough track. But you were one of the few guys out there that seemed to have no trouble passing.
And I don't know why… I just think I had really good luck in Phoenix and I was just in the right spot at the right time. When I passed Tim Ferry, I think there might've been some lappers in there or something, and I don't think he knew that I was even that close to him. I actually passed him around the outside, so I got lucky on that one. And then Kevin ran into a lapper and made a mistake, so I got by him. It just seemed like everyone was making these little mistakes here and there, and I was just in the right spot at the right time.
Have you had a chance to talk to Kevin or anything this week? It seems like he's having a tough time getting out of the gate this year.
I don't know… I've ridden with him at the Honda track this week, and we really don't talk about stuff like that. But at the Honda track he looks good, and his bike is working good there, so I don't know what goes on during the race.
Speaking of the race, this weekend there's an open spot on the box, and obviously you're right there, along with Kevin, Timmy, Mike Byrne, Villy and Wey… Does that give you any extra drive? Because someone is going to move up, regardless of what happens with James and Chad.
I really don't think about that. I just think one of the reasons why I'm doing good this year is because I'm not even really setting goals or anything. I don't care what place I get. As long as I ride the best that I could ride, I'm happy. And I'm aware that it's going to be a little easier to get on the box, but it's not going to change the way I ride. I'm still going to push as hard as I can.
Speaking of not having goals and stuff like that, is the pressure different now that you're not on Team Honda?
Yeah, it's a lot different, for sure. You just see how hard all of those guys work, and they have so much money invested. It's like, you're on Team Honda—that's the team. They do everything perfectly. You don't have any excuses over there—they take care of everything.
They're the New York Yankees of what we do.
Exactly. But it's not like they're putting pressure on me; I'm putting pressure on myself because I know the kind of opportunity I have. You just kind of overwhelm yourself. Now with the Factory Connection deal, it got thrown together at the last minute. I've been friends with the owners for a long time now, so they were like, "Just go out and do what you can." I'm just kind of kicked off to the side, doing what I want, and it seems to work good for me.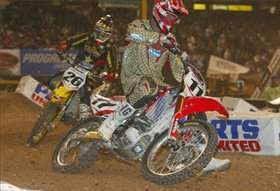 Will Preston be on the podium this weekend?

photo: Steve Bruhn

It certainly paid great dividends, because January is the month to make things happen for a manufacturer, a team, or an aftermarket company. You mentioned how Team Honda is there for you if you need anything, but how is your bike different from last year? Is there a noticeable difference?
[Laughs] Uh, yeah! There is a big difference in weight. Honda, they have so much money, everything is lighter: lighter handlebars, discs, everything. Our 450 was right on the limit. Factory Connection doesn't have that kind of money, so my bike is a little heavier, but it doesn't seem like it's affecting me on the track when I'm racing. My motor setup is a lot different. I actually figured out in the middle of last year what kind of motor setup I like, so this year I went to Mitch at Pro Circuit and told him what I wanted, and he said they could totally do that. So the motors are really good, and the suspension has been working great. I don't know—I just feel really comfortable on the bike right now.
I've been lucky enough to be at the first two races, and I have to say that I'm really happy for you. I think a lot of people have long pulled for you, back since the days when you were coming all the way to Englishtown as a privateer!
Yeah, the bikes are working a little better than the Huskys did, so I'm happy with that.
Well, I know it's a busy week… Oh hey, for the opening ceremonies, do you think you'll get to stand on one of those really tall pods that they raise up?
You know what, that was something else! It's like they just had some guy out back just welding something together. That thing was not looking stable at all…
When Tim Ferry got on his at Anaheim 1, I swear that he tried to squeeze the pole with his knees. He was so scared, he looked like a D-rider doing a one-hander when he waved! Anyway, good luck this weekend, in both the opening ceremonies and the main event.
Thank you!