5 Minutes With ... Christophe Pourcel
The biggest surprise in AMA supercross so far is no surprise to French fans, as well as anyone on the international motocross circuit: teenager Christophe Pourcel, on loan to Monster Energy/Pro Circuit Kawasaki for the winter, won the Phoenix SX this past weekend, leading the Lites main from pretty much start to finish.
Pourcel, the MX2 World Champion, is still learning the ropes of living in the U.S. and learning English, as you are about to read. But with the help of our friend Eric Peronnard, the co-organizer of MiniMoto SX and the Maxxis Endurocross, we got the scoop on this fascinating young rider from France.

Racer X: Christophe, what has been the strangest thing to happen to you since you came to America?

Chris Pourcel
: At my apartment, there were a few parking spaces that were always open, and I parked there when I needed a spot, but when I came out one morning, my truck was gone and I thought it was stolen! I went to the reception area of the building to tell them what happened and they asked if I parked in a "handicap spot." I said I don't know what that is, and they showed me the sign and I recognized it, so they told me my truck had been towed away! They were very nice and called the towing company and got them to return my truck for free since I didn't take the wrong spot on purpose. I have one other story about riding at Beaumont, but I'll tell you that one some other time.
What do you like about it here?
I really like to the bike tracks and the speed. I also like my pickup truck, and there are a lot pretty girls here!
What do you think about the GP circuit?
I think the GPs are very good and getting better. For me it was a good challenge to be able to start there and learn my technique and strategy against some great competitors.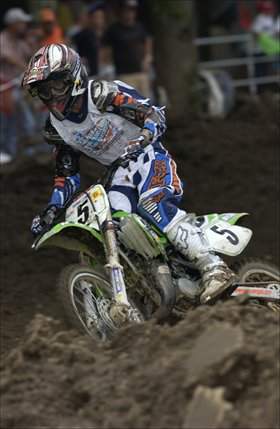 Pourcel raced at Loretta Lynn's back in 2003 on a minibike

photo: Steve Bruhn

A lot of people compare you to JMB. What do you think about that?
I think it's a compliment, but since I've never seen him ride, I don't know if it's accurate or not. I would like to have a successful career like he did, but I really just want to be Christophe Pourcel and be known for how I ride and race and who I am.

What path do you think your career will take?
If I am successful, I think my path will be very clear and I will stay and race in U.S. for many years after I come here full-time next year.

When do you want to go the 450 class?
I think after my two years with Pro Circuit in 2008 and 2009 I will be ready to move up to the 450.

What was your motivation for coming to the U.S.?
After winning a FIM World Championship at a young age, I thought the next great challenge for me would be to come race in America, and it's something I've wanted to do since I was a young rider, especially after I rode Loretta Lynn's and the U.S. Open in Las Vegas as a mini rider.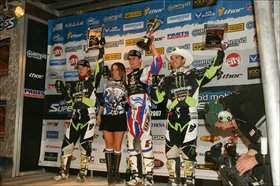 Pourcel enjoys racing with his teammates

photo: Paul Buckley

What do you think of the competition here?
The riders here are really good, and everyone is very professional. Ryan is obviously very fast, and I like to race with him because he rides clean and we can have a good race and not worry about bumping each other.

Besides your goals in racing, what else do you want to do while you are here?
I want to keep improving my English so that I can make a good interview on the podium and speak with people I meet here and when I travel.