The press conference at Anaheim's Diamond Club was going swimmingly when the second big shock of 2007 sent ripples through the gathered crowd: while Kevin Windham was speaking at the podium, the news hit the Blackberrys and cell phones of interested parties that Mike Goodwin, the founder of supercross, had been found guilty in the two-decades-old murder case of Mickey and Trudy Thompson.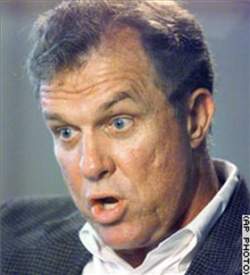 Michael Goodwin was found guilty
AP photo
The folks there who knew the notorious Goodwin—Live Nation's
Roy Janson
and
Charlie Mancuso
and
Michael Prince
, the AMA's
Steve Whitelock
, Goodwin's fellow promoter
Gavin Trippe
, five-time world champion
Roger DeCoster
—all reacted with absolute surprise. How, after a six-day deliberation and a lot of circumstantial evidence, could 12 people come up with such an emphatic verdict? No matter what anyone believed about Goodwin's innocence or guilt, everyone was surprised with the verdict.
Six years ago, before he went to jail to begin the long wait for his trial, Goodwin showed up unexpectedly at the same press conference. He was already a legend, of course, and also looked upon with a hint of fear and curiosity—sort of like O.J. Simpson walking into the press box at a football game. A couple of folks thought he might do the same yesterday, if the verdict was innocent, which most expected. It wasn't, and double murder "with special circumstances" means Goodwin will spend the rest of his life in prison, unless he wins on appeal (a very real possibility, given the evidence).
Tom Mueller, who knew and worked with Goodwin, wrote me that he and Ed Youngblood (AMA president during Goodwin's reign as High Lord of Supercross) were both "sorta numb…. As for those of us who crossed Goodwin's path in the '80s, we all have personal anecdotes and opinions, but murder and life in prison? Hard to digest."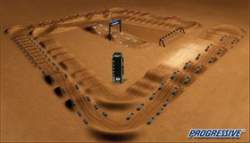 Here's the layout, one last time
But the bottom line on the whole drama came from
Jeff Emig
: "So does he hang on YouTube or rot in his cell?" Welcome to the 21
st
Century.
Media has changed a great deal since Goodwin's 1972 "Superbowl of Motocross" ignited the whole supercross movement. There's some black-and-white 35mm film of that race in my filing cabinet, shot by Steve French, but no one seems to have any movie footage. Tomorrow night's Anaheim opener will be much different: There will be live TV (a first for a supercross opener), live internet coverage (so you can listen to the "pre-game" and the heat races), live transponder scoring (who's going to win practice?), and almost-real-time photos going up on websites everywhere. That's where I will start this week's Racerhead.…
This weekend's race in Anaheim is wired! There's no excuse for any fan to miss the action of Anaheim 1. For starters, the race is being broadcast on SPEED live! Starting at 10:00 P.M. EST, you will be able to watch every gate drop from the comfort of your favorite chair, couch, barstool - whatever! There's a few Racer X staffers that have a little bash planned, and you should too! But if you miss out on the live broadcast, the race will be shown on SPEED the following day, Sunday, January 7, at 6:00 P.M. EST. The Supercross Lites will run on SPEED the following weekend, January 13, at 6:00 P.M. EST.
But let's say you have to work Saturday night. Well, if you have internet access, you're still golden, as you can tune in to the Supercross Live! Audio Webcast on www.supercrossonline.com and listen to Jason Weigandt and Jim Holley as they bring you the play-by-play. If you are listening online, you might as well scroll over to the www.amasupercross.com website and keep track of the @The Wire Live Scoring and Timing. We'll then take the lap times from the race and analyze them next week for Scott's Sign of the (Lap) Times.
I took a quick lap around the Angel Stadium parking lot as soon as I woke up on Thursday. TFS was set up right underneath the Big A (great 'net reception), which means he was already working on his Weekend Window. Visit there to see his blog about what's going on in and around the Anaheim track.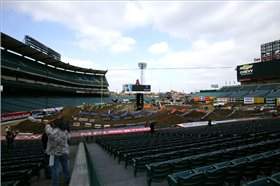 Press day offered a track preview for many riders
photo: Steve Bruhn
Then I saw
Mike LaRocco Sr.
He and
May LaRocco
are still at it, working with Live Nation well past the time their son Mike's epic career ended last winter. Motocross people, through and through.
The AMA's Kerry Graeber was working the cell phone and making sure their rig was ready to go. The AMA has a new deal in place with Live Nation to sanction the series through 2019. Peace in our time—and Vance's time too. That's good news for everyone, in my opinion. Now we all need to get to work on the nationals (especially a better TV deal, said Kerry).
You know, the AMA had a tough year last year. Lots and lots of transition. Some tough decisions, some hard feelings. But that now appears behind everyone, and with membership at an all-time high of 280,000, it's time to focus more than ever on its stated mission: Rights. Riding. Racing.
As far a supercross goes, Racer X had a nice chat with Steve Whitelock about the coming series and some future issues in our Suzuki Between the Motos discussion on Wednesday. If you missed it, check it out.
The press conference was packed, but Chad Reed wasn't there. The story that first broke at Racer X Online about his shoulder injury was the first big shock of 2007. L&M Racing's Larry Brooks sat in for Chad at the press conference and explained that "Chad's feeling pretty rough right now. He's hurt, straight up."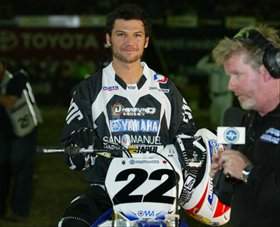 Can Chad Reed ride through the pain? Larry Brooks thinks so.
photo: Steve Bruhn
The good news is that even with his cracked shoulder blade, chipped collarbone, and slight concussion, "Structurally, he can race," explained Brooks. "It's just a matter of, can he take the pain?" As we all learned in supercross before, Chad is one tough customer. He's ridden through pain before; he will have to do it again.
The scuttlebutt among some of us in the press corps was that Chad may try to ride, do a lap or two in his heat, maybe roll out for the LCQ, and then use one of his two provisional starts to race with the least amount of laps to strain his shoulder. Then if he can get third or fifth or tenth, it's better than nothing. But there's a chance it's going to hurt too much. As we explained earlier this week, it will be a game-time decision.
Speaking of the press corps, I owed Guy B of VitalMX.com an apology. He did an excellent Year in Review from 2006 and we were going to post it last week on Racerhead, but a snafu left it off the final version. Better late than never: Check out this cool slideshow.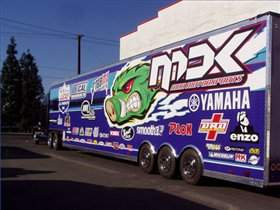 "Hog Heaven" will be crowded at Angel Stadium

photo: Steve Bruhn

Scott Kandel was excited to talk about the 11-man Wonder Warthog Racing team that will line up this weekend. They also unveiled the new big rig that will serve as the headquarters for many a privateer. Here's hoping that a bunch of those guys make the main tomorrow night.
Ernesto Fonseca was also at press day, and he looked really good. The Fonz has accepted his fate, but he's also working hard to improve it every day. With wife Caroline at his side, he'll go far. The fans miss him, but the sport is glad to have him around again.
Team Honda continues to ache. Besides Davi Millsaps and Andrew Short mending their injured legs, and Jeremy McGrath just now riding again with his injured neck, it's up to young Tommy Hahn to lead the way in the interim. But Hahn went down pretty hard himself this week, and he might also be a game-time decision. He's got some bruised ribs too.
Former Honda factory rider Warren Reid was listening in on the press conference and noticed this quote from Team Honda's currently injured superstar Davi Millsaps: "So I'm just walking around with a bone.…"

Warren wrote, "It sounds like this boy needs to get on a bike quick and relieve some of that pent up pressure from the long injury layoff (or is that "pant" up pressure?). I noted on the Cycle News survey that Millsaps is still rated as the sixth favorite!"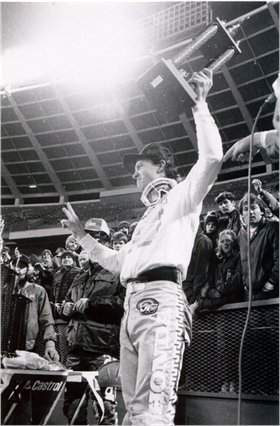 David Bailey claimed Anaheim in 1986
photo: Richard DeLibertis
Another well-known Honda man,
David Bailey
, continues to recover from his own health issues. On New Year's Eve, he got a surprise visit when
Ryan Hughes
and his wife and some friends went to the Baileys' to hang out with David and
Gina
and do some bench-racing. That meant that Hughes missed
Larry Brooks
' surprise 40
th
birthday party, but Ryno said the evening could not have been any better than spending it with an old friend who's going through a rough time.
When James Stewart took to the podium to accept his championship ring from Live Nation's Todd Jendro for winning the 2006 Amp'd Mobile World Supercross GP Series, the underlying question was whether or not he would be running Red Bull colors on his lid while aboard a Monster Kawasaki. He spoke about his ankle injury from Toronto—"I'm healthy, and I've had some good weeks of riding"—and how much fun he has racing with Ricky Carmichael, but no one asked directly about the Monster conflict.
Later, after the brief practice session in which James wore a different helmet than we saw in Canada, TFS asked James' friend Rado to show him the lid. There were no Red Bull logos to be seen, but there didn't appear to be any Monster logos either.
Out on the track, Stewart looked amazingly fast and confident—it was like the old "Bubbalicious" we saw last April and May, before he stacked it up at High Point at the end of his big battle with RC. If I had to bet right now, I would go with Lucky #7…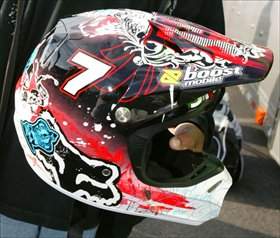 Will this be the lid Stewart wears tomorrow night?
photo: Steve Bruhn
… but then again, no one should ever bet against Carmichael. Even though RC is on his way out—this is his last Anaheim, win, lose or draw—and he's not racing for a championship, it's obvious that he hasn't been getting fat or soft in his NASCAR racing suit. He looks the same as he ever did, and he and the Makita Suzuki team were focused on his suspension during the practice session.
RC talked about something that we noticed in Canada: supercross seems to have slowed down for him now that he's spent a lot more time averaging 115 mph around those mile-long stock car tracks in North Carolina and Florida. That's what football players say after a couple of years in the league—the game slows down and they can play better. RC also said that while he hasn't crashed yet, he has spun a few times at well over 100.
And yes, that was a red number plate on RC's bike. He will wear it as the WSXGP Series points leader (though he did look a lot like Rodney Smith at a GNCC) and hopes to still be the points leader when he parks his 'Zook for Anaheim 2.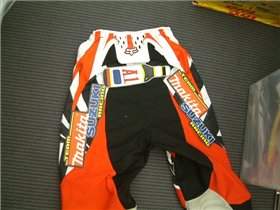 A1 will be the only one for RC
photo: Scott Taylor
RC said he will race Phoenix, San Francisco, St. Louis, Atlanta, Daytona, and Orlando. He was also gracious and grateful—just like James—when presented his championship ring for his fifth AMA Supercross title.
Ryan Villopoto did not go out on the track for the short practice, but everyone seems to think he's the man to beat in the Lites class. Josh Grant was out there and looked fast and smooth, as did Yamaha's Josh Hill … and Josh Hansen, come to think of it. The 250F West division will be Ryan vs. The Joshuas. Who do you think will win?
Did you catch all of the info that Mario Marini dropped on us yesterday from the Monster/Kawasaki meeting? If you missed any of the interviews—including the one with top brass Bruce Stjernstrom about the new Monster deal, check it out back on the main page. And thanks for the work, MM: Stai migliorando molto con il tuo inglese, amico mio. Bravo!
Damn, Billy just checked in to let me know that Honda has sent out a press release that Tommy Hahn will not be racing this weekend after all, as he's got a bruised lung. That means the Honda factory team will not field an entry at the AMA supercross opener. Sure, they still have the very capable K-Dub, Travis Preston, Lites-class contender Josh Grant and the impressive young Jake Weimer from the SoBe/Samsung/Factory Connection team, but the Big Red Machine is otherwise in park this weekend. And speaking of the SoBe/Samsung team, we noticed that there were no sprocket logos on the bikes. It appears that they did not renew their contract with Sunstar for 2007, but they did sign with Tag Metals.
Time to turn this over to Ping.…
Team Makita Suzuki's Ivan Tedesco will also be riding injured. He got back on the bike this week after breaking his hand in Toronto. Well, actually, he had his hand broken for him in Toronto. Ivan said his fitness is still fine but his hand is getting sore after he does a moto. Hopefully, the adrenaline will cover up whatever pain he still has this Saturday night.
Grant Langston also had a scare while practicing this week when he slid off the face of a jump and was pitched from the bike. His back is a little sore, but he is ready to go. Also nursing some sore parts is Red Bull KTM rider Martin Davalos. Martin hurt his knee in Toronto and has since twisted his ankle. He has still been riding but not without some pain. He and Josh Hansen are both set to ride tomorrow in Anaheim.
Weather report for Anaheim looks like this, courtesy of weather.com: A mainly sunny sky during the day. High 69 degrees. At night, a mostly clear sky. Low 43 degrees. Winds NE at 10 to 15 mph.
If Grant Langston is still hurting from his crash, he does a great job of hiding it, because he was ramming into people at Pole Position Raceway last night like he was earning national points for it. In one of the first real races of the night, Grant, Greg Albertyn and I bounced each other off the trackside barriers the entire race. Albee tried to drive his cart underneath me going into a turn (I don't mean inside of me … I mean he tried to go under me) and the back of my cart landed on his steering wheel and broke it off. The whole thing reminded me of that scene in Days of Thunder where Cole Trickle and Rowdy Burns are smashing into each other along the beach on the way to dinner. Only, instead of radiator trouble, it was steering column problems. I guess rubbin' is racin', right, Harry?
Speaking of Langston, you might have noticed in the latest issue of Racer X Illustrated that GL has an ad with Etnies on one of the early pages. The strange thing is that he is featured in a Vans ad about four pages later. I guess there was some uncertainty by both companies as to whom he was going to sign with. Grant has since signed with Etnies for the 2007 season.
He's wearing blue—and two different shoes?
photo: Steve Bruhn
If you're going to be in Southern California this coming Tuesday, be sure to head out to Cahuilla Creek MX park for the
Marty Moates
ride day. It takes place from 9 to 3 and all proceeds will be going to Marty's family. Lunch will be catered.
On the domestic side of things, there is definitely something in the air here in SoCal. Casey Johnson just got engaged to his girlfriend Michelle, Jimmy McGuire proposed to his girlfriend Janelle, Dave Castillo just married his girlfriend Dove (or Mrs. Windsong Casitos, as I like to call her), and Victor Sheldon and wife Piper just had their second child, Peyton, on Tuesday. She weighed in at 6 pounds, 14 ounces. Coincidentally, my wife gave birth to our baby, Ellie, on the exact same day and she weighed exactly the same. Ellie was a little shorter, and I've already apologized to her for getting her dad's legs. Both moms are doing fine.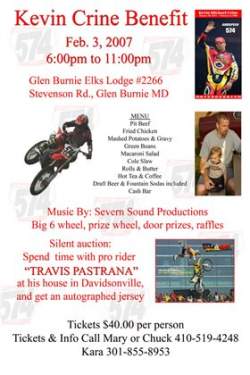 Kevin Crine Benefit
Just spotted a very cool gallery on Ryan Cropley's site of 100 cool images.

And check out Trevor Hawk's favorite RC sequence.
Remember a couple of weeks ago when we posted an interview with Erick Vallejo? He was looking for a ride in 2007 after his previous deal fell through. Well, check out the letter we got this week:
Hey guys, I just wanted to let you guys know that my very good friend Ryan Miskell with Rylee racing has picked up Erick [Vallejo] for the supercross season and it has a lot to do in part with the article you guys wrote about him. After talking to Erick and seeing the talent and dedication he has for the sport and his great attitude and will to win, it is a great thing to have him on a team and getting help he deserves. Anyways, I just wanted to let you guys know.
Jay
Also, in the parking lot this morning, I spotted one of the most charismatic riders of all time, '94 Motocross des Nations star Paul Malin. "Maler" was making his annual trek to Anaheim, with former Grand Prix rider and Mototalk voice-of-reason Rob Andrews and British shooter Gary "Redeye" Freeman in tow. They will be at the Mototalk get-together later tonight at Dave & Buster's for sure.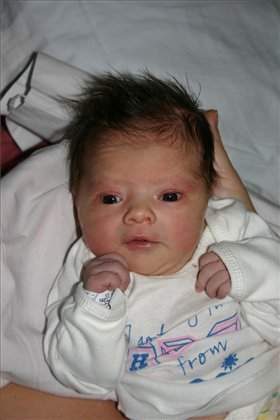 Future WMA star Ellie Pingree
photo: David Pingree
The go-kart deal Ping mentioned earlier was a smash hit. The gang at Pole Position Raceway rolled out the red carpet, and a lot of supercross friends joined the fun, including Broc Hepler and his mom, Beth (who got rear-ended hard!), Langston, FMX star Ronnie Renner, Chris and Seb Pourcel, plus the very fast Livia Lancelot, her future competitor Ashley Fiolek, the always funny and competitive Denny Stephenson, the always funny but often overwhelmed Andy Bell, and the real ringer in the bunch, Troy Lee Designs' Sheri Ridenour, who absolutely flies on a kart while running the iPod and singing at the top of her lungs. She and Hepler were the fastest there. Here are some of Simon's pics.

And we want to give a special thanks to Mototalkers Rex Backman and Allracing (Alan Lund) for co-sponsoring the 2007 Racer X Gas Card this weekend, which gives $750 to the first rider not to make the Supercross main event (third-place in the LCQ). The riders really appreciate it, guys.

Finally, is there any inspiring models out there? If so, the Miss Supercross 2008 Contest is up and running and here's your chance to win the opportunity of a lifetime. Register now to become Miss Supercross 2008! See contest rules for more information.
So that's it from Anaheim—for now. Stay tuned to Racer X Online all weekend long while things develop, people drop in and out, and just to enjoy the first Anaheim of the year. I have to head back to the stadium and see if they towed TFS yet.
Thanks for reading Racerhead. See you here.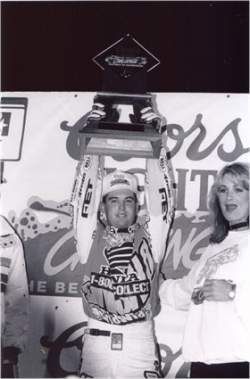 photo: Richard DeLibertis