Between the Motos: Steve Whitelock
With the opening round of the 2007 Amp'd Mobile AMA Supercross Series almost here, we thought we'd give Steve Whitelock a call to see how things are shaping up for Anaheim 1. And there was plenty to talk about, from fines and probation to new race formats to the question of performance-enhancing drugs in motorcycle racing.
Racer X: Merry Christmas and Happy New Year. I hope Santa brought you everything you wanted.
Steve Whitelock: Oh yeah, Santa brought me everything! The best thing that Santa could bring me is Anaheim 1! I'm ready!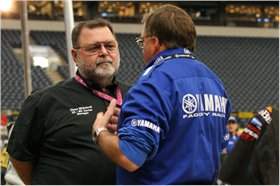 Steve Whitelock with Yamaha's Keith McCarty

photo: Matt Ware

I'm sure a lot of fans are thinking the same thing. We had two rounds of the World Supercross GP Series, but Anaheim is the opener for the AMA series. Is everything ready?
Yeah, we're in really good shape. The FIM has adopted our format changes, and they adopted the way we're going to do business from now on, so we're in good shape there. We're ready to go. Canada was a nice dress rehearsal so some of the riders can begin to see how it works, so that was a good deal.
Is it fair to say that the main reason for the format change was to help boost the chances of live television?
That has some impact on it, but really the main reason is, I think it's been the same format for thirteen years. We just kind of felt that it was time to change it up a little bit to try and put a little more excitement in to the program and to use the technologies we have with the live timing and scoring, and to use the big scoreboard in the center of the track for the timed qualifying and all that. So this was a good chance and a good time to change up, because as you know, we're going to change up the outdoor nationals too.
That was actually going to be my next question. Can you tell us more or do we need to wait on that?
It's all in the new rulebook. We're just going to go to timed qualifying in the outdoors, real similar to how they do it in the Grand Prix series. We just have to get all of our riders to understand that short-circuiting the course isn't going to be an option anymore—we have to find a way to control that. But it'll be a good and fair way to arrive with the top forty on the starting gate.
I remember Roger DeCoster, who does not like seeing the riders short-circuiting the course either, once said that what you need to do is put banners or a fence around the entire course, but with Doc Bodnar and the medical crews, that's really not possible. Can you start maybe fining riders or docking them time if you see them cut the track?
Well, what's going to happen—like what we're going to explain to them at supercross—is that if you cut the course once, and you do it with a reason to cut your time, you're going to lose that time. You cut it the second time, you lose your best two times; cut it three times and you lose the whole session, which can be pretty devastating. We're going to chase them down. It's going to be easy in supercross because from certain vantage points you can see the whole racetrack. It'll be a little tougher outside, but we're going to work on that with the promoters.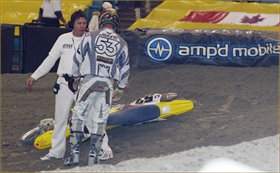 The AMA is honoring the FIM's rulings in Canada

photo: Steve Bruhn

There were some incidents in Canada, the first of which involved James Stewart that resulted in a probation period and some fines, and the second involving Tyler Evans. Is there a separation of the probationary periods between the AMA and the FIM, or is this looked at jointly?
I think, in the interests of both series, I have to honor their probation periods. I don't have to agree with the fining, but I could understand the fining and it's an action very similar to what I would've taken. So I'm going to honor their penalties. I think we have to. I know last year they didn't, but I have to look at a better way to cooperate.
There have been times when I told you, "Steve, I'm glad I'm not you." But were you thinking, Man, I'm glad I'm not [the FIM's] John Gallagher, when you saw the drama in Canada?
Well, at least now, other people got to face what I face on a regular basis. I didn't say that I was glad I wasn't him, but I saw him go through all the motions, and he did it the right way.
As far as this weekend goes, the departure of Carmichael is coming nearer and nearer, and then news today of Chad Reed's shoulder injury. What do you expect this Saturday night?
It's a motorcycle race, and motorcycle races always find a way to be exciting, whether it's one guy way out front by himself and a whole bunch of guys arguing for second or third, or three guys out front battling for the win. You can always find a good race, and I think we're going to find good racing. If Chad isn't there, that's going to be too bad. Ricky not doing all of the races is a shame, but I understand exactly what he's up to. Anything could happen. Nothing is carved in stone right now.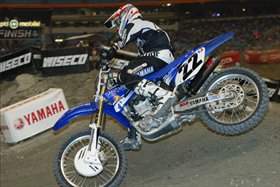 It's uncertain if we'll see Chad Reed on the San Manuel Band of Mission Indians/L&M Racing Yamaha at Anaheim 1

photo: Steve Bruhn

Looking ahead a couple years from now, I know you have great concerns about the sound issues and have been a proponent of keeping the sound down. But what about performing-enhancing drugs? This year, whether it was Floyd Landis or Shawne Merriman of the San Diego Chargers, the talk was everywhere. With it being so prevalent in other sports, we can't kid ourselves that it's not happening in our sport.
I think that eventually we're going to adopt a drug policy that is going to be very similar to the IOC [International Olympic Committee], and we're going to do it the right way and find anyone who is doing something wrong. Right now ours is not perfect, but it's not horrible either. I think we just have to step it up. We're going to get there—it's just going to take some time.
Well thanks, Steve, and good luck on what's sure to be a busy weekend.
We're already well into it. We have meetings today, Thursday is press day, and Friday we have a lot of setup to do. We have to dust the cobwebs off of our brains, so we'll be busy. I think we're going to have a lot of fun.