Between the Motos: Erick Vallejo
A couple of years ago at the Amp'd Mobile Supercross banquet in Las Vegas, Erick Vallejo made a friendly and very funny plea up on the stage to Pro Circuit's Mitch Payton to give him a ride "because I'm Pedro's cousin," he said, referring to Pedro Gonzalez. Now, Erick, one of the sport's most respected privateers, is making another plea for help, only this time he's putting the word out right here on Racer X. That's because Vallejo has yet to garner a ride for the 2007 Amp'd Mobile Supercross Series. We were happy to oblige, as not only does Erick have game on a supercross track, he's one of the nicest guys in the pits too.
Racer X: Erick, we're three days away from the World Supercross opener and about a month away from Anaheim 1—what do you have going on?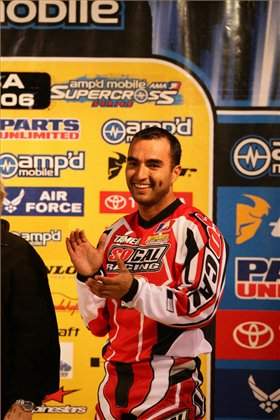 Erick Vallejo is always smiling
Erick Vallejo: Well, nothing much as far as a team goes or anything like that goes, but I've been looking for a ride. I've been training on my old bikes from supercross last year, and I just been riding. I won't be attending the World Supercorss rounds because of lack of support. Obviously it's so hard to do it on your own, and I don't know people in Canada to let me use a bike or anything like that. I'm looking to be in the top 10 in each race, so it would be really hard for me to do it on my own. So I'm just going to take a step back and wait until the first AMA rounds come around.
What was your program this past year?
I rode for Tamer Motorsports this past year, and it was great. I liked the team a whole lot. This year I thought I'd be signed with them by now, but there are having problems just like a lot of other people are, budget-wise, and everyone trying to get a ride knows it's really hard right now. They don't have the total budget to have me on the team, so like I said I'm looking for a ride if there are any offers out there.
Are you a 450-class only rider, or can you ride the 250F class?|
I can ride both classes. I never pointed out of the 125/250F class, and people ask if I'd step down to the 250F class, and for sure I would. I don't weigh as much as some of those other guys, and I would ride both of them. To me, riding one or the other isn't a big problem. I like the 450 class because I just like the big bikes a lot better, but I'd definitely be willing to step down if I had the right team and the right bike, because everybody in that class knows the bike is a huge difference.
Going back over the years, you had a very long and good career. How long have you been racing pro?|
This is my 11th year as a professional, and it's been great. I've had some ups and down, and like a lot of people out there, I'm still looking for that one big break that would help me step up to the plate a little more. Every year this or that happens, and I think I definitely have the talent to be up there. I've been in the top 10 in the 450 class, and when I'm up there it doesn't seem like it's really hard for me. I definitely had some good races. The last year I rode the 125 class I had a good year and got some top fives and I finished eighth in the championship, but I was there for a long time and decided to move up to the 450 class. I had a lot of top 10s in the 450 class and I'm looking to finish in the top 10 at the end of the year. That's my goal and I think it's a realistic goal.
Well, anyone who watches the sport or is around it a lot, you have to be in the right situation and have the right amount of support and comfort, and then it all starts to click. Look at John Dowd or Heath Voss or Tim Ferry—those guys finally got in the right situations and it all started to come together. As a privateer, that has to be something that always drives you, because you know you have the ability, you just maybe need the right situation.
Yeah, definitely! I don't take anything from anybody. I'm 27-years-old, and now I think about how maybe I'll be the next John Dowd, because he won his championship in his later years, and I think about that and maybe it'll happen with me. I always have my feet on the ground, and when I'm asked, "What would you do with a factory ride?" I know it's really hard to get there—I'll probably never get a factory ride—but I just want the right amount of support. I think a lot of us deserve it. If I'm at the right place at the right time, I know I can make it work and get the results that people want. I've done it with basically nothing, and I've done it because of myself. I'm just like the other privateers trying to get by.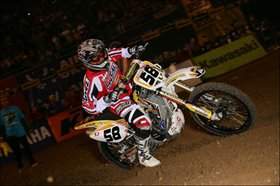 Vallejo has been racing a 450 for the past few seasons, but he's still eligible for the 250F class.

Well, we'll make sure to get the word out, and when I go to Toronto this weekend I'll keep my eyes and ears open. Having known you for as long as I have, I know you'd make a great addition to any team, be it 250 or 450. Anything we can do to help, we'll give you a shout.
Thanks Davey. I'm definitely hungry and I'm hungry for those good results. I just want to be out there like everyone else.
Good luck, Erick.
Thank you.