First of all, a tip of the visor to Rutgers. I know this is Racerhead, not Collegefootballhead, but when you live in a college town and have a team that's ranked pretty high, it means a lot. Our then-undefeated West Virginia Mountaineers got beat last week by the then-undefeated Louisville Cardinals, who in turn got beat last night by the still-undefeated Rutgers Scarlet Knights.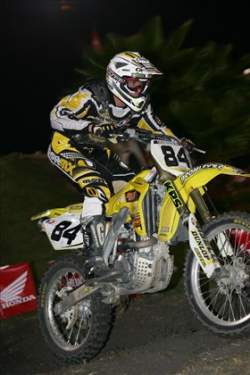 Barry Carsten is the Rutgers of motocross
photo: Simon Cudby
In motocross parlance, Rutgers vying for a national championship is like
Barry Carsten
competing for one. Both are from New Jersey, both are under-appreciated, both deserve a shot. If Rutgers were a racer, he'd look just like Barry.
As I write this, I am in New York City, which is just across the water from Jersey. I'm being the "supportive spouse" of a business trip my wife is on, and we had dinner last night with Dirt Rider magazine's East Coast Liaison Damien Ercole. When I mentioned the early score at the Morimoto bar, five different people came and asked me for details. There's a lot of Jersey folks who work in the city, and the night before the astonishing upset, the Empire State Building was lit in red in honor of the Scarlet Knights. The team's next big game? A visit to Morgantown, West Virginia. Which means I'm going to have to find both Damien and Chris Tedesco, a Rutgers alumnus, tickets to the game!
Okay, enough football talk. The indoor season is now in full tilt, with the Toyota AMA Arenacross Series and the BooKoo AX tour up and running. If that's not enough, there's the Paris-Bercy SX, which will probably be starting up by the time we get this posted. It's another one of those US-vs.-France-vs.-The Rest of the World deals, and with new MDK Honda's David Vuillemin—the all-time King/Prince of Bercy—signed up for the French side along with the Pourcel brothers and Eric Sorby, they might have something for the Yanks this time around. With all of the cheerleaders and fireworks and rabid French fans, this could be quite a weekend.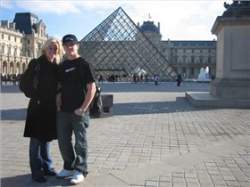 Before the races, Josh and Cameron took in The Louvre in Paris
photo: Stephan LeGrand
For the individual win, though, I like
Josh Grant
. He's been on fire lately, he's got a lot of confidence, and he's even flown his own cheerleader in—San Diego Charger girl
Cameron
.
Mike Alessi is also over in France and could also be the man to replace the injured Andrew Short as King of Bercy. Mike raced in the Sheffield SX in England two weeks ago and did just fine. He's got some history with France, though, so he will have a bull's eye on his back all weekend long. Stay tuned to Racer X Online for updates from TFS, and also maybe a film highlight or two from our friends at Moto Verte (www.motoverte.com).
Last weekend saw an event-filled race in Prague in the Czech Republic, featuring lots of American supercrossers. According to our man in Eastern Europe, Slawo, it was a crashed-filled event, fortunately without many injuries.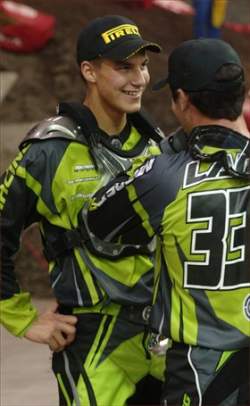 Colton Facciotti won the first night in Prague but crashed out the second night
photo: Allison Kennedy
The
Racer X Canada
crew was stoked to know that
Colton Facciotti
won the first night in a dominant way, but then Colton crashed hard in the Sunday morning practice and banged his head pretty hard. According to Slawo, he tried to race but felt dizzy and had to quit for the second night of racing. But he plans on racing Bercy this weekend, while most of the other U.S./Canadian guys move on to Stuttgart for the first German indoor event of this season.
Jason Thomas, the fastest Butler brother of them all, suffered some start crashes in the Czech race but was okay and quick as always indoors. And Doug DeHaan, who crashed together with JT$ in the first corner, seemed to struggle a bit with that track too.
Slawo added that Joe Oehlhof was not quite up to speed yet, and Cole Siebler looked good but just needs a little more luck and better starts. Michael LaPaglia surprised some people with his second night.
Eric Nye had a difficult first night, not making it into the main, then he injured himself on Sunday with an AC shoulder separation and bruised ribs after he holeshot his heat race, only to hit neutral on a step-on-step-off that put him over the bars. Best wishes to Eric on getting better soon.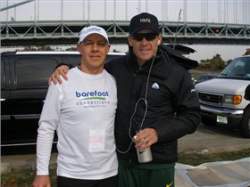 Lance Armstrong worked with Jeff Spencer before clocking a sub- three-hour New York City Marathon
photo: Courtesy of Spencer
What's
Jeff Spencer
, the legendary moto-fitness guru, been up to? He's been working with
Lance Armstrong
, getting the seven-time Tour de France Champion ready for the New York City Marathon. Jeff went with Lance on the Nike jet for four days to work with Armstrong on meeting his goal, which was to do 26 miles in under three hours.
Clint Bowyer had one of his best weekends of racing, winning the truck race on Friday night, then taking fifth in Sunday's Nextel Cup. Clint runs the #46 truck when he does the Craftsman Truck Tour, so big brother Andy pulled out the four-six for this week's Shift Number Cruncher.
If you missed it yesterday, I did a short interview with Paul Gross, the moto-loving, children-caring man behind www.mxforchildren.org. Paul is getting ready for another big promo to benefit a children's hospital, this time in Toronto. Check out the interview to see how you can make your Toronto WSX experience a great one for you and some unfortunately sick children.
Also, props to Brett Wise and Rex Backman, who have also been pitching in to help Paul with his work, and also to FMX star Jeff Tilton, who saw the interview then contacted us to see if Paul and he could join forces for Steve Bauer's annual Loma Linda Hospital visit in Riverside, CA.
Mainstream Moment of the Week: The AMA's Karen Myron walked into a post office wearing a special Team USA sweatshirt this week. "There wasn't a single person in line, and I asked for some interesting stamps. The clerk looked at my MXoN sweatshirt and showed me these!"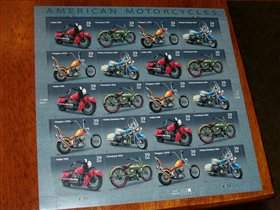 The post office is pushing motorcycle stamps
photo: Courtesy of Karen Myron
Last week I mentioned that MotoGP World Champion
Nicky Hayden
and AMA SX/MX Champion
Ricky Carmichael
share the same trainer in
Aldon Baker
.
Road Racer X
Editor
Chris Jonnum
was chatting with Nicky this week and asked him about working with Aldon.
Nicky said: "I actually saw on Racer X the other day where they were talking about where he's got the biggest motocross champion and the road race one. His pedigree ain't a secret. You've got to be prepared to get on his program, though; it won't be the easiest thing you ever did! You've got to be ready. He's definitely taught me a lot about training, like how not to over-train.
"The main thing is that he's just got a program—it's not hit or miss. He calculates everything with the travel and how much you train in the various zones. If you want to be a world champ, you can't take any shortcuts. You've got to train like a champ, take your rest like a champ, eat like a champ—be ready to do it all. It can't just be some days. You've got to eat, breathe, and sleep the stuff…. I don't mind a hard day's work. It's not always easy, but I enjoy working hard and learning about it. Anything that can help me be better on Sunday, I'll do whatever. He's a good guy to have in your corner."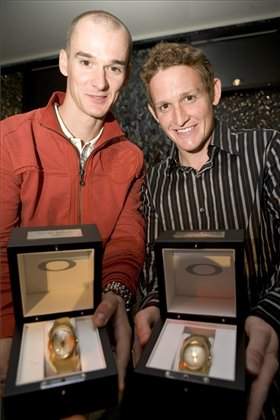 That's Stefan and Ricky, and those are gold Oakley watches!
photo: Courtesy of Oakley
A quiet reception took place at Oakley recently when ten-time World MX Champion
Stefan Everts
was flown over to California along with ten-time AMA MX Champion
Ricky Carmichael
to greet all of the people at Oakley, who each ride for. They also got a special surprise: solid gold Oakley watches! I don't know how many Oakleys and Breitlings and Rolexes RC has now, but I've seen him get handed at least six of them myself!
Quote of the Week From Frank Hoppen: "Ping on the Racer X cover? You are kidding, right? Maybe on Reader's Digest, if I think about it!"
Yes, our man in California, David Pingree, upset the proceedings last Sunday at Troy Lee's Supermoto "Duel at the Docks" when he won the 250F main event in a nail-biter over the younger, lighter, and better-looking Brandon Currie. Everyone here at Racer X was proud of Pingaling, and we even chatted him up for Wednesday's Between the Motos.
Hey, just got an IM from Steve Bruhn over in Paris. He says that Gary Bailey, the legendary motocross professor, is the new trainer/coach for Mike and Jeff Alessi. He also says that it's like a Motocross des Nations on the inside over there, with Pourcel and Tony Cairoli and all the Yanks….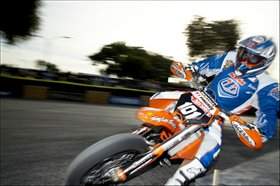 Ping on the cover of Racer X? Not if we want to sell a bunch of them.
photo: Frank Hoppen
Some of the personal effects of
Steve McQueen
, the patron saint of motocross, will be auctioned off tomorrow.
Barbara Minty-McQueen
, his widow, has owned the stuff since Steve died from cancer some 25 years ago. Among the items are the glove that he wore in
The Great Escape
, as well as the Triumph he jumped that fence with in the greatest movie scene ever involving a motorcycle.
A fond farewell to the always classy Joel Smets of Belgium. He will participate in what he says will be his last motorcycle race next week: the 81st running of the International Six Days Enduro. According to one report we received, the five-time world motocross champ aggravated a knee injury during Sunday's Taupo International Motocross and was a doubtful starter early last week, but it is now confirmed Smets will make Tuesday's start line for the Belgian Trophy Team, departing as rider #99. Good luck, Joel!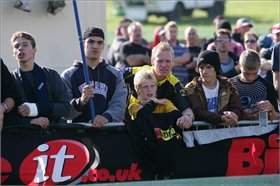 Joel and son at the recent Motocross des Nations in England
photo: Simon Cudby
In other New Zealand news,
Josh Coppins
won that big race there last Sunday over another departing Belgian star,
Stefan Everts
, and
Ben Townley
sounds like he's okay after banging his knee in a scary collision with another rider during press day. He should be already back and at it with
RC
and
Aldon Baker
as Carmichael is in boot camp again, getting ready for Toronto and Vancouver (yes, he's in for that race too).
RC, by the way, was riding today down in Florida, then he will jet out to Phoenix in the morning for the NASCAR race there, wearing the headsets in the Nemechek pits and just getting used to how the radio works in auto racing.
Oops, one more Kiwi note: Next Thursday, Kiwi Crusty Demon "Scary" Mary Perkins will bungee jump off Auckland's Sky Tower on a 110cc mini-bike. "The death-defying stunt marks the launch of the Crusty Demon's 2007 Kiwi Carnage Tour," according to the press release. "The 2007 Kiwi Carnage tour is the first stage of an all new world tour which will then move to Australia, India, China, the USA and Europe over the next 12 months." Further information is available at www.crusty.com.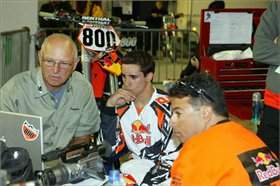 "The Professor"Gary Bailey is now working with the Alessi team
photo: Steve Bruhn
We mentioned that the
Wharton boys
signed with KTM last weekend; now we hear that former Honda standout
Terren O'Dell
went to American Suzuki when Blake and Tyler went to KTM.
We spotted a post on Mototalk by Will Topete about a busy practice day out at Lake Elsinore this week, where Nathan Ramsey, DV12, Ryan Sipes, Ivan Tedesco, Tyler Evans and more were all in attendance. For a glimpse at the action, check out Will's site.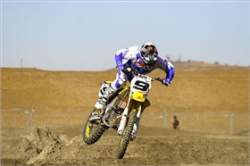 Check out Will's site
photo: Courtesy of Will Topete
I got a note from my old friend
David Hand
, who I've been racing against since we met at a mini national back in 1977(!), asking about the vet class changes at Loretta Lynn's. He asked if it was true that any former pro license holder could not run in the +40 class, but that's not the way it's going to work. As I understand, former pro license holders between the ages of 25 and 39 will have to ride the +25 class, as +30 and +35 will be B classes now. But the +40 class is based on age alone, which means David won't have to get out there and bang bars with
Jimmy Evans
and friends!
Dear Racer X,
Just wanted to show you what my buds did for me. It took them three months, and we probably broke every copyright law there is, but they had a new set of graphics made up based on the Stones deal. All because one day long ago I made a comment about wanting a "theme" bike based around a band. They took the bike out of my garage without me knowing and put the graphics on. Then took the bike to our Mudslinger Club work party. What a surprise. Thought you might like it.
John Tillman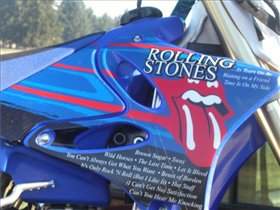 The Rolling Stones are rolling with John Tillman
photo: Courtesy of Tillman
I'm hearing and seeing more and more about the Leatt-Brace Moto GPX neck protector.
Geoff Patterson
even stopped in a couple of weeks ago to show us how it works. If you haven't heard or seen this brace, by all means check it out:
www.leatt-brace.com
.
Okay, here's a good spot to turn this over to Ping:
If you didn't make it out to Troy Lee's Duel at the Docks AMA Supermoto finale in Long Beach last weekend, well, you blew it. Not only was the event a huge success and a very fun venue, but I stole my first Supermoto Lites win! Cassidy Anderson wrapped up the title in the class after pretty much waxing the rest of us all season, but I went out on top, and that's what really important … to me. Anyhoo, Ben Carlson went home with the Unlimited title, even though Micky Dymond won the race and Jeff Ward, the baddest 45-year-old I know, won his ninth AMA championship in the premier class. The fact that Wardy is still as fast as he is at his age is just ridiculous. The series schedule has already been announced for the 2007 season, and the Long Beach round will return, along with new venues such as Laguna Seca, Seattle and a round in downtown Syracuse, New York. The success that Supermoto is having at such an early stage is a sign that it has a very bright future.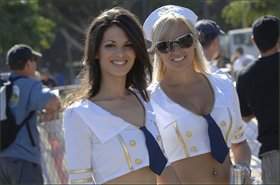 Troy Lee's Duel at the Docks had it all
photo: Simon Cudby
I spent yesterday out at
Ryan Villopoto
's house. RV was doing some ringing on his private supercross track while
Jay Schweitzer
filmed for one of his upcoming movies. RV looked fast. I don't mean fast like he will be a title contender this year. I mean like a cheetah-on-cocaine fast.
Apparently, Ryan had been riding with an old suspension setting up until this week, and once they got his forks working better, Ryan dropped his lap times at the Kawasaki test track significantly. In fact, he is only a few tenths off of James Stewart's best lap time.
The house that Ryan is living in is actually Stephane Roncada's old place. RV built a supercross track, a minibike supercross track, and a minibike outdoor track in his backyard. There is also a minibike freestyle ramp, in case you want to get an injury that way. If Mitch Payton saw Ryan tearing around in his backyard on a 110 in flip flops and T-shirt the way he does, he would jump up and give him a roundhouse kick to the head.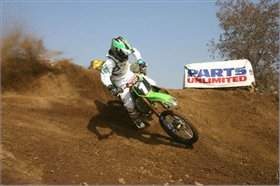 Is this kid going to be even faster in January? Ping thinks so.
photo: Ping
I spoke with
Bobby Nichols
, uber-agent for Villopoto and
Josh Grant
, about his two star riders. "Oh, man, those two guys are going to go at it," he said of Anaheim 1. He wouldn't pick a favorite, but both riders are planning on riding the West Region in 2007, and both seem to be riding better than ever right now.
Last night, The Rockstar Energy/WBR/Yoshimura Suzuki squad had their team introduction at their race shop in Corona. Their lineup includes Andrew McFarlane, Kelly Smith, Troy Adams, and Michael Byrne.
While the team is Suzuki's only Lites-class support effort, Michael Byrne will ride the Supercross class indoors and then switch to the Lites class outdoors. Troy Adams will ride the 250F in supercross and then switch to the 450 for the motocross series. The big Floridian joked that he was "tired of throwing up after every meal," when asked why he wanted to ride the 450 outdoors. Troy is 180-some pounds when he is at a healthy weight, and it makes getting a start on a Lites bike difficult.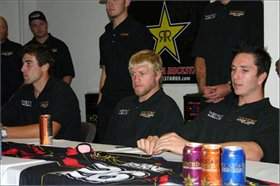 photo: Ping
The new team seems poised to have an incredible season in 2007.
Buddy Antunez
is on board to help riders with their riding and training programs and act as a liaison between Suzuki and the team. Rockstar Energy Drink is also fully committed to the team. The caffeinated beverage company will have "mind-blowing" hospitality areas at all of the Southern California rounds this year, and representative
Mike Kelso
is excited about the new season.
"Last year was definitely a learning year for us," said Kelso. "This is a completely different team and we are expecting great things from them. They are a very professional group of people and everyone knows that Rockstar throws the best parties so it should be a very fun season."
Brant Russell and the crew at Yoshimura have been working hard getting the bikes ready, and they should be ready for the opening round. Troy Adams will ride the West Region, Kelly Smith is in the East, and Andrew McFarlane is still undecided about which coast he will ride.

Speaking of McFarlane, here's a pic of him and his new addition to the family.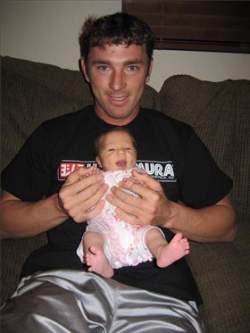 Andrew and his new arrival
photo: Courtesy of McFarlane
If you missed our Racer X Tested 250F Shootout, check it out right here. We pulled the O'Show, Johnny O'Mara, out of retirement to help us rank the 2007 bikes. The last bike Johnny owned was a 1991 Kawasaki 250 that they gave him after his contract ended with them. He rode one time with Ricky Carmichael out in the hills of Reche Canyon in 1996 but hadn't been on a motorcycle since. After twenty minutes on the track at Competitive Edge, he looked like he'd been riding every day. His style was exactly the same as it was twenty years ago: elbows up, back arched, off the back of the bike, and lifting the front end over all the bumps. It was very cool. Thanks for coming out, O' Show!
A note from Europe: the versatile Jean-Michel Bayle is now the Touring Car Champion of France.
Finally, I got a bead on the new title sponsor for Chad Reed and Nathan Ramsey's L&M Racing team. The latest word from the grapevine is that the San Manuel Band of Mission Indians will be the title sponsor. Yes, you read that right.
That's it from Ping, who is still celebrating his Supermoto win, obviously.
Here's a note from my friend Michael Rigdon: Monday night, Tom White had a small gathering at his Early Days of MX Museum as a follow up to Joel Robert's induction to the Glen Helen Walk of Fame during the White Bros 22nd Annual Vet World Championship. Many industry folks were in attendance plus Brad Lackey, Rex Staten, Eddie Cole, Ron Pomeroy, Gunnar Lindstrom, Gavin Trippe, Todd Huffman (who puts the excellent Motocross Files series together), Gary and Dewayne Jones, plus both of my heroes, Joel Robert and Roger DeCoster.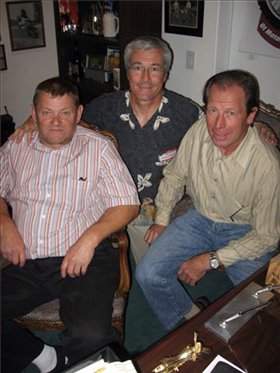 That's Joel, Michael Rigdon, and The Man
photo: Courtesy of Rigdon
Getting my picture taken with my heroes was fantastic but even better was being in Tom White's office watching a video of dozens of pictures from the sixties and seventies of Joel Robert's career and listening to Roger and Joel comment on the pictures taken at venues from all over the world. Words can't really describe the evening but I am eternally grateful to Tom White for his invitation to such a once-in-a-lifetime experience.
Costa Rican's Chuck Akin sent me this small piece:
A Legend Retires
Last weekend at Pista Lima, Cartago, Costa Rica, Adrian Robert smacked "Father Time" in the mouth and at 40, won his final competition with a 4-1 for a 2nd overall. With a combined total of 39 National and Latin American titles, Adrian failed to win the 40th to add to his collection before retirement, but he did win the hearts of the 7,000 Ticos who came and endured the warm sun and the dust (driven mainly but the collective sighs of relief from his fellow competitors) to say good by to the legend.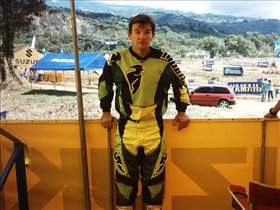 Adrian Roberts is one of the most decorated MXers of all time
photo: Courtesy of Akin
Number "40" came down to the final moto of the last 250 race and was awarded to David Chacon (Honda), who out dueled the Mora brothers (Yamaha). Called "Maestro" by Ernesto Fonseca, Adrian has been setting the bar for MX competition in Costa Rica and all over Latin America for a lot of years. When you could consistently out ride and out think Adrian, you were ready to try your hand and move on to Europe or the States. I asked him once how he felt about wearing that bull's eye on his back and he said, "It's racing, I love to break them." Well, he broke a lot of them and now he's changing hats and building his own Team for 2007. The lessons, no doubt, will continue.
Saludos Maestro
!
Does anyone else here recall the time Roberts was featured in the Swimsuit edition of
Sports Illustrated
? I'll have to see if I can dig that one up.
Check out this Rob Kinsey painting, an acrylic on canvas painting of "First American" Jim Pomeroy at the 1973 Spanish 250cc MX Grand Prix at Sabadell. Rob is a former moto-journalist from England and a lifelong MX enthusiast. He will be offering prints of this beautiful painting of the late Pomeroy in the near future. Stay tuned!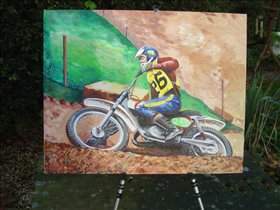 "First American" by Rob Kinsey
The David Bailey Benefit Auction is finally up and running on eBay. They have everything from
JMB
's chest protector to
James Stewart
's 2006 MXdN Team USA jersey!
Check it out
and help out the Icon in the process.
A congrats to new uncle J.H. Leale, who welcomed his niece Riley Elizabeth Leale into this world last week. Riley was born 7 lbs and 19 inches. "Since the mom is a WVU alum, she is claiming this one for the Mountaineers since my brother won't let his son be a WVU fan!" wrote JH. "The whole family is going great!"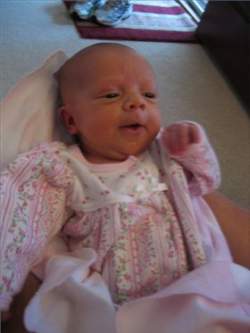 Riley's already got more hair than JH

photo: Courtesy of Leale

Rod Harris from Team Suzuki Off-Road asked me to pass along this note: GNCC Pastor, Joey Holloway was involved in a serious motorcycle accident earlier this month. Joey was on his way to work, when he struck a deer on his street bike. Both legs were broken and he will unable to walk for 3 to 6 months. Total recovery time at best will be 9 to 12 months. Joey dedication to his mission at the GNCC's was never compromised. He held church service every Sunday morning and also organized events on Saturday evenings for the many kids and families staying at the track. Many times Joey took a lesser paying weekly job, so he could fulfill his passion and calling from Friday through Monday at the GNCC's. Now that Joey cannot give to us, it is our turn to give to him and his family in his time of healing. Your prayers and monetary support for this family would be greatly appreciated. Send to:
Joey Holloway
Route 2 Box 135A
Metter Georgia 30439
Also, if you're browsing the web over the weekend, look for a new Racer X Online feature on Saturday: "My First Bike," presented by Spy Optics. If you work in the industry and have a picture of your first motorcycle, e-mail it to Mike Farber.
Scott Wallenberg wanted me to mention that Malcolm Smith Motorsports at 7599 Indiana Ave. in Riverside, CA, will have an open house on November 11. They are in a spectacular new building and Malcolm himself will be there to meet and greet. For more go to www.malcolmsmith.com.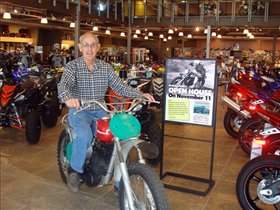 Malcolm's new store is amazing!
photo: Scott Wallenberg
From F1 website
www.pitpass.com
: "Ferrari-bound F1 driver
Kimi Raikkonen
has lost out in a poll for Finland's leading motorsport personality. Raikkonen, who will replace
Michael Schumacher
next season, lost out to motorcycle rider
Mika Kallio
, who currently competes in MotoGP 125cc class, riding for the Red Bull KTM Team."
On another note, 2006 is a season that Joaquim Rodrigues would rather forget. Injury after injury kept this fast Portuguese rider off of his SoBe/Samsung Mobile Honda CRF250R last season, and he wants to put that all behind him in 2007, if someone will just give him a chance. If you'd like to contact Joaquim, drop him a line at rodriguesracing@msn.com.
Simon Cudby just gave us a call, and if you didn't see his Nick Wey video that he shot last weekend, you have to check it out!
He also gave us an update on Red Bull KTM's Josh Hansen. Lil' Hanny was supposed to race the Queen Mary Supermoto event last weekend, but a few weeks prior, Josh underwent surgery to help his arm pump, and unfortunately, he contracted a severe staph infection that kept him off sidelined in Long Beach. He even had to spend a few days in the hospital. So for what it's worth, we hope you're feeling better, Josh.
Another rider who recently spent some time in the hospital is FMXer Jimmie McGuire, who sent out this e-mail:
Well here we are. I have never actually been hurt that bad until last week when I ruptured my spleen. Maybe the scariest time in my life but also an opportunity for growing. It was miraculous due to the fact of escaping surgery on a grade four ruptured spleen and serious internal bleeding. The doctors also said I would be in ICU for 7 days, but I was out in four. The road to recovery has been a blessed journey. Thank you for your prayers, they worked. Check out my blog right here.
And here's a note from Kenny Smith: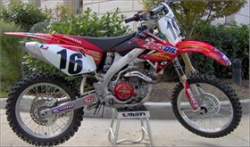 The United State's fastest Governor?

photo: Courtesy of Daniel Fuhr

Just thought I would give you a heads up on a new indoor/outdoor MX track including other activities such as paintball and skateboarding opening nearby us in West Virginia. Here is the link…
And finally, check out this picture of the governor of Utah's bike, sent over by Scott Wallenberg. Note the cool clutch cover!
Scott also did a SoCal tour of FMF racing, who are launching a new line of exhausts in 2007. Here's a pic of Danny LaPorte and Donnie Emler hard at work!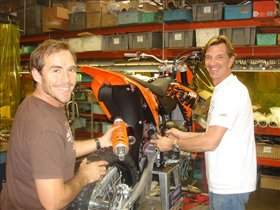 photo: Scott Wallenberg
Scott also stopped by Saatchi LA. Here is Mark Carter and Louise Sper showing off a new creative poster design for Toyota in 2007. Watch for some all new very cool promotions at supercross and the outdoor nationals from the Official Truck Company of motocross!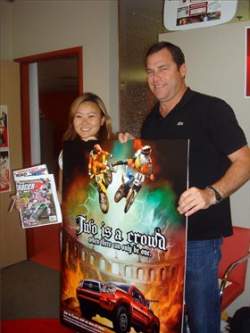 photo: Scott Wallenberg
After last week's big win at the Vet Championship at
Glen Helen
,
Eric Johnson
did an interview with the winner,
Casey Johnson
, for this week's Sponsorhouse.com
Privateer Profile
. We had a hard time finding photos from that event, but we finally got one from
Allan Sherer
of Houstonmotocross.com. So here's the pic of Johnson exploding a
Glen Helen
berm, which Sherer said, "No one else hit the outside