Privateer Profile: Casey Johnson
"You're going to need binoculars to see me in this moto," joked Ryan Hughes ten minutes before the start of the second Over-30 Pro Class at the 2006 World Veteran Championship. And when the 35-rider field came storming around the Talladega turn and took the circuit, Hughes did, in fact, find his way to the front. At his first race back since breaking his arm at a WORCS event, Hughes held the point for the first five minutes of the 20-minute-plus-two-lap race. And that's about the time all hell broke loose. First, it was a surprisingly fast Argentinean rider named Leonard Christensen pulling up on Hughes. Soon after, Doug Dubach and Casey Johnson, who had been pushing each other hard, entered the fray.
At the 10-minute mark, Christensen had been pushed aside and Johnson pulled right up on Hughes' yellow rear fender. As the shadows around the course lengthened, Johnson stalked Hughes mercilessly, while Dubach, the first-moto winner, inched closer to the duo. With two laps to go, Johnson shoved his way past Hughes and assumed the lead. After a calamitous series of lead swaps, on the last lap, Dubach dug deep and somehow managed to motor into the lead. With fans running from corner to corner to see what was going to happen next, the three riders headed toward the checkered flag, all with a shot at the championship. On a brutally rough track, and with lappers strewn everywhere, it was every man for himself. Over the finish-line jump, fist high in the air, it was Casey Johnson with the moto win and overall victory.
To those who were there to witness it, it very well may have been the race of the year. We caught up with Casey after the race. Now working for Yamaha, the soon-to-be-31-year-old was happy to recount a race that sent a lot of motocross fans home happy.
Racer X: Casey, first off, congratulations on the Over-30 win at the World Veteran Championship. The second moto was the most exciting and entertaining race I have ever watched.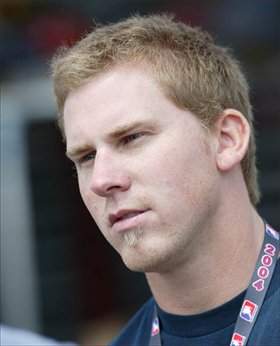 Casey Johnson
photo: Simon Cudby
Casey Johnson: Are you serious? Thanks, dude. I know you've been around.
Can you tell us how the moto went from beginning to end?
The start of the second moto was a disaster. I spun on the gate at the start of the first moto, so for the second moto I burned my tire good and got a good jump. In fact, I got too good a jump and wheelied. I put the front end down to too quickly and got pinched off. I was way back going into the first turn. We didn't have a parade lap before the race, but during the first moto, I knew there was a nice outside berm in the second corner. I hoped it was still there and went for it and it was there. I drifted out and got up into seventh. From there I tucked in speedway-style and charged. I was so far back…. I knew I had my work cut out for me. I just picked off guys one at a time. I could see Ryno on the first lap and he was just gone. I thought, Oh my gosh, there's no way I can catch him. Luckily, he had not been on the bike very long.
You had to work hard to catch Leonard Christensen, who really gave Hughes a run for his money during the first phase of the race. Did you know who he was?
Yeah, I've raced against the Argentinean guy the last four weeks. Last week, he was like 35 to 40 seconds behind me. In the second moto at Glen Helen he was really quick—he was on it the first half of the race.
Then came Doug Dubach.
Doug is so fast. Man, when I'm 40, I'll probably be in a wheelchair from all these injuries! I have all the respect in the world for Doug. When I caught Doug and passed him, he got right on my back wheel. It seems like he rides better after I pass him! He's like an Energizer guy. After I passed him, I tipped over. Luckily, my bike was still running and I was able to get back on and pass him back.
You were glued to Hughes' rear fender for a number of laps. Were you taking your time in sizing him up?
After I passed Dubach, I caught Ryno pretty quickly. I knew if I passed him right away, he'd charge hard to pass me right back because he wanted the overall. But while I was on him, Dubach caught back up to us. That's when it got real hectic. From that point we were all out to battle for the victory. It was a question of who wanted it more. After the race I was told the lead changed twelve times during the last two laps. It was crazy.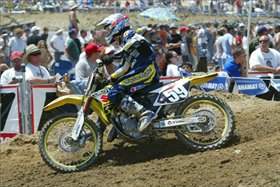 In 2003 Casey Johnson got an opportunity to replace an injured rider on the Sobe Suzuki 125cc squad. Johnson actually came out and led some of the first moto at Glen Helen, but unfortunately he crashed and knocked himself out of the series.

photo: Steve Bruhn

How did you get Hughes at the very end?
At the outdoor national where the triple step-up was, there was this little single jump that slants left. On the last lap, Ryan hit a kicker there and bobbled and missed the inside of the corner after it. I hit the corner on the inside and drifted out and stuffed him a little bit to make the pass stick. From there I did everything to protect the inside lines of the turns because I knew he would be aggressive. I looked back over the single [jump] right before the finish-line jump and saw he was still in second and that Dubach had not passed him and thought, Dude, I got it. This is awesome.
Even though the crowd was small, there was a big buzz after the race. How did it feel to win?
Gosh, it felt good. I have not done so much in so long, to put some training in and win like that was a good feeling. It was nice to win something again, even a local or veteran race.
Prior to the Glen Helen race, we hadn't heard much about you in a while. What have you been up to?
Not much. I didn't race the nationals this year. I was supposed to be employed by Yamaha full-time, but they had some management changes and layoffs and hired some new engineers, so that was delayed. I had been doing some part-time work and durability testing for Yamaha, then the Vet thing came up and I started looking to race that. Three weeks ago I started racing local races. Before that I had been off the bike for four months. It was fun to go to a race and not have to train my heart out and have all the pressure of a supercross or national and do so well. Before that, the way my life had been going, I'd work really hard, go to a race, have bad luck and get hurt. But after this weekend I hope to finalize everything with Yamaha. Beyond that, man, I've been doing a whole lot of nothing.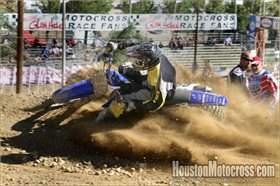 CJ was on it at GH

photo: Allan Sherer

So what's next?
I'm going to train and have fun and ride when I can and see what Yamaha has planned for me. I'm just going to see how it goes. This is the first time ever I've had fun and not worried about racing. I'm too old for that. I'll see how it goes and probably do some supercrosses this winter.
Anything you want to throw in?
I'd like to thank the people that have always been there for me. The biggest help has come from Yamaha and GYTR. I'd also like to thank Oakley, Fox, Etnies, One Industries, Tool Shed, and Kris Keefer, who is basically my boss at Yamaha.
Casey Johnson's sponsors:
Tool Shed