Welcome to the Shift Number Cruncher! We have another single digit on the horizon that is going to blow you away, but it's still coming together. Thus, we went with #46 for this week. Some of the most interesting and colorful men to ever race on two wheels have carried the #46. In addition, the mid-pack number bestows a very clear privateer distinction: some of the fastest privateers in the history of the sport have kicked factory-backed butt whilst running the four-six. Actually, #46 has it all: the old school, Supermoto guys, Canadian guys, moto-journalist guys, you name it. Check these guys out.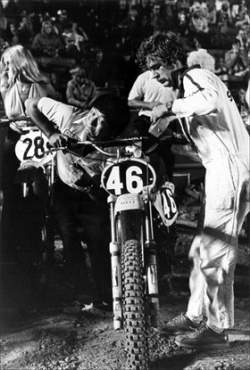 Brian Lunniss
photo: Dick Miller Archives
Here we have two living legends in
The Man
himself and
Brian Lunniss
. Lunniss, who now works with Mechanix Wear, turned wrenches with DeCoster, Hannah, Johnson, Bradshaw, and more. This photo, which we've run before, is Brian holding The Man's RM250 at the Superbowl of Motocross, 1975.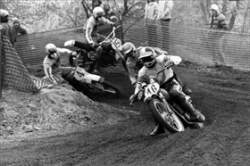 Rex Staten
photo: Dick Miller Archives
Check out this epic photograph of
"Rocket" Rex Staten
holding off factory Kawasaki's Gary Semics and Jimmy Weinert on his Harley-Davidson at the old
Hangtown
track. No, you read that right, I said Harley-Davidson! Even though this is a black-and-white, you can almost taste that loamy dirt. Make note of Rex's extreme front-suspension handicap!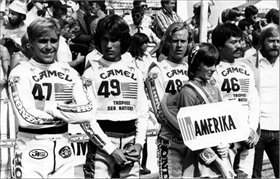 Chuck Sun and Team USA
photo: Dick Miller Archives
How's this for some American Motocross History 101: Back in 1981 in Lommel, Belgium, when Team USA won the Motocross des Nations for the first time, Team Honda's
Chuck Sun
got the four-six on his bib. They went on to whip the world in the sand. I can't imagine what those Team USA bibs are worth now!
Eric McLear
was one of those cats who used to show up at the Amateur Nationals that I had never heard of, but would go out there and run with Emig, Bradshaw, Antunez, and every other fast guy from that era. Hailing from Romeo, Michigan, McLear would go on to put in some good rides as a pro—most notably, his podium finish at the '91 Daytona Supercross in the 125 class.
It's appropriate that we run
Lance Smail
again for a couple reasons. You may recall seeing Smail in last week's Number Cruncher as a member of the #69 club in 1991. Lance—easily one of the nicest guys you'll ever meet—went on to run #46 the following year. In addition, Lance was a revolutionary privateer in the way he pioneered the four-stroke during the late '90s on a monster KTM 525.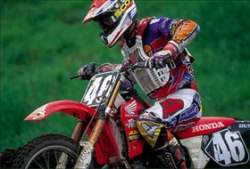 Davey Yezek
photo: Fran Kuhn
Davey Yezek
was one of District 5's favorite sons. As one of the fastest amateur riders in the country, he made the jump into the pro ranks and, after a great rookie year as a Team Green rider, ran into an unfortunate string of bad luck and injuries. Regarded as one of the most down-to-earth and cool riders you could hope to meet, Davey had his ducks in a row coming into the 1994 season. The upstart privateer Honda of Troy team had been formed with him as a member, and he had planned an assault on the 125 East Region SX and Outdoor Nationals. Sadly, he would break his arm and his sternum, which was the beginning of the end of his unlucky career.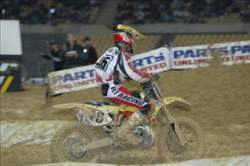 Daryl Hurley

photo: Simon Cudby

Arguably the biggest win in the history of the #46 came when Daryl Hurley shocked the world and won the 2003 THQ World Supercross in Seville, Spain, on a Motoworld Suzuki. In what is widely considered the muddiest supercross in the history of the sport, Daryl persevered through conditions that were so bad that a trackside dozer actually got stuck, to earn one of the biggest wins of his career.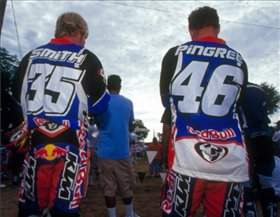 Kelly Smith and David Pingree
photo: Simon Cudby
While thumbing through the archives, I found this picture of
Ping
and
Kelly Smith
and cracked a huge smile. Not so much because it's a picture of Mr. 250F Supermoto himself, but rather the fact that he ran #46 in 2001, and guess what number the cat standing beside him (Kelly Smith) earned for 2007…. Yup. While he never won a title, few guys were as adept at riding a 125cc two-stroke on a supercross track as Electronic Ping, or as good on starts or in the mud as Kelly Smith.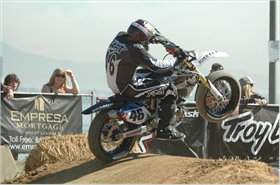 Carey Hart
photo: Rob "Oly" Davis
Here we have
Carey Hart
riding some Supermoto last weekend. It doesn't really matter what place he got, because he gets to go home to Pink and take her shopping with the checks he's getting from Miller Lite, so he pretty much wins regardless. But at one time, Carey was a journeyman privateer just looking to catch a break. He ended up catching about twelve of them, but he earned it every step of the way.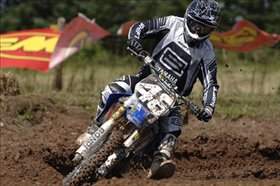 Trever Hall
photo: Courtesy of Racer X Canada
Up next we have something to satisfy your motocross palate with some Canadian bacon: Machine Racing Yamaha's
Trever Hall
sported #46 this past year. Hall, who hails from Queensville, Ontario, has been a top-fifteen MX2 rider in the CMRC Canadian Nationals for the last three years. This season, Hall's best finish was an eleventh overall in MX2 at the River Glade National in Moncton, New Brunswick, and a fourteenth overall in MX1 at Gopher Dunes. He is also running Shift gear, so he made the cut with flying colors.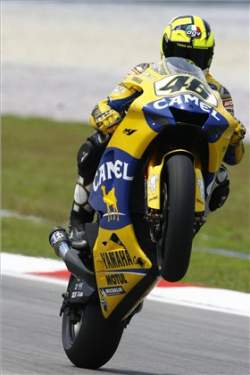 Valentino Rossi
photo: Andrew Northcott
Finally, a tip of the visor to The Doctor, so I will turn the floor over to
Road Racer X
's Chris Jonnum: "Although
Valentino Rossi
just lost the MotoGP championship, he's keeping the same number—just like he did every time he won. He's like
Ricky Carmichael
and Stefan Everts in that he has always liked to run his signature number, even after winning the championship. Though humility might have something to do with this, Rossi is also known to be very superstitious, and he has many rituals that he follows every race and every season. His number is just one of those: Vale got #46 from his father, Graziano, who was also a Grand Prix racer. When he's done, Moto GP will likely retire the digit, just as Youthstream just did for Everts' 72."
As per the norm with the numbers I crunch, I like to take a look at some of the interesting things that happened that year. George Orwell wrote "Politics and Government." And a couple matters of coincidence I found were that both Bill Clinton and George W. Bush were born in 1946, as were film giants Oliver Stone and Steven Spielberg, and 1946 is the same year as a couple of other giants in Dolly Parton and Andre The Giant.

If you have anything to add on these guys or have some more #46s that you know of, be sure to e-mail me at andy@mxsports.com and we will throw your contribution into the Number Cruncher Redux.