Here's Racerhead.
Well, our beloved Mountaineers went down in a blaze of not-so-glorious fumbles last night at Louisville. But that's okay: I've been saying since last year that next year is our year…. Does that make sense? Our sophomore QB and tailbacks have two more years of college football left (if they stick around that long). Thanks to everyone from Tallahassee to Ann Arbor, Columbus and San Diego for the encouraging messages. Life goes on.

The guys at Fly racing in Boise, Idaho (along with our publisher Scott Wallenberg) wanted us to know that Boise State won again and is now 9-0. Could they meet WVU in a bowl game?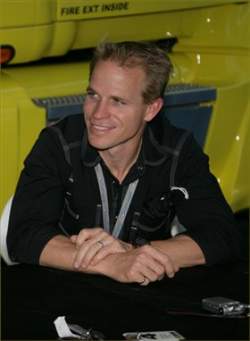 Aldon Baker has had an amazing year as a trainer
photo: Steve Bruhn
Speaking of Tallahassee, has anyone in the history of motorcycle racing had a better year that
Aldon Baker
? He's the trainer of AMA SX and MX champ
Ricky Carmichael
, and now newly crowned MotoGP champion
Nicky Hayden
. To have the best motocross rider and best road racer in the world in your small arsenal is quite an accomplishment, and it couldn't happen to a nicer guy.
Apparently, one of the other riders Aldon trains—Ben Townley—gets no small amount of grief from RC and Nicky. He was supposed to win the 250F title this summer, but his knee injury dashed his hopes. There's always next year, BT57.
And congrats again to Hayden, who somehow overcame that bizarre run-in with his Repsol Honda teammate Dani Pedrosa at the next-to-last round and rebounded for the title at the last round after Valentino Rossi crashed. It's been a long time since an American was on top of MotoGP and Nicky, who is very popular in motocross circles, is a worthy champion.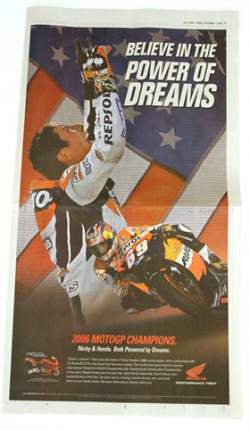 Nicky's win got him a full page in Friday's USA Today
Open today's
USA Today
and there's a full-page win ad for Hayden from American Honda. That's big. Apparently, in the new
Cycle News
(which we won't get for another week or so in West Virginia), Yamaha purchased a congratulatory ad for Hayden's win. That's a fantastic display of sportsmanship from Rossi's brand.
As far as motocross goes, both arenacross series kick off tonight, with the Toyota AMA Series getting underway at its traditional opening city of Des Moines, Iowa, while the BooKoo tour goes off in Fresno, California. Andy Bowyer took a look at the AMA tour in yesterday's Rev-Up if you want a preview.
The biggest news is that www.LiveISports.com will air the BooKoo event live beginning at 7 p.m. (PST) both Friday and Saturday. Also, DMXS Radio just found out that Team Makita Suzuki's Ryan Dungey is going to race in Fresno.
And if you're not already signed-up, this is your last opportunity to join MotoXDream's 2007 BooKoo Arenacross series. Complete information on the BooKoo Energy Arenacross Fantasy Series, including prizes, race schedule, series details and pricing can be found at here.
Next weekend marks the biggest SX race in Europe, the annual Paris-Bercy classic, which is now a 250F race with a France vs. the U.S. vs. the rest of world format.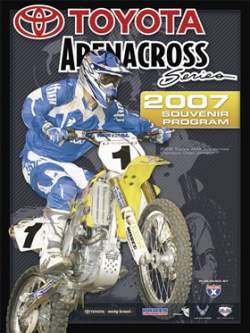 Here's the program cover for the Toyota AMA Series
The French are pretty high on
Christophe Pourcel
, the 18-year-old MX2 World Champion who is destined for America. In fact, Pourcel was here this week, practicing at the Kawasaki track and getting ready for next weekend's Paris-Bercy race. There was talk that he cartwheeled and may have banged himself up, but it appears he's okay.
The media over there in France is hinting that he's "the next JMB," with reports that he "turned many heads this week by clocking ultra-fast lap times for his first-ever SX tests at Kawasaki's Corona track, and will use full Pro Circuit equipment for the first time at Bercy, prove as good at SX as at MX and justify his reputation –gained among French fans and Press- of being the 'new JMB'?"
That's a lot to lay on the kid, as JMB = GOAT in French moto circles. I saw Christophe (and his also-fast older brother Sebastien) at the MXdN and he could do well here. But my advice would be the same as it was for Ben Townley last year, and every other guy coming here from anywhere but Australia: Proceed with caution in supercross, focus on outdoor motocross the first year, then ramp up your SX dreams the second year.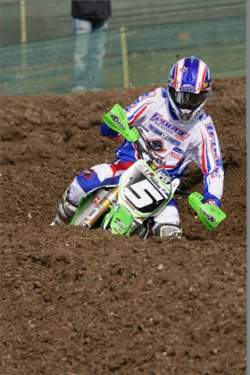 Chris Pourcel at the 2006 Motocross des Nations
photo: Simon Cudby
Either way, we'll know more about Pourcel after next week's Paris-Bercy race, which will also include
David Vuillemin
, new Yamaha of Troy rider
Jason Lawrence
, and top U.S. 250F riders
Mike Alessi
and
Josh Grant
.
Since everyone is getting ready for that race and the upcoming WSX races in Canada, here would be a good place to turn it over to Ping.…
Brett Metcalfe was at Glen Helen yesterday doing some riding on his new Kawasaki 250F. The Australian rider was one of the most sought-after riders this silly season and he landed with the powerful Monster Energy/Pro Circuit Kawasaki team. Brett says that he loves the bike and he looked very comfortable even though he had only been on the bike a short time. Bret wasn't sure what coast he would be riding on and said that Mitch hasn't told him much about who was on which coast.
Also, Grant Langston is finally on his Yamahas, and from what we understand, Broc Hepler will be taking delivery of his on Monday. Broc actually raced last weekend at a local Pennsylvania race on his Suzukis, but now his contract with Yamaha has kicked in and he can ride blue without any penalties or problems.
And speaking of Langston, he is not working with Jeff Spencer, as we incorrectly noted here last week; he will be with John Emerson, who worked with Billy Laninovich last year.
In other Pro Circuit news, Christophe Pourcel has been turning heads at the Kawasaki test track. According to Bones, the team's suspension technician and coordinator, the MX2 world champ is absolutely flying. In fact, Ryan Villopoto has to "bring his A-game" in order to better Pourcel's lap times.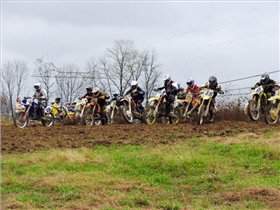 Broc Hepler's last race on Suzuki was a local one
photo: Becky Polaski
The downside is that the kid doesn't speak a word of English. Bones said that he spent a day trying to improve his supercross setting but didn't make a lot of progress because they can't understand each other. That sounds a lot like
Mickael Pichon
when he first came over to the States. Christophe is preparing for Bercy right now, but he will come back to the U.S. to compete in the first few West Region SX rounds in January. His brother Sebastien will be coming over with him in January also and racing the first few rounds on a 450. Kawasaki is building a factory bike for him to use during his stay.
Most of the buzz in California this week revolves around the AMA Supermoto finale in Long Beach. The Troy Lee-promoted Duel at the Docks has drawn quite a few names that don't normally compete in Supermoto. AMA Formula Extreme champion Josh Hayes is one rider that will be joining the Supermoto class on Sunday. Josh really wanted to compete in the event and Honda had a couple race-ready Supermoto bikes with big number 2's on them. Jeremy McGrath was scheduled to race but won't due to his neck injury. Still, Hayes is amazing on asphalt, and he knows his way around a motocross track as well. Mike Metzger, Josh Hansen, Ronnie Renner and a list of others will be joining in the fun as well. For a look at some of the these riders preparing for the weekend, check out the video that Simon Cudby shot right here. For a complete starting list and schedule check out www.troyleedesigns.com.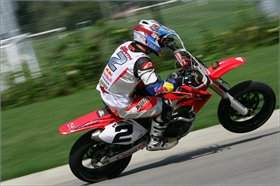 Jeremy won't ride again until the end of December
photo: Simon Cudby
MC did speak to DC this week for a story he was working on, and he said that he's been taking it really, really easy since he hurt his neck at his own race. He was up in Colorado on vacation, and doctors told him to do nothing until the end of November. They also don't want him riding again until after Christmas.
One rider that was signed up and looking forward to racing is dirt track hero Johnny Murphree. Johnny was practicing this week and tore a ligament in his knee. Pro Circuit had built him a race bike to use for the weekend, but he has already headed to the bay area for a visit to Dr. Ting, surgeon to the stars. Get well soon, Johnny.
After being held without bail for almost five years—doesn't sound like America, does it?—Mike Goodwin finally goes on trial on Monday for the shotgun slayings of Mickey and Trudy Thompson, which took place 18 years ago in their driveway in a gated community right outside Los Angeles. The twelve-person jury was sworn in Tuesday. According to a press release on the case from Justice On Trial, Goodwin is charged with two counts of murder, along with the special circumstance allegations of lying in wait and multiple murder, for the March 16, 1988 shooting deaths of the 59-year-old off-road racing legend-turned-promoter and his 41-year-old wife.
This notorious case has started and stalled more times than anyone can count. We hope to keep you updated as the trial proceeds. Why is it important? Goodwin is the man who invented what has become supercross, and he and Thompson were two of the biggest promoters back in the 1980s before they joined forces and then fell out badly. At any rate, stay tuned to Racer X Online for updates.
Here's a note from
Ken Faught
at Pole Position Raceway in Corona: Pole Position Raceway is starting to book holiday parties at both facilities in Corona, CA, and Oklahoma City, OK. Each state-of-the-art indoor kart track features a small motorsports museum with cool items like
James Stewart
's 2004 KX125,
Jeremy McGrath
's 2004 Honda CR250R,
Mike Metzger
's KX250 (used to backflip over the Caesar's Palace fountains),
Jeff Emig
's '97 SR250,
Kenny Bartram
's 2007 RM250,
Guy Cooper
's 1995 RMX125,
Rick Johnson
's 1984 YZ250 and much more. This is a track for racers by racers and Jeremy McGrath calls Pole Position Raceway the coolest thing to do when you're not riding! If that's not saying something then consider this: Last year American Honda, KTM, Team Green Kawasaki, Yamaha, Suzuki, Alpinestars, Answer, Tucker Rocky, Race Tech, Weekend Warrior,
Racer X
, and Troy Lee Designs all had events, and this holiday season is going to be bigger. We've got new track layouts at both facilities, and the fastest karts around. Fore more information, call an event coordinator at 951-817-5032 (Corona, CA) or 405-942-2292 (Oklahoma City, OK) or check out
www.racep2r.com
.
Looking for some cool Grand Prix motocross memorabilia? Check out the Wonder Warthog Auctions, where the money goes directly to the privateer heroes.
Well, the flu bug has bitten DC today, and he is pulling the chute. So now Bad Billy will finish things off.…
While reading the new
ESPN The Magazine
this week, we ran across a few moto-related items. First off, check out this two-page spread from the Weston Beach Race! Also, in the Motorsports section they feature a small section talking about
Ricky Carmichael
's move to NASCAR.
On Monday we posted a Racer X Files of the "Stolen Glory" feature about Jaroslav Falta. It was sort of a request by Racer X reader Jim Musich, who had this to say:
"Thanks again for the Falta article. I just noticed you printed my letter also. Thanks for that too! Once again, reading about that final world championship race in Switzerland upset me. But there may be a silver lining (albeit slight) in that dark day in motocross history, and that is that today, Jaroslav Falta is a well respected, even well loved hero to many fans of Vintage MX racing. His appearances at vintage races here in the US prove that, with crowds gathering to get a glimpse or an autograph, or better still, to see him ride. Still shy and boyish looking as ever. So, point being. Where is Moiseev ? The other Russian teammates? Running an elevator somewhere in Russia? Working in a factory? Who cares. Certainly no one I know in the Vintage MM circles. But people care about Jaroslav Falta, as these articles attest. As one of the most desirable models of CZ attest. The 1975 250 Falta MX. I'm ranting on I know, but Mr. Falta is one of my all time hero's. I've met him a few times, the first at a Vintage National at Sears Point a few years ago and actually called him Mr. Falta. He's only a few years older then me :-). I'm still riding Cz's just like when I was a kid (not exactly just like but not bad). I'll include a pic of me on my Cz taken at Sears. Keep up the good work and thanks for doing what you're doing."
Jim Musich
Oh, check out Ronnie Faisst's new clothing line, www.shuiclothing.com.
And you can check out the new Nitro Circus trailer at www.nitrocircuscrew.com.
The Halloween holiday actually fell on this past Tuesday, but almost all Halloween parties were held last weekend, including a little get-together at Ryan Hughes' place. Our art director Langers was invited and sent us this picture.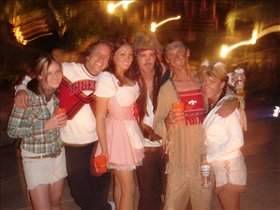 It was a Monster Mash
photo: Langers
And here's a note we got regarding the Charlie Brown photo in last week's Racerhead.
In regard to your latest "Racerhead" featuring the Peanuts gang. My name is Craig Schulz and I am the son of Charles Schulz. I grew up racing Moto x in Northern California with the likes of Danny Magoo, Daryl Schultz (no relation) Danny Turner and others, my dad came to watch some of the races and that is how the special came to be. It is also how the "Joe motocross" strips came to be in a short series that ran in the early 70's. I sent an original to David Bailey after he was injured and he said he still has it on a wall. ( I hope so because it is worth a lot). Just thought you would like the inside scoop on the film. Love the mag, I sent in some photos in "your collection" last year.
Craig Schulz
Simon Cudby got a surprise package in the mail yesterday from Mike Koger at Smooth Industries. Smooth is producing a line of photo-themed items with Simon, the first of which is a cool 400-piece puzzle that features the start from this year's High Point National. Check out www.smoothindustries.com to get a head start on your Christmas MX gift shopping.
The weather has definitely took a turn for the worse here in the Northeast, but if you're looking for some track time, read the note sent to us by
Eric Mcree
about a new indoor facility in Michigan.
I just found out that there is a indoor motocross facility opening up in my immediate area on Nov. 1st. This is great news for all the hard core riders in district 14. The last race of the year was last weekend on Oct. 28-29th, and most of the riders in Michigan don't ride their bikes again until the beginning of May for the Spring fling series. I think that the people starting this up are doing great things for our sport and will keep the interest of racers up all winter long, which will in turn boost bike and accessory sales in the months that are usually very slow for all the local dealers. I was wondering if you would maybe mention something about them on the web or something?

McCulloch's PRO-MX (www.mccullochspro-mx.com)
Opens November 1, 2006.
10 race weekends
Parts and service
10 a.m. – 10 p.m.
1020 Decker Road
Walled lake, MI
248-431-2676
Hope that helps, Eric!
And lastly, we just got a call from Racer X Brand Manager Mike Farber, who is inside the Wells Fargo Arena in Des Moines, Iowa for the opening round of the Toyota AMA Arenacross Series. His initial report from practice was that the defending champion Chad Johnson looked the fastest, but the talent pool is deep. Another rider that looked impressive was Robbie Reynard, who is apparently racing the entire series, along with Teddy Maier, Greg Schnell, and the Johnson brothers. Stay tuned to www.arenacross.com all weekend for updated results.
Well, that about does it for Racerhead. Thanks for reading, and have a great weekend.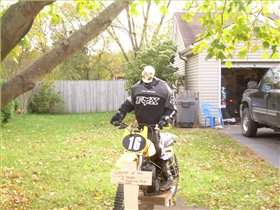 photo: John Walaszek