Hello, everyone, and welcome to the Rev Up. Believe it or not, the 2007 racing season will be getting underway this weekend. While we're still a month away from Toronto, the Toyota AMA Arenacross Series will kick the tires and light the fires on their 2007 tour this Friday night in Des Moines, Iowa. Just two hours later, the BooKoo Arenacross Series will blast off at Seland Arena in Fresno, California. Unless you don't have a computer—and if you're reading this, I'm assuming you do—you certainly already know this, as there have literally been dozens of press releases in the last few weeks for both tours.

It's impossible to cover both at the same time. Each has their bells and whistles, and each has a nice roster of talent. In the Toyota AX Series, which is the oldest one, there's defending champion Chad Johnson, plus well-known names like Brock Sellards, Danny Smith and Justin Buckelew. The BooKoo tour, on the other hand, boasts Josh Woods, Michael Blose,
Tommy Hofmaster
, Shane Bess and
Tiger Lacey
, plus pit bike racing and a live webcast (with $5 pay-per-view). With all that in mind, I am going to going to focus on one tour this weekend—the Toyota AMA tour—and then get revved up about BooKoo next week.
I've raced the AMA tour—which was founded by Mike Kidd, who sold it, ran it, then went off to start the rival BooKoo series on his own—and I know that Iowa is a huge moto state chock full of die-hard fans. You're probably thinking, 'Iowa? Really?' Hey man, Iowa has its fair share of crazies. Ever heard of Slipknot? Exactly.
Des Moines will be ready for action this Friday night. The thing I miss most about racing was pushing my bike to the line in front of a packed crowd and hearing the announcer belt out my name and hometown with White Zombie (hey, it was the '90s) blasting in the background. I used to get so stoked that I could barely kickstart the bike because my leg was shaking so much.
The intimate setting of Arenacross provides a super high-energy vibe. If you have ever been to an NFL game or been a part of an Anaheim sell out, you have felt the sense of anticipation before the show starts. Take that flux capacitor of adrenaline then stuff it in an area half the size and, well, welcome to the jungle, baby! And if you want to go run through the jungle this weekend you are going to find some animals with names like Johnson, Sellards, Greg Schnell, and Jim Chester that will be waiting to have you for lunch. Arenacross is a fast-paced, take-no-prisoners, eat-or-get-eaten sprint race that crowds really get into. Let's talk about the contenders for the 2007 championship and get Revved Up for Des Moines.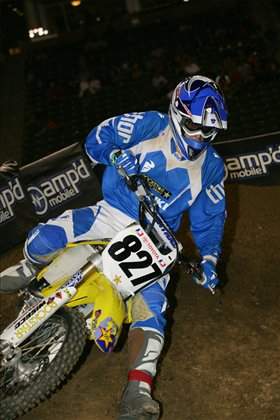 Chad Johnson will be trying to defend his championship
photo: Simon Cudby
2006 was a two-sided story between Sellards and eventual champion Johnson. It all came down to the last round and when the dust settled it was Chad hoisting the title belt above his head. Ah, but just as the sport has done since it began, each new year sees more new faces and the competition index grows even stronger. As we draw close to Friday night's season opener, the crowd in Des Moines will get to see perhaps the most competitive line up yet.
New recruits Buckelew and Danny Smith will be Chad Johnson's biggest title threats. I think the diminutive Buckelew will be right at home on the small tracks. He gets great starts and spent a lot of time as an amateur racing fair ground races in Colorado. His supercross experience won't hurt him either. Smith, on the other hand, is a bit of a question mark. He is super aggressive and knows how to twist it, but he is a tad injury-prone, and one of arenacross' ugly traits is its affinity to take guys down. If he keeps it on two wheels he will be tough all season long. These two cats will be riding for Tuf Racing/Cernic's Honda, a team that has won its share of championships with Jimmy Gaddis and Buddy Antunez.
Ah, but every year the newbies get a rude welcome from the arenacross ringers. Guys like Jim Neese, Kevin Johnson, and Travis Hodges have the formula down pat and are very tough to beat in the bullrings. And don't forget about Daniel and Vincent—the Brothers Blair will be rocking, literally, all season long and are not afraid to trade paint with anyone. Their band, The Main Event, will be playing at several rounds and will make a ton of fans in 2007.
Arenacross is a great show for the entire family. One of the coolest things about the program is the Pit Party they have Saturday afternoon. How cool is it that you can watch the races Friday night, then get to actually walk on the track, meet Miss Arenacross Ashley Phillips and see how big those, uh, whoops are for yourself? All the boys will be down there hanging out with their tricked-out bikes. Take junior down there and get his picture sitting on Chad Johnson's tricked out RM-Z450. The arenacross experience is more fan friendly than any other motorsport and simply as cool as it gets.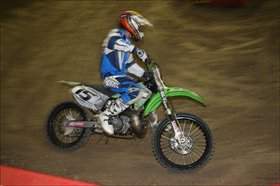 Cody Gilmore
photo: Jason Hooper
Before I go I have to take it down a notch and get serious. Up-and-comer Cody Gilmore began feeling a nagging pain in his lower back shortly after Loretta Lynn's. The pain turned out to be cancer and Cody has been fighting ever since. He stared the disease down, fought back hard, and will be in attendance for his home race this weekend. It breaks my heart that he will not be pushing to the line in front of his hometown crowd because nobody in the house will want to be out there more than him. He will be kicking it at the after party where the proceeds will go to his recovery foundation. If you go to the race this weekend, make sure to hit up the party and throw some love (the kind that folds) to Mr. Gilmore. And when he comes out for an interview before the race, cheer your ass off. Make sure he really gets to feel it. That's all racers really want and I am sure Cody has fought harder than we know to hear.
Thanks for reading, see you next week—this time with BooKoo in mind!
-Andy Bowyer