Racer X Files: Stolen Glory
We received this letter last week:
Dear Racer X:
I'm reading mail room in the latest Racer X and a guy writes about an article on Jaroslav Falta and the '74 world championship called "Stolen Glory." You mention how it may be online in the fall. Maybe you could tell me when it may be out or even what month - year mag it was in. I remember as a kid reading about that race in Cycle News and being so upset and sad I almost cried. Falta and Cz's glory were never the same.

Jim Musich

Well, Jim, here you go. Just click on the image to read "Stolen Glory," which was written by Ken Smith.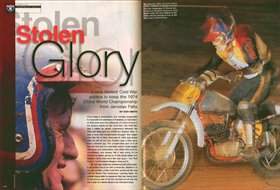 Click on the image to read Ken Smith's tale of Jaroslav Falta