Wow, what a week. I can't remember this much drama and intrigue going down since the notorious cancellation of the 2002 Motocross des Nations at Competition Park. Once again the MXdN is heavy in the news, but not because of clowns and Indians like we had back in '02. Instead, it's all about Ricky's shoulder right now, whether he can race next weekend or not, and where Ivan Tedesco fits in to AMA Team USA
In case you were off the grid this week, Carmichael crashed in the opening laps of the first moto at
Glen Helen
, banging his left shoulder hard enough to DNF due to injury for the first time in his entire career—how ironic that it would come in what was effectively the last national of his prime?
Carmichael went down so fast that even the OLN cameras missed his crash. Producer B.J. Smith told me, "The only time in the guy's career that he crashes out of national and we miss it? Unbelievable. We just happened to be following James Stewart at the time, and he went down so fast no one caught it."
Ricky himself described the crash to Racer X in the exclusive interview he did for our Suzuki Between the Motos and sounded deeply disappointed in the fact that he missed one last chance to battle with Stewart (who flat-out flies at Glen Helen) before they team up together for the Motocross des Nations next week.
He flew home Sunday night (sharing a plane ride with Kevin Windham) and went straight to the doctor Monday morning for an MRI. Then another doctor. Then another doctor. RC was looking for someone to tell him the best and quickest path to fix that shoulder.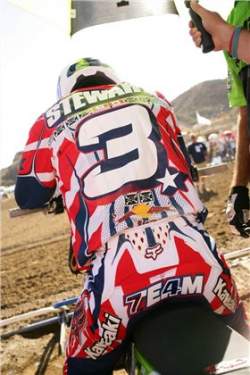 James rode like the champ he will be on Sunday
photo: Simon Cudby
In the meantime, his Team USA teammates Stewart and
Ryan Villopoto
were celebrating an excellent afternoon at
Glen Helen
, where James earned his third national win of the season to close out on a very high note. If his performance there is a glimpse of what a semi-racing-Ricky and a supercross-only-Reed means to the AMA Toyota Motocross Nationals, we are in for some boring motos in 2007.
As for Villopoto, he put an emphatic exclamation point on his 2006 Toyota AMA Motocross Championship season, scoring the national title with his sixth overall win in 12 races. Like Stewart, he wore his Team USA gear in the second moto, putting #2 on his bike and, quite honestly, looking a little WMA-ish in the process!
Almost immediately though, talk turned to who might replace Carmichael on Team USA and ride the #1 bike against Belgium's Stefan Everts, New Zealand's Josh Coppins, and late-coming Frenchman Mickael Pichon. I can only imagine what RC and Windham talked about on the plane ride home, but I can tell you this: It was readily apparent from as far back as Loretta Lynn's, where AMA Team USA was announced, that K-Dub might not be interested in being an alternate. In fact, he was going to be on the shirt in the first place—Steve Whitelock and Roger DeCoster wanted to pick four guys—and you can see that ad in last month's Racer X Illustrated. Windham is a family man with two young children, and with a long schedule as it is, he understandably wanted to be on the team for sure back in August or taken out of consideration as he planned his off-season.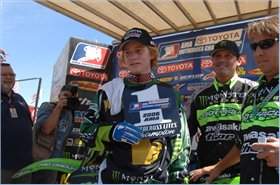 Ryan Villopoto: He's got a #1 plate, but will he run it next year?
photo: Carl Stone
And then on Sunday, between motos, he was asked about Team USA in light of Ricky's spill. "Last year was one of the best experiences of my career, and I would gladly go again, but not like this," Windham told
Eric Johnson
. "It's Sunday, the race is two weeks away, and I have second-place (in the series) to worry about. I don't even know what Honda would think of this. I was planning on going home tomorrow and taking a little break."
Factory Connection Honda's J.C. Waterhouse told Whitelock that if Windham was asked to go—and he wanted pretty much a guarantee that he would race, because it's some serious cash to get a bike Fed-Exed to England and the rider's, his family's and mechanics' plane tickets and lodging—he needed to know by Tuesday. And it's not just sending a bike; the sound levels are lower, the fuel is different, and a lot of testing needs to happen. Windham and Honda would not have had much of a chance to do any of this.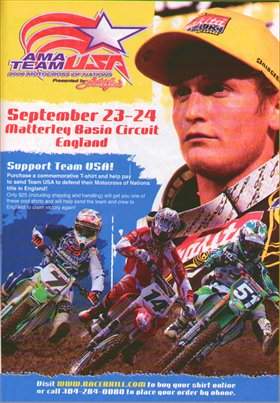 This ad only ran once
The next guy to talk to EJ about the unfolding drama was Rockstar Suzuki's
Mike Brown
, who put in some good 450-class races in the second half of summer and is now getting ready to move back to Europe and race for CAS Honda. Brownie told EJ that his bike was already there and he was ready, willing and able to go in a pinch.
By Monday, KTM was lobbying to send Mike Alessi along. The #800 was one of the young men who said he would go back in 2004 when Team USA's effort fell apart as a result of injuries, brand changes (RC to Suzuki) and class changes (James to the 250s). Red Bull KTM is HUGE in Europe, and Mike has some experience over there. He also finished second in the 250F series to Villopoto.
The problem was, Suzuki had already sent bikes and parts for Ricky over to Europe, and mechanics Mike Gosselaar and Tony Berlutti, plus Team USA and Team Makita Suzuki manager Roger DeCoster were already set to go. That had to be considered into the equation: Suzuki was already heavily invested in this race.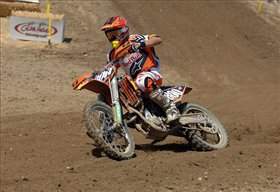 Alessi wanted to go, and he certainly would have been a quality replacement
photo: Carl Stone
So with a chance that RC might still be able to ride, the prevailing opinion was that
Ivan Tedesco
, last year's 125 National MX Champion and fourth in this year's AMA/Amp'd Mobile Supercross Series, would be the best alternate for the team. He could ride Ricky's bike if need be, and he would also accept the role of stepping back and just watching. That's what Ricky wanted, that's what Roger wanted, and that's what Whitelock and the rest of Team USA ultimately decided on.
So here we are, nine days away from the 2006 Motocross des Nations in England, and Team USA is still Carmichael, Stewart and Villopoto, with Tedesco going along as the alternate. Will Ricky really be able to ride? I will call right now—1:55 p.m. EST.
"Well, I'm in a sling, going to be in it all weekend, then I'm going to try to hit it hard on Monday," said Carmichael, who was at home outside Tallahassee. "I can feel the range improving, but man, it's slow-going. Tell everyone I'm trying, I'm trying…"
Then Ricky wanted to talk a little college football—specifically about WVU's star sophomore running back who had two touchdowns and maybe 150 yards in the first quarter alone last night against Maryland. "Steve Slaton? Dude, that guy's got an engine on him. He is fun to watch!" Damn right he is.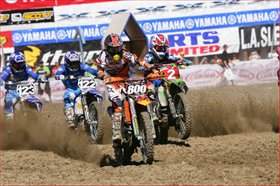 Mike would have certainly scored a holeshot or two in Europe (and doesn't Villo look like a WMA'er here?
photo: Simon Cudby
The feedback on Tedesco hasn't all been good, even though I personally think it's the best idea, and the team bosses had it in the back of their minds should something have happened to Stewart at one of the last three or four nationals.
Racer X,
What is up with sending Ivan if RC can't race, to the MXdN? I understand the AMA's point about the bikes already being over there and such, but wouldn't Windham be a more logical choice? He did finish runner-up to Ricky this year in the nationals. Man what a bummer for Kevin, as I know he would have done a great job and would have done his best to keep the crown in the United States, where it belongs. I think Ivan is a great rider and will do his best as well, I just think K-Dub is a more logical choice.
Josh Church. Claremore, OK
Racer X,
Is everyone crazy? Windham should represent Team USA! If they lose because Bubba gets carried away and Villopoto gets the jitters, let's hope Tedesco doesn't hit the wall! Windham has been racing all year, Ivan might be riding, but racing is what keeps you sharp.
Chuck Willetts. Barstow, CA
Both Chuck and Josh make good points, and Tedesco has been out for three months, but I don't think Villopoto is any more likely to get the jitters as he was at any of the last three nationals, and I also think James is a different rider than he was just a couple of months ago. He's done some smoothing out since his last big, BIG crash at Unadilla. And as I said above, I'm not sure Windham wanted to go as an alternate.
So that's it for Team USA. For now. We'll talk to RC again on Monday to see how he's feeling. Whether it's RC on the #1 bike or James (who would logically switch from the "MX3" class to MX1 to go up against Everts and Coppins) on the #1 bike and Ivan riding #3, I like our chances… But the rain could be coming.
Check out this long-distance weather map.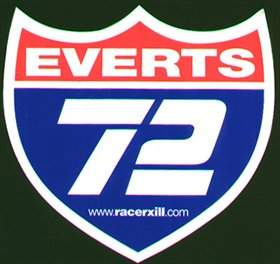 Forget about national moto interests for a moment… Want a free Stefan Everts' sticker? Just send us a S.A.S.E.
One rider not worried about the mud would be the extraordinary
Stefan Everts
, who I actually spoke to on Monday. Like everyone else in the motocross world, he immediately wanted to know about RC and also sent along his best—Everts has always been a classy guy—and also to check and see if we would bring him over some of his Racer X columnist's stickers.




If you want one of your own, just send us a self-addressed, stamped envelope to:

Racer X
Attn: #72
122 Vista Del Rio Drive
Morgantown, WV 25608
Okay, back to the Tedesco thing. One person that hasn't weighed in on this is Roger DeCoster, the manager of both Team USA and Team Suzuki. As one could expect, he approved of the idea of sending Ivan along. "Suzuki made a big investment to get Ricky ready for this race," he told me today. "We shipped a lot of parts, did a lot of testing and just really want Ricky to have a great day over there. Now it might be Ivan who races, and I think he will do fine. I know that he has been hurt, but he could have raced Pittsburgh (Steel City) and Glen Helen, but we wanted to hold him out for supercross. He was not in the championship outdoors. But now there is an opportunity here, and he will be ready to go. He has been riding a lot, he is familiar with the bike and the race over there, and I think this is the best move for everyone."
Ben Townley is also not afraid of the mud, as he told Eric Johnson earlier this afternoon in a short pre-MXdN interview. Of course Ben will be riding for New Zealand, returning to the same race that really put him on the U.S. motocross map, at least, when he was the second-best man in the whole field last year to Carmichael. His primary competition this time will be his close friend and Monster Energy/Pro Circuit Kawasaki teammate Villopoto.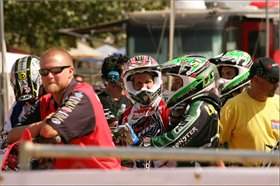 These three guys are all super-connected.
photo: Simon Cudby
And coincidentally, in one of those really-small-world connections, Townley's practice mechanic in Florida is Stefan Everts' partner
Kelli
's brother… I know, it's not that important, but it is kinda interesting.
Okay, some more MXdN stuff from Billy Ursic:

If you want to learn more about the 2006 MX des Nations being held in Great Britain, the easiest thing to do is to check out the website www.mxofnations.com, which is solely dedicated to the 60th running of this storied event. There you can find everything from ticket availability and prices, a timetable of the weekend's events, a computer rendering of the track, directions, camping and contact information. We checked the site out today, and the pre-order ticket sales have concluded, but they will be available at the event. For local attractions, places of interest and everything you need to know about Winchester (the ancient capital of England), visit
www.visitwinchester.co.uk. A comprehensive booking service for hotels in and around Winchester can be found at www.stayinwinchester.co.uk.
Okay, let me turn this over to David Pingree, who was all over the place this past weekend and week, as Southern California is a busy place when the season comes to an end there….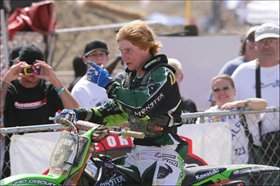 Who knew Villo was banged up going into Glen Helen?
photo: Simon Cudby
After so many weeks of racing on the East Coast, it was great to have the industry back in California for the weekend. Well, that's what I thought up until Saturday when things got really busy. The buzz on Saturday was about the 250F class championship that would be decided on Sunday. The story line was almost identical to last year's showdown between Tedesco and Alessi. Last year, Ivan had a 34-point lead; this year Ryan had a 29-point lead.
Everyone was waiting for a repeat of last year's debacle, including Pro Circuit's Mitch Payton, who was keeping several sets of eyes on #800 all weekend. We all know that both riders rode a clean race and Villopoto won the title after a first moto victory. What you may not know is that Ryan crashed hard while practicing last Wednesday at Perris Raceway, cutting his face and knocking himself silly. His trainer, Randy Lawrence, said this of the incident:
"He went down pretty hard and it shook him up. He didn't really want to ride anymore after that and he was just cruising around. I sat him down and told him that he still had a job to do that weekend and that he couldn't just go out and cruise around. He needed to go to Glen Helen to win, not just take it easy. So, we got him settled down and, obviously, he rode like a champion." That was very obvious. RV closed at least 10 seconds on Mike Alessi in the first moto and pulled away for the win and the championship.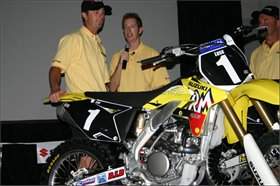 DMXS Radio's Kevin Kelly chats up Ezra Lusk at the Suzuki intro
photo: Ping
On Saturday night, Suzuki hosted a party at Pole Position Raceway to introduce their newest motorcycle; the 2007 RM-Z250. They brought in some of their past 125 champions including
Mark Barnett
,
Ezra Lusk
,
Damon Huffman
,
Travis Pastrana
and
Buddy Antunez
to celebrate their winning history in the 125 or Lites class as it is now called. Their theme was "Return to Dominance" and by the looks of the bike they might be well on their way.
The entire bike is built by Suzuki now after several years of partnership with Kawasaki. Much of the technology on the new 250F was derived from what they learned with Ricky Carmichael on the 450. That night, each of the former factory Suzuki riders spoke about their experiences during their championship seasons and the bikes they rode that year. Each of the new 250Fs had graphics matching each rider's bike the year they won titles.
It was a very unique and cool way to introduce their latest effort. Carmichael, Tedesco and rookie Ryan Dungey were all in attendance to support the new bike launch. It was a great time right up until Buddy Antunez reminded me that I was two points away from being one of the riders up on stage talking about their winning seasons. Thanks, Bud Man. All that therapy down the drain.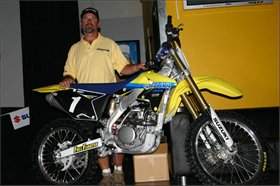 How sweet are those Bomber replica graphics?!
photo: Ping
Monday kicked off the
David Bailey
All-Star Extravaganza at Cahuilla Creek Raceway. Motocross heroes including
Rick Johnson
,
Travis Pastrana
,
Johnny O'Mara
,
Jeremy McGrath
,
Davi Millsaps
,
Mike Alessi
and
David Vuillemin
all participated in what has to be the most star-studded riding school ever.
The event was limited to 100 riders and they were split into four groups. Each group spent an hour with two of the stars and their specific section of the track before moving on to the next section. Lunch was catered by Red Bull and the track was opened up later in the day for everyone in attendance to ride. The second part of the event was at Pole Position Raceway in Corona, CA.
The Full Circle Foundation, founded by Gary Bailey, was created to help David Bailey during the trying situation he is currently going through. Once David gets his health back the money raised through this non-profit organization will benefit other injured riders in need. You can help David right now by purchasing one of these cool mouse pads.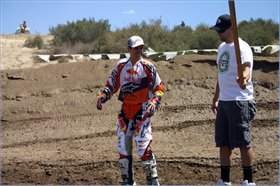 Mikey and the Cobra gave up their first day of summer off for a great cause
photo: Ping
Lately, we haven't had a shortage of riders that need help and on Monday everyone in the industry showed up to support the Little Professor. They hired an official auctioneer to take bids on the items being offered and there was some amazing stuff. Johnny O'Mara's MXDN helmet from Maggiora, Italy was one of the items up for bid. That is the kind of thing you can't even put a price on.
There were also bikes, posters and signed gear including the lumberjack jersey that Travis Pastrana did his X Games double backflip in. That particular Pastrana jersey was signed twice, upside-down, by Travis himself… very cool. There was a video reflecting on David's career and his devastating injury which was followed by a very touching phone call from David himself. The call was broadcast over the PA from a cell phone and David thanked everyone for supporting him in his time of need. Get better soon, David. We miss you.
Last night, Ryan Villopoto had a championship party at Pole Position Raceway. His folks and Randy Lawrence set it up and Ryan wasn't told about it. The recently crowned champ rolled up in a stretched Hummer (he thought he was going to dinner with his uber-agent, Bobby Nichols) with his family, trainer and a few friends. RV was greeted by at least 100 people who showed up to congratulate him. He was completely embarrassed by the attention and did his best to blend in with the crowd as soon as he walked in. The driving got a little aggressive at times (imagine that) but everyone had a great time.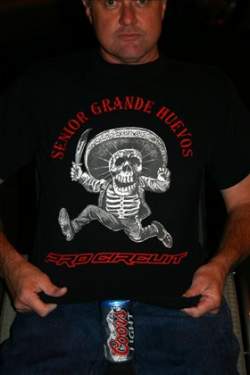 Mitch had his own championship shirts made up (and is that one of those trick new Coors Light catheters?)
photo: Ping
I went straight from Ryan's party to a concert in Temecula.
Daniel
and
Vincent Blair
, both top privateer riders for the past several years, have quit racing to focus on their band full time. The two started their band, called The Main Event, while they were racing but spent most of their time riding and traveling to races so it was mostly a hobby. They have been playing shows in LA for the past several months and I never had a chance to get to a show so I wasn't going to miss their gig last night in Temecula.




In fact, there was a large contingent of riders that showed up to support the guys. Josh Hansen, Jason Lawrence, Ryan Morais, Michael Willard, Mike Sleeter, Richie Owens and many others came out to show Daniel and Vincent some love. And the Blair brothers absolutely rocked! If you haven't heard these guys yet, be sure to check them out at www.myspace.com/rockthemainevent.

They have the same kind of commitment and drive in their music that they had when they raced and it is going to take them places.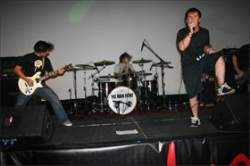 The Main Event rocks! Please check out some motocrossers-gone-for-rock 'n roll
photo: Ping
The Finals just finished. TP won this year's Red Bull X-Fighters event in Madrid, Spain. Finishing the finals with a score of 95.5, TP outdistanced 2nd Place
Nate Adams
92.0. Third place was this year's X-Fighters Mexico City winner,
Matt Rebaud
.
Danny Torres
finished fourth in the finals, followed by another Cernic's rider,
Robbie Maddison
in fifth place.
Check out some of Rich Van Every's very cool photos of this crazy event here.
We spotted this from Chris Hultner and AmateurMX: "American Honda has just introduced the new CRF-150 four-stroke minicycle. According to Ron Henricksen, Promoter of the Branson event, in order to accommodate the new product for competition at Branson USA this year, an additional class has been added. The new class will be the '150cc four stroke 12 through 16 age minicycle class.' All other classes remain the same."
The introduction of the first 150cc four-stroke minicycle race bike will no doubt be a hot topic at the AMA congress in Ohio in a few weeks, as well as one for MX Sports to be kicking around for the 2007 AMA Amateur National MX Championships at Loretta Lynn's. Stay tuned. Also, The Branson USA National Motocross Championships run October 12-October 15 near Branson, Missouri.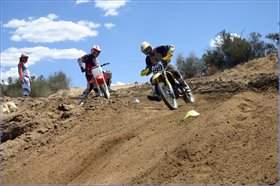 Before he left for Spain, Travis did some riding as Rick Johnson coached to help out David Bailey. Well done, everyone!
photo: Ping
Motocross of Nations fans can go to
www.foxracing.com
starting Thursday, September 21st and catch up on what is happening over in England. Fox will be providing unique insight and details of Team USA leading up to the race itself. It's the next best thing to being there in person!
The Sweepstakes will enable fans an opportunity to win a variety of cool Team USA goodies. RC's &
Bubba
's Fox V3 helmets, Vertigo Blitz gear, Authentic Pit Shirts, Hats and a plethora of other Team USA items. To enter, simply log onto
www.foxracing.com
and click on the Fox Motocross of Nations menu and follow the directions from there.
Also, we hear that replica Team USA Fox "Vertigo Blitz" gear might be available for purchase starting the Monday after the race itself! More details on the gear availability will be posted after the race.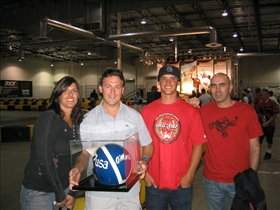 Shawn and Gina Bailey and Johnny O' helmet buyers' Ludo and Marc from One Industries
photo: Courtesy of Ludo
I tried to call David Bailey today to see what he thought about all of the great things that his friends in the motocross industry did for him last weekend, as well as to get his take on the Team USA alternate situation, but I couldn't track the Icon down.
As some of you may have already heard, Bailey was once in the same position that Tedesco is now. Back in '82, Donnie Hansen, his Honda teammate and the newly-crowned AMA 250 National and Supercross Champion, crashed hard while practicing at Rolf Dieffenbach's track in West Germany. The crash basically ended Hansen's career before he ever got to defend his #1 plates, let alone the upcoming Motocross and Trophee des Nations. So Team USA was in a fix. But rather than call on one of the elite riders of the '82 season, like Yamaha's Broc Glover or Bob Hannah, or Suzuki's Mark Barnett or Kent Howerton, team manager Roger DeCoster knew that the unproven Bailey was his best replacement because he could ride Hansen's bike.
So David hopped a jet to Europe, mixing and matching his old Fox gear that he wore in '82 with a JT Racing chest pro that was given to him by John Gregory in Germany. Bailey didn't win the race—Danny "Magoo" Chandler laid a world-class ass-whipping on the whole world and swept all four motos of the two races—but he was instrumental in helping Team USA win.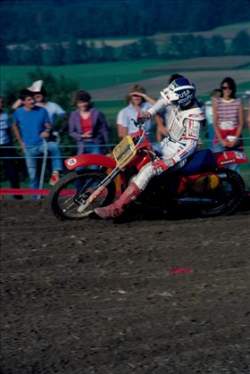 That's 1982 Team USA replacement rider David Bailey
photo: Dick Miller Archives
Within a year, Bailey was the AMA 250 Supercross and Motocross Champion, and he would win the Camel (or was it Wrangler?) Grand National Championship as well. Sometimes, things work out.
Racer X
, DMXS and GK Films all went together to make a video for Team USA to be shown at the AMA Pro Racing Awards Banquet in Las Vegas.The film features the photography of
Simon Cudby
, plus the tunes of some relatively obscure band from Ireland. Someone posted it on
YouTube
, so have a look.
Wow, just got that press release from Honda on the fact that they are discontinuing their two-stroke production after 2007. That's a bummer for the two-smokers out there…
Okay, now let me turn this over to Slavo from Mototalk, on another American racing in Europe…
Since we Euros are all used to see talented racers leave every year to the U.S. it is kinda strange to witness a young, talented U.S. boy heading out to Europe to prove his skills.

Bradley Graham, 19, from New Mexico, had the opportunity and the courage to risk the long trip to Europe for the MX Masters race in Holzgerlingen, Germany last week. After getting an offer from the German Kawasaki Team Sturm for this year's SX races in the winter he was invited to come over in his free time to introduce himself and to race an outdoor race in Germany's top series. So he packed his stuff and headed out to the Airport equipped with a bag as big as an average Euro car, full with gear and his own suspension (and of course an "The OC" DVD collection, probably to overcome home sickness).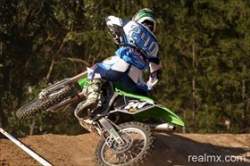 Bradley Graham in Germany last weekend
photo: Courtesy of realmx.com
With little time for testing he drove down with the team to Holzgerlingen. Of course everybody in the paddock was excited to see him race. In case if you haven't noticed, Euros always get excited when it comes to U.S. boys racing versus "our guys!" Bradley looked good in all his practice sessions but wasn't the fastest. In his time qualifying he always got stuck in traffic and had the 4th lap time. Fourth time is a solid result, of course, but it seemed as the excitement was fading just a little bit in the paddock. (And just in case you haven't noticed: Euros have big expectations of American racers!)
In the first Moto Bradley rode strong but his front wheel washed out while being in fourth position. He came back thru the pack again just to finish 8th. A solid result but the excitement in the paddock dropped once again a little bit. The team was satisfied but they have seen by now the talent in him and they knew he can do better. And, as in a cheesy movie, the 2nd moto turned out to be the eyebrow-raiser of the day!
Bradley had a solid start and was able to grab the lead after a few laps. Once he had it he never looked back and was gone. The team was going crazy as he came by every lap! They knew he could do it and he proved everyone that there still is a vast talent pool in the USA. All in all Bradley Graham seemed to like it here and will be back for sure when the gate drops at our first supercross race in the beginning of November. (Special thanks to: the ever-privateer friendly Dave Kimmey of Engine Ice, Joerg Domanowski of www.realmx.com and Team Kawasaki Sturm.)
Graham isn't the only Yank on the go recently. Both Greg Schnell and Jason Thomas have flown down under to Australia for a big supercross race there. We will get with JT$ (who just signed with the Butler Brothers MX squad for 2007) when he gets back.
For the old-schoolers out there: Babyshambles, the band formed by The Libertines' frontman Pete Doherty, has a song called "Pentonville" on their debut album Down In Albion. It's a Clash-like reggae deal, not sure what it has to do with Penton motorcycles.
Nate Adams has been nominated for the Playstation Trick of the week for his Cordova Backflip at the last round of the Dew Tour. Moto fans can vote for Nate, and it only takes about 10 seconds.
Finally, with all of this talk about Ernesto Fonseca recently, as well as David Bailey of course, we would be remiss if we didn't follow up with the James Marshall situation down in Texas. Jimmy Button's mom now works with Road 2 Recovery, and she spoke to the Marshalls this week to see how James was doing. This is the letter she replied to friends with:

Hi everyone,
I spoke to James Marshall and his dad this morning. James came home from the rehab facility yesterday, and will begin rehabbing at home starting today. His mom has quit her job to stay home with James full time. A therapist will be coming to his house every day. His upper body is getting stronger. He can use an arm crank bike by himself without assistance. He is regaining some feeling in his left hand and can slightly move the fingers on his left hand. He has some sensation in his feet and the inside of his legs. He stood up for the first time yesterday for about 20 minutes in a standing frame with assistance. James said it felt strange but good to stand up.James asked that we tell everyone just how much he and his family appreciate all the prayers and donations to him.

Let's not forget about James Marshall. Ping and I are still working on getting a van project going for #452, and we'll take all of the help we can get on this….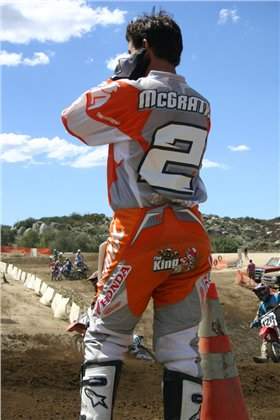 Jeremy McGrath took some time out of his busy SX-planning schedule to help raise some funds for a fellow legend
photo: Ping
Okay, now for something funny. My friend and magazine colleague Donn Maeda popped in with an IM to see if I could guess who was sitting across his desk working on a laptop because a deadline was looming? I thought it might be Tim Olsen, but instead it was our very own Sarah Whitmore! We had a laugh and I told him to tell her she was through with Racer X—I always knew we should have gone with Steffy Bau, I tapped out—and then he said he's holding her off email until she apologized for saying she roosted him three years ago in print.
"I thought you guys were competitors and you hated each other, but now you're all in this together?" asked Sarah.
"Nah, we just say that to throw the MXA guys off," I kidded her. Then Donn and I messaged about the announcement this week that Time Warner was selling off a bunch of magazine titles, including the Transworld group. While Steve Bruhn of Homeless Media, Inc. has claimed that he might buy it, the asking price there is pretty high. In this business, a sale is not a sign of weakness, and the whole TW action sports group is quite a hot commodity. It's just business, and big corporations have their reasons for move like this. The point is, TWMX is not going away, nor are any of the other titles there.
"I think I am gonna crack open my piggy bank and buy myself," kidded Donn. "I think that, in my career as a mag guy, this will be my sixth sale. The only thing that is gonna change is the end of my email address."
Either way, Sarah is in so much trouble right now. Maybe it's time to pull out those pillow-fighting-in-bikini shots for her next column…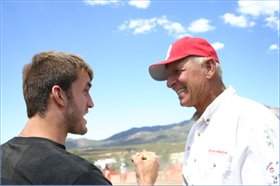 The Professor and Mr. Millsaps helped out the Icon
photo: Ping
Well that's it for a very busy week in the motocross world. I am off to England on Tuesday night, where I'm hooking up with my regular MXdN travel buddies Jeff Cernic and Larry "Mo" Sidor, plus Jeff Emig and his crew. I'm also taking my mom—her first trip to England—so there's going to be a couple of days of sightseeing in London. We have the Victoria & Albert Museum in mind, Harrod's big shopping center, the British Imperial War Museum, St. Paul's Cathedral (my mom wants to see where Princess Diana got married) and I think that's it. We're also meeting Racer X contributor Matt Allard, plus Simon Cudby and his wife, before heading to Matterly Basin for a weekend of motocross des action. Any sightseeing suggestions from you folks in England? Letters@racerxill.com.

Thanks for reading Racerhead; see you in England.