Between the Motos: Ricky Carmichael
September 13, 2006 5:28pm
The international motocross world has been waiting for word on the sore shoulder that 15-time AMA MX/SX Champion Ricky Carmichael suffered on Sunday afternoon at Glen Helen. The Makita Suzuki rider went down hard while dicing with his Team USA partner James Stewart for the first moto lead. The crash caused RC's first injury DNF in his 10-year AMA Motocross career. It also put his captainship on the defending Motocross des Nations team in doubt. But RC says don't worry, as you're about to read in this exclusive Racer X Online interview from Wednesday afternoon, he will be there in England next week to lead AMA Team USA—on or off the bike.
Racer X: Ricky, first of all, how the heck are you?
Ricky Carmichael: Well, I've had better days, to be honest. There's been a lot happening with my injury from the weekend and just getting things checked out and worked on and all. There are a lot of decisions to be made, and I'm just trying to take it all in and sort it all out. Obviously, I am very disappointed and bumming at this point.
Well let's go back to the crash itself: what happened at Glen Helen?
Everything was going to plan. Me and James were having a killer race, as usual, real fun, and I was able to get by him and I was trying to put in some consistent laps, then I just made a mistake. I had a great line through the chicane where I wrecked, and I just didn't get straightened up. I hit a kicker bump – a braking bump – at a little bit of an angle and it slammed me down real quick. It was just an error on my part, unfortunately. I just fell so fast that the front end washed and the back end basically slid out from under me and I just hit so fast that I couldn't prepare for it. Sometimes when you crash, it's not the crash and the rolling and all that that hurts, but how fast you stop. I just stopped instantly, and when I fell down I tried to rotate, and when I did that, I hit right on my shoulder.
Did you know you were hurt right away?
Well, when I went to get up, I just said, 'Oh no, I can't believe this just happened. My shoulder's not working.' I thought, Wow, I don't think I am going to be able to finish this moto—and I have never, ever, ever had that happen to me in pro motocross. Believe me, it was a weird feeling. But I still tried to pick my bike up, and I could barely do that because my shoulder wasn't working right. All of these emotions were running through my mind, but I got it up, then babied it back to the truck. And believe me, that was a mission too because of all of the fencing and hills and that that they have there. I couldn't barely get my hand on the handlebar because of my shoulder, so I really had a struggle to get back to the Suzuki truck.
Did you go visit Doc Bodnar to see what the damage might be?
I did. I went to the Asterisk Mobile Medic's Unit, and all of the bones checked out okay—the X-rays came back great, no problems, which was nice—but at the same time there was something wrong. I had damaged my shoulder again, and this was the same shoulder I fell on at Broome-Tioga. It's been aggravated since then, but the pain kind of subsided when I rode, but I couldn't sleep on that side (left) of my body and that's the side I crashed on again, only worse.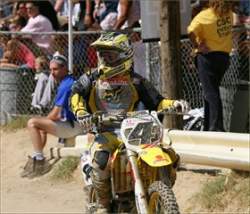 RC babied his left shoulder on the ride back to the truck

You got on a plane to Florida after that, dropped Kevin Windham off in Louisiana, then what did you do?
I needed to get some MRIs as soon as we landed in Florida. They showed the damage around my shoulder, and I immediately started planning out a way to rehab it. I won't need surgery, just time.
Well, that's the issue now, isn't it—you don't have a lot of time. There's a big race in England next week.
Dude, obviously, I'm just totally bummed about that, but I am doing all I can. It's a day-to-day thing, and right now, I can't do it. But I will do everything I can between now and that race to be ready. I'm just so disappointed to even be in this position—for Team USA and the fans—and I can't express the disappointment I have in myself for making a mistake like that.
But there's still a chance that you will be able to race, right?
Yes, that is the plan. Trust me—I am doing everything I can to rehab this thing. I flew back all night to the East Coast and I was at my doctor's office when he woke up Monday, and I was there yesterday, today, and I will be there at 6:40 in the morning tomorrow. But no matter what, it's going to be a game-time decision at best.
So what does that mean for the team? If you can't go, who will?
In my opinion, the logical move is to have Ivan [Tedesco] go. My bikes are already there, and he rides virtually the same bike. Just a couple of adjustments, his suspension and he's ready to go. So the logical move would be to have both of us there, and then see what happens. He certainly has some experience with the race—he was my teammate last year—and he knows how it all works. It takes a huge, huge, huge effort to go over there, and we don't have a lot of time to send someone over, his mechanic and his people and whatever it takes. And even then, he might not ride because I might be able to. Ivan has a great attitude about this, he wants to be there, and he's got one of these races under his belt. I know the second time I went it was 10 times easier than the first time I went, and with the bike, the team and everything already in place, he's the most logical choice. Give the guy some credit—he was the defending national champ in the 125 class and Motocross des Nations champ, and he didn't do bad in supercross. I'm here to back him up, just like he said he would be for me.
Well, for what it's worth, Ricky, when Donnie Hansen got hurt the week before the MXdN back in 1982, they didn't send Mark Barnett or Kent Howerton or Bob Hannah over to replace him; they sent another Honda rider who could ride Donnie's bike—David Bailey—and this was before Bailey was the champion he become.
Exactly. And didn't they win that year?
Yes, they sure did. So you're going to try to get ready, but you think Ivan should go just-in-case?

Yes, that's exactly what we should do. I think that's best for the team, and I think whether it's me or Ivan, this would be a good team. We're the champions of that race, and while I am human and can't barely lift my damn arm right now, I will do everything I can to be ready to go, and if I can't, I'm betting on James and Ryan to do what they're supposed to do, and I think Ivan can step up as well.
Well, if neither of you can go, I spoke to Jeff Emig today—he's going over to watch—and he told me to tell you and Roger and Steve Whitelock that he'd be there, just in case.
[Laughs] All right, I know Jeff's got a lot of experience over there, so that's good to know. But whether it's me riding or just there coaching, we need to embrace this team. James and Ryan will take care of their business, and we just need to have some options open for me, and we can make it happen. I got a lot of faith in the whole team, and as team captain, I will help in anyway I can. I want everyone to keep their hopes up—our guys are still the best guys in the world—and hopefully I can pull this off. If not, we need the right guy in place.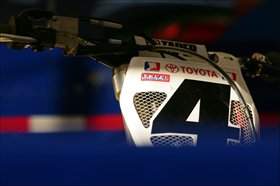 Keep your fingers crossed for #4

RC, our fingers are crossed. I think all of the fans—American, English, whoever—just want to see a good race, no matter who goes. But it would be nice to see you out there.
I'm trying DC, I promise. And I want to tell all of the fans that I really appreciate their concern and support and it just means a lot to me—that's what motivates me. Trust me guys, I am doing all that I can, and I hope that you would expect and know that from me by now.
Okay, champ—don't miss that wakeup call in the morning. Be at rehab!
[Laughs] I will. It ain't over yet, people!