5 Minutes With ... Ben Townley
September 15, 2006 9:07am
Last September at the Motocross des Nations Ernee circuit in France, Ben Townley of New Zealand — who had already announced he would be heading to America to race for Monster/Kawasaki in 2006 — put on a riding clinic in the Open class aboard his KTM450. His last big dance in Europe, the 2004 MX2 World Champion handily defeated Kevin Windham and a host of other world-class riders in the Open/MX 2 moto. In the final MX1/Open moto, Townley raced to a fighting second to winner (and soon-to-be mentor) Ricky Carmichael. It was a tremendous afternoon for Townley and sounded the MX air sirens in the United States.
Set to do very big things here in '06, injuries thwarted Townley' s freshman season in the Lites class. However, an impressive 3-3 performance at Glen Helen last Sunday showed all on hand what Townley is capable of and sends him over to the MXdN in England with quiet confidence. Racer X spoke to "BT101" as he was packing his bags for the world's biggest, most prestigious motocross race.

Racer X: Ben, what are you up to today?
Ben Townley: Right now I'm in Anaheim Hills. I'm staying with a friend of mine before I head over to Europe.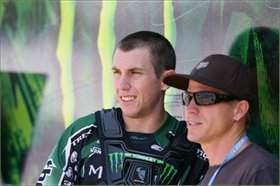 Ben Townley (left) with his trainer, Aldon Baker

When do you leave?
I'm going over this weekend. I'm going to spend some time with some friends I met while living in Europe. Then, on Thursday, I'll head to England.
Do you know anything about the Matterley Basin track?
A little bit. I was down in the race shop at Pro Circuit and one of the mechanics, Zach, had a DVD that showed the track. We were able to take a look at it.
How did it look?
Mellow. There was nothing too spectacular on it. No big hills or jumps.
You went 3-3 at Glen Helen last Sunday. From where I was standing, you looked really strong on the bike. Were you pleased with the end result?
It was a decent day. After the Red Bud race (Townley's only other race in '06 due to injury) I was able to work on a few things. The intensity of the American racing surprised me a little bit. Right from the get-go, everyone is on the pipe. That was different from what I was used to in Europe. I worked on improving being faster during the first few laps of the race. I mean you look at the starts [Mike] Alessi gets and the way he motors away, that's how it has to be done. As far as the race at Glen Helen, I did not have it in me to do two 30-minute motos. However, I feel like I did make progress. Things look bright and I'll go from here. Now I can focus on building from where I'm at now.
Did you like the Glen Helen track? I'd say it was one of the more treacherous tracks I've ever seen…
Yeah, the hills were great. I enjoyed it. There were also a couple of very big jumps. I liked the jumps and the hills. And it got rough. I liked it.
Your last race coming into Glen Helen was Red Bud back in early July. With the injuries you were dealing with, was it a long road back?
Yeah, it was. I had knee reconstruction before Red Bud. Then I did that race and it went pretty well. Then between Red Bud and Unadilla I separated my shoulder and hurt my knee again. It was definitely frustrating as I was really looking forward to racing at Unadilla because I raced there in 2002. So I was hurt again and thinking, what's going on? But I got through it and it made me better.
While you won the MX2 World Championship in 2004 and were a multi-race winner in the MX1 class in 2005, you really put yourself on the map — at least the map of U.S. motocross — when you ran so well at last year's Motocross des Nations. What led to such a great result in France?
I don't know, really. I felt like I was riding normally. I was in the MX3 class and it gave me confidence when I beat Kevin Windham in the first moto. I rode like I knew how. I was really excited to be there. It was the first time I got to race with the guys who came from the U.S. — guys like Ricky Carmichael, Kevin Windham and David Vuillemin.
You won the first Open moto, then ran a sporting second to Carmichael in the combined MX1/Open moto…
Yeah, that was exciting. I think RC still had some left in the tank, but I was happy. You know the whole atmosphere at that race was amazing. All the fans in Europe were so excited to see riders like Kevin Windham, Ricky Carmichael and Ivan Tedesco. I thrive on an atmosphere when the fans are all excited and your excited. It makes you want to put on a spectacle for them.
Some fans may not now that you and Stefan Everts are really close, aren't you?
I know him well. My practice mechanic in America is Stefan's brother-in-law. When I raced the Grands Prix, I lived in Belgium, and Belgium is like Southern California in that there are a lot of riders riding in the same area. Josh Coppins, Tyla Rattray and myself were always riding together. I would see Stefan Everts a lot, and like the guys here who strive to learn from RC, I would watch and learn from Everts. [Joel] Smets, too. We had the same trainer. Since I was young, I've always tried to be around positive, good people. That's how it was with Stefan. It was good with Josh [Coppins] too. He helped me a lot when I raced in Europe.
And you live near RC here in America, too, correct?
Yes, I live in Tallahassee. Working with my trainer Aldon Baker is how that came about. I'm on a similar training schedule as RC.
Between Josh Coppins, Cody Cooper and you, Team New Zealand has a genuine shot at the podium at Matterley Basin. Do you feel optimistic about your chances?
Yeah, definitely. I was just talking with my dad and he mentioned that the points race is so close at the Motocross des Nations. If Josh and myself can have two good motos and Cody can get up there and have one good race and score good points, it can be really good for us. We can make the podium. And if it's muddy —all three of us are good in the mud — you can't put us out of the equation. I'm really looking forward to the race.
Ivan Tedesco very well may be called in to replace Carmichael in England. Do you see that mixing things up?
The [U.S.] team will still be strong either way. Ivan was strong last year and this is his second time racing the Motocross des Nations. He'll rise to the occasion.
Heading into 2007, what's the ultimate objective for Ben Townley?
My goal at the moment is to focus on winning the Lites championship here in America.
What do you think of your teammate Ryan Villopoto?
He's a cool kid. He's an awesome kid. We get along really well. He's down to earth. He doesn't care about certain things — he just gets on with it. It was cool to see him do so well as a rookie. He did an awesome job this season.
Can you beat him in 2007?
[Laughs] I like to hope so. If I can get back to where I was before I got hurt and even improve, I think I can. I just have to keep working.