What a weird week. Really weird. Actually, I should have seen it coming, because my week started weird: I was riding in the back of a car around Laguna Seca after the MotoGP with my wife while two large, not-joking men drove up front. Riding in the middle—literally in the console—was Mini Me. (More on that later.)
Within a couple of days, I was trying to explain to a friend here in town that Ricky Carmichael had not "Quits After Learning Physics," which was the headline on The Onion Sports, which is not actually a real onion or a real sports source (though it is quite funny). (More on that later.)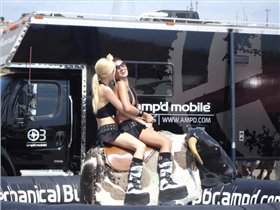 It was a strange week indeed
photo: Kelly Louch
By Thursday, I got a frantic call from Yamaha of Troy's
Matt Walker
, who had just been called out of the blue by a European tabloid that found out he lives with
Floyd Landis
, the hero-turned-say-it-ain't-so of the Tour de France, when he's out in California. The yellow journalists were willing to pay Walker to spill the beans (and pills) on Landis' unfortunate connection to failed drug test following his dramatic 17th Stage win last week. To paraphrase, Walker told them to #$@! his *$#%! Good for you Matt. (More on that later.)
That was followed by an unfortunate chain of events that led to Eric Johnson being "outed" on Mototalk as a Stefan Everts fan after writing about how much he respected Stefan's ability to rise from the bottom following his Husqvarna-and-Dave-Grant debacle of 2000-'01 that somehow turned into a told-you-Stefan-was-better-than-Ricky Mototalkfest. (More on that later.)
And then today, they honored my mom and dad at the MotoFest Motorcycle Rally, though mom's already at Loretta Lynn's. But it was cool that a very big road rally would take a moment to talk up dad. And strange, which is par for the course.
So here's Racerhead, and more….
I'm sorry I missed the Toyota Pro Nationals at Thunder Valley, but the Red Bull USGP at Laguna Seca was pretty amazing. Nicky Hayden won, I got to hang out with Jeremy McGrath and his wife and Pamela Lee and her, well, wows. And then Mini Me was there, actor Vern Troyer, hanging out with his friend Malcolm McCassey from Alpinestars, plus two very big bodyguards.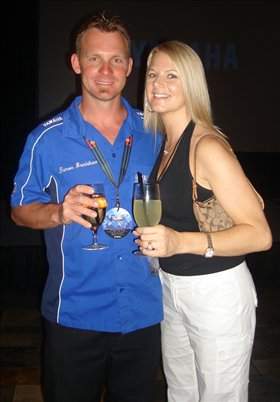 Damon and Angela Bradshaw at Yamaha's Weekend of Champions
photo: Scott Wallenberg
The best part of the weekend though was the Yamaha Weekend of Champions gathering, where every top Yamaha hero from yesteryear—
Doug Henry
,
Damon Bradshaw
,
Jeff Emig
,
Rick Burgett
,
Mike Bell
,
Gary Jones
,
Broc Glover
and more—at the famous Monterey Aquarium.
Beyond that, Laguna Seca was just an exceptional event. Nicky Hayden was the popular winner (second year in a row) and he earned himself a full-page ad in today's USA Today, which was pretty cool. And the Red Bull guys are the absolute Kings of Hospitality, so thanks to Dane Herron, Hayes Wheeless, Jeremy Mallott and just everyone there for letting us hang out in the VVIP section of the VIP section.
Since I wasn't at Thunder Valley, let me turn this part over to Ping…
Ryan Sipes has signed with Factory Connection Honda for the 2007 season. The Kentucky native has shown flashes of brilliance, particularly last year, but has been injured most of this season. He had a scary crash in Lakewood but he is fine.
The rest of his current WBR / Suzuki team struggled at the Thunder Valley round as well. Ryan Morais and Brian Gray both blew up bikes during the day. But they weren't the only ones having problems. Andrew Short smoked his Factory Honda just a few laps into the second moto, Bob Kiniry had a mechanical DNF and Chad Reed ran his Yamaha 450 out of fuel in the first moto. Many other riders had bike problems as well. What the heck?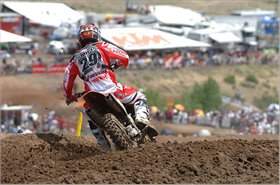 Short's homecoming was short
photo: Carl Stone
Well, the altitude is mostly to blame. The elevation at
Thunder Valley
is, like, 6000 feet which means all of the riders were jetting their bikes leaner. Combine that with the fact that the track is hilly, sandy, and very fast, and you have a recipe for disaster. Add one fast rider and two 35 minute motos and… Voila! You have a plump, juicy DNF.
The majority of the bike problems came at the hand of boiling race fuel. I spoke with the fuel and exhaust technician at Honda and he gave me a basic explanation of why this is such a problem at the Colorado round. At elevation, particularly anything over 5000 feet, the decreased air pressure lowers the boiling point of the fuel. The exotic race fuels used by many of the teams have a fairly low boiling point to begin with (a side effect of a fuel that makes more horsepower) and the altitude really exaggerates the problem. Despite race teams efforts to keep the fuel cool (placing containers in coolers, covering underside of gas tank with high-temperature tape and running vented number plates) the relatively low boiling point is reached during the moto.
Considering that the carburetor is located just above the engine cases and directly behind the cylinder and head, it's easy to see how the temperature of the bikes fuel, especially once it reaches the bowl, can heat up quickly. As the fuel begins to boil, the mixture of air and fuel being aerated into the engine become erratic and inconsistent causing the bike to sputter, pop, and even quit if the fuel becomes too hot. Obviously, riders that rev the bike more, heat their engines and in turn their fuel, much quicker.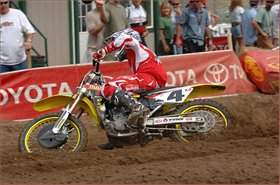 Ricky's bike made it through Colorado, and so did his body…. Wait, that's not news.
photo: Carl Stone
The bikes weren't the only thing struggling in Denver. The lack of oxygen also took its toll on the riders.
James Stewart
couldn't drag himself to the podium after the second moto due to fatigue and
Nick Wey
, who admittedly over-trained the week prior, found himself in the Asterisk truck getting an IV after the races. He wasn't alone.
Ryan Villopoto didn't seem fazed after winning both motos in convincing fashion. I walked into the Pro Circuit hauler after the races and found him lying on the couch in his riding pants eating a Fruit Roll-Up while his mom casually thumbed though a bow-hunting magazine. Hey, whatever they are doing is working.
The irony in this product was too much for me not to pass along. Sorry, all my four-wheeling friends, but the marketing machine has you figured out. Check it out.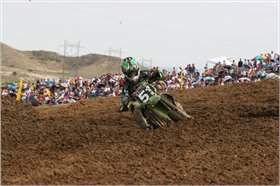 Villopoto now has four overall wins in a row
photo: Jason Hooper
Grant Langston
, who has been at home in Florida letting his dislocated wrist heal, was planning on a return to racing this weekend at
Washougal
. Unfortunately, Grant crashed during a practice session this week and broke a bone in his ankle. He will not return to racing this year but rather look forward to next season and his first year with the Factory Yamaha crew aboard a 450.
Ben Townley is recovering from the separated AC joint he suffered a few weeks back. Ben is at home in Taupo, New Zealand and was happy to hear that the injury would not require surgery. He will not, however, probably not race any more nationals this year either.
Chris Gosselarr (Note: Two mistakes in one name? Sorry Ping, had to leave that in there), another Monster Energy/ Pro Circuit rider, will make his return to racing this weekend in Washougal after sitting out a few weeks with an ankle injury.

Lastly, I want to congratulate Floyd Landis on his Tour De France victory last weekend. Floyd made one of the greatest recoveries in the events history by overcoming an eight-minute deficit (after leading earlier in the tour) to bring home the yellow jersey from Paris, making it eight in a row for US riders. If you haven't read his pre-tour interview in the July issue of Outside magazine, pick it up; you'll become a Landis fan. He will beat this drug-test thing, just you watch.
Finally, word out of the KTM camp is that they will not field a full-time 450 team in 2007. Kurt Nicoll and the orangemen have retained the services of Mike Sleeter to continue developing the new 450 through the Supercross season and Sebastian Tortelli is slated to return next summer to compete in the outdoor nationals on the new steed. The plans to run a full team in 2007 were delayed when Tortelli had problems with the bike and then injured himself, bringing testing to a halt. Sleeter has already been putting in laps at the teams SX test facility and says that the bike is amazing.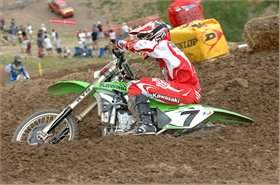 James was tired, but he finished both motos, and should pick up speed this weekend.
photo: Carl Stone
That's it from Ping.
By the way, don't forget to check out the Racer X Films we have up this week of the Fox New Product Intro from Fox's Newport Beach office, the Honda CRF250 intro starring Randy Valade, and another hilarious Behind the Motocross from Thunder Valley, featuring Jason Weigandt.
And speaking of Weege, if you don't follow www.blogANDT.com, you really should. It's good stuff!

Washougal offers Ryan Villopoto the chance to finally race a track he is familiar with, and they are going all out up there with "Area 51" banners and cheering sections. Imagine what it's going to be like when Josh Hill, another local hero, comes back home as a pro with Team Yamaha! You can listen to the free Racer X Webcast of the Washougal National, presented by Cycle News, starting at 1 p.m. Pacific time (4 p.m. back east) at www.mxnationals.com. Also, make sure you keep a spot on your screen for @The Wire Live, which is the AMA's timing and scoring over at www.amamotocross.com.
Pat Schutte told us to check out the cool story The Columbian did on Villopoto leading up to this weekend's race, so we checked it out: "Winning is not alien to Villopoto" was the headline and then it went well into the whole "Area 51" thing and Mulder & Scully stuff from the X-Files…. Good stuff! Check it out.
By the way, my longshot pick to win this race this weekend in Makita Suzuki's Broc Hepler. He was the fastest man here last year, and he's overdue for a win. That said, Villo is the guy I would be my last five dollars on if I had to….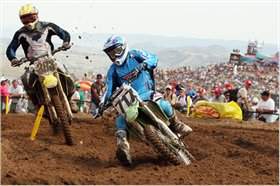 This guy rode off with a $500 Racer X Holeshot check
photo: Jason Hooper
Another weird thing this week: Writing a $500 Racer X Holeshot check out to
Kyle Mace
for getting the second moto holeshot out there in the altitude of Colorado—a privateer KXF450 rider on an uphill start? That's as strange as it gets! Well done, Kyle. And be sure to check out this week's
Sponsorhouse.com Privateer Profile
that features Kyle.
So what about The Onion? It's a dark-humor joke about how tough motocross is and how Ricky Carmichael abruptly announced his retirement after taking a physics class and realizing just how dangerous it is and lucky he's been. In light of some of the recent tragedies we've seen in this sport, it's not funny (though it is better than the old "Special X Games" which is for, well, forget it).
Anyway, I love The Onion, so touchy as the subject is, they get a pass for me based on this: After 9/11, they were the first media outlet to make a joke about it, something to the effect of, Confused Terrorists Meet Up at the Gates of Hell. They it talked about how they had been duped, that there were no 72 virgins and so on and so forth. It kind of jump-started life again after what I think the New York Times called "the death of irony."
But then again, it was one of those rare mainstream moments for us, because if The Onion is poking fun, that means they know you. But then again, maybe what inspired it was this madness: That's Trigger Gumm going down hard earlier this week at some Indian casino in Oklahoma where he was trying to break the world distance record. Ouch…
Ever heard of Tommy Searle? You will. He's a teenager from England and he's pretty damn fast on a dirt bike. His agent James Dobb (yes, that James Dobb) let me know that Tommy has just signed a 2-year deal with Red Bull KTM to race in Europe in the MX2 class next year and then America in 2008. Can't wait to see this kid at the MXdN.
But we won't have to wait that long to see Tyla Rattray: The word on the streets is that the very fast South African will use his off-weekend in August to race the Millville National in Minnesota. He's a great kid—he's friends with Ben Townley as well a former teammate—but he probably won't be moving to America until 2008.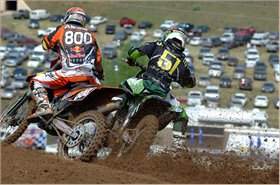 Alessi knows it's time to go
photo: Carl Stone
And in yet more Red Bull KTM material, don't write
Mike Alessi
off just yet in this championship. He told me before
Unadilla
that the next three tracks—'Dilla,
Thunder Valley
and
Washougal
—were not good ones for him, and if he can just stay close, he has four tracks he likes coming up after that:
Millville
, Broome-Tioga,
Steel City
and
Glen Helen
. The thing is, Villo did pretty well last year at the last two…
Mike said this last week: "Consistency is good, but when a guy is out there winning every single moto, it's time to start beating the guy—laying it out there and getting the points that I need, because we're getting close to the end here and I don't want the championship slip too far. I know I'm good at the last four tracks, but I just want to get through Washougal consistent and then go on to the last four rounds. After this weekend I know I have to be close, and that's what I need to do."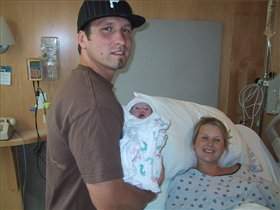 The Sanner family

photo: Chip Sanner

Keira Jade Sanner was born on July 26 at 12:58 p.m., weighing in at six pounds. She's the daughter of Sobe/Samsung Mobile Honda's mechanic, Chad Sanner and wife Erica. Chad is the mechanic of #55 Joaquim Rodrigues.
Daniel Sani rode his first national in the 450 class this weekend and opened some eyes. Fans were wondering who the #86 Honda rider was when he chased down Michael Byrne in his qualifier and looked like he was going to pull away from him, only to go down on the last lap. In the main, he got a good start and led both RC & Stewart for a few laps (a very few laps). Sani was riding top-ten until about the 3/4 mark of the moto until his gas started to boil, which caused the bike to bog so bad that he had to nurse her home to a 22nd place finish.
Daniel's team scrambled to find a solution to the heat and altitude, made the adjustments and were ready to go in moto 2, and he came through this time for an 11th place finish, which was good for 17th place. Now Sani and the MB1/Tokyo Mods/Unbound Energy/Fox team will be contesting the last five remaining rounds of the AMA Nationals.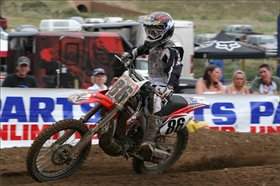 Sani had an eventful weekend in Colorado
photo: Jason Hooper
The Racer X Canada guys pointed this out:
Greg Symbaluk
is running another auction for
James Marshall
, this time with Canadian Pro Memorabilia from the CMRC rounds—even Pings Jersey is in there. Greg was a good friend and sponsor of James', so please check out the details
here
and maybe help the fast Texan out.
Dear Racer X,
Is the rumor true about RC racing a 125 towards the end of the season?

Chuck Azcarate
Dear Chuck. Absolutely not. I'm amazed that this keeps coming up, especially after what RC said at Unadilla, which was that if he has the title locked up by Glen Helen (and he very well may) he might just be a fan, have some beer and some hot dogs, and watch the Lites' battle go down to the wire.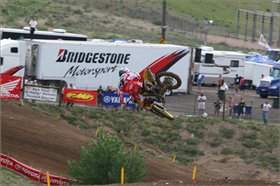 If Ricky is the GOAT, what is Stefan Everts?
photo: Jason Hooper
Which leads me to Goat-Gate over on Mototalk.
MXGeoff Meyer
asked Racer Xer
Eric Johnson
to tell him something about
Stefan Everts
for an article, and with EJ and Stefan being old friends, Eric went into how much he looked up to Everts because he saw him at his absolute lowest point back in 2000-'01 when everything went absolutely and completely wrong for Everts. EJ basically closed by saying that in his opinion, the fact that Everts came from such depths, something that Carmichael has been fortunate enough to never reach, to absolutely dominate Europe again for many years made him "The GOAT."
Eric was waxing poetic about an old friend who's career is almost over, but it became the new battle cry for the Stefan-vs.-Ricky debate that rages on even though Stefan himself has said numerous times that "Ricky, he is the best." So Eric had to clarify the context of what he wrote, because he has another old friend who's career is almost over – Ricky Carmichael – and he didn't want to get into the middle of that whole flame-fest where people say "RC is the greatest because he never won a world championship" and try to goad him into moving to Belgium or something.
So what is Everts? Rupert X. Pellett had the answer: He's "The GOATEE," which means Greatest of All-Time Europe.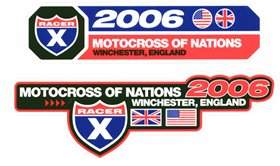 Want some? Your chance is coming...
By the way, whether you're an RC or SE fan, the last chance you will probably get to see the TWO greatest of all-time will be the Motocross des Nations in late-September. The AMA has a really cool tour package that offers U.S. motocross fans a chance to have a guided tour. We interview
Cyndi Freeze-Cain
about it on Wednesday, so to read all the details, follow this
link
to our Suzuki Between the Motos feature.
Also, the latest SX Exposed DVD featuring RC's supercross reign is out: Go to Studio411.com for more info.

Earlier today for the Racer X Flash Trivia contest, we asked, "What two privateers won their only national of their careers at Washougal? Name the riders, the classes they won, and the year."
We were giving away one Racer X Ogio backpack to the first person who submitted a correct answer, and that just happened to be Granite Bay, CA's Michael Stusiak, who replied, "Eric Eaton, 1985 500cc class and A.J. Whiting, 1985 125cc class." Thanks to all who participated, and your bag is in the mail, Michael.
Another quick reminder from Fubar that if you're going to Washougal this weekend, be sure to stop by the Racer X booth and pick ur some free stickers, as well as your Ernesto Fonseca wristband, which are being sold for $5.00. All proceeds go to Ernesto. (You'll also get a free Fonseca sticker!)
And don't forget to support David Bailey by ordering this limited-edition David Bailey mouse pad. Likewise with the Fonseca wristbands, all proceeds go directly to David Bailey, and you can get yours right here for $15.95.
Well, I have to wrap this up, as it's time to pack my bags for Loretta Lynn's for the 25th Annual AMA/Air Nautiques Amateur National Motocross Championships. It will be an amazing week down there, and we will have constant updates, DMXS SportsCenter on Racerxfilms.com, and even a live show on Wednesday night when AMA Team USA is announced for the Motocross des Nations coming up.
Also, Loretta Lynn's will be featured in a one-hour OLN show, which airs on September 2 and repeats Wednesday the 6th and Thursday the 7th. Last I heard, there were still a couple of commercial spots open, so interested parties should contact Tim Cotter of MXSports at: Tcotter@mxsports.com. With this being the 25th year and all, and Team USA being involved and everyone from RC to MC to RV to K-Dub and Chad Reed and #199 and more heading there, this year's show is going to rock.
One rider missing from the starting gate down there will be Tyler Bowers. He got hurt racing at Red Bud last weekend, and Amy Ricthie sent me this note after visiting him this week: "Tyler's still on your entry lists, but he's definitely out for LL as he lacerated his spleen and broke some ribs at Red Bud last weekend. But the family is headed to TN anyway to hang out and watch their buddies race, which I thought was really cool. Anyway, he's a smart, funny kid and I thought he might be good in the announcers booth, or even on your MX Sports Center." Tyler, consider yourself hired!
Also, Racer X went pretty over the top with the program, which celebrates 25 years of Loretta's and has a lot of cool stories and features that you won't find anywhere else. If you aren't going to the race but one a program of your own, you can order one right
here
.
Finally, if you ask anyone about Kevin Foley, they will probably tell you that he is one the best men in motocross. I have known Kevin since he was an aspiring Pro-Am rider from Winter Park, Florida, driving a van all over the country to get enough points to ride the nationals. He went on to become one of the top privateers in the nation, all the while working his way through college. Foley never stopped racing, and he went on to win nine AMA Amateur National titles (and counting) in Tennessee.

This year, Kevin and his family are sponsoring a fundraiser at Loretta Lynn's for awareness and research for Rett Syndrome, a rare genetic disease afflicting their daughter Emma. According to the website, "Rett Syndrome is a neuro-developmental disease affecting about 1 in 10,000 girls. The girls develop normally until about 6-18 months age when they start exhibiting signs of this disease. Rett Syndrome is characterized by continuous hand wringing, loss of functional hand use, loss of speech, and dyspraxia, or difficulty in controlling body movements. Rett Syndrome leaves its victims profoundly disabled, requiring total assistance with every aspect of daily living. Although there is no known cure today, it is our belief that research and awareness can bring an end to this devastating disease."
There are pictures of Emma on www.racer4rettmx.com and you will see that she is just the most beautiful and happy little girl, but at the same time she and other girls like her really need our help and attention. Funny thing: When Kevin won Loretta Lynn's in 2003—his ninth title—Emma was just 10 weeks old, but she was right there on the podium.
I know we've had a lot of things come up lately that require a look and maybe some support, be it a fallen young rider or an Icon like David Bailey. This is different, but this is also incredibly important. Visit www.race4rettmx.com and donate by making a pledge amount for each lap Kevin completes (estimating 10 laps per moto x 3 motos, for a total of about 30 laps). Email Kevin at race4rett@emmafoley.com with your pledge amount per lap (i.e. $1, $2, $3, $4, $5, $10...) He will be checking his emails all week long as he's trying to win that tenth title in the +40 class while supporting an excellent cause.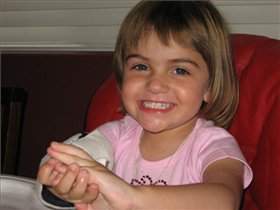 This is Emma