Privateer Profile: Kyle Mace
After the gate dropped for the second moto of the 450 class at Thunder Valley last weekend, it was quite a surprise to many when a three-digit privateer nabbed the $500 Racer X Holeshot Award. Well, that three-digit rider just so happens to be #717 Kyle Mace, who rides a KX450F for Corona Motorsports. Pulling that holeshot had to be a highlight of Kyle's career, so we got in touch with the 22-year-old Hesperia, CA, resident for this week's Sponsorhouse.com Privateer Profile. Be sure to show Kyle and his sponsors some support by checking out the links below.
Racer X: Kyle, you know the reason I'm calling—tell us about that second-moto holeshot last weekend!
Kyle Mace: Yeah, it was good. I came out of the gate a little sideways, too, but I just shifted and leaned back. I was just going into the first corner and there was no one really next to me, and when I started seeing some people, I said to myself that I'm going to crash or get the money, one of the two.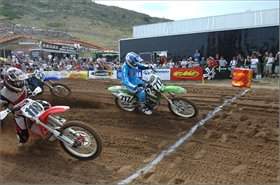 Yes, that's Kyle pulling the holeshot over Team Honda's Davi Millsaps

photo: Carl Stone

Well, I'm glad to see that you got the money—$500 dollars from us!
Yeah, for sure. It's a big help.
It doesn't make sense to me. I mean, a privateer bike pulling the holeshot in high altitudes over factory bikes.
Mitch Payton does my motor, so that helps out.
So what happened after you crossed the Racer X Holeshot line?
I went into the next corner, and Millsaps passed me right away. And then Ricky passed me, and then the rest of them. I then got dirt underneath my goggles somehow and was bouncing around, so I got dirt in my eyes and didn't even finish the moto. I was a bit nervous, too, because those guys go really fast. I haven't raced since supercross, too.
Where have you been?
During supercross I broke both of my thumbs and my left wrist just riding supercross right after Anaheim 2. My chain broke while I was practicing out by my house at Competitive Edge. There was just a little rhythm section and I landed on the face of another jump. My wrist doesn't bend all the way like it used to, but it doesn't bother me when I ride, so it's fine.
Why did you choose to return at Thunder Valley?
Well, when I got hurt, the doctors told me that I'll be back for Hangtown, so I thought that was good. After I had surgery, they realized it was a little worse than what they first thought, so that kind of set me back. So I just took it slow and made sure I came back when I was prepared.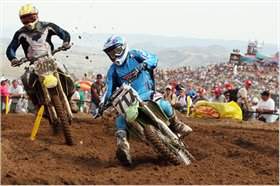 It was Kyle's first race back since breaking his wrist during the supercross season

photo: Jason Hooper

Were you happy how things went at Colorado?
Well, in the first moto I got a good start, too, and I was in the top 10 for a few laps, so that was good. The pace was a little faster than I was used to, so I kind of fell back to between 15th and 20th. Guys started pulling off because bikes weren't running right, and I was around 15th, and then I got a rock stuck in my train and I fell. And then my bike wouldn't go into neutral and my bike was stuck, so that bummed me out. How I rode was fine—I had good lap times, I guess. I was just bummed about not finishing.
Do you plan on racing the rest of the nationals?
I'm actually going to Washougal today. And after that Michelin is going to take my bike to the rest of the races so I can fly.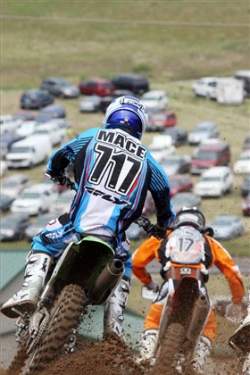 Mace gives chase to Robbie Reynard in Colorado

photo: Jason Hooper

Nice. How did you get that hookup?
I talked to the truck driver, Scott, and the other guys, and Scott said they had some room and they could take my bike, so that'll be nice. If I had to drive, I'd have to drive myself, so I'm kind of over that.
You don't have a mechanic to go with you?
No. My dad was at Colorado and he helped my brother and me, but he can't go to the East Coast with me.
Any goals for the rest of the season?
Yeah, I'd like to do the best I can and finish in the top 20 and top 15. Nothing too out of reach, you know? I'm sure I can finish up there and get a number.
Last question: Who's faster, you or your brother?
I would like to say me. He has some speed, though, but he's coming back from an injury, too. But I beat him at Colorado!
Kyle Mace's Sponsors: