Between the Motos: Cyndi Freeze-Cain
As the dog days of summer continue to quickly pass by, it's a good time to start thinking ahead to what may possibly be one of the greatest races ever: the 2006 Motocross des Nations. This year's event is taking place in England at the Matterly Basin circuit, and it looks like it may be James Stewart's first Motocross des Nations appearance—and possibly Ricky Carmichael's last. This is a race that you shouldn't miss if you're a die-hard motocross enthusiast. Since it's in another country, which may be intimidating if you've never traveled abroad, AMA Tours is offering a guided trip which includes round-trip airfare from New York, accommodations, a grand tour of London, and transportation, not to mention tickets to the Motocross des Nations! We spoke with Cyndi Freeze-Cain, who's in charge of the tour.
Racer X: Cyndi, first of all, tell us what your role is at AMA Pro Racing.
Cyndi Freeze-Cain: Well, I'm the administrative assistant. I set up the hotels for a lot of the road race and Supermoto crew, and when we get a new COO of Racing, I will be his or her assistant.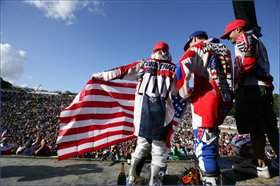 Will Team USA be celebrating another win at the 2006 MX of Nations come September?

photo: Simon Cudby

It's a pretty busy time of the year at the AMA, as there are all forms of two-wheeled racing going on full-bore right now. Is this the busiest time of the year for you?
Yes, it definitely is. I've been at the AMA for three years now, and although I don't own a motorcycle, I absolutely love it.
One race that a lot of people are really looking forward to is the 2006 Motocross des Nations, which is creeping up on us rather quickly. As a matter of fact, just next week, the AMA plans to announce the team at Loretta Lynn's. What is your involvement with that program?
Since I've been here, I have always been the person behind the scenes that has helped with sending the team, getting the hotels, the rental cars, and taking care of any money that goes to the individuals, whether it be the crew or the riders themselves.
Is that a stressful job?
No, I'm fairly lucky with that. I do it a lot, so I'm pretty good at it. I work with over 40 hotels through the country, and on a typical weekend I book anywhere from 10 rooms to 50 rooms, which is exactly what we had at Laguna Seca this past weekend.
New for this year is a tour to the 2006 MXdN, which is being offered through the AMA.
Yes, it's something that Steve Whitelock and John Farris brought up to me, and they both said we should probably put something together. With the approval of Patti DiPietro, I took this upon myself and put it together.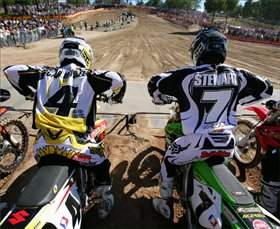 Ricky and James will be going to England in September, will you?

photo: Simon Cudby

Tell us everything that is involved in this inaugural tour.
Well, everybody will meet in New York and we'll fly from there to London. There will be coach transfers everywhere. We'll have a hotel in London for two days to start out. On Thursday we'll go on a Greyline tour that'll cover the main attractions that everyone would like to see, such as Westminster Abbey, Buckingham Palace, the Tower of London, so on and so forth. We'll have lunch at an English pub and then go back to the hotel. On Friday we'll be transferred to the Basingstoke Hotel and people can tour around that day if they prefer. And then on Saturday and Sunday we'll be at the track for the practices and races. On Monday we'll come back to London for a day, and then fly home from London to New York on Tuesday.
Is the tour going to be strictly structured, or can people shy off from the group and do the sightseeing by themselves if they wish?
Yes, they can pretty much do as they please—I'm not going to sit there and hold their hands and take attendance [laughs]. I'll try and keep track of everybody and make sure everyone is there, but they can do as they please.
It seems like there's a ton of great stuff planned throughout that week. Was it difficult sorting this trip out?
It was real interesting. We have a real good group of people that we're working with, and they did a great job. They're also helping me with the rider and crew hotels.
If someone wants to learn more about this tour or possibly sign up, how can they go about doing that?
Probably one of the quickest and easiest ways is to go on www.amaproracing.com and follow the link to the article. There is also a registration form that they can print out. Fill it out and fax it over and they're pretty much set to go. Once we get enough people, I'll notify everybody that it's a go and give everyone the details. At this point, we still need some more people to go.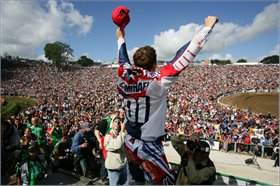 Don't miss out on this year's Motocross of Nations!

photo: Simon Cudby

How much does this once-in-a-lifetime trip cost, Cyndi?
Right now it's at $2,300, and after the 28th it goes up to $2,600.
Does that include meals?
It includes an English breakfast every morning we're at a hotel, and the one day that we have the tour, it includes the lunch. But other than that, they're on their own for lunches and dinners. Each person also gets a Team USA T-shirt, hat, and hoodie so we'll all look like we're there together. We're hoping that we have a good block of 50 people to help represent Team USA.