Time to take a breath.…
The 2006 Amp'd Mobile AMA Supercross/World Supercross Series is finally over. Two well-deserving champions, a third rider four seconds away from his own title, and a solid weekend in Las Vegas. There was minicycle racing, poker playing, a backflip across the fountains at Caesars Palace, a sold-out Sam Boyd Stadium, a happy East-West Shootout winner, a live nationwide TV audience, a pleasant Sunday at the Red Bull/FMF "Rehab" pool party at the Hard Rock, and finally a great big happy banquet. Sorry I missed it!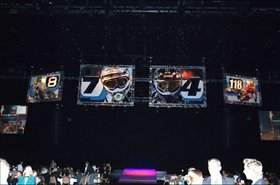 Knowing how long it takes to print on of these, we're guessing there's a #22 banner hidden away in a box behind the front desk at the MGM
photo: Carl Stone
Let me hand off to
Weege
for some weekend wrap-up before I get into the rest of Racerhead.
If the AMA puts out a press release declaring Vegas "The Most Anticipated Race in 34 Years," you know everyone is clued in on just how big the weekend going to be. Supercross is short for the Super Bowl of Motocross. And that's exactly what we had in Vegas.
The Vegas pits are pimped out compared to the other events. Live Nation actually built a sample whoop section in the pits so fans who can't get down on the track can get a look at just how tough those sections are. They also had Parts Unlimited's Rob Buydos host a live talk show all afternoon. It was like the ESPN College Gameday set, minus the headsets. Fans could stop in and watch Rocket Rob interview Jeremy McGrath, Travis Pastrana, Carey Hart and just about any big name in the game. And honestly, everyone WANTED to talk in Vegas. This was the ultimate title fight, so you had to weigh in on what was going to happen (even though no one knew for sure. And that's what was so good!).
To celebrate their live TV show, Speed brought in a big rig just for display in the pits and filled it with all kinds of cool interactive games and info. There's a lot to see in the pits at any supercross, but there was a lot more to see in Vegas.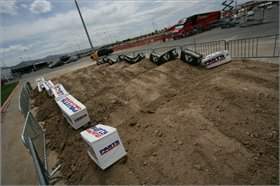 The Vegas pit-area whoops were pretty cool
photo: Simon Cudby
Then the teams rolled out some unique looks for the event. The SoBe/Samsung Honda team brought San Diego's gold plastic back, Team Solitaire went purple instead of red, and the BooKoo Honda team had a similar one-day look. Even Team Kawasaki got in the act by painting James' frame black. Everyone was running one-off gear and helmets and cool stuff to celebrate the last day of school. The importance of this race was lost on absolutely no one – including those watching at home on Speed. Showing the race live was groundbreaking enough, but even better, for the first time in the history of the sport, the internet message boards actually said good things about the show. This is historic!
I agree with all the compliments. Since I'm obsessed with supercross, the first thing I did once I got home from Vegas on Monday night was watch the entire four-hour live broadcast via TiVo, and it was awesome. It seemed like everyone involved in the broadcast had a grasp on the importance on the evening. It was the first TV gig in our sport that had a true "playoff game" feel to it.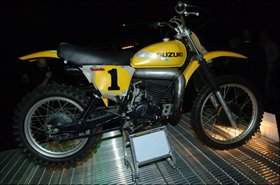 Suzuki went old-school with Ricky's graphics…. Or is this The Man's old iron?
photo: Carl Stone
And if you were there in person, well, it was tense like that. The stadium was so jam-packed that we had to do the
Supercross Live!
webcast from the bleachers because people were crammed into every nook and cranny of the building. I expected to have some trouble announcing amid a mass of fired-up (read: drunk) fans, but in the main, everyone was silent because it was so damned tense.
"Bad" Billy Ursic
said the press box was the same – dead silent. If you look back on the race now, yes, it was a follow-the-leader affair. But if you were there watching it, knowing that one swap in the whoops by any of the three contenders would change the entire season ... man, it was incredible.
Now if all of that isn't enough to make you proud of the sport, this will cinch it: Usually, the Vegas night ends with every rider, fan, and industry type jamming into the circle bar at the MGM. But we had some serious comp in the form of the Oscar De La Hoya fight, which was taking place at the hotel. But the supercross gang never gave up, and by 1 a.m., the bar was 99 percent supercross – we systematically hung in there lap after lap, put the pressure on, and then finally broke the fight club down. Like Krista Voda said on TV: Oscar De La Who?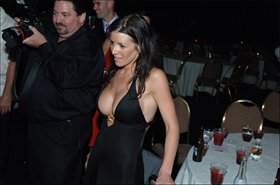 Wow, how damn good is TFS looking these days.… Oh, and Ellie, too!
photo: Carl Stone
Fittingly, while we were having fun at the bar on Saturday night, the boxing ring in the Grand Garden Arena was broken down and replaced by the supercross banquet. But Sunday, the banquet was rocking: classic works bikes everywhere, Carmichael and Stewart jerseys frozen in giant ice sculptures, and a massive stage and set. Big production, this supercross banquet, but it's missing one key element from a real awards show: You already know who won! It's like the Academy hosted an act-off the night before, printed the results, and then invited you to the Oscars on Sunday.
But there was some drama once Stewart came up to accept his WSXGP trophy. He soon broke down into tears. Stewart said he owed his success to the circle of people around him, which included his parents first and foremost. And he admitted that circle got pretty darn small last year (admit it, you were off the Bubba bandwagon, too). Looking back at that, he started crying. It was pretty cool.
Then Ricky came up to accept his AMA trophy, and he got all emotional, too, since this should be the last supercross championship speech of his career. It was an awesome night.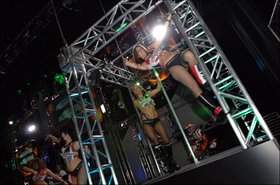 Supercross banquet participants gather at the starting cage
photo: Carl Stone
Thanks, Weege. From here on out we're going to lay in photos from some of the things you may have missed in Las Vegas if you were home watching on TV.
By the way, the Speed Channel coverage was exceptional in this viewer's opinion. I had a few friends over, and we really enjoyed the whole program, from the opening heats to the dramatic final. And yes, I thought the final as dramatic—one slip-up by RC, and Chad Reed would have gobbled him up and taken the title.
But one thing that did make me cringe was when of the announcers called the East-West Shootout the "Davey Coombs Memorial" race. That race was very graciously named for my dad, Dave Coombs, by the folks at Clear Channel back in 1998 after we lost him. Regardless, Dad would have been really happy that a great guy like Andrew Short took home the Shootout prize (for the second time in his career) after coming close to that West Region title.
Of course, the man who beat Short, Monster Energy/Pro Circuit's Grant Langston, was on the sidelines with a bum wrist. As we broke the story here in real time last week—"Bad" Billy was at the press conference when Langston went down—we were all wondering what it might do to the nationals. After all, Langston has to be the 250F title favorite. He ended 2005 with an easy win at Glen Helen, and he's only gotten better in supercross this year.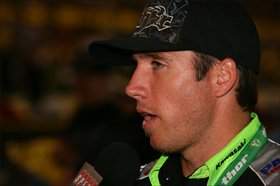 Grant had to watch from the sidelines in a soft cast
photo: Simon Cudby

Ping called in to get a Langston update this afternoon. Now it's his turn.…
The Pro Circuit team took quite a beating in Las Vegas. I'm not talking about the gambling tables, either, though I did hear rumors of Mitch Payton face-down on a blackjack table. Grant Langston injured his right wrist during a press-day crash. I checked in with GL today and he says that it is improving. The swelling is going down and he is getting some motion back. He will be at Hangtown, but he is having a special brace made to support it. The biggest problem is that it's his throttle hand, so it can't be stabilized completely. If there's one guy that can tough it out for a couple weeks and stay in the hunt, it's Langston.
His teammate Chris Gosselaar also hit the deck in Las Vegas - not a card deck, but actually the stadium floor. In a heat-race crash, Goose chipped a bone in the top of his foot. The doctors told him that it wasn't anything major and that he could ride if he could stand the pain. Goose will also have to grit it out in Sacramento.
Their other teammate, Ben Townley, will not be ready for the opener. Ben has started riding, but he still has a ways to go before he's ready to compete after destroying his knee before the supercross season.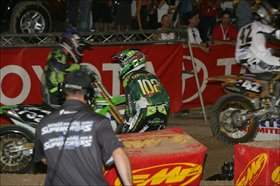 The Goose wiped out on the fast sweeper called Thunder Alley
photo: Simon Cudby

Andy Bowyer was chatting with Earl May, RC's riding partner down in Tallahassee, and he said this about Townley: "He's obviously a great rider. He's just getting back to riding and we've been running some MX getting the track worn in for Ricky. The doc told him not put his right foot on the ground in corners yet, so he has to baby the right turns - although he can keep with my old (self) without hitting the right turns fast!
"Too bad he got hurt in SX like most of the European guys," added May, no doubt thinking about guys like Greg Albertyn and Sebastien Tortelli. "I think it would be smarter for them to come here and do the nationals first, then try SX. They are always on the mend in the nationals, so we don't know how they'd do at 100 percent…" Townley, by the way, will hopefully be ready to race come Southwick.
That leaves Troy Adams and Ryan Villopoto as the only healthy riders and fortunately, they have been riding well. Troy focused on preparing for the nationals after he suffered a broken femur earlier this year, while Ryan is carrying the momentum of his first SX win to Sacramento.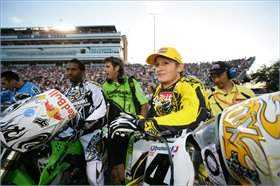 Two worthy champions, sure, but still….
photo: Simon Cudby
Am I the only one a little troubled by the multi-champion situation in Amp'd Mobile Supercross? I know me colleague Andy Bowyer
touched on it
in his Rev-Up, but I was really having a hard time watching two guys celebrate championship wins. So,
James Stewart
has now officially reached
Heath Voss
status by winning the World Supercross Championship? Sorry, but it seems like nobody really starts counting until Anaheim 1. The riders plan their riding and training programs to peak the first weekend in January, so that tells you where their focus is. The tandem bows were dramatic and all, but it didn't let the casual fan have any kind of closure on who won in the end. Hey, that's just my two cents.
By the way, Stewart may not have won the title, but he owned both series these last six rounds. Wow.
In the Lites class, Andrew Short rode like the champion that he almost was. Hey, Shorty, I feel your championship pain, brother. If you want to get together and share horror stories and hug it out ... I'm there for you. Behind Andrew, Tommy Hahn put in one of the best rides of his career. Ryan Morais also finished out the season with a solid fifth.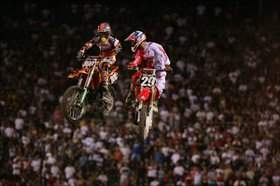 Andrew takes a look back at Mike Alessi, who had a career-best ride
photo: Simon Cudby
The best ride of the night went mostly unnoticed, though: Villopoto got bumped off the track in the second turn and got up in dead last. He turned some of the fastest laps on the night to catch all the way up to sixth place. If they had gone 20 laps, Ryan would have been on the podium. This kid is going to be fast this summer.
Thanks, Ping (and sorry again about Dallas 2000).
Looking ahead to next weekend's big 2006 Toyota AMA Motocross National Series opener at Hangtown, here's some things to keep in mind....
Racer X is proud to once again produce the live webcast of every round of the 2006 AMA outdoor national season, presented by Cycle News. Each race will begin at 1:00 p.m. Sunday afternoon in its respective region. Just click on www.mxnationals.com to hear all of the action, live directly from the loudspeakers to your computer. Tim Cotter and Rob Buydos will be making the calls, and we wish to thank the AMA for letting us share this with fans at home.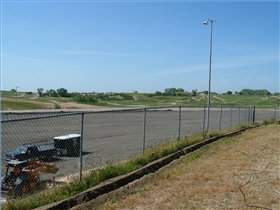 Those busy little Dirt Diggers have a great facility ready for motocross
Also,
Racer X
is very proud to announce that we will be sponsoring the holeshot award at each round of the series. For every moto in both classes, we will offer up a $500 check to the man who leads the way past a predetermined mark coming out of the first turn. That means we're giving a total of $2,000 each weekend back to the riders—again, thanks to the AMA for the chance to be more involved. Here's hoping that the guys who need it most get some of those check, though as great as
James Stewart
's been starting lately, don't be surprised to see him ride away with a lot of holeshot money!
Looking ahead to next weekend's race at Hangtown, the Dirt Diggers crew really went all out in the off-season, doing some serious upgrades to a facility that seems to be in a never-ending state of improvement.
Here a note we got from the Dirt Diggers' David Harvey. "It should be a heck of a race. We've worked so hard with new spectator areas, new track section, overhead bridge, new light/speaker poles, level pits, etc. Also, we're bringing in $30k worth of washed sand."
Harvey also wanted to let all of the Hangtown National fans know that the Dirt Diggers have organized a rider gear auction to take place at Hangtown to benefit Ernesto Fonseca. They will have all kinds of gear available for bid, and they will also be selling some of the Ernesto "Powerbands" at the track (and you can also pick one up at the Racer X booth).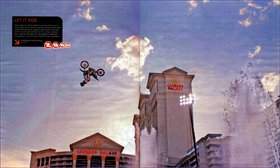 The Metz made The Mag

Mike Metgzer's backflip earned him a two-page spread in the ESPN The Magazine, but in the Rev-Up piece that Andy did yesterday, we incorrectly told you those Evel photos were from the Racer X Archives. They were, but they got there through the fine camera work of John Hanson. He shot them at "Evel Daze" in Butte, Montana back in 2002.
Also, we hear there's going to be a piece on 14-time AMA Champion Ricky Carmichael in the May 15 Sports Illustrated. Keep an eye out for it on newsstands or in your mailbox.
A great read is Bill Ursic's Privateer Profile with Josh Demuth, who's hasd quite an exciting last two months. First he wrapped up the first BooKoo Arenacross Series title, adding it to his two AMA AX #1 plates, then he announced his retirement, only to get picked up BooKoo Honda (along with fellow Ohio native and former minicycle rival Brock Sellards) when David Vuillemin parted ways with the team. Then Demuth started putting in top-10 rides in Amp'd Mobile Supercross, ending the series with an eighth in Las Vegas. But the highlight of his Vegas weekend was marrying the dazzling Leticia Cline, Racer X model and 30-second-card girl extraordinaire! Let's hope she's on The Reality of Speed as much as Josh and his teammates are next season.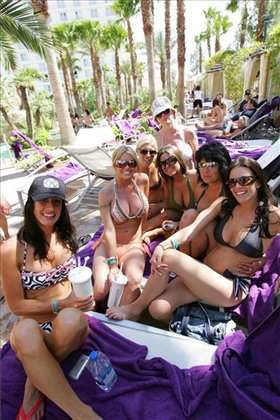 Lots of supercross talent at the Hard Rock pool Sunday. How many do you know?
photo: John Clark
Wow, as soon as supercross leaves town, so does everyone else. Apparently,
Peter Morton
, chairman and founder of the Hard Rock Hotel & Casino, just sold his famous Las Vegas property to Morgans Hotel Group for $770 million. Now that's a deal!
The Hard Rock may not have been an official part of this weekend's Amp'd Mobile Supercross finals, but it's always there if you need it. The circle bar, Body English, and there's no better people-watching than you get at the Hard Rock pool on Sunday afternoons as everyone winds down before getting dressed up for the big banquet, which is now held over the MGM.
Last week I mentioned a funny afternoon at the Hard Rock from long ago with my friend Scotty Mac where I left the table for a while, only to find both him and the $450 we had accumulated together gone. Believe me, Scott did not make off with the money—I wish he had, so we could have split it up! Instead, after riding #22 black to the top, I split and so did our luck. Within a half hour, Scotty had lost our pot, as well as some of his own dough, so he went off to get ready for the banquet. We met up later backstage, slightly inebriated, and assigned the dubious task of announcing the East-West Shootout winner. When I asked him how we made out, he said something to the effect of, "I quit at $200." I thought, Cool, we're still ahead! Then he added, "Umm … $200 down." We busted out laughing, and neither of us could stop until we handed Nathan Ramsey his trophy. It was pretty damned funny.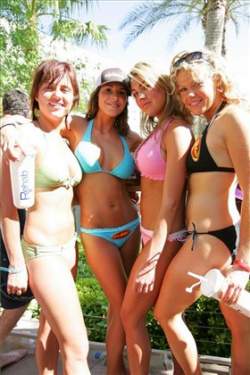 The Hard Rock and its famous pool are changing hands (hope these girls stick around)

photo: John Clark
Here's a note about yesterday's
Where Are They Now?
"My name is Donny Lines, and I just finished reading the article on Mark Barnett. Mark was my first hero. Growing up in Northwest Indiana, I was a few years younger than Mark, but I watched him race the mini classes at Gene Ritchie's pre-Red Bud track (K & R Raceway), dominating every race and class through the amateur ranks. I don't recall anybody beating him. Then when he stepped up to pro, and as a privateer C & B Honda/Suzuki rider caught the attention of Geoff Fox, was signed to Moto-X Fox and then the big-time with Suzuki. I still remember his first year at Pontiac as a Suzuki factory rider, Mr. Barnett was so nervous that he almost smoked a whole carton before the Main. Great times were yet to come for Mark and it couldn't have happened to a nicer person and fierce competitor. He didn't let the limelight go to his head."
Donny Lines. Chesterton, IN
Also, in Billy's Bench Racing Ammo from Tuesday, he wrote, "He has yet to fail in a title defense." Turns out that wasn't completely accurate. RC has never lost an AMA title, but he did lose one this year: "It is not an AMA title, but still worth noting the World Supercross title," wrote Nick Lewis. "I believe he will be adding another national championship this year outdoors to make 15. "
And that leads to this letter from David Rodriquez: "Man, I'm so pumped for the nationals. I don't know why anybody hasn't started hyping it up as the 'Perfect Tie-Breaker' yet." Perfect title, David.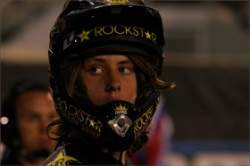 It's almost time for his time … or is it?
photo: Matt Ware
"Just wait until the nationals.…" We've been hearing that winter about
Jason Lawrence
, and some of the guys here in the office are betting on him, though others are not. I just hope when he gets on the Racer X Webcast after he wins a moto, he doesn't confuse "Wow" and "@#$!"
Look out: Matt Walker is getting ready to make it happen again, and he's going to be putting it all into words as he goes – yep, in a future Racer X column. "I don't know what I'm going to call it yet—everyone's got a name, like 'Electronic Ping' or 'Solitaire' or whatever. Somebody done whored 'Git 'er done' out, so I'm going to think of something." He's been in California, but he's home now. He's had a hernia – "When you're 24 and trying to have kids and you have a testicular hernia, you have to take the high road.…" So he's been parked, but now he's ready to ride.
It's remarkable, but really not that surprising, how far James Stewart has come since his last visit to Las Vegas: the 2005 U.S. Open, where Bubba rode press day and practice, then had a stomach attack that forced him to bow out before they even started dealing the cards.
But seven months later, he was back with a new bike, new number, new beginning—or at least the end of his "New Beginning." Stewart had "ALL IN" stitched on the back of his Fox race pants, signaling to all that there would be no "fold" this time, as our cover headline read last winter after his illness cost him any shot at the $300,000 U.S. Open jackpot. And Stewart rode a perfect race.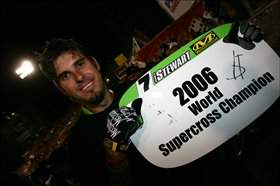 J-Bone and James added World SX to their two AMA 125 MX and two 125 SX titles
photo: Simon Cudby
You know who had a really bad night in Vegas?
Nathan Ramsey
. After crashing over the wall in his heat race, a bad start meant that he did not even make the main event (and neither did
Brett Metcalfe
).
I bring this up now because everyone is guessing what might happen with Ramsey and the new team he's rumored to be joining with Chad Reed and manager Larry Brooks (who TFS says is being replaced by Casey Lytle). The word is that Suzuki might be talking about picking up the new venture, and Yamaha must be interested—and maybe even Honda. The only thing for certain is that with Stewart on the 450 and Pro Circuit running the 250F program, Kawasaki probably won't be involved.
KTM next year, by the way, is looking like the Alessi brothers, Josh Hansen and rookie Zach Osbourne (and maybe Jay Marmont).
Broc Hepler will be racing Hangtown next weekend, but he apparently hasn't been doing much riding because that problem with the bone he broke in his foot persists. He is also in contract negotiations. Having not raced a supercross all year, Hepler may have more riding on his outdoor performances than anyone this summer.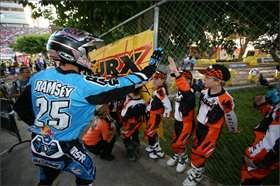 One of these KTM riders did not make the main in Vegas.
photo: Simon Cudby
Over on Nascar.com, they asked Andy's brother,
Clint
, which athlete, outside of racing, he admired the most.
"Probably Ricky Carmichael," Bowyer answered. "He's been a good friend of mine and I've seen him come from nothing and have seen everything his family's sacrificed to get to where they are. His success has been a family effort, everywhere from probably living in a 26-foot motorhome for two or three years to where he's at today and the success he's had. So just to see how far he's come, it would definitely be him.
"I know there's been some talk about Ricky coming NASCAR racing, but it would be tough," warns Clint. "Obviously, if he could get a good ride and he could get in the right equipment he might be able to do it. But it would probably be just like one of us going over there and thinking we're going to whup up on them in the motocross ranks. It's not likely to happen. But if he has the right equipment, and he can get the right equipment, you never know. The sky's the limit." Clint, by the way, qualified third for tomorrow night's Darlington 500.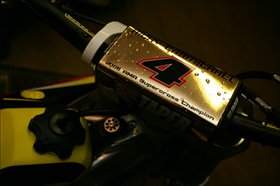 RC's solid gold in moto, but car racing might be different, warns Clint Bowyer
photo: Simon Cudby

Chip Morton, Dirt Rider contributor and all-around good guy, has an exhibit coming up of some of his photography. "This one is funny. It's six images from the 'tricycle crash' series I've been working on. The space is actually a little sandwich shop in University Heights. The room itself, no joke, is about 10'x10'. It's going to be really great because ghetto shows rule!" Check it out if you're in the area, and visit Chip's site here.
Miki Keller checked in from out at Glen Helen, where the WMA is getting ready to kick off its 2006 season as part if The Prequel. She says Chad Reed was out there yesterday putting in the laps (and Darrin "Rookie" Sorensen will be back to wrenching for him beginning with Hangtown). Tarah Gieger looks completely recovered from her back neck-wrenching crash at Washougal last year, but Jacqueline Ross broke her collarbone in practice. Racer X columnist Sarah Whitmore was also out there putting in some early laps.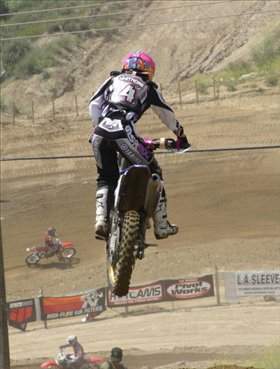 Sarah Whitmore gets in some practice at Glen Helen before the WMA opener
photo: Miki Keller
Okay, time to wrap this up. The sport is moving awful fast right now. We're coming off the biggest and best supercross series ever, and the outdoor nationals should be better across the board. But this isn't to say that everything is good. There are still some things we need to fix, and in order to do that, the OEMs and the AMA and the promoters and, of course, the racers all need to work together to keep moving ahead. There are big issues still hovering around that need addressed—noise and rider safety come to mind—and everyone needs to keep pushing in the same direction to keep this thing going.
Jeremy McGrath may not be back next year. Mike LaRocco has already said farewell, and Ricky Carmichael is getting ready to sign off. Those guys can all say that they left the sport better off than it was when they came into it, and that should be a goal that all of us involved should aim for—to make it better. Why bring this up now? Because I've learned that the best of times are the best times to try to improve and cooperate.
Thanks for reading Racerhead, and make sure you think of your mom on Mother's Day and just let her know how much she means to you. See you at Hangtown.