Thursday Rev-Up: Progression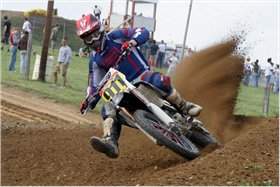 Life isn't bad for this cat
photo: Jackie Mims
Hello, everyone, and welcome to the Rev-Up. I don't know about you guys, but I could use a break in the action following the stress of the past four weeks. Man, that supercross thing got wild down the stretch, didn't it? Big crashes, close battles, the mud, the blood, and the beer. And it all came to an immaculate climax, beginning with the Godfather backflipping what Evel could not conquer, a semi-retirement, a live broadcast, and two champions.
Wow. It's all so crazy nowadays. As the world gets smaller, everything we do just seems to continue to get bigger, faster, and stronger. Be that as it may, I have been on a long stoke for the past several weeks. Sometimes enough travel to the right places, reading the right things, and being around the right people will reward you with a realization that things are pretty damn amazing on this mud ball we call home. It isn't hard to be happy or excited this time of year anyway, but I want to use this week's column to explain my stoke in particular and hopefully spread some of it around.
A month or so ago, I wrote to you about how cool I thought it was to be pecking in data from the 1993 running of Loretta Lynn's. Since then, I continue to be attached to the pulse of this incredible event. The last time I competed at the AMA Amateur Nationals at the ranch was 1996, and it was just beginning to grow to what it is today. They put a roof on top of the pavilion, bigger sponsors were rolling in, and the family haulers were getting bigger and, well, more bigger. The riders were getting faster, too.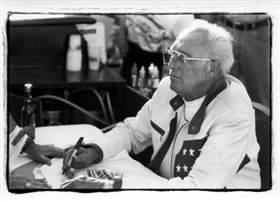 Evel is still the man
photo: Racer X Archives
Two weeks ago, I rode with Davey and Vance Coombs out to a local race at Mt. Morris. I was met with a sight that still has me shaking my head in amazement: On this day there would be more than 600 riders taking to the track. Why so many riders for a rudimentary local event? They all wanted to get track time at the venue that will be holding the Amateur Regional on June 3 and 4.
Upon arriving, I just kind of took off on my own like I always do and went for a stroll around the pits. It had been almost 10 years since I had last been there, and I was shocked to see that I could see all the way across the track. The trees were gone and the place looked like a real racing center. Then I climbed to the top of the three-story announcing tower (also new to me) to watch some practice. As I gazed out across the beautiful, rolling, spring-green hills of the
High Point
course, I stared across the bottom past the starting gate and set my eyes on the famous uphill triple step-up. The days of seeing Guy Cooper stand his RM125 straight up and down and barely skim the lip on that shot through my head. Man, I wanted to ride and maybe go jump that jump like I did in 1994.
Just then, I heard an engine singing in the meat of the power band. I turned my head to see a little guy on a KX80 with his feet on the pegs and his throttle arm pinned at his rib cage, grabbing gears around the banked corner leading into the step up. I just kind of smiled and thought, Yeah, right, kid, you better let off or you're toast. Nope. The grommet preloaded his suspension, shot upward and outward like a rocket, storked the front up end, then tapped the rear brake, threw a little whip, and kissed the backside of the third jump smoother than a baby's butt. Holy smokes - 80s are jumping what only Bradshaw and Stanton could in 1991!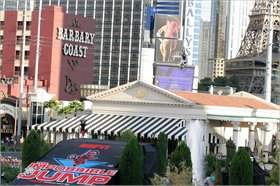 "A picture is worth a thousand words?" This photo can be summed up in one word: sick.
photo: Matt Ware
Realizing how long it had been since I had ridden, and knowing that if I climbed on a bike right then and there and tried that jump, I would probably be eating through an I.V. for a month or so, I climbed back down and continued my journey through the pits. I reached the back of the pit area and happened upon the biggest Peterbilt custom hauler I had ever seen. There was a half dozen Hondas parked beside it with a tall, good-looking kid leaned over one of them talking to a pretty girl. It was
Tyler Bowers
. Of course, Tyler is an exceptional talent, but man, the life of a 15-year-old nowadays is pretty amazing!
From there my stoke just continued to pick up steam. I joined the entire motocross industry and waited in giddy anticipation for last week's conclusion of the 2006 Amp'd Mobile Supercross Series. It was so cool to read all of the preview articles and all of the message-board threads and watch the commercials, which all hyped the race of the decade. If all of that wasn't enough, my favorite band of all time, Tool, had just released their fifth installment of musical genius, 10,000 Days. Talk about progression: That insanely brilliant group of musicians from the Midwest have raised the bar of what can be done with a couple guitars, a set of drums, and a man with an unprecedented set of pipes. Music always enhances my surroundings, and this album came out for me at the prefect time. It almost seemed like divine intervention!
The time finally came. The weekend was upon us and the opening act, if you will, was Mike Metzger and his Mission Impossible: III leap. Now, some of us "insiders" know that there are probably a dozen other guys that could have flipped that gap, with any number of variations. The jump was incredible, but Regis would have probably only given it an 8.5 (you know, for over-rotating and all. Ha!).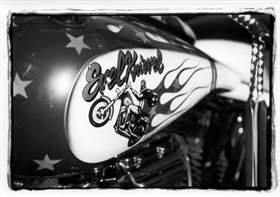 Hey, Metz, try that gap on this machine
photo: Racer X Archives
Seriously, folks, slow down for a second and think a little harder about the reality of backflipping a 200 lb. dirt bike over a 125-foot distance…. Sure, Evel had major, major stones for trying to huck it on a 600-pound Triumph, hung over as hell, wearing only a pair of coveralls and a star-spangled "crash helmet." But I have to give it to the Metz, because in the middle of all of his tattooed, bust big, "I'm Pro" spiel, the guy truly has some wit in him. There was some real genius in how he explained that Evel, the original madman, was a daredevil and a completely different showman altogether than what he was. The Godfather of Freestyle Motocross and all of the guys that file in behind him are not daredevils; they are insanely gifted and talented riders who possess a focus and coordination that rival, and in my opinion, best, any sporting element on the planet. I mean, guinea-pigging a 125-foot gap is pretty gnarly, but calculating a slow-rotating backflip over it? That's video-game stuff, guys. It's all gotten way off the frame! And it's awesome.
Then, of course, was the race—the live television broadcast of the biggest race of our generation. Shamefully, I had failed to put myself in a position to attend. Instead, I made plans to attend Richmond International Raceway and watch my brother try to get it done in his #07 Jack Daniel's Chevrolet on Saturday night. At the race, I was surprised how many people were asking me about the supercross series and how many had planned on running back to their motor coaches to watch the live show. I was already on a big high when I got to the event, but after standing along side Clint on pit row with my hat over my heart during the national anthem and feeling my chest cave from the F-14s that crushed the air overhead, man, I was stoked. That thrill stayed with me all the way through the 400 laps when Clint took the checkered flag in 10th place. If that wasn't cool enough, Dale Jr. won the race. Now, attending a NASCAR race is an awe-inspiring event in itself, but being there when Dale Earnhardt Jr. wins a race is completely spectacular. The adoration he gets from 70 percent of the 100,00-plus fans in attendance is staggering. The vibe was so positive and triumphant, it's hard to find the words to describe it. I guess the best way to describe it would simply be a big smile.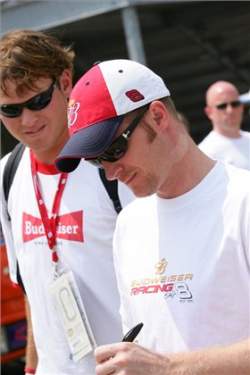 When this guy wins, an entire industry wins
photo: Simon Cudby
Then I got to watch the supercross, which was probably the most intense experience I can remember. Even at 2:00 a.m. EST, my heart was racing. It all turned out pretty good. RC and James got titles and
Chad Reed
showed up for the fight. The sport has grown so much. Live television is a big, big deal. Although after the race, when James and Ricky were walking around with #1 jerseys on, I couldn't help but ask myself what a newbie fan might be thinking when Greg White asked James, "How does it feel to be the World Champion?" Then, a couple minutes later Krista Voda asked Ricky, "How does it feel to be the AMA Supercross champion?" What the heck?
As far as we have come and as far as the sport has progressed, it's abundantly clear that we still have a ways to go. But I have faith we'll get there. We are going in the right direction, and that is what counts.
But hey, like I said, I'm stoked. I have always been a huge fan of progression, and we've seen a mountain of that in the past few weeks. It's a great time of year! Everything is getting warm and turning green, girls are walking in short shorts, and the outdoor nationals are right around the corner. Did you hear me? The outdoor freaking nationals kick off next weekend! I'm stoked! The title of this week's column is "Progression." Ask yourself one question: How much did James Stewart's outdoor skills progress in one year? We're going to find out in eight days. Now that should put a smile on your face.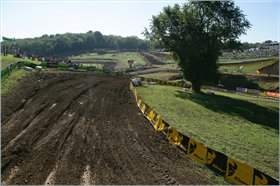 What we have to look forward to next week!
photo: Simon Cudby
Oh yeah, the
Racer X
guys seem to have something up their sleeve, too. Stay tuned for that—and a whole lot more. It's a great time to be a motocross fan.
Thanks for reading, see you next week!