Bench Racing Ammo: RC's Records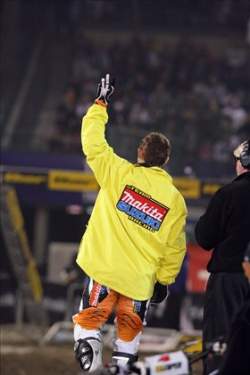 Ricky said goodbye to racing supercross full-time
photo: Simon Cudby
And so it continues. Makita Suzuki's
Ricky Carmichael
has just finished up the toughest series of his 10-year professional racing career, and once again he has come out with a championship. It was the fifth AMA Supercross title for RC since 2001 (he sat out '04 with a knee injury) and the 14th major title of his career. He seems to etch another record into the books every time he's on the track. But this past weekend, he announced that this was most likely his last full season of supercross competition, so it looks as if he won't be able to break any of the records set forth by the King of SX, Jeremy McGrath, who has 72 SX wins and seven AMA championships. But the other records—the motocross standards and the SX/MX combined laurels—that Ricky has set might be carved in stone now.
For instance, Carmichael is the only rider in the history of the sport to have a perfect season—two perfect seasons, actually. He did both in outdoor motocross, winning all 24 motos throughout the season in 2002 and '04. If that's not enough, he also won every overall last summer, marking his third undefeated series in AMA motocross.
He now has 10 straight years of winning championships—and they are his first 10 years of racing professionally!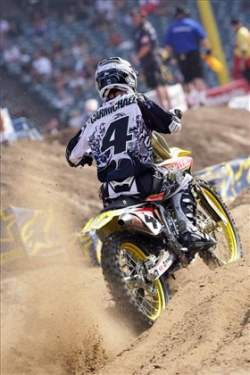 RC is looking for his seventh consecutive AMA Motocross Championship outdoors this season
photo: Simon Cudby
Championships include:
3 125cc National Motocross Champion (1997-'99)
6 AMA Motocross Championships (2000-'05)
5 AMA Supercross Championships (2001-'03, 2005, 2006)
1 World SX GP Championship (2005)
2 Motocross des Nations Championships (2000, 2005)
1 Eastern Region Supercross Championship (1998)
RC currently has 133 race wins (and counting); next closest is Jeremy's 89 wins – a number that Carmichael has almost matched in outdoor wins alone (87).
He has yet to fail in a title defense.
And finally, Ricky is the only rider to win SX and MX championships on three different brands of motorcycles (Kawasaki, Honda, Suzuki).
What does it all mean? When he rides off into the sunset, it's going to be a long time before anyone reaches his level of success. Think about it this way: If
James Stewart
, who has two 125 MX titles, were to ever reach 14 major titles, he would have to win both the AMA Supercross and AMA Motocross Nationals every year through 2012 just to match him. While Stewart certainly has the speed to do it, does he have the longevity? Beyond James, no other current factory (or full-time) rider on the AMA circuit has more than one major title right now.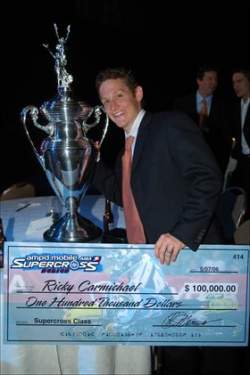 Ricky collects a very well-deserved paycheck for earning the 2006 Amp'd Mobile AMA Supercross Championship
photo: Steve Bruhn