For me, Las Vegas has always been a town full of fun and regret. The supercross world moves in three or four times a year for various events, and it's always the same: Drinking + Gambling x Supercross = Regret. Not that I'm much of a gambler, nor much of a drinker, either (or so I'm told). The most money I ever won was betting on Jeff Emig at the 1999 U.S. Open of Supercross, whom I scooped up at something like 16-to-1 for a $400+ payout. The most I ever lost was the time I handed $450 to Scott McLemore at a roulette wheel in the Hard Rock in '97 or so and said, "Watch my money while I go get ready for the banquet." By the time I returned, both the money and the Mac were gone. As for regret, I once got into a heated, inebriated debate with AMA Pro's Scott Hollingsworth—something I still cringe about, and he might, too. (Sorry again, Scott.)
I bring all of this up because someone's going to leave Las Vegas on Monday morning with a lot of regret. Fans, journalists, spokesmodels, promoters, mechanics, and, of course, supercross racers. The 2006 Amp'd Mobile AMA Supercross Series has gone from the perfect storm to the perfect ending—no need to hype it any more here. This thing is getting more coverage than the NFL Draft just got! There's live TV coverage, a live webcast, live Amp'd Mobile cell phone coverage, live online press conferences, live AMA timing and scoring. The place is sold out, the pits will be packed, and everyone wins…
But there will be two losers. And with defeat will come regret, of course. Maybe it will be Ricky Carmichael, regretting his Dallas boating accident and maybe that strange Seahawk-green gear he wore in Seattle. (Memo to Scott Taylor: Pack the orange stuff for tomorrow.) Maybe it will be James Stewart, who might have finished second or third at Anaheim 3 had he not clocked Jeremy McGrath in that hairpin corner. (James already got the memo: You can pretty much pass anyone anywhere now, so take your time.) And Chad Reed probably already regrets his practice accident before Daytona, but what can you do? It could have been a lot worse, as we all know.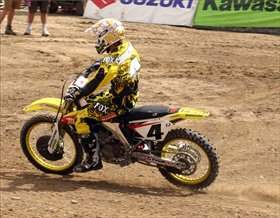 Anyone want to bet on what color Ricky wears tomorrow night?
photo: Billy Ursic
Anyway, I bring all of this up because
Ping
sent me a file yesterday that he had tucked away before the first race. He went around the pits and asked a few of the riders what their expectations and goals were for the 2006 Amp'd Mobile Supercross season. To read what this guys had to say—hindsight being 20/20—is interesting. Let's take them one at a time:
James Stewart: "I want to win the title and just have fun out there. It's a long series, so I just want to be consistent."
James is definitely having fun, but that consistency thing bit him hard at Anaheim 3 and Daytona and Indy.…
Chad Reed: "I want to win the championship. Anything else will be a little disappointing."
Chad's right there, even though no one is going to argue that he was the fastest man (or even second-fastest) in this series. But championships count the same in the record books, no matter how many race wins (see Jeff Ward's one-win '85 title here).
Ricky Carmichael: "Obviously, the goal is to have the most points after Las Vegas."
Simple and straight to the point, but is it going to be "Mission Accomplished" like Mike Metzger last night or the president's premature proclamation of a few years ago? This one can go either way.
Just for kicks, here's more of those preseason goals—figure out for yourself whether they made their marks or not.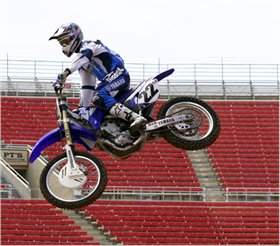 Reedy wasn't as speedy as the other two, but he's steady … "Steady Reedy"?
photo: Billy Ursic

Nick Wey: "I want to be top-five at the end of the series and get a podium or two along the way."
Michael Byrne: "My main goal is to be in the top five at the end of the season. I would like to be on the podium a time or two before it's all over, as well."
Jeremy McGrath: "I want to race with these guys up front a little [Carmichael, Reed, and Stewart]. I'd really like to get on the podium before the first six are over."
Andrew Short: "I want to win the championship, for sure."
Grant Langston: "The title is my main goal. I'd like to win races along the way, but as long as I have the #1 plate at the end of the series, I'll be happy."
Nate Ramsey: "Well, the championship is the main goal. I would be pretty happy if I could get a few race wins and go into the Vegas Shootout with the #1 plate."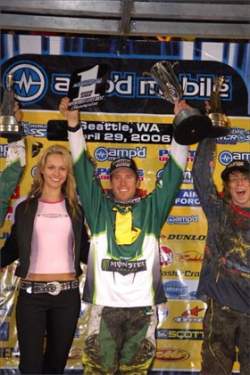 Grant + Mitch = Happiness (and no regrets
photo: TFS

Ryan Villopoto: "I want to put myself in a position to win some races and maybe have a shot at the title. I want to learn a lot from guys that have been doing this a while, and I think I'll be fine."
Mike Alessi: "I think that I can win some races and have a shot at the title this year."
Billy Laninovich: "I want to win the championship this year. I think I have the experience, and my training and riding are better than they've ever been."
Brett Metcalfe: "I want to be in the top three as much as possible and have a shot at the title as the series comes to an end."
Interesting indeed, and no doubt riddled with regret. Why no East Coast 250Fers? Ping was in the Anaheim pits, not Atlanta.…
Check out this practice pic from Seattle, below, which was shot by Racer X Gas Card sponsor Bjorn Ostby. That's James, of course, hitting the eject button about three stories above the wet floor of whatever the name of that stadium is now.
The fact that James got up and won is just incredible, and so was the save by RC that I have TiVo'd back and forth about a hundred times this week. It might turn out to be the championship-saving moment of the season.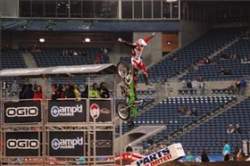 Umm…. Wow. By the way, he got up and won.
photo: Bjorn Ostby
So, who do you think is going to win this sucker? That's this week's
Troy Lee Designs Racer X Online Poll
. If you haven't voted yet, here's your last chance.
As mentioned above, you can watch the race tomorrow night live on Speed TV, or you can listen to the live webcast at www.supercross.cc.com, and you can watch the laps, times, heats and everything boiled down all day long on www.amamotocross.com.
Who's going to win? We all are – no regrets there!
Like clockwork: My new Amp'd Mobile phone finally showed up, so I can watch supercross live—just in time for the live TV coverage on Speed. Regardless, thanks, Shane! Now I can watch the race in stereo.
One thing is for sure: It's doubtful it's going to rain tomorrow like it did last weekend in Seattle!
Moving on to the 250F class, this one is wide open. But no sooner did I start to type this than Billy Ursic checked in from the Sam Boyd Stadium grandstands, where he watched them cart Grant Langston off after Grant bailed. Everyone heard a panic rev and looked over just as Langston was going down. He was holding his wrist and had to be carried off on a stretcher, and the general consensus there was that he might have broken his wrist!
Forget about the East-West Shootout—this is terrible news for the nationals. Langston was certainly a preseason favorite for the title, right up there with Team Honda's Andrew Short, Red Bull KTM's Mike Alessi, SoBe/Samsung's Josh Grant, and Grant's young teammate Ryan Villopoto.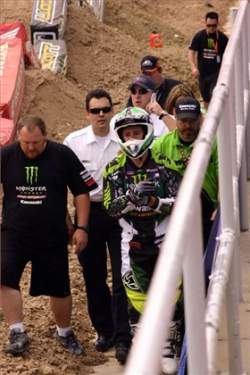 Grant went down this afternoon during press day
photo: Billy Ursic
Damn.… Earlier this week,
TFS
spoke to Grant about his championship, as well as his teammate Villopoto. Langston said, "He is an awesome rider, awesome kid. We have had a lot of fun training this year. I really think he is going to be the 2007 West Coast champion. He is the future of the sport right now."
TFS also asked about the possibility of a 450 team from Mitch Payton and Pro Circuit in the near future. "We have been talking," Langston said. "Right now it is in a position where Mitch is trying to get it all put together. He is dealing with some of his people to get money. I guess there are negotiations with Monster, Parts Unlimited, Kawasaki.... He has spoken to me, to see if I had interest, and I said, 'Yeah, obviously I would love to be there.' Right now, the weight's on his shoulders to have everything put together. In the next few weeks we should know. Hopefully it all works out for him."
Ken Faught dropped me a line from Pole Position Raceway about a fast visitor he had this week: James Stewart stopped by to do some kart driving and looked really good, according to Ken: "No limp or any signs of problems from his Seattle crash."
By the way, if you ever get to California, you really have to go check P2R out and put some laps in. The karts are fast, the motocross memorabilia is amazing, and it's just a generally fun place to hang out.
Not sure who had a better time last night in Las Vegas, Mike Farber or David Pingree. First, after watching Mike "Monster" Metzger's Monster-backed Kawasaki flip that Monster of a fountain and Monster-serving Caesars Palace (apparently, Monster was the sponsor of that live ESPN jump last night), Fubar apparently got down on his knee and asked his longtime girlfriend Jules to marry him, pulled out a ring, and put it on the girl's finger—well done, Mike. Congrats!
But Pingree had an even bigger night: After the Monster jump, he took his wife to see Celine Dion in concert! Talk about taking one for the team.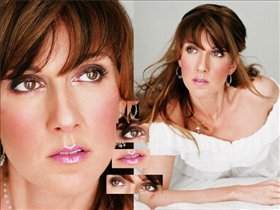 Now that he's seen her in concert, Ping's heart will go on....
For a mainstream look at Metzger's jump,
check this out
.
I got a call from the Jammer himself, Jimmy Weinert, this week. He was so excited about the upcoming race, he just wanted to talk about it with someone! The Jammer bleeds green, so there's no need to tell you who he's pulling for.
I was IMing yesterday with Paul Malin, the British MX great who basically led his country to victory over the Americans in the 1994 Motocross des Nations in Switzerland. He also wanted to weigh in on Vegas. Maler said, "I'm sittin' on the fence.... However, Reed will holeshot the main with RC and Bubba down at turn one. They get up, fight back through the pack to make the podium, but which order is anyone's guess!!! How cool would that be to round out the SX season?" I truly hope that's the script!
Even Jeff Emig, the '97 AMA Supercross Champ, wanted to discuss the race—he actually wrote a preview for a Racer X Online! If you missed it, check it out here.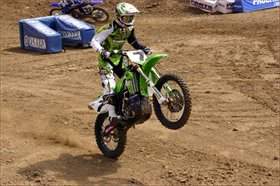 Check out the distinctive look of Stewart's Vegas bike
photo: Billy Ursic
While waiting around to find out what the word was on Langston's wrist injury, Billy also this pic of
James Stewart
's Las Vegas race bike, complete with black frame and swingarm, black wheels, and some very green
Fox Racing
motocross gear. Sweet!
Over on "Farber Asks" the recently engaged Mr. Fubar asks a wide array of folks if Chad Reed would be lucky or smart if he actually pulled the championship off. Some interesting stuff.
Anyone out there look like Team Kawasaki road racers Tommy or Roger Lee Hayden? What about their father, Earl? Can you come up with a funny disguise? Our little sibling, Road Racer X, is holding a Hayden Look-Alike contest, the winner of which will earn a perk-laden, all-expenses-paid trip to the next AMA Superbike round at Infineon Raceway in Sonoma, California, May 20-21. Entrants' level of enthusiasm is much more important than perfectly matching the Haydens' face structure. Entering is easy; to find out how, go here.
Road Racer X editor CJ was talking on the phone with Randy Mamola yesterday, and the former Grand Prix road race star asked if we could pass on a message to Ernesto Fonseca. Take it away, Randy:
"Ernesto, I know you're getting a lot of support from the motocross industry, but I want you to know that there are a lot of people in road racing who are thinking of you too. Nicky Hayden's wearing a #10 on the back of his helmet in dedication to your recovery, and all of us in this sport are in pain over what has happened, and we wish you the best. People in the MotoGP pit lane are always asking me if I've heard any news on Ernesto."
Mamola met Fonseca at Yamaha's Weekend of Champions at Daytona back when Ernie was riding for Yamaha of Troy. The two sat next to one another while they were signing autographs, and Fonseca started speaking Spanish to someone. Mamola, who spends much of the year at his wife's house in Spain, answered him. "From then on out," Mamola laughs, "that little shit will make me speak Spanish and will only speak Spanish to me."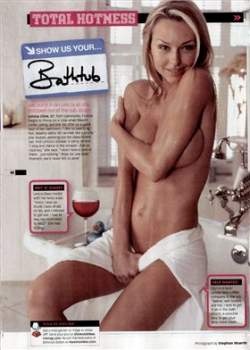 "Naked, wet bodies are hot," says Leticia in Maxim… Looks like she knows what she's talking about it!
Turning our attention to the mainstream for a second, we were stoked to see the new
Racer X
model
Leticia Cline
in the most recent issue of
Maxim
magazine.
We got a note on two-time AMA 125 National Champion
Steve Lamson
's privateer plans for the summer. He will be racing selected nationals on a Suzuki RM-Z450, and he will be sponsored by Folsom Cycle Center, Coors Light, Suzuki, Pro Circuit, Works Connection, Guts Racing, and Troy Lee Designs.
Another well-liked veteran will also be doing the nationals this summer—at Loretta Lynn's! Denny Stephenson of Smith Racing and Speed TV is heading to Pine Ridge, WI, next weekend for his North Central Area Qualifier. Good luck, Denny.…
Which reminds me: There is an Eric Johnson story in the next Racer X about the good old days for Denny, Fro, Ryno, Factory Phil and the Bud Man that is one of the best features we have ever done in Racer X. Look for it next week.
And speaking of the nationals, did anyone else get this e-mail from Dish Network?

"DISH Network is excited to announce that OLN (Outdoor Life Network) --- Home to much of the NHL Stanley Cup Playoffs --- is here! You can now find OLN in America's Top 180 and America's 'Everything' Pak. OLN offers a variety of unique and entertaining outdoor, sports and active lifestyle-related programming. The indoors will never be the same...with Outdoor Life Network!"
We also got a call-to-arms about an effort to shut down Durhamtown Plantation in Union Point, Georgia. The plantation is a 7,000-acre, privately owned off-road paradise that is under attack from Atlanta News FOX-5 Investigative Reports. Please go www.durhamtownplantation.com and go to Forums and General Discussions and check it out.
A friend dropped me a line to let me know that Simon Cragg from the UK got some good news this week—atta boy, Simon!
And here's an interesting story about the fact that IRL cars are going to a corn-derived ethanol mix in 2006.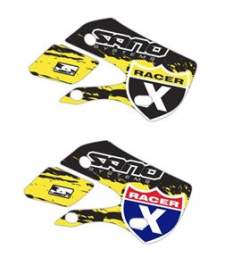 Langers will be easy to spot tonight with these very cool Sano graphics
The big MiniMoto SX goes off tonight at The Orleans in Vegas, and it promises to be another amazing event for promoters
Tim Clark
and
Eric Peronnard
.
Ping
and
Langers
are both representing
Racer X
out on the track (and later in the bar). I think the tickets for this one are already sold out.
One of the most memorable things I have seen on the web in a long time is the exclusive Motohistory interview with Johnny O'Hannah, the self-proclaimed "Uncle of American Motocross."
Go to www.motohistory.net, then click News & Views to find out about one of our sport's improbable heroes.
Did you know that Roger DeCoster's son Mika is the best 12-year-old tennis player in America today? Mark Thome sent over this story he spotted on The Man's son.
By the way, if you're going to be at the race this weekend, there's a special offer for you at the Racer X booth. If you sign up for a subscription, you'll get the usual free T-shirt, plus a cover poster - from our very first issue! (You can view the cover, for V1#1, right here.)And here's a public service message for all motocross fans:
Dear Racer X,
I was writing you to see if you could post this link on your website. I am not affiliated with www.fathead.com what so ever. I just wanted to get enough requests so they would start making FATHEADS for SUPERCROSS. I thought it would be a cool thing that all of us fans would love to have in our homes. To email Fathead.com and request your favorite rider, go to
imagerequest@fathead.com. Thanks in Advance.
Brad Shannon. Pataskala, OH
Finally, I missed Ricky Carmichael's press conference this morning from Las Vegas (click here for all of the notes), but I've kind of known for a while that his plans for 2007 and beyond would probably not include a full-time motorcycle racing schedule. What this means is that if RC does hold on for this championship tomorrow night, it will be his last as a supercross racer, and he will certainly give it all he's got this summer, too, in the Toyota AMA Motocross Nationals. I guess what I'm saying is, start planning your trip to one of the 12 rounds of this summer's motocross tour, because it's going to be your last chance to see the best motocross rider ever giving it his all.
Thanks for reading Racerhead, and enjoy tomorrow night's races from Las Vegas! And good luck on Tobacco Road, Shawn—welcome back East!