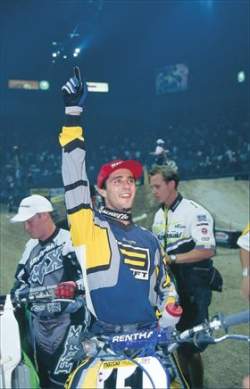 Jeff Emig
photo courtesy of Moto Verte

Jeff Emig knows his way around Las Vegas: He won his first 250 Supercross main event here on a peculiar Saturday night in 1995, then clinched the '97 AMA Supercross title in Sin City while riding for Team Kawasaki. He also won the last big race of his career, the 1999 U.S. Open of Supercross, on an FMF-backed privateer Yamaha. Finally, he retired in Vegas, holding four major titles, 37 AMA National/SX wins, and three victorious rides for Team USA at the Motocross des Nations. With all that in mind, Racer X Online asked Fro to give us his take on the 2006 Amp'd Mobile AMA Supercross Championship and the three men in title contention. Here's what Jeff had to say.

Everyone in the motorcycle-racing world has their eyes on Las Vegas this weekend. An unprecedented points race in our sport's premier championship has Ricky Carmichael and Chad Reed tied, with James Stewart only five points back. Most years, by the time we get to Vegas, the points race is pretty secure for the champion, but not this year—even the 250F classes had great points races.


When I think about what really stands out about this year's Amp'd Mobile AMA Supercross Championship, it is the perseverance that the top riders have shown and the obstacles they have had to overcome. RC and James have clearly been challenging each other week after week for the race wins, while Reed has quietly stayed in the running by placing on the podium and taking advantage of the occasional mistake by the other two leaders, even notching two race wins when most weeks, he's off the pace of Stewart and Carmichael. It would have been easy for Chad to write the year off and settle into third, but his I-want-to-win attitude will not let him do that. Coincidentally, he has put himself in a position to win the championship—who would have thought?
James Stewart
has definitely shown the most speed late in the season. I think he has been the most improved rider this year. James rides in a way that big mistakes are going to cost him, but that's how he goes so fast! You can't have it both ways: You either ride tight and safe or loose and dangerous. I guess the key is to find a balance that wins the championship. With the spectacular get-offs we have seen from James this season—Daytona and Anaheim 3 come to mind—it is amazing he is still in the championship.
Now we come to the GOAT. Ricky has been challenged this year like never before. In the beginning, it was a challenge just to grab a race win, which shouldn't be a problem, seeing how he has done that over a hundred times before. Stewart showed up with a new machine, wearing a new number, and showing a new speed. It took Ricky a few races to bag his first win—seemingly longer than he is used to. RC elevated his testing, made his bike better, and started trading race wins with Stewart week after week. Then James made some big mistakes and Ricky capitalized on them. But then the fuel deal happened and he was docked a 25 points. Suzuki made a great case and had the decision reversed, but there was no reversing the bike failure in St. Louis that cost him 25 points. He rebounded by winning three in a row, followed by three seconds. Surely, at this point the mathematical equations were in his favor to win the championship—all he had to do was keep finishing second and he would cruise to victory. But a mistake at Dallas and a third in the mud at Seattle has put him in a tie with Reed for the championship going into this last race!
Whether RC, Reed, or James is your favorite, you have to give it up for all three of them. They all have shown great a determination to be champion. They all have pushed their own limits and sometimes failed. But the real lesson is that none of them has given up, even when it would have been easy to. I guess that's why we have the greatest points race in the history of the sport!
If James ends up on top, it will be because of his amazing speed and the beginning of what I'm sure will be a string of supercross championships. If Reed wins, it will be an amazing story of what can happen if you never give up and how you can put yourself in a position to have luck go your way (and we all need that now and then). And if RC wins, well, it will be the greatest challenge of his career, only fitting for our sports winningest rider ever.
So no matter how it plays out on Saturday night in Las Vegas, just remember all three of these guys are champions and we are all very lucky to witness this epic battle.