This feels like one of those luck-of-the-draw days. Seems like half the Racer X crew is flying to Seattle to take in the penultimate round of the 2006 Amp'd Mobile AMA Supercross Series, while the rest of us—the ones who went to Dallas—are left back here in the office to do Racerhead and a little spring cleaning.
But if they get half the action we got in Dallas—and I suspect they will—then everybody wins. Last weekend's race was one of the most astonishing turns-of-events I have ever seen in a supercross race. Ricky Carmichael's unlikely crash, followed by James Stewart's shocker, catapulted Chad Reed right back into contention.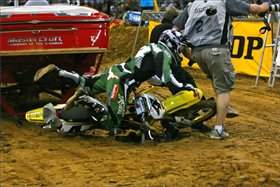 Clear the decks!
photo: TFS
"This is one race where I needed James to win," said RC afterward. "That actually would have been better for me!"
Carmichael, of course, could have had a lot of things go better for him. He looked out sorts early in the race when Stewart was chasing him, and that skim-of-faith that James employed on the fifth lap is the absolute fastest I have ever seen anyone EVER go through a set of whoops.
But Carmichael tried to reciprocate the very next lap, and he basically ended up in the harbor that was the infield in Dallas, just nicking the backboard of the Mastercraft boat that rested there….
Okay, before you get all blown out of the water on the boat, that kind of product placement has been going on forever—there's an Air Nautiques on the inside of a sweeping corner at Loretta Lynn's! But the whoops at Dallas and the strange trajectory of Ricky's crash—he seemed to go straight, then "left turn, Clyde" faster than Smokey or the Bandit. The boat was docked in the wrong place, wrong time. Good thing TFS and Ken Faught both made the pictures before it was "adult swim" and everyone else dove out of the way!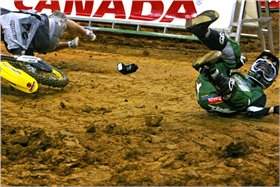 This could have been a lot worse than it looked
photo: TFS
And then James' crash, which I did not see live—I was checking the ticker to see how
Clint Boywer
's NASCAR race was going out of the corner of my eye (and so maybe was
Ralph Sheheen
and
Denny Stephenson
…. Just kidding, they were in a replay of RC's amazing crash) when the crowd exploded. I looked back to the floor to see Stewart's head pop up out of the Parts Unlimited Tuff Blox.
Add those two moments together—RC's crash, James' crash—and you have one of the most incredible turnabouts of an already incredible season. And before Stewart even got his bike started, I thought, Oh man I wish I were going to Seattle!
This weekend's 15th round of the series at Qwest Field begins at 7 p.m. West Coast time (that's 10 p.m.) and you can watch next-day coverage on CBS on Sunday, April 30, 12:30 p.m. EST.
If you can't wait that long, of course, there's Jim "Hollywood" Holley and Jason Weigandt's soothing voices of what promises to be an exciting weekend. They can be heard at www.supercross.cc.com beginning at race time. And don't forget to visit @The Wire Live! on www.amamotocross.com.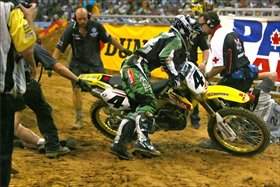 The fast that RC got up so quickly says a lot about how badly he wants this title
photo: TFS
Wow, I got this far down and didn't even mention the 250F title chase. It's down to
Andrew Short
versus
Grant Langston
, with four points separating them. I was IM'ing back and forth with
Donn
of
TWMX
earlier, asking him who he was puling for since both guys do columns in his mag. He took the high road—he's okay either way!
But when I was talking to Jeremy McGrath about it (his Racer X column was a little late this month) he posited the question, "What happens if Ryan Villopoto is winning, Langston is second and Short's third on the last lap?" Then he thought about it for a second and said, "Oh, wait, I think I know what will happen there!"
We were joking about team tactics—if Langston wins, anything less than second for Short means it's Grant's title—and also just what a revelation Villopoto was at Dallas. McGrath was watching from the Parts suite, along with Jimmy Button, and both were absolutely impressed by just how much better that kid has gotten in the weeks off between San Diego back in mid-February and last weekend in Dallas. He was fast then, but he's amazingly fast now!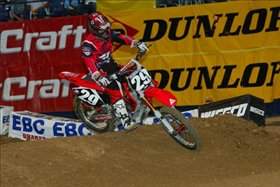 Short is one race away from what would be his first pro title
photo: TFS
MC also weighed in on the 450 class: "It's not too often that you're excited about a race and you're really not watching the guy who won the race," he said. "That really wasn't where the action was at that point! It's been Ricky and
Bubba
, but Chad was riding right with them, which is great. He just slowed down when he had a big lead, which naturally, he should."
Jeremy was also mightily impressed by Nick Wey, who continues to give a few of the factory guys a real privateer handshake with his solid riding. Nick's name has leapt to the top of the silly season message boards, and it's highlighted in blue – more on that later.
As for RC's crash, MC said, "I'm thinking that they might want to reposition where they put the boat on display. I don't know if you saw it in the 250F race, Billy Laninovich and Mike Alessi got together and Billy crashed and Mike nearly hit the truck." It was that kind of night in Dallas!
I myself did spot something weird in the 250F main, and maybe it will be on Speed's coverage of the race tomorrow afternoon at 6 p.m. EST. As Langston was coming through the field and
Mike Alessi
was dropping back after a good start, Alessi looked over in the middle of those same rugged whoops, saw Langston, and then took his clutch hand off the bars and actually waved Langston by – while he was still in the whoops! Alessi obviously learned some lessons last year, and he's also already looking forward to the Toyota AMA Motocross Nationals for sure.
Davi Millsaps' debut in the 450 class lasted less than a practice session. He twisted his knee and got an MRI that showed some trauma, according to his agent, Lance Langston, but surgery will not be required. Regardless, he's not racing this weekend, but he will be riding the #1E in Las Vegas next weekend.
#1 STAT OF THE WEEK: Laps led in the 2006 Amp'd Mobile AMA Supercross Series
Ricky Carmichael: 102
James Stewart: 101
Chad Reed: 46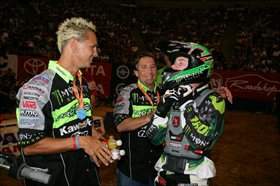 Randy Lawrence and the Villopotos celebrate in Dallas
photo: Simon Cudby
Okay, this seems like a good spot to turn it over to
Ping
for some words from out West.…
One of the biggest winners in Dallas wasn't even a rider. Randy Lawrence, trainer to Ryan Villopoto and Nick Wey, saw both of his guys on the podium in Texas. For Ryan, it is his first of what I'm sure will be many wins; for Nick, that makes three podiums this season as a privateer. Those are impressive numbers. The Michigan Mafia man also locked up the 2006 Amp'd Mobile Top Privateer Award, securing a Toyota Tundra, a Weekend Warrior trailer, and $25,000 in spending cash. RL is definitely doing something right with those guys.
This weekend's racetrack in Seattle will probably be a little rutted. The weather looks good this week, but the Seattle area has set all kinds of records this winter for consecutive days of rain. That bodes well for Nick and Ryan, who both excel in those conditions.
By the way, Nick, the Metal Mullisha called: They want their haircut back. They started the "pissed-off buzz-cut" look, and they will have none of you poaching it. Your cooperation is greatly appreciated.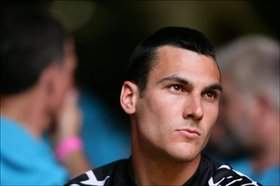 Nick Wey or One Punch? Too close to call, says Ping.
photo: Simon Cudby
Like DC said,
Jeremy McGrath
was in Dallas for the race, and for those hoping to see MC back on the starting line in Anaheim next year, we might be in for a letdown. The King says that he was happy with his results this year and that he can now walk away from racing without any regrets. I'm not sure what he was regretting before this season but I, for one, will be bummed out if he's up in the Knothole Club with me next January. But after watching how fast those guys at the front are going right now, well, wow.
The 2007 KTM 450 has been popping up all over southern California lately. Privateer Mike Sleeter is KTM's pre-production test rider, and they have been working the bugs out of the new ride at local tracks here in the 951. It sounds like all of the KTM four-strokes will come with electric starters on them (and no kick-starter), a completely new chassis, and the 450 will even get a totally redesigned engine. The first bike of its kind is being ridden by Jonathan Barragan in Europe. The factory KTM rider finished second in one of his motos in last weekends GP on the new steed.
Coincidentally, KTM did not give one of the '07s to either Sebastien Tortelli or Mickael Pichon, the two men who were supposed to run down Stefan Everts, but they only had one of the bikes ready, so rather than make someone mad, they gave it to Barragan. Since then, Pichon quit the series with an illness and Sebastien just dislocated his hip. Everts, meanwhile, is 3-for-3 in his last season.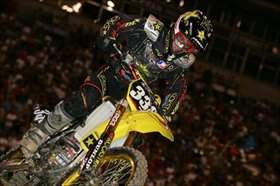 When he figures it out….
photo: Simon Cudby

Jason Lawrence continued his struggle with supercross in Dallas. The interesting freshman looked good on the track but was having more trouble adjusting to the schedule of professional racing. Jason showed up at the airport without his ID and had to fib about his age just to get on the plane. Then he showed up at the track on Saturday without any gear. He also forgot his team shirt and his shoes and was walking the track in a T-shirt and a pair of house slippers. The Rockstar Suzuki team scrambled to get him some gear lined up and Lawrence rewarded them with an 11th-place finish in the main event.
Jason's agent, Scott Sepkovic, stands behind his talented young rider firmly —and so does DC. "Honestly, Ping, wait until you see him ride outdoors this year," Scott told me. "He is going to blow people away. He is so fast, and nobody is really expecting it out of him. His lap times at the outdoor tracks we've been to during the break are incredible."
So, if he can remember his driver's license and his gear bag, Lawrence sounds like he could be a contender at this summer's outdoor national motocross series.
#2 STAT OF THE WEEK
U.S. Smokeless Tobacco Pro Privateer Challenge
1. Nick Wey 250 pts.
2. Ryan Clark 176 pts.
3. Jason Thomas 172 pts.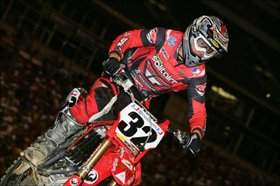 Mr. Solitaire is a solid top-ten rider now
photo: Simon Cudby
While Wey is the privateer hero everyone is talking about, we have to give a shout-out to another one of our contributors, Team Solitaire's
Ryan Clark
. After a hard-fought tenth in Dallas, Ryan is up to ninth in the AMA standings, nine points out of eighth. He's quietly putting together the best year of his career, and he's doing it as team manager/racer. Well done, Clarkstar!
Back up to that MC bit that Ping mentioned, how he might not race next year. Well, I know for sure he's racing the MiniMoto SX next Friday night in Vegas, and even cooler is the fact that he is confirmed for the 3rd Annual Maxxis EnduroCross in Las Vegas in November! According to Tim Clark, the event co-organizer, Jeremy has confirmed that he will be racing the EnduroCross this year, and the incredible David Knight is also going to return to defend his title.
Was something wrong with Ricky's bike after his big crash in Dallas? Obviously, probably bent forks and maybe a whole new shock problem. Still scratching our heads on that one. But I'm also wondering why he kept going right through the whoops, even after James' incredible pass. I asked Jeremy after the race in Dallas if he was surprised that Ricky kept going to the right. He said he was.
MC said James passed RC "like he was on jack stands"
photo: TFS
"I don't know if he knew, because he was leading the race, so he many not have known where the good line was," McGrath answered. "But when Stewart went by him, it looked like Ricky was on jack stands. I don't know why he didn't switch at that point. He probably just thought to himself that he didn't attack that section hard enough, so he'll just go faster, and that's when it kind of got him."
So last time we bother Jeremy: Who is going to win these last two races? "I think if James doesn't win both of them, Ricky will win one of them. I think when James and RC are on the gas, I think they can beat Chad until he figures out his bike or something. At this point, I'm not sure that he has to worry too much about it unless he makes a mistake."
One thing is for sure: Both Carmichael's and Reed's karma is going to be good in Seattle. They both spent yesterday afternoon at Children's Hospital of Seattle, along with Heath Voss and Ivan Tedesco and our privateer of the week, Ryan Abrigo, helping out Paul Gross' "MX for Children" charity blitz.
Racer X contributor Rex Backman went along, and he wrote a note saying, "It was a heartfelt day. The riders all toured the IC cancer ward of the hospital. All were true champions bringing cheer to these kids. They were all true professionals, showing patience and kindness and being really respectful while in the cancer ward. Very touching stuff."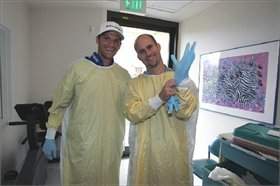 Chad Reed (left) at the MX for Children hospital visit

photo courtesy of supercross.cc.com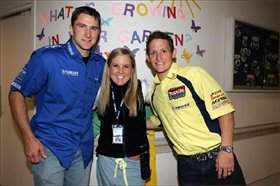 Heath Voss and RC also visited Children's Hospital of Seattle

photo courtesy of supercross.cc.com
Props go out to
Paul Gross
,
all of the riders, and Live Nation's
Denny Hartwig
and Next Level's
Tony Gardea
for taking the time to go brighten some young strangers' otherwise tough days. Well done.
Last weekend, our own Mike Farber asked everyone in Dallas what they had been doing during the two-week break from the supercross schedule. The answers can be found on "Ask Farber" over at www.supercross.cc.com.
TFS spoke to SoBe/Samsung boss JC Waterhouse about Jake Weimer's condition following last Thursday night's auto accident in Dallas. Jake was released on Monday and traveled to Portland with his mom (who is a nurse) to be evaluated for reconstructive surgery on his facial fractures. Beyond that, everything is fine, though he was scheduled for outpatient surgery on today. The time of recovery could be anywhere between six and 12 weeks. Here's a get-well-soon to a truly great kid.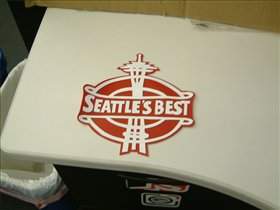 Abrigo's got some love for Seattle's best
Check out the butt patch the
Fox Racing
's crew made up for
Ryan Abrigo
for this weekend. The patch is a play on words after the famous coffee franchise Seattle's Best (which, as a coffee drinker, I can attest to). "The Fox Maestro with the X-ato Knife,
Aaron West
—the man who does all of RC's and
Bubba
's butt-logos—out did himself once again with this one! " said
Warren Johnson
.
This breaking news from Pat Schutte:
"No, former Schwinn Sting Ray owners weren't seeing things late night in-between periods of the Detroit/Edmonton NHL playoff series. That WAS Evel Knievel on the Mr. Roof commercials! Our favorite super hero was hired by motocross-friendly Kurt Greaves - owner of the Michigan-based Mr. Roof company. Knievel is now the 'official' spokesman for Mr. Roof and the commercials are a riot. One even shows Evel's legendary wreck at London's Wembley Stadium. And when he's not signing what we assume are some pretty healthy checks over to Evel, Greaves has also been very generous sponsoring the motocross/supercross career of Jimmy Wilson."
OH MAN, stop the presses! Er, uploads, or whatever we do now! I just got a call from Robbie Van Winkle, who just got into Morgantown to play a show tonight. Rob is better known as Vanilla Ice, and he's been a Racer X reader since we were just starting out as a newspaper. He's in town for one night, so it sounds like those of us left in town and not headed to Seattle have a consolation prize of sorts.
Okay, I gotta pick up the pace here: On to silly season. James Stewart's signing caught a lot of us here by surprise, but anyone who's seen how well he rides the KX450F must have been thinking that was his best bet for the future. That throws open a lot of doors for other riders, and the hot rumor now is Chad Reed and Nathan Ramsey doing their own deal, with a well-known current team manager, on red bikes. And Nick Wey and Yamaha, with Broc Hepler as his teammate – and Josh Hill as the young understudy—is also getting play. Team Kawasaki has Stewart, and they might be adding Grant Langston, though if Mitch does a 450 team finally, that's where GL wants to be.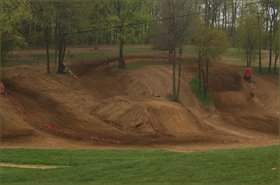 This used to be that Red Bud infield triple
photo: Tony Scavo
Finally, a preview of
Red Bud
, where
Tim Ritchie
has been at it in his dozer, making tweaks on the racetrack and trying to figure out what to do with all of these four-strokes—he said "B" riders are jumping LaRocco's Leap!
By the way, be sure to keep an eye on this....
Tony Scavo stopped by and visited the Red Bud crew this week to check out some of the track changes. For example, riders come off the ski jump (where the bridge went over it to the pro pits) then make the left-hander at the bottom (which is now a camel-hump triple), then they go till they make the right-hander you see here, leading to the step-up, then around the trees and the big tabletop, then it's a few more switchbacks lead to the Monza Wall and the other ski jump and the front section.… Sounds like Tim and Big Gene have been having some fun!
Okay, gotta go visit with Mr. Van Winkle for a little while. Thanks for reading Racerhead, and see you at the races.… Next weekend, I guess.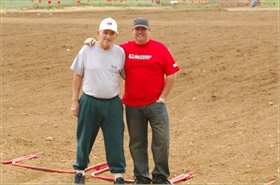 Gene and Tim Ritchie

photo: Tony Scavo