Privateer Profile: Ryan Abrigo
As the Amp'd Mobile Supercross Series rolls northwest in to Seatte,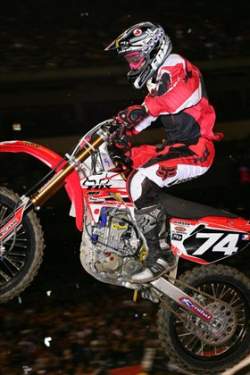 Washington's Ryan Abrigo is looking forward to his hometown race in Seattle on Saturday

Washington's Qwest Field, there's one rider who is getting to sleep in his own bed this weekend – Snohomish, WA's Ryan Abrigo. Ryan is riding for the newly formed MB1 Suspension/Fox Racing/Tokyo Mods team alongside Daniel Sani. Last weekend in Dallas, Abrgio finished a career-high eighth in the 250F main event. Amazingly, Ryan accomplished that while having a broken scaphoid bone. In fact, he has had the injury for the past two seasons! Be sure to show Ryan and his sponsors some support by clicking on the links at the bottom of the page.
Racer X: Ryan, it's a pretty big weekend for you, as the Amp'd Mobile Supercross Series is coming to Seattle, WA. This is pretty much your hometown race, isn't it?

Ryan Abrigo: Yeah, totally. I live about 20 minutes from the stadium, and I have a lot of friends around here and stuff. And even though I've been in California for the winter training for supercross, everyone still knows that I'm still actually from here.
Do you have a rough estimate of how many friends and family members are coming out to the race Saturday night?

I got at least 20 pit passes going out just for me, personally. But heck, I have so many friends that will be there. I'm really looking forward to doing real good in front of my hometown.
After speaking with your secretary/girlfriend Jenna Morey, I understand that you're doing the press day today, which is probably a first for you. Do you know what to expect?

I'm a little bit nervous because it's my first time. I think we're going to the Children's Hospital and Carmichael and Chad Reed are supposed to be there. I haven't really ever talked to those guys or been to a Children's Hospital, but it should be a good experience for me and something to learn.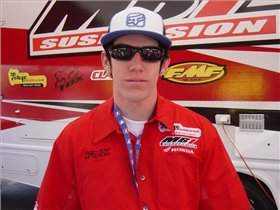 photo: Jenna Morey

You're coming off a season-high eight-place finish in Dallas. Tell us how that race went for you.

Yeah, it was my career best, and it went killer. I felt great all day, from practice all the way through. I was nailing all of my lines pretty consistently, and I think my confidence just keeps going up as the season goes on. I got a decent start in the main and pushed up to fifth and ran there for a little bit. I then ran sixth till lap 10 and then got a little pumped up in the arms and just tried to survive through those crazy whoops – those things were gnarly. I ended up holding on for eighth, so it was pretty awesome to finally get a top-10, especially for my team. They've been pushing so hard, and I really want to do good for them, too.
What was different last weekend? Do you think you could've been running up there all season?

Oh, yeah. I mean, at San Diego we were definitely going to do really good. I pulled off a third in my heat race behind Villopoto and Langston, so that was really cool. The main event came around and I pulled third place on the start. I was running third till lap two, when Ramsey decided to hit me pretty hard and it broke my front brake lever off, so I couldn't even jump the triples into the turns. I couldn't hit the fast lines, and every time I came over the finish line, I had to go outside because I couldn't hit the inside rut and I would get passed there every lap.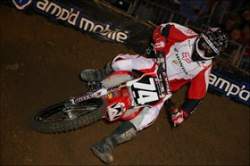 Abrigo is a member of the MB1 Suspension / Fox Racing squad and finished a career-best eighth place in Dallas

Realistically, where can you see yourself finishing Saturday night in Qwest Field?

I'm very confident that I can do another top 10. I rode really hard this week and did motos to make sure I'm not going to get tired after 10 laps. I think top-five isn't too far out of my reach, so if I could nail a good start, I think I could do it, as long as I don't get too nervous up there.
Tell us about this new team that you're on.

Yeah, MB1, Tokyo Mods and Fox Racing – all those guys and Mike Battista put the team together. It's his first year doing a team, and in the beginning we weren't getting the results, but we have the best bikes possible. I've never ridden a bike that's as good as this. Basically, two guys from factory Honda: Mike Battista did factory suspension for Honda and Ron Woods from Tokyo Mods did factory motors and stuff, so our bikes are just awesome. It's just coming down to us riders, and I'm finally putting in some results and starting to get some exposure for the team. I hope they want to bring me back next year.
You have a teammate, right?

Yeah, it's me and Daniel Sani. It's his rookie year in supercross, and he's made a bunch of main events, but maybe nerves are holding him back in the races.
Do you have a mechanic?

Um, sort of [laughs]. I had my own mechanic for the first few rounds and then we went on the break and he had to go, and I got a replacement mechanic. John Turner, he's Daniel's mechanic, and he's really well-known. He's actually working on both of our bikes right now at the races. Also, Steve, the suspension guy at MB1, he's been doing my pit board and helping out in the pits, too.
I've heard a lot of great things about MB1 suspension. Is it all that it's cracked up to be?

I would say that and more! I mean, if you saw me at San Diego, I came up short on the triple after the start – I landed right on the uphill face of it – and I'd say that suspension was the only thing that saved me, because I didn't go down. I hit my jaw into the bars pretty hard and Lawrence landed on my back. But if that suspension didn't take that impact the way it did, I'd probably be a lot worse. I also rode his outdoor suspension on our break a little bit, and that stuff was just killer.
Can we expect to see the MB1 team doing the outdoor nationals?

They might be doing a select few. They'll definitely do Hangtown. Me myself, the Monday after the Vegas supercross, I've got to get surgery on my wrist because I'm racing with a broken bone in my right wrist. I think it's called the scaphoid. It's been broken for probably about two years, and it's really been nagging me lately. It's been making my right hand go numb on the throttle. Hopefully, I'll be able to race outdoors at Colorado or Washougal. I'll most likely ride a 450 unless MB1 wants me to ride a 250F.
I'll let you get back to the press-day activities, but before you go, do you want to say thanks to anyone?

I definitely want to thank my dad and my mom, girlfriend Jenna, Brent from Heavy Equipment Parts – he's a big personal sponsor of mine who owns a big equipment company up here in Seattle.

Ryan Abrigo's sponsors:
www.mb1suspension.com/

www.foxracing.com

www.fmfracing.com

www.tokyomods.com

Pro Honda Oils and Chemicals
American Honda

www.dragonoptical.com

www.clawsonmotorsports.com

www.cppistons.com

www.vpracingfuels.com

www.hotcamsinc.com

www.pivotworks.com

www.prowheelracing.com

www.hinsonracing.com

www.worksconnection.com

www.sdgusa.com

www.twinairusa.com

www.renthal.com

www.dunlopmotorcycle.com

www.showa1.com

www.fludesigns.com