Monday Conversation: Charitable SX Fan Paul Gross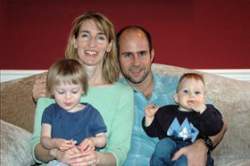 The Gross family: Paul and Lori and children Claire and Willi
photo: Paul Gross

And now for something a little different.…
In less than two weeks, the 2006 Amp'd Mobile Supercross tour will visit Seattle for its renewed visit to one of the series' traditional stops. It will mark the penultimate round of the series for the likes of Ricky Carmichael, James Stewart, and the rest of the 450 pack, as well as the 250F West finale. But for motocross enthusiast Paul Gross, it's the biggest race of all. That's because Gross, a Washington resident, has organized a way to involve supercross in giving back to a children's hospital that gave him back the life of his young son—twice. Mr. Gross has a compelling story to tell here, as well as a great way to get involved in an excellent cause and really enjoy the Seattle SX along the way (and you might even win a Suzuki!).

Racer X: Paul, first off, can you tell us more about who you are and what your affiliation with supercross is?
Paul Gross: I'm just a 44-year-old guy who went through a mid-life crisis. After crashing my sports car, I decided to take up motocross because it seemed safer. I then ended up moving from Seattle to the East Coast, so I was without my motorcycle for about 15 months, and as a guy who never watches any sports on TV, I ended up tuning in to supercross on TV. I just got fascinated with the sport!
I moved back to Seattle and my son was born in January of 2005—10 weeks premature. The hospital here saved his life twice. So while spending a lot of time there, I decided that I wanted to give back to the Children's Hospital. So I pitched it to Denny Hartwig [of Live Nation] and he's real excited about it.

Tell me more about what the actual event is.
I call it the Seattle SX Triple Charity for Children, and there are three aspects to the charity. First of all, there is a raffle. I talked American Suzuki into donating an RM-Z250 and Ricky Carmichael is going to draw the winning ticket during the Seattle Supercross. This is for everyone. There is a $5 raffle ticket and I have 10,000 of them. So that's going to be an interesting opportunity for someone to win that bike. Number two is a silent auction that happens in the largest motorcycle shop in the region, which is called Renton Motorcycles. They're going to have Kawasaki, Yamaha, and Suzuki there. During that, we have a silent auction, so I'm busy collecting all sorts of signed gear, etc. These things go for a reasonable price in a silent auction and we're using that as the second fund-raising arm. And the third one, which I think is the core idea and has the potential to raise the most money, is a thing called the Amp'd Mobile Inside Line Experience. Here, people go out and do just standard pledge raising of money, like a walk or whatever, and if you raise $400 or more, and if you're in the top 25 of people raising funds, you get treated to this "Inside Line" experience. What it includes is a small group that will sit down with Ricky and Chad and Ivan and Heath Voss. And we're actually doing the press conference from the hospital instead of at Qwest Field. So the top fund-raisers are going to get to meet those guys for about 30 minutes—that's not just something anybody could buy, so it should be a very memorable experience. Then Ricky, Chad, Ivan, and Heath are going to tour the hospital. They'll go onto the cancer floor and hand out toys and jerseys or whatever. I think that'll be a big positive for a kid in the hospital.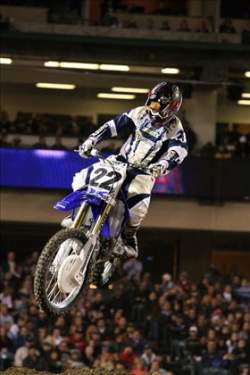 Chad Reed will be helping out with the "Inside Line" promotion in Seattle

For sure. My friend Steve Bauer organizes a visit at the Loma Linda Hospital where a lot of the top riders go, and judging by the looks on the kids' faces, it really is priceless.
What I'm told about this, for the kids, they don't necessarily need to know who Ricky Carmichael is and don't have to be a supercross fan, but they see these stars in their space and it's very powerful. So they're going to immerse themselves for a half an hour to an hour with kids that are ailing in one way or another, some quite seriously. And back to the Inside Line Experience, these top 25 then get to tour the factory rigs, and they get to do the press track walk that happens at 5:30, and then they have great seating. The idea is to give these people an unforgettable experience. And they do it just for fund-raising. There will be a lot of people who give a lot of money themselves to have the experience for their kids or whatnot.

Well, time is a-wasting, because the event is coming up in just a couple weeks. Is there a website where people can get on to check out ways to get involved or ways to buy tickets for the RM-Z250?
There are websites for both of those things. The website is www.mxforchildren.org, and that will let them read about everything. If they want to try and do the Inside Line pledge drive, which there is another week to get your forms and money in. Friday the 21st is when I'm going to stack rank and make an announcement by Monday the 24th to what the schedule is and who got in. So someone needs to get very busy or be very charitable, but that is definitely the biggest fund-raising element of this. So my goal is to raise $50,000.

Well, we wish you luck in reaching your goal, Paul.
Thank you.