It's Bike Week in Daytona. Sunny skies, loud bikes, beautiful girls, and an overwhelming sense of sadness. The sport was rocked by the terrible crash suffered by Ernesto Fonseca earlier this week. The well-liked Honda rider suffered a devastating injury that likely ended his career. It's on everyone's minds, and every conversation invariably comes to that: How is Ernesto? What have you heard? Is it getting better?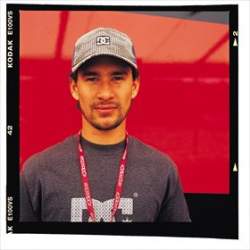 photo: Simon Cudby
According to an American Honda press release that went out a few hours ago, Fonseca had surgery yesterday: "The surgery took six hours, and was described as successful by his doctors. His doctors also noted that Ernie's tremendous physical condition, mental strength and positive outlook bode well for his recovery. Fonseca currently has movement in his arms, and his doctors are already planning his rehabilitation, which may take some time due to the bruising to his spinal column."
The injury comes just weeks after the terrible (and widely seen) crash that left James Marshall in such a bad way. Ironically, Fonseca was involved in that crash in San Diego, though by the photos we've seen and the replays we've looked at, it was the initial impact that hurt the unlucky Marshall.
Regardless, there is now an urgent sense that something needs to be done to add protection, or maybe make tracks safer, or anything proactive to help keep our riders safe. For a sport as dangerous as ours, it always strikes me as odd that riders don't wear more protection. I know a chest protector would not have mattered much in the accidents of either Ernesto or James, but more protection can't hurt, right? Why is it that hardly anyone wears chest protectors in supercross anymore?
There has been talk as well about the tracks being too dangerous, but other than Marshall's crash, the recent run of injuries – Ernesto, Broc Hepler, Ben Townley, Jay Marmont, Andrew McFarlane, Jeff Alessi and more – came from practice tracks, not the ones they race on. If anything, those tracks have been tamed this year, leading some top riders to complain about how easy they are. For every single lap these guys spend in a stadium racing, they spend dozens of times that on practice tracks. At least at the races they have the immediate attention of folks like the Asterisk Mobile Medics crew.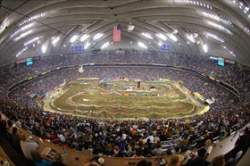 The racetracks have less to do with recent injuries than practice tracks

photo: TFS
So, what can be done? I don't have the answers, but I think we all have some ideas. Please, let us know what you think would improve the overall safety of the racers. We will gather as much opinions as we can and share them here and with the rest of the industry: l
etters@racerxill.com
.
A half-dozen years ago, Jimmy Button suffered a career-ending injury at the San Diego SX. I remember sitting in the Scott truck that afternoon, right at the top of the tunnel, when an ambulance came speeding out and out the gate. Someone told me it was Button and that he was hurt real bad. Button, like Fonseca, may not have held a lot of major championships, but he was respected in the pits, well-liked by the fans, and just an all-around good guy to be around.
For two weeks, it was touch-and-go for Button. I remember everyone in the sport being just blown away by the accident, which came during practice in what I'm told was a seemingly simple crash in the whoops. Fortunately, Jimmy pulled through, and while he never raced again, he became an inspiration for all with the way he got himself back on his feet and then up on the stage at the Las Vegas SX Banquet to present his close friend Jeremy McGrath his championship trophy.
There is hope that Ernesto's injury is one that he can somewhat recover from. He did not sever his spinal column, but the injury is high (C-7) and right now he needs all of the thoughts and prayers he can get.
Ernesto has had an amazing ride through American motocross. He first came up from Costa Rica to Florida to race the Mini Os, the Winter Olympics, and just ride with the best mini riders in the U.S. His parents didn't speak English, so Ernesto had to do a lot of the adult things – checking into hotels, signing up at races, going through airports, and renting cars – for the family. Mind you, he was maybe 12 and leading his family through the American motocross dream.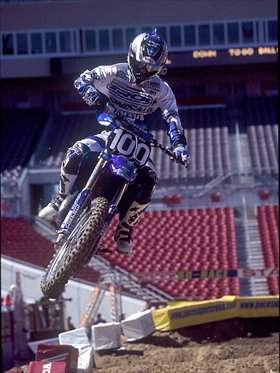 Ernesto's five wins in his first five pro starts is an all-time record likely to never be broken
photo: Racer X Archives
The Buffalo brothers at BSY picked him up, and soon they were carrying his YZ80s around. He wore a really cool yellow Kodak jersey, as the Costa Rican distributor for the film giant was into motocross. He climbed up through Loretta Lynn's, battling with the likes of
Travis Pastrana
,
Billy Payne
,
Matt Walker
,
Donovan Mitchell
and more, and was eventually tapped by
Phil Alderton
and
Erik Kehoe
to ride for Yamaha of Troy.
What he did next was amazing: Fonseca won the first five rounds of the 1999 AMA Supercross Series, a feat that's likely to never be matched. Then he became the first rider to win a supercross on a four-stroke when Yamaha rolled out its YZ250F. He also became the first to win AMA 125 Supercross titles on both coasts.
Fonseca parlayed his success on Yamahas in the 125 class to a full factory ride for American Honda, and over the course of the last five years, he's established himself as one of the sport's preeminent riders. But he's yet to have the success in the premier class that he did on the 125s and 250Fs, in part because he's been riding in one of those toughest eras ever for supercross.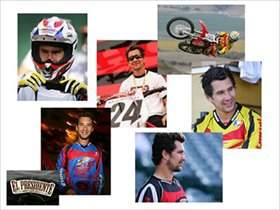 Simon Cudby posted some really nice wallpaper shots of Ernesto that he wanted to share here
For as long as I've known Ernesto, he's been gracious, honest, funny, and just downright nice. He never got a big head, he never forgot where he came from, and he never complained one time in 12 years – not as a rider at Loretta Lynn's or
High Point
or
Steel City
, not about anything I said about him on TV, not about anything that was written about him here or in the magazine. I'm sure I speak for the other journalists, too, when I say that he was one of the best guys to work with in this industry. Within minutes of his crash, I got a call from
Dirt Rider
's
Steve Cox
and was IMing with
Transworld
's
Donn Maeda
and our own
TFS
about this, and I know the
Basher brothers
and
Tim Olson
at
MXA
got along great with him, too. It was a story no one wanted to break, no one wanted to believe. We all enjoyed working with him, and I think I can safely say we will all do our best to do whatever we can to help.
But for now we can only hope and pray that he somehow gets better. His spinal cord is not severed, but it was traumatized, which means there is hope for recovery. Keep him in your thoughts—keep James Marshall in your thoughts, too. Both of these fine young men need all of the support and inspiration they can get. I know the hospital he's at—Riverside Regional—has had a revolving door of family, friends, and fellow racers in and out to visit, and racers all over the world are showing their support, including Fonseca's friend from Formula 1, Juan Pablo Montoya, who will begin his season this week. Johnny O'Mara was there yesterday; he's been through this before with two Honda teammates: Donnie Hansen in 1982 and David Bailey in January '87.
I guess what I'm getting at is that injuries can and will happen in just about anything you do, but in our sport, those injuries can be devastating. Racing a 200-pound motorcycle at 40 or 50 mph across a rhythm section that's hard to even walk over means that when crashes happen, they can get ugly. It's the most terrible part about this sport, and I would give anything to know how to fix it.
By the way, there is an ongoing moral debate about stem-cell research in this country. I don't really want to get into that, but I can't understand how anyone could be opposed to exploring the issue and its multitude of possibilities. It's an issue that's sadly become politicized, but we should be going wide-open on it if it means we might be able to help those who have suffered tragic injuries like these.

We've got 300 of these for the first 300 who send an SASE to Racer X

Erick Bartoldus of Answer Racing is one of Ernesto's best friends, as well as his sponsor. He has 300 of these special stickers on hand that he wants us to hand out here to Racer X readers. The first 300 self-addressed, stamped envelopes we get, we will send one out so you can show your support to "Lobito."
Let me turn this over to Ping before I get into some Daytona stuff.…
The entire industry is reeling from the string of recent injuries in our sport. Broken bones, bruises, and sprains are a given, but it just turns you inside out when riders suffer spinal cord injuries. Between Ernesto Fonseca, James Marshall and Ricky James last year, it's just been a really bad run. There really isn't a specific reason for the influx of these injuries; riders are just pushing to go faster and improve.
There is one thing that may help in a serious crash situation, though, and not many riders are taking advantage of it. The Hats Off device that was introduced by the Asterisk Mobile Medics last year has not been widely accepted, and that's a shame.


The device fits inside a rider's helmet, unnoticeable, with a small port hole at the base of the helmet. In the event of a traumatic crash, the device is inflated through the port hole, slowly lifting the rider's helmet off without any pressure to the neck or spine. If you are racing any supercross or national motocross rounds this year, do yourself a favor and have them install the device. It could make a huge difference. Please keep Ernie and James in your prayers as they begin their fight back to health.
A six-week freestyle motocross tour is about to kick off in Australia. Nate Adams, Ronnie Renner, Kenny Bartram and more will cut a swath through Chad Reed's home country starting next weekend. If you happen to live Down Under, make sure you get tickets to the show. If you haven't seen these guys jump in person, you have no idea how crazy they are.
Troy Adams was back on the track that bit him for the first time this week. Troy and Grant Langston were riding and testing this week at the Kawasaki test track. Troy looked great and wasn't too far off the best lap times, but he is a question mark for any supercross rounds.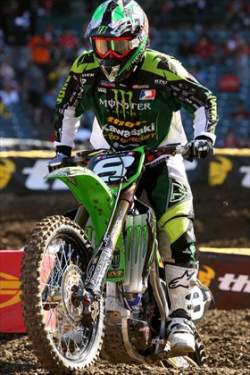 Grant has been staying in Florida even though he's racing West Coast 250F
photo: Matt Ware

Said Adams: "I was hoping to make it back for Detroit and Houston but the Detroit entries closed this week and we weren't sure if I'd be ready. So there is a chance I'll race the last West Coast rounds in Dallas and Seattle, but I'm not 100 percent sure about that either. Mitch [Payton] likes to make sure that his riders are completely ready to go before we get back into it. If we aren't sure that I can come back and be competitive, then I'll just start getting ready for the nationals and focus on doing well in that series."
His teammate Langston spent the week in California getting started on his outdoor setup and getting back into the swing of things on the stadium track. Langston has been staying at his home in Florida for the past several weeks.
Florida homes, by the way, are the coolest thing since G-string underwear, if you haven't heard. Ricky Carmichael lives there full-time, but Reed quickly bought a huge spread outside of Dade City, and now just about everyone owns property in the Orange Juice State. It is the Orange Juice State, right? Anyhoo, Langston owns land, Ivan Tedesco is currently shopping for a place, and it seems like anyone with enough jingle in their pockets is buying up real estate down there. It's going to be hard for me not to laugh if I see GL on CNN boarding up his windows the next time a hurricane comes through. The only place more volatile than Florida when it comes to natural disasters is mobile-home property in Oklahoma.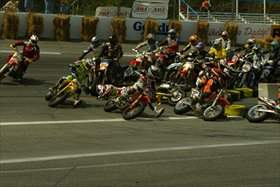 Supermoto is teaming with select CART races this season

photo: B&W Images
The
AMA Supermoto schedule
has finally been announced and the series looks like it is making progress. Three of the rounds coincide with
CART
races in different locations, ensuring a large crowd will already be there.
Jimmy Vasser
and a few other drivers have been championing the idea and helped make it happen. More teams are popping up, and the talent in all of the classes is getting deeper and deeper. The final round of the series will be held in Long Beach, CA, right next to the Queen Mary.
Troy Lee
has been instrumental in making that happen and it should be a great event.
That's it for Ping, who I understand Denny Stephenson is going to embarrass on national TV tonight as the two engage in suburbia-style turf war with each other. Denny was at the Ale House last night, along with Victor Sheldon, Kit Palmer, Boo, Miriam D., Greg Blackwell, Jeff Fox, Li'l Donnie, Jeremy-with-the-great-hair Mallott, Bob and Jeff Gorman, Mike Buckley, Scott Dewey…. Heck, most of the industry seems like it was in there bench-racing, trading lies and funny stories, and just enjoying a moment of levity after a somber week.
But the best conversation I had was with Yamaha's Keith McCarty, Kawasaki's Bruce Stjernstrom and Suzuki's Mel Harris. As you can probably guess, it was about the ongoing fuel controversy, which certainly lost some steam after the bad news on Ernesto, but is a lingering issue and needs further resolution. No one is happy about the situation—not even Harris of Suzuki, as it's tainted Ricky Carmichael's season to some degree—but they all seem to want to get something solid going here. Stay tuned.
Over at the track (I am in a Barnes & Noble, writing this as fast as I can) the Sunshine boys are flying. Stewart's got the best time, RC's second-best, and 250F rider Davi Millsaps is flat-out flying—he was third fastest in the first practice sessions!
Want to get a guess in on who wins the 450 class? Vote here in our Troy Lee Designs online poll.
Also,
Zach Osborne
is making his professional debut in the 250F class;
Billy Laninovich
is riding a 450; and
Travis Pastrana
is making another go of it. To hear and see more on Pastrana, by all means check out
Jason Hooper
's
ongoing coverage of Pastrana
.
If you're looking for something uplifting and inspirational, you might want to check out this week's Suzuki Between the Motos about the Tumulty family, 9/11, and Jeff Emig. It's an amazing story about a motocrosser that was lost in the World Trade Center that horrible day.
The 2nd annual Orlando Watersports Complex/Fox Mini-Moto event is taking place next Friday (St. Patrick's Day). The Mark Barnett-designed-and-built track is all-new and will feature Florida's fastest mini bike racers. The event public is open to the public and all are welcome to attend and enjoy the open house, food and beverages and meet many of their favorite pro riders. Additionally, each class winner receives 2 pit passes to the Orlando SX, plus a group introduction/autographs from both RC and Bubba!
Okay, I need to get over to the racetrack. Don't forget to check out amamotocross.com for all of the laps and results, and while there is no live webcast, it's almost live TV coverage! The Daytona Supercross by Honda will air beginning at 9:30 p.m. tonight on Speed TV. Don't miss it!
That's it for now. Positive thoughts for James and Ernesto, okay? Thanks for reading this abbreviated Racerhead. See you at the races.