Between the Motos: A motocross family's healing
Last week I spoke to Jeff Emig, the four-time AMA Supercross and National Motocross Champion, about the fuel controversy that was surrounding the AMA Supercross Series. Fro gave me his opinions, and we decided to talk more later for a "Between the Motos" update with one of the most popular riders in motocross history. I say that because Emig always made time for the fans, he was great with the media—often going the extra yard to help make a story work, or coming to races early to help with local newspapers—and he was always available when someone asked him to try to make a difference in the life of someone less fortunate. In other words, Emig is a Hall of Famer, on and off the track.
Anyway, we had the interview scheduled for Tuesday afternoon, but that same morning, Racer X received a letter jointly addressed to myself and David Pingree asking us if we could possibly print a letter about one motocross family's terrible ordeal on September 11, 2001, and how a rider and a promoter helped the grieving family. This is the story of the Tumulty family, as written by James Tumulty.

The letter is long overdue. I should have written a long time ago. It's a story about my friends, Jeff Emig and Jonathan Beasley. It's also a story about Bill Jenkins and the Kawasaki Motor Corporation. But it's mostly a story about our family, and how these folks helped us after the loss of our brother, Lance, in the World Trade Center attacks on 9/11/01.

The story started in the early '90s when our youngest brother was relocated far from our New Jersey roots to Southern California because of his job. His world was turned upside down, and the only thing that was constant was riding and racing. Lance had hours to ride every day due to the time difference and the requirement that he work during East Coast "Wall Street hours." He rode all over Southern California, and he frequently ran into Jeff Emig, who was practicing there in the early stages of his factory career. The "homesick kid" and the "soon-to-be superstar" became track buddies.


Years went by. Lance came home and Fro went on to become the great champion that he is. We live near
Unadilla
and Broome-Tioga, so we went to those races to watch Fro and cheer his run at the title, including championship wins in '96 and '97.
Then our family did what families do: We had children, acquired mortgages, got promoted in the workaday lives of suit-wearing Wall Street dweebs. We always bought new bikes every year and rode as much as we could. We also continued to attend races near our home. Lance and I even found and purchased a 150-acre farm 20 minutes from
Unadilla
and commenced building an outdoor national-style track in the field adjacent to the home site. Riding was our favorite thing to do together, and we went riding all the time!
Then the first plane hit the North Tower of the World Trade Center at approximately 8:50 am on Tuesday morning, September 11, 2001. The image of black smoke billowing out of the building was on every TV in the trading room where I worked, which was in midtown Manhattan on Park Avenue. Lance and I traded with each other often, so I had a direct wire. I hit Lance's wire and he picked up. He told me that a plane had just hit the other Tower and people were jumping out of the windows of the top floors to escape the flames and smoke. I begged him to leave immediately, and he said he was going to call his wife and head for the stairs. I then hit the direct wire that I had with my other brother, Shawn, and told him that I had spoken to Lance and that he was leaving the building. We agreed that Shawn should not call Lance because we didn't want any distractions—we just wanted him out!
Then we watched in horror as the second plane hit that South Tower, where our kid brother worked. We frantically counted the floors to determine where the plane struck the building, and quickly we realized that the plane hit at or near Lance's floor. Nobody could get Lance on the phone. His assistant had gotten out but had no idea where Lance was. I walked from my office on Park Avenue all the way down to "Ground Zero," as it has come to be called. What I saw gave me a new appreciation for the courage and dedication of the New York Police Dept. and New York Fire Dept. This was scene of complete devastation. Burned bodies were lying on the sidewalk where they were hit by the burning fuel that came from the planes. Everywhere, ghostlike people covered in gray dust were shuffling north like zombies, with blank stares in their eyes.
For the next two days we wandered the city going from hospital to hospital with pictures, photocopies of dental records, and samples of our family DNA that we provided by pricking our fingers and letting a few drops of blood drip onto a cotton ball. But like many thousands of others, we were searching in vain. E-mail records later revealed that Lance was still at his desk, on the 84th floor of Tower 2, when the second plane hit that very location. "Lance Romance," as we called him, was killed instantly. Our family was devastated. My mom had just lost her second of four children (my sister Jodi-Ann was killed in a car wreck some years earlier). Lance's wife, Cynthia, became an instant widow, and his two young children were fatherless. We were truly in a terrible way.
Donna Marie, my lovely wife—the love of my life, actually—knew that we needed something to help our family heal after some time. She thought we needed some kind of fun activity that would bring us all together. The only logical choice was riding our dirt bikes. It was something we loved and something we all did together since we were young. So Donna Marie called Jonathan Beasley at
Budds Creek
Raceway in Maryland and asked him if she could rent the track for a couple of days. Jonathan initially told her that they no longer rented out the track, but when she told him what happened and how much it would mean to our family, he told her that there would be no charge, and to come on down. Jonathan couldn't have been nicer. We still see him every year on the second weekend in March for the first Loretta Lynn's qualifier. He always says hello and makes us feel as welcome as we felt the first time we met him.
My brother Shawn and I couldn't believe what she had done—we were psyched! For the first time in what seemed to be an eternity, we had something to bring us together and to forget our sadness for a moment and remember the fun we had riding with our little brother, Lance.
Donna also knew that Jeff Emig was his favorite rider, and she reached out to him. Jeff meets so many people that he must have barely remember an acquaintance from the practice tracks of a decade ago, yet—believe it or not—after hearing the Tumulty family tale, Jeff agreed to come to
Budds Creek
and ride with us for a couple of days. I couldn't believe my ears when I heard his voice on our answering machine confirming the dates and times.
We are also friends with Bill Jenkins, Eastern Regional Sales Manager for Kawasaki. Bill knew our pain; he had a brother-in-law who was also killed in the WTC and was very sympathetic to Donna's call. Bill and Kawasaki arranged for a brand-new KX250 for Fro to ride, and the picture was almost complete. Needless to say, we are loyal Kawasaki customers forever.
Believe it or not, the day we left for
Budds Creek
, the entire state of Maryland was under a tornado watch! Several tornadoes devastated the area throughout the afternoon and evening. Fro and Jennifer, his wife, had to sit on the tarmac in Las Vegas for four-plus hours in a plane that had no air conditioning. When Fro arrived, local authorities had begun moving tornado victims into our hotel, and we saw some seriously injured folks that had just seen their homes destroyed. They were just grateful to be alive, and that helped put things back into perspective. We were alive, and that wasn't something to feel bad or guilty about. Life's a gift, and we were squandering it by moping around all the time.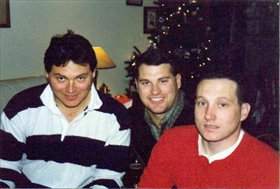 Lance Tumulty (center)
The next day dawned clear and sunny. Track conditions were absolutely perfect. It didn't take very long to see who the four-time champion was and who the lawyers, bond analysts, and carpenters were! Riding with our closest friends, with our favorite pro racer, on one of the greatest tracks in the universe was awesome. Jonathan Beasley was a perfect host, and I have never before or since had more fun in my life. Our family and friends were laughing and enjoying life for the first time in a very long time.
Since then, we have ridden with Jeff Emig numerous times, and he stays with us frequently when in the area for races and other Fro biz. Our little girl, Amanda, as well as all her cousins, absolutely adore Jeff and Jennifer.
Among our family, we view the trip to
Budds Creek
as the beginning of the healing process. That was it. I wanted to share it with you because I feel that this is a story that needs to be told. Jeff Emig is a great champion, a great friend, and a world-class human being. Jonathan Beasley is a great guy who runs a great racetrack. And Bill Jenkins is a wonderful friend who works for a great company. Our family has been blessed by these folks in ways that I can't adequately express in written words; they really have no idea what it meant to our family and the memory of our little brother Lance. Thank you.