As you're about to see, DC wrote the majority of today's Racerhead before finding out about the decision to return RC's points. Please read the following with that in mind.
What a wild, interesting week.
First of all, am I the only person who feels like they learned more about chemicals and fuels in one week of supercross than I did in three years of high school? The immediate education we've all received on the heels of the Ricky Carmichael fuel penalty reminds me of the time back in Gulf War I, when there was all that worry about Saddam Hussein firing over Scud missiles loaded with chemicals and nerve gas, so every night on the news they explained what the stuff was and why it was such a worry. Fortunately, it never happened.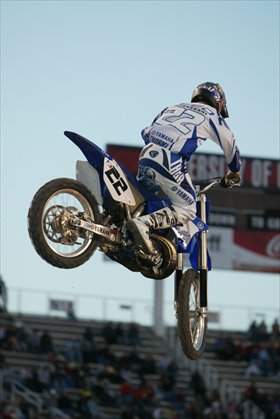 When Chad got docked in 2004, he was 39 points ahead
photo: Steve "TFS" Bruhn
Secondly, I owe
Jim Perry
of Team Yamaha an apology – and I may not be alone in this. Two years ago, when Yamaha's
Chad Reed
and
David Vuillemin
(and privateer
Tyson Hadsell
) got docked for having too much lead in their fuel toward the end of the supercross season, I jumped to conclusions. I believed that there was too much smoke there not to be some kind of fire, and that maybe Yamaha was playing it a little too loose in order to keep their two-stroke 250s close to
Kevin Windham
's CRF450R off the gate. Perry and everyone at Yamaha argued their case—that the fuel had been carried in a container that was previously used for leaded fuel (before the new unleaded fuel rule went into effect)—and I didn't look into their claims more. Maybe it was because Chad was 39 points ahead at the time and the penalty didn't hurt much, but rather just made the points a little tighter.
And then, last year, when it was Kawasaki's turn, I don't think anyone but Kawasaki really believed that it was an accidental contamination of the fuel. With the field now full of 450s, including Carmichael and Reed, as well as Windham, James Stewart was struggling on his KX250. It just seemed like a desperate move to get a little more power out of his and Michael Byrne's Kwackers, plus they were so far out of the points at the time that, again, no one really made an issue of it. So I owe Bruce Stjernstrom an apology, too.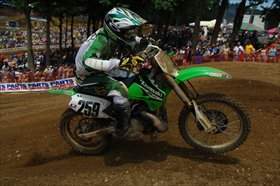 Team Kawasaki was fined for illegal fuel in the 2005 outdoor nationals
photo: Steve "TFS" Bruhn

Roger DeCoster told me last Saturday afternoon that he felt bad about not coming to the aid of either Yamaha or Kawasaki when they tested out with too much lead in their fuel. Of course, it was now an issue because it was Suzuki's turn in the barrel (no pun intended). Now Ricky was the one with the giant points deduction, and everyone was crying foul. But the truth of the matter is the same truth to the previous matters: Carmichael had about three and a half times as much lead (.017 to .02 grams per liter, compared to the legal limit of .005 gpl) and was "out of compliance."
So he was given the same penalty that came down on the others: maximum points for the race. Problem is, Carmichael is actually in the thick of this championship—he would be just six points back on Reed if the penalty hadn't occurred—and he was riding a 450, which makes adding a speck of lead pretty much meaningless to the performance of the motorcycle.
Everyone immediately raised hell with Steve Whitelock, but the man was only doing his job. A rule had been broken, and precedent had been set as to what the penalty should be. He is the guardian of the rulebook, and he was being consistent.
What's wrong, however, appears to be the limits of lead—.005 is way below even the EPA limits for lead in the fuel (.013)—and the penalty. Everyone now seems to realize that 25 points was wrong in 2004, it was wrong in 2005, and it's wrong right now. It's the supercross equivalent of 25 years for jaywalking. So I believe that while Whitelock was right in being consistent, he was also being consistently wrong.
Of course, that may all change. Early this week, the AMA announced that Merrill Vanderslice, the AMA's Director of Competition, had resigned. Vanderslice was the embattled official in the middle of another problematic ruling on the road racing side, which saw the Buell XBRR, a monster of a motorcycle, allowed into the Formula Xtreme class to run against the Honda CBR600 and the Yamaha R6. That controversial decision led to American Honda leaving the AMA Board of Directors (and Yamaha would have gone, too, had they not already left a long time ago).
And then, shortly after the announcement of Vanderslice's departure, another missive came out of Pickerington that was somewhat of a surprise: After Whitelock said that there would be no appeal—it was a "procedural" penalty and not a technical infraction—the AMA said it was going to open an investigation into the whole issue after all.
That, of course, clicked the internet into ninth gear, wide open. There were those arguing that it was unfair to Reed and Stewart and everyone else who got hit with this harsh penalty, and there were those who thought it should have changed long ago. Whitelock was pilloried as a bad judge, and the AMA was called inept. The VP Racing Fuels folks launched an offensive, which was understandable—it was their fuel in question in all three penalties. But as Bruce Hendle told me on Tuesday night for Between the Motos, they pretty much provide everyone in motocross' fuel, so why would they fudge one company's gas and not the others?
So here we all are, learning more and more about fuel every day, and trying to figure out what's going to happen with the Perfect Storm we've been waiting so long for. The AMA gave Ricky his San Diego points back on their overall standings page, replacing the -3 that was there, though they then turned and took all 25 points back off of his Atlanta win last weekend.
What's going to happen? The AMA is in a tough spot. If they budge, Yamaha and Kawasaki will cry foul. If they don't, the fans will continue to revolt (though I don't think Carmichael will really park it, unless possibly if he DNFs or crashes out of another race). Live Nation is not happy with this development either, but in some ways, they share in some small part of the blame that we are even in this mess. Actually, just about everyone has some culpability here—including me.
Here's why. Like a lot of things that are crazy in this sport—the World Supercross GP running right alongside the AMA Supercross tour, the AMA employing the FIM's unleaded gas rule, Daytona not counting in the World SX Series, and the two Canadian races not counting in the AMA series—it all goes back to the AMA Pro Racing announcement that it was dropping Clear Channel (now Live Nation) in favor of an unknown (to motorsports) concert promoter called Jam Sports as their new supercross partner. It rocked the sport at its foundation, caused the "Supercross War" (which I was involved in to some degree) that led to massive lawsuits against both CCE and the AMA, led to hard times for AMA Pro Racing and the NPG (its outdoor partner), and eventually led to the series-within-a-series concept that sometimes makes as much sense as the congressional district gerrymandering down in Texas. That's how we ended up with the draconian FIM fuel rule, which was actually brought to the table by CCE as a way to make their deal with Dorna (then the FIM's motocross and supercross partner) work while at the same time getting back together with the AMA.
Lost yet? I've been lost on that for years. But here's how I would fix it: Everyone's got to give a little. RC and Suzuki deserve a penalty—the numbers don't lie—just maybe not that much. The AMA needs to hear their appeal or at least review its penalty here. The FIM has to allow for higher lead content in America (we don't have the same rules as Europe does, which means gas here is not refined as much, which means we don't pay three times as much like they do for pump gas across Europe). Yamaha and Kawasaki need to be exonerated (and reimbursed) for their past penalties, although it won't make much of a difference now. And the fans need to understand that Whitelock was only doing his job. And the next time it happens, how about a time penalty or financial penalty? Like when Grant Langston cut the track at Glen Helen—which was more "cheating" than this amount of trace lead would be—he got a 5-second penalty.
And that just reminded me of something else. When RC went backward on the track last year at Anaheim 1, he didn't get penalized, though isn't there a rule that says you can't ride backward on the track? It was extreme circumstances, of course, but this fuel situation involves such minor amounts that it seems like a non-issue when it comes to performance.
So back to the top, where I mentioned all of the science I was learning on fuel matters these last seven days. For instance, when I spoke to VP's Hendle, he said we were talking about "parts per billion" when it came to the amounts in RC's fuel, but upon further review, I think he meant "parts per million." We were talking about the U.S. EPA limits of .013 grams per liter, which converts to .05 grams per U.S. gallon. Based on gasoline specs meeting the AMA's specific gravity rules (.715 to .765 is the range at what your must weigh) you will have a fuel that physically weighs around 6 lbs. per U.S. gallon. This converts to 21,504 grams per usg (weight percentage is what is used in this industry), so at 21,504 grams per usg and the EPA limit of .05 grams per usg, this will come out at around 2.325 ppm (parts per million) and not parts per billion (thanks to my Bill Nye-the-Science-Guy friend for helping me with the math there).


So, what do the guys in the industry think? Mike Farber asked around last Saturday at the Georgia Dome for this week's Farber Asks on supercross.cc.com.
RC's mechanic, Mike Gosselaar, told Farber, "I don't think the amount we were over with, which we had no control of in the first place, was worth the 25 points. I don't agree with the rule in the first place. We have stronger rules with the lead content in the fuel than the EPA allows for lead content. We have no control of what happened with the fuel. I guess we have to test every drum of fuel and we're still at the mercy of the people who tested the fuel. I can understand their position, but I just wish more people got involved when it happened to Kawasaki and Yamaha."
Mike also asked Yamaha team manager Jim Perry. "It happened to us in 2004 and we didn't think it was that great of a scenario," he explained. "It also happened to James last year and Ricky this year. It's a bummer that a small amount of lead tracing is worth 25 points. We said all along some things [should change in 2004 for everybody because it's such a fine line of a lead trace. I feel sorry for Ricky and the whole team; I guess that's part of the sanctioning body and how they plan to do business."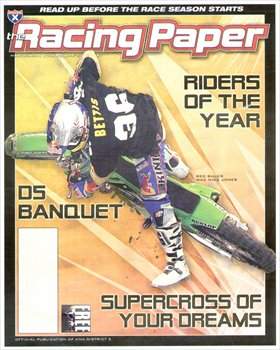 Oh, and by the way, the new issue of The Racing Paper features "Mad" Mike Jones on the cover
And then he asked
Kevin Windham
for his take: "It's hard as a rider to have a real solid opinion about it," Windham answered. "I know when it happened to Chad I was chasing him in the points, so it didn't matter to me because I was going for a championship. I didn't know a lot about it then and I don't know much about it now. The thing that bothers me is that anyone who gets caught with illegal fuel is … I don't think they're trying to cheat. There seems to be some issues with testing the fuel. I hate to see a SX title come down to this. I think there are things the AMA should police harder that they don't police that hard, and leave the fuel testing alone. I also think we should get together and tell them this is the way it is. With the small percent that he [Carmichael] was over, I don't think there is an advantage. There are so many other ways you could cheat other than that small percentage of lead in the fuel. I would hate to see, for the sake of the sport, this affect the championship."
David Vuillemin wrote this on Mototalk: "If Reedy and I would have had the same support as RC…. After our gas thing from Dallas '04, maybe the rule would have changed by then. The teams should have stuck together on that one. Instead, a lot of people called us "cheaters" but the amount of lead was the same as RC and was insignificant… It's not a new story and all of the industry should have done something 2 years ago, instead I remember a lot of people stabbing Yamaha in the back!" Good point, DV12.
As for RC's feelings, TFS and he went over it in our Monday Conversation. If you missed it, have a look.
Even our Virtual Trainer, part-time kart racer Tim Crytser, weighed in: "Regarding the fuel problem, what we do in go-kart racing, is everyone is required to fill their tanks completely full, go to a station called a pump around, have your kart drained into a common tank and then refill your kart with the 'mixed' gas. This keeps everyone from cheating. It's quick and easy and sometimes there are 40 karts per class. If the fuel is out of spec, then everyone benefits. If low budget go-kart tracks can do it, the AMA certainly can too. Simple solution to a simple problem. After reading your interview with VP, I am amazed how the privateers get away with legal fuel. They don't have the money to handle their fuel like the factories. Just another way of giving the advantage to the big buck factories who can obviously afford to have really 'good' gas. But that's just my opinion!"
So where's it all going to end? I have no idea. If you want to have your say—or at least vote on one of three outcomes—check out this week's Troy Lee Designs Racer X Online Poll.
When you look at the whole big picture, the one person who benefited most from this whole sordid incident, the one person who probably wasn't sorry to see the controversy develop, was Gary Bailey. For seven days, his situation has been largely forgotten about. No one is talking about it, but it hasn't gone away, either.
When I spoke to Roger De—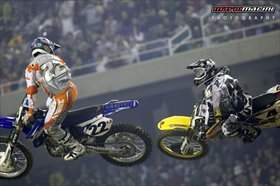 Reed is now only 6 points ahead of RC
photo: Mario Marini
DAMN. I JUST GOT THE
PRESS RELEASE
! I think I just wrote five pages of Racerhead that are now out the window. Wow. Cooler heads prevailed after all. Though there will no doubt going to be some pissed-off—and rightfully so—people in this industry.
I guess we'll just have to see how the industry reacts to this, though. Many will probably like it, but some will think it was the wrong decision. Either way, if I were Chad Reed, I'd be happy about it. He needs to show the world that he can beat RC straight-up for the supercross title, and this penalty would have cast doubt over that in the minds of many. Here's Chad's chance to win the championship with no asterisk attached.
Well, now that that's over, moving right along….
I'm on a business trip to New York City this weekend, which means I will be listening to the Indianapolis Supercross on supercross.cc.com tomorrow night starting at 7 p.m. There's next-day coverage again on Speed TV, plus you can watch all of the laps on amamotocross.com.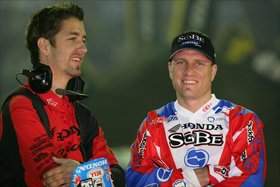 You'll be missed, Mike.
photo: Simon Cudby
As you probably already read here at Racer X Online,
Mike LaRocco
has announced his retirement, which has been largely and unfortunately overshadowed by all of these fuel issues and finger-pointing and so on and whatnot. Mike's an icon in this sport, and I wish him the absolute best this weekend in his last Indy SX. He will be completing the series, and then that's it. He's had an amazing career and will no doubt be remembered as one of the best and most enduring competitors in American motocross history.
Check out this 5-DVD set that Steve Matthes of FMF spotted and sent my way. "It could be the best thing to ever come into my life. I have ordered a copy and will let you guys know," he wrote. It's must-see supercross!
By the way, the new Racer X Wear casual stuff will be online this weekend. Check it out at www.racerxwear.com. However, we're going to have to cancel the "Free Ricky" T-shirts, as well as the "4x.017=-25?" one, and any other funny shirts Farber thought up. Now that that's over, maybe they can start worrying about fixing the names of the classes.
A quick note from Ping, who's on vacation somewhere in Montana or Wyoming or someplace: Josh Hansen, who was leading the main event before the red-flag restart, was up into second on the opening laps of the second start when he ran into the back of Steve Boniface (who had crashed). The collision bent Hansen's shift lever under his frame and damaged the transmission in the process. His bike was popping in and out of gear, even after his mechanic replaced the damaged shifter. Bad times for the Red Bull KTM star.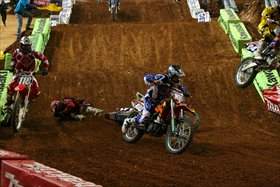 Sequence by MX Max
Did you know that Cairo, Georgia, has a population of 9,239, but two of those residents were on the podium Saturday night?
Another cool marketing bonanza for the BooKoo Honda team.
Wow, I really don't know where to go with this. I'm in Manhattan, 10 driving hours away from Indianapolis, and I'm not sure what's going on other than the press release that just came down. I'm sure we haven't heard the end of this, but I'm not going to hear much here in the Big Apple.
Would you guys mind if I just went shopping?
Thanks. And thanks for reading Racerhead. See you at the Diesel store.