Monday Conversation: James Stewart
The 2006 Amp'd Mobile Supercross season continues to be the tight, epic battle between Ricky Carmichael and James Stewart that fans have been talking about for years, and Chad Reed is not far behind—full props on his title-chances-saving ride on Saturday night. But it was Stewart who got back on top in the SF slop, moving within just two points of Carmichael by winning a very exciting and competitive mud-fest at Round 4 in San Francisco.
Stewart and RC bumped off the start, but the Kawasaki rider held on for a second-place start behind privateer hero Nick Wey. Then James took the lead and seemed to be on his own until he was slowed by lappers. RC took advantage of the moving obstacles and caught Stewart, then made a pass with less than two laps to go. Stewart, however, responded when the Makita Suzuki rider bobbled. RC challenged him to the checkered flag, but Stewart got himself another very satisfying win. Even with all the mud, it was another exciting, down-to-the-wire finish like supercross planners have been talking about and wishing for for years.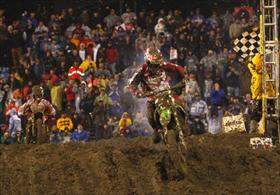 The muddy main event went down to the wire at San Francisco

Racer X
: James, congratulations, you won an exciting race.
James Stewart
: It was good. I won a tough race right there. [It took] being in condition and mentally strong. It was gnarly, all those lappers out there, but I ended up coming out on top of a good race.
How is your preparation different when it's a full-on mud race like this?
I think you just have to be smart. If you've watched my starts lately, they've just been sucking. I think this year, [different] from last year, I really think when it's crunch time, I can come up and do the job. I knew if I had any chance to win tonight, I had to get a good start. I almost had the holeshot but Ricky and I kind of hit off the gate and I ended up coming around in second. It was good. We really didn't prepare any different tonight. It was just a mud race and you try and stay up.
So it's pretty much time to be conservative and not make mistakes?
Yeah, even throughout the whole race, I just didn't want to make mistakes. I fell over once in a heat race when I just kind of hit my front brakes too hard. [In the main] we ended up getting out front and, for a while there, I was kind of in my own world out there. I got screwed up big-time with some lappers and had to roll a few sections. He got up on me. It was a good race. It went down to the wire.
What was up with Reed in that heat race? You guys were racing hard a couple of laps.
Well, even in the heat race, I was just kind of in my own world. He came up and I saw him back there, and I was like, Whatever, if he goes around me, he goes around me. I think he ended up making a few mistakes, and I was trying to stay on the inside. I think I was roosting him. He had to pull off a few tear-offs, and then he messed up. It was over after that.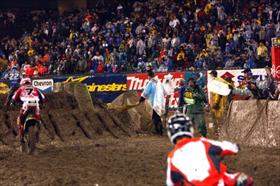 The series drama intensifies. Reed falls and is just getting up as Stewart - with "Rebound" on his gear - and RC lap him.

With Ricky winning two in a row after the opener, how important was it for you to get another win in tonight?
Well, it's definitely important for the series. After the conditions like this rain, you really just want to get out of here on the box. I think that's what it's going to take to win the supercross title this year, is to be on the box every single weekend. I have to give it up, especially to my dad—he has been out here working. And my new boy, Jehrrod over here, I just have to give it up to these guys, Beeker and my team. We really worked hard to get ready for this.
Jehrrod is keeping you straight during the week? [Ed. note: After the interview, we asked Jehrrod, a close friend of the Stewart family's, what James meant, and he joked "I just try to keep him out of trouble."]
Yeah, I was talking to
Grant Langston
on the way to the dealer show and he was out there doing so many laps. [He told me], "I don't think I ever rode that many laps in a week, that I did in one day." It was a good race tonight. We felt strong this week.
We've heard comments from Chad and Ricky about your speed this year, and that you brought a lot with you to this class and they have to change things to match it. Have you noticed them responding by going faster?
It is kind of hard to … I felt that I had speed last year. I just think the only thing that was lacking was mentally and conditioning. I fixed both of those things this year, so my speed was always there. It's hard to say "The 11-time champ will have to pick up his pace." I feel like I have my speed; I'm riding in my own world. I feel that I'm in my own range right now. If we need more speed, we'll use it, but right now I'm just riding like
James Stewart
needs to.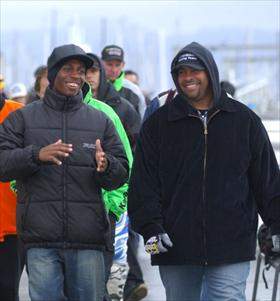 Who's Jehrrod? He's a close friend of the Stewarts who lives in Southern California, and they spend time with him when the series is out West.

When you pulled off after the main event, Ricky rode up to you. Do you remember what was said?
Yeah, it was cool. I did the same thing last week. I rode up after the race and said, "Hey man, good ride, we'll see you next week." He did the same thing. I think we show a lot of sportsmanship to each other. It's going to be a long season. It's going to be great.
There has been a lot of talk this year about easy tracks versus hard tracks. Ricky talked about it at the Anaheim 2 press conference last week. Where do you stand on that?
I wouldn't say tonight was an easy track. I'm just going to reflect off each weekend I race. I'm not going to talk about what happened last week and Phoenix. Right now, the track tonight was hard and we'll see you next week. They're building the tracks the way they want to, and we all have to race them. That's it.

Thanks for your time, see you next week.
Thanks, Steve.