Factory FMF/KTM's Kailub Russell has been fully immersed in off-road racing since his mini bike days, winning multiple Youth and Amateur GNCC titles over the years. Russell then graduated to the XC2 Pro Lites class where he secured dual championships in 2009 and 2010 before joining the premier XC1 Pro class in 2011. After three years of chasing some of the world's most talented off-road racers, Russell now sits atop the championship standings in the AMSOIL Grand National Cross Country Series with only three rounds remaining in 2013. We caught up with KR557 after securing his fourth consecutive win at the Can-Am Unadilla GNCC last Sunday. He now holds a two-point advantage over his teammate Charlie Mullins in the National Championship chase.
Racer X: Congrats on a big win at the Unadilla GNCC on Sunday. Tell us how your day went.
Kailub Russell: It was a good day, all day. I got a decent start and worked my way into third behind Charlie [Mullins] and Johnny Girroir, he's a local guy that was riding really well. I passed him and got into second and then got into the lead. From there, I just kind of rode my own pace and rode really smart because by about the third lap we were constantly passing lappers. It was a tough day with those guys but just like I said, I just rode smart all day.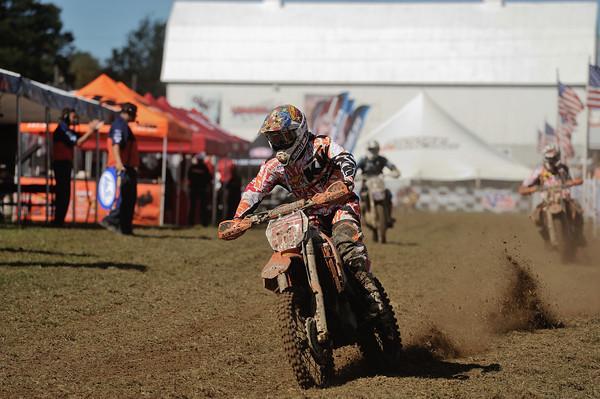 Russell captured his fourth straight XC1 win at Unadilla over the weekend.
Ken Hill photo
At any given time there were hundreds of riders scattered throughout the 10-mile course. How did the lappers have an affect on the three-hour race?
The problem is when you come up on lappers in the woods they don't know where you are and they don't hear you coming. And then they tend to move over right on you and just push you off the track. They'll just take your front end out and that's why it's so much easier to be in second place and to capitalize on that. You just have to be real patient and almost just slow down and not get up on them and startle them because at the end of the day they're out there racing for themselves and you have to be real smart and patience with them.
Talk about the last lap, it seemed like a lot happened in that 20-minute span before the checkers.
Yeah, I made one little bobble on the last lap and thought I threw it away. I fell over and Charlie got around me for the lead and then I made a good line and got back around Charlie but Josh [Strang] was able to get back around both of us. And then Josh got held up by a lapper and I was able to get around him and just hold it on for the win.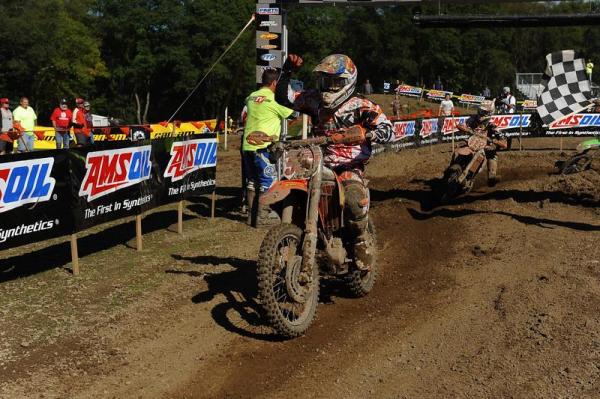 Russell now holds a two-point lead lead over teammate Charlier Mullins.
Ken Hill photo
The GNCC Series takes a two-month break through the months of July and August. What did you do to keep busy while racing was out of session for the summer?
I did a little bit of everything. Anything you can think of to get into that's fun and have a good time, I did it. I did a lot of jet skiing and golfing. I actually pulled my first backflip on a jet ski!
No way! How long did it take you to land that?
About 30 minutes (laughs). It's actually on the latest episode of MotoSport.com Driven To Win.
Were you able to squeeze some dirt bike riding in between those Jet Ski sessions?
Yeah, the last three weeks of break I got back into things and I'm feeling really good physically. We had a long summer to think about everything and evaluate ourselves and come in strong for the last four rounds. I felt really good coming into Unadilla and with three more rounds to go, it's going to be a dogfight right down to the finish.