Edward Jones Dome
St. Louis

,

MO
St. Louis
Monster Energy AMA Supercross Championship
Welcome to Racerhead. Been a mixed week. We are more or less at the halfway mark of a fantastic-so-far Monster Energy Supercross Championship (the cross flags of the 450 main event tomorrow night in St. Louis will be the EXACT halfway mark) and we've had two winners in two 250 East Region main events, so that's heating up too. Next week many in the amateur motocross and off-road world will begin migrating south for the big spring races of March. They include the Daytona Supercross for the pros, of course, as well as the Thor MillCreek AMA Spring Classic in Alabama, Ricky Carmichael's Daytona Amateur Supercross Championship, the James Stewart AMA Spring Championship at Freestone in Texas, the GNC Spring National in Texas, and the opening rounds of the AMSOIL Grand National Cross Country Series in Florida and Georgia. That's a lot of racing to look forward to for everyone.
But then there was some sad news this week. Lots of it, actually. It started last Saturday morning when former Team Honda transport driver Mark Hough died in his hotel room at the Atlanta Supercross. Mark was an incredibly nice man who had retired a few years ago and was living in Maryland; he drove to Atlanta to visit his many friends who are still working in the paddock, but he never made it to the stadium. He was 53 years old.
On Thursday came news of the death of Japanese freestyle MXer Eigo Sato, who was practicing for the upcoming Red Bull X-Fighters in Japan when he under-rotated on a backflip and crashed hard. He was transported to a nearby hospital, where he was pronounced dead. Sato, who participated in the X Games the past few years, was 34.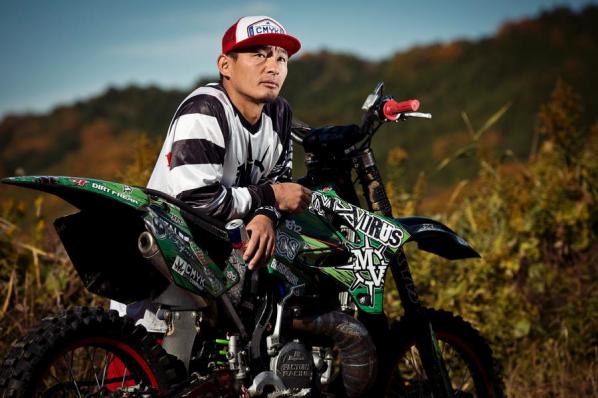 Eigo Sato was 34.
Jason Halayko/Red Bull Content Pool photo
Finally, there was the shocking news of Henny Ray Abrams. Henny was a journalist living in New York City who used to have the attention of everyone in the industry with his back-page editorials in Cycle News. He was an excellent race reporter and photographer who regularly took on the road racing establishment. He was a vocal critic in recent years, most memorably of the AMA's handling of the sale of AMA Pro Racing, and he often held court in the press room at Daytona for us younger reporters, discussing the state of the sport both on and off the track.
Abrams was literally working at his computer in his apartment in Brooklyn when he apparently suffered a heart attack. He was found there after Paul Carruthers, Henny's longtime editor at Cycle News, could not reach him and asked their mutual friend Dave Roper to check on him. Henny was there, slumped over the keyboard, having died at his station. Henny Ray Abrams was 57 years old. Godspeed.
So that's the hard news. Now here's the rest of the week in our sport.
MIDWAY (Mike Fisher and Aaron Hansel)
Something for you bench racers to feast on: A chart of the top riders in the points so far in the 2013 Monster Energy Supercross tour, courtesy of our own Mike Fisher. Following the lines of the ever-steady Davi Millsaps and Andrew Short, the inconsistencies of Ryan Villopoto, Justin Barcia and James Stewart, the downturn for Trey Canard after a great start....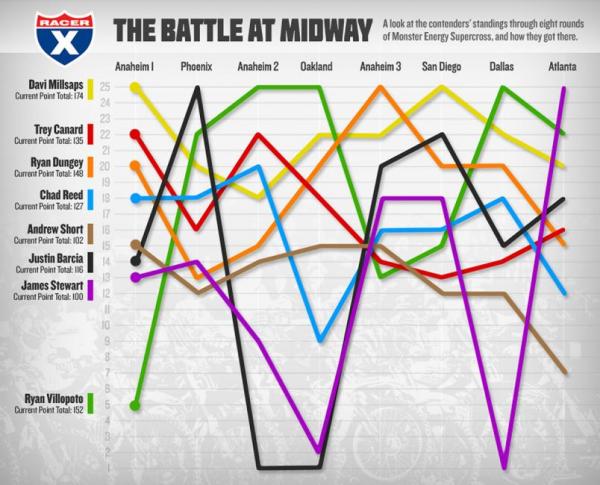 HOW TO WATCH ST. LOUIS (Chase Stallo)
CBS and Speed, respectively, will provide next-day coverage of round nine of Monster Energy Supercross from St. Louis. Sunday, CBS will kick things off with coverage of 450SX beginning at noon Eastern. Speed will pick things up from there with coverage of 250SX beginning at 2:30 Eastern followed directly by round nine of AMSOIL Arenacross from Kansas City at 3:30.
Looking for coverage of qualifying from St. Louis, be sure to turn to RacerXonline.com or Supercrossonline.com to catch Supercross LIVE beginning at 3 Eastern. Be sure to follow Racer X on Twitter and Instagram (@racerxonline) for behind-the-scenes coverage from the pits and play-by-play action from qualifying and the night show.
THE NUMBER – 8 (Chase Stallo)
GEICO/Factory Connection Honda has risen to the top of the 250-class food chain over the years, compiling fifty-five wins and five titles (SX and MX combined) since GEICO signed on as the title sponsor in 2008. But the team actually stretches back to the late '90s, when it started as a career rejuvenation effort for Mike LaRocco in the big-bike class. A few years later the team grew to collect Honda factory support in the 125 (now 250) class. During that span the team has produced eight first-time winners in 250SX, beginning with Billy Laninovich in 2005. The first 250 win for the team actually came from Travis Preston in 2002, but he had won the year prior on a Husqvarna. The early years have paled in comparison to the last six years, as six of the eight first-time winners have come more recently. Wil Hahn joined the elite club on Saturday, and with young guns Justin Bogle and Zach Bell in the stable, the total could rise to ten soon.
Here's a list of first-time winners produced by the Factory Connection team, now GEICO Honda:
Billy Laninovich – 2005 – San Francisco
Josh Grant – 2006 - Atlanta
Jake Weimer – 2008 – Phoenix
Trey Canard – 2008 - Atlanta
Blake Wharton – 2009 – St. Louis
Justin Barcia – 2010 - Toronto
Eli Tomac – 2011 – San Diego
Wil Hahn – 2013 - Atlanta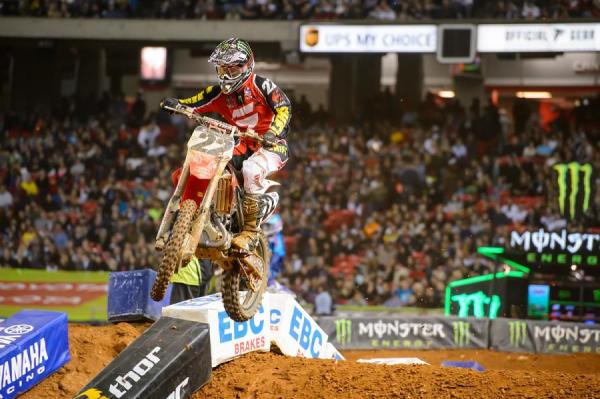 If all goes well in St. Louis tomorrow, Chad Reed will make his 150th 450SX start.
Simon Cudby photo
ANOTHER NUMBER: 150 (DC)
If all things go according to plan, tomorrow night's St. Louis race will mark the 150th main event in the premier class of Monster Energy Supercross for Chad Reed. The Australian import started with the 2002 Anaheim opener on a YZ250 and has since raced blue, yellow, green (briefly), and now red with his TwoTwo Motorsports Honda CRF450R. Reed is still blindingly fast, even in his twelfth season in SX, but he's yet to break through for a win this season. Could tomorrow be THE night to finally get one?
A NEW ROLE FOR STEWART (Jason Weigandt)
Had an interesting conversation with Mitch Payton last week. "When we win all the time, I think it makes people want to make fun of us when we lose," says the Monster Energy/Pro Circuit Kawasaki boss man. "That's just human nature, you always want to see the underdog break through."
We always said James Stewart never got to play the underdog role, and I once wrote a Racer X feature story called "Overdog" to drive that point home. But Stewart's role has changed, and the win in Atlanta not only seemed like a massive relief to James and his team, but also a lot of fans. Back in 2008, when Stewart rolled into this series after a championship-winning 2007, and Carmichael having parked his own career, people were seriously asking if he could sweep the entire series. We're far from that, now, and I think fans are pumped to just have another contender in the mix each weekend.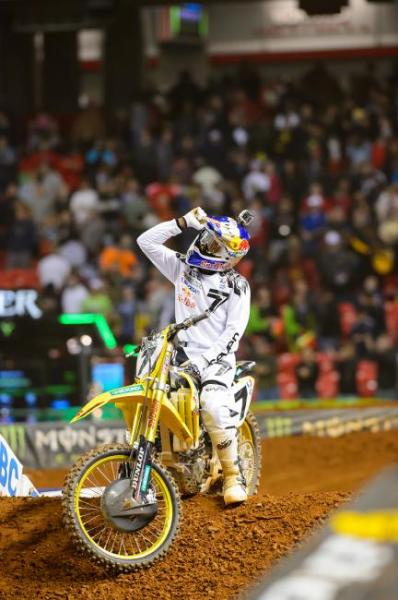 Relief for Stewart in Atlanta.
Simon Cudby photo
Also back in 2008, Stewart only made it through two races before a torn ACL ended his run. This year, he's riding through another ACL tear. Luckily this injury isn't as severe, as Stewart's MCL and meniscus (which are often also torn in ACL injuries) are okay. Weeks of rehab have strengthened the leg, and he's feeling so good now that he even told Matthes on Monday's PulpMX show that he thinks he can make a go of this summer's Lucas Oil Pro Motocross Championship.
If you think that's a relief to Stewart and his fans, think of his team. After Stewart's clutch broke in Dallas, I saw his mechanic, Lee McCollum, after the race, and he looked like he had just seen a ghost. It hit these guys hard.
After Atlanta, the scene was much different. Stewart was beaming. His trainer, Pablo, was happier than I've ever seen him. Mike Webb, McMcollum and company were laughing and high-fivin'. Finally, a weight had been lifted.
In addition, Stewart had the amateur riders he's backing for his Seven gear brand hanging with him. (Some big names there in Ashton Hayes, Chase Bell, Jace Owen, Jalek Swoll, and Will and Max Markolf). Those riders will debut their gear shortly at the James Stewart Spring National in Freestone. So Stewart's big Suzuki and Seven experiments seem to be on track right now.
But while everyone was celebrating after the night in Atlanta, over on the side, I saw two Suzuki engineers churning away, downloading data and inspecting a swing arm. The work never stops, because these guys want more. Is it possible, now, that Stewart and his crew will become the underdog everyone can root for?
PRO PERSECTIVE (Jason Thomas)
Ryan Villopoto has been arguably the fastest rider of the last few seasons. Even if he wasn't the winner of the race, many times he would have the fastest lap time. He was #1 both on his bike and on the list to beat for any contenders of the title.
Coming into 2013, this was never more true. Back in January one would be hard-pressed to find someone who did not have RV at the top of the favorite list for a three-peat. Such has not been the case. The first few races, while still fast, mistakes were abundant. I attributed this to a combination of pressure, trying maybe a bit too hard, and bad starts. What I didn't anticipate what that he hasn't been far and away the fastest rider week in and week out. Sure, he has had bright moments and reinstated the sense that he would catch fire and run away with this championship.
Coming out of Dallas, where he won fairly easily, I assume he felt this was how things were meant to go. I honestly expected more of the same in Atlanta, and when he started in second place I figured he would wear Stewy down and walk out of the ATL with two in a row while taking five more points out of The Duke's lead. Not so fast, my friend. James Stewart put in his best ride in years and wasn't really challenged at any point. Villopoto wasn't slow but he definitely wasn't dominant.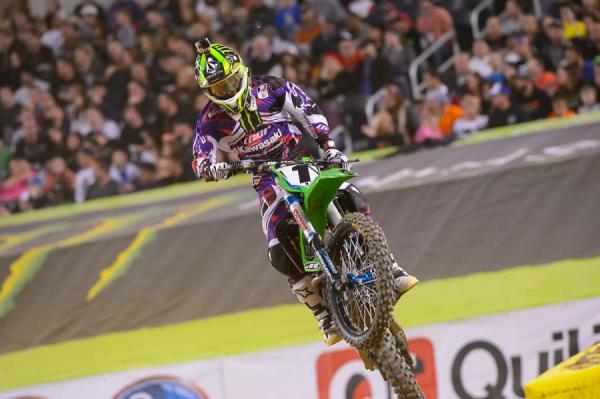 "RV has to win races and make zero mistakes from here on out if he wants three in a row..." - Jason Thomas
Simon Cudby photo
So my question is this: Is RV slower or has the gap to the field closed? My opinion is that the field has improved. With the deepest field since who knows when and the new group of youngsters joining the fray, the collective pace has increased. Canard is back, Bam Bam has barged in, Tomac is soon to be knocking on the door, and all of this is forcing everyone to push the limits. It will be interesting to see if this chaos can hold up for the last nine rounds or will a few rise to the top consistently. We are pretty much at the halfway mark and there's no sign of anyone slowing down. RV has to win races and make zero mistakes from here on out if he wants three in a row, which will put him above Stewart and Reed on the short list of folks who three-peated: Only McGrath (who did it twice), Carmichael, and Hannah are in that club.
With this field, I wish him luck in winning consistently. Either way, it's going to be awesome to watch how it all unfolds!
YOUR TAKE
yzchris76: "The Nuclear Cowboys holeshot award should also be the checkered flag. It's pretty bad when the best racing is in the LCQ's."
IN THE MAG – MEN WITHOUT A TEAM
Yamaha was the first manufacturer to cut loose its in-house factory team back in 2009. They weren't the last. Was it the right move? For years, pundits believed the NASCAR model was the future of the sport, with private entities running teams on outside money and factory support and equipment in the background. As budgets shrank and outside-sponsorship interests intervened, the traditional motocross factory team was a goner. Read more about "The Men Without a Team" starting on page 172 of the April '13 issue of Racer X Illustrated.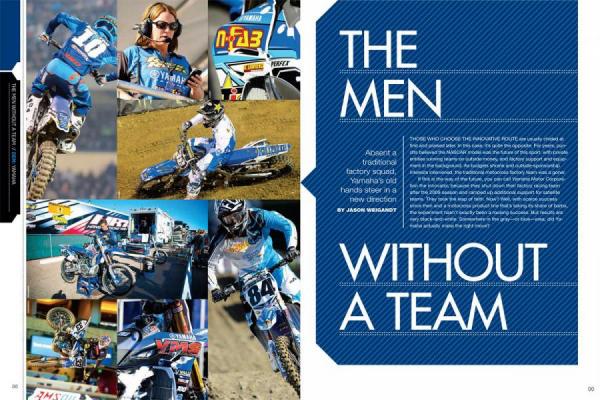 THE LIGHTS GO ON (Adam Wheeler)
The lights go on—quite literally—for the opening round of the FIM Motocross World Championship this Saturday with the first trip for the series to the Middle East, the first at night, and also the initial test run for a three-moto format that will see MX1 and MX2 mixed for the second race "Superfinal" (with points awarded for each class in this new broadcast friendly vision). There is a collective sense of excitement around the Losail circuit (the venue that has opened the MotoGP series for the last six seasons) and while Qatar may be unusual and novel it is certainly a world away from the low temperatures and unpredictable winter weather in Europe. Breezy and warm, Losail is a motorsports oasis in a world of dust and rock, but motocross is not here for the following or the atmosphere. It is here for the spectacle and to see the GP riders circulating a (mostly) flat layout located adjacent to the asphalt (the teams are using the road race pit garages) is almost theatrical.
That the Grand Prix is lucrative—there is no doubt. That's what ticks political boxes for the international scope of the FIM, of course. But, like the FIFA World Cup that will head to this country with a population of less than 2 million in 2022, the Qataris are seemingly passionate sports people and want the best bike racers, tennis players, footballers, and athletes to compete in their land simply because they can make it happen. The race will take place on Saturday, beginning at 11 a.m. (Eastern U.S.) and air live on www.mx-life.tv for a fee.
On the track the big question will be who can knock Red Bull KTM's Tony Cairoli from his perch? The Sicilian is a ferocious animal of consistency and versatility on that 350 SX-F. There will be seventeen rounds to run after Saturday evening's fare—2013 is the longest FIM series in the modern age—so a long-term view of the championship will be key. Look for Monster Energy Yamaha's Steven Frossard, Honda World Motocross' Max Nagl, Kawasaki Racing Team's Gautier Paulin, and CLS/Monster Energy/Pro Circuit Kawasaki's Tommy Searle to be in the mix with Rockstar Suzuki Energy's World MX1's Clement Desalle (still only 23) also to play a major part.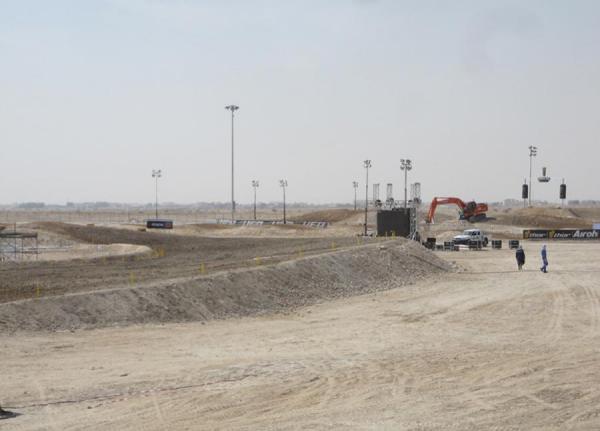 The 2013 GP season kicks off Saturday night in Qatar.
Adam Wheeler photo
In MX2, World Champion Jeffrey Herlings has limped off the plane and into Doha after requiring a visit to the doctor's after a training crash on his Red Bull KTM midweek. While the teenager claimed on Twitter he'll be happy with a top-five and doesn't even know if he will be able to make the gate due to pain to his left knee, there could be a degree of playful gamesmanship to his claims on the eve of what many have been claiming will be a cakewalk campaign for the Dutchman. (And he was fastest in Friday night's qualifiers.) The depth of Herlings' fitness and pain threshold is unknown, but if he rides to anything like the capacity shown in 2012, he could still easily win this event. Our pick to watch? Try Arnaud Tonus on the Pro Circuit Kawasaki, Jordi Tixier on the second Red Bull KTM, Christophe Charlier on the prototype Yamaha, and Max Anstie on the works Suzuki.
Here's a lap around the new track, by James Dunn for the boys over at Vurbmoto.com.
And speaking of that, Racer X contributor David Bulmer from Qatar, here's his first dispatch on the weekend.
HIGHLIGHTS OF THE WEEK (Jason Weigandt)
Podcast-A-Palooza: Our man Matthes put together a Racer X Podcast Palooza Week, and if you haven't listened to the shows yet, don't worry, they're timeless. Besides our weekly race wrap up shows with Matthes, Weege JT$, check out Steve's interviews with Keith Bowen, Bob Hannah, and Rick Johnson. It's the first RJ podcast, so there's a lot of great info in there and never-heard-before stories. Check it.
Long Wait: Is Wil Hahn's span from first supercross start to first supercross win the longest ever? We stuck Aaron Hansel in the Racer X Vault and didn't let him out until we had an answer. Have a look at Bench Racing Ammo.
Zero Velocity: What the heck happened to Velocity 3 Yamaha? And where do Kyle Chisholm and Bobby Kiniry go from here? Steve Matthes got the inside story.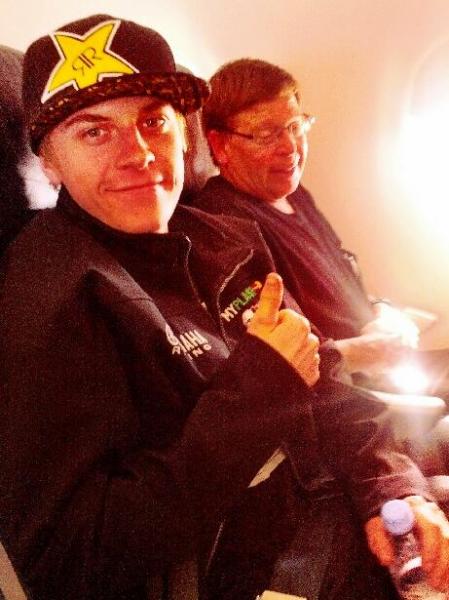 The Martins en route to St. Louis.
HEY, WATCH THIS!
St. Louis Animated Track Map
GoPro Action from Atlanta
Monster Energy Yamaha Team Intro
World's Most Insane Rope Swing - Canyon Cliff Jump
J Day Triple Crown Round 1 (Who says you can't ride in the Winter)
Kaduuz Racing: Herning (Danish) Supercross
Epic Motocross Using Playmobil Animated Toys
HEAD-SCRATCHING HEADLINE(s) OF THE WEEK
NASCAR Driver Greg Biffle Stars Alongside Skateboarding Dog Tillman In "Who Let The Dogs Out"
RANDOM NOTES (Staff)
Is Travis going to be a daddy? Apparently so, by the looks of this photo...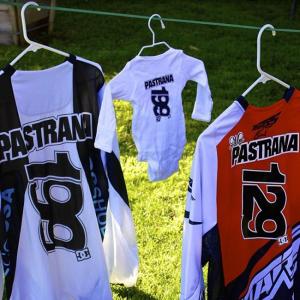 Looking for a love bug? If you're a Volkswagen Beetle fan, we know of someone who is downsizing and has to part with her favorite car of all time, and it needs a new home where it can be appreciated!
Tucker Hibbert will be featured on NBC's Today Show Tuesday, March 5. Recently, co-host Sara Haines took her "Sara in the City" segment to Minnesota to build an Arctic Cat snowmobile at the factory in Thief River Falls and take riding lessons from Hibbert. The feature will air during the fourth hour of the TODAY Show with Kathie Lee and Hoda. Check your local listings for the exact air time in your area.
MXers for Jesus will be at the Thor Spring Classic at Mill Creek, RCSX at Daytona Speedway, and the GNC at Oak Hill MX. MXers for Jesus will have several church services for the racers and family's, at each event. The big news for this year is the change in times for church at RCSX at Daytona. " We decided to move the worship service to Sunday after the last moto of the day, since Saturday is such a late night and we start early on Sunday. We thought Sunday night would work better," said Rev. Kevin Cozadd. For more info go to: www.mxersforjesus.com.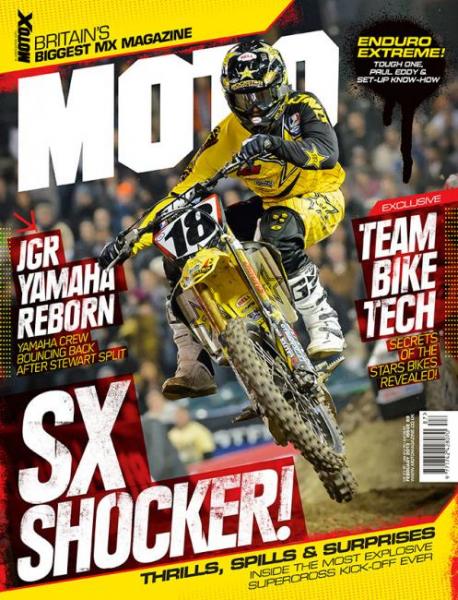 Millsaps scored a cover in the UK from our brothers at MOTO.
Simon Cudby photo
Here's a note from Joe Malich: "Kyle Regal's 2010 Honda crf450. I bought this from Merge racing. It is the bike that finished 2nd at Millville, Freestone and MXON in 2010. I think Kyle needs it!"
You can add Swedish motocross legend Gunnar Lindstrom to the list of special guests who will be attending the 6th annual Racer X Inter-Am in Boise on April 6-7 at the OMC track. Gunnar joins our other guests, former 500cc champ Mark Blackwell, former Dirt Bike editor Rick "Super Hunky Sieman, Damon Bradshaw, JT founder John Gregory, MXdN champs Danny LaPorte & Chuck Sun and even Fly Racing's VP Terry Baisley is having a replica of his original 1975 CR 125 ready for this event. For more information and photos from last year check out this Facebook page.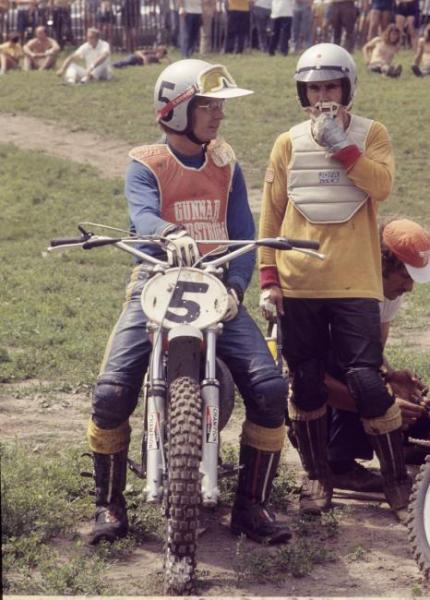 Swedish motocross legend Gunnar Lindstrom.
Thanks for reading Racerhead. See you at the races.