Edward Jones Dome
St. Louis

,

MO
St. Louis
Monster Energy AMA Supercross Championship
Mark Johnson is back at the races under the team Dodge/Sycuan Casino/Suzuki RCH awning and carries over four decades of managerial experience with him. Most known for his tenure with Kawasaki Team Green, which began in 1983, Johnson owns the distinction of grooming some of the biggest names in motocross history. He eventually branched out beyond this sport, and his resume stretches out across other motorsports, including successful stints in road racing and Indy car. Johnson has come full circle with a new partnership with Ricky Carmichael in one of the most high profile teams in the paddock. We caught up with Mark as he was fresh off observing riders Broc Tickle and Josh Hill at the factory Suzuki test track.
Racer X: Hey, Mark. You've been away from the supercross races for a while, how does it feel to be back?
Mark Johnson: Its great to be at the supercross races, it's pretty cool to see so many of the same faces around. Ricky [Carmichael] and I have maintained a relationship from all the way back in the day, and he and Carey [Hart] have a great program to be a part of.
Being around other major forms of racing like Indy car, have you learned anything you can piggy back into your current management roll?
I gained a greater appreciation for the business side of racing. With all of the cuts in manufacturer spending we're seeing, the importance of the commercial side of a race team, and providing sponsors what they need is vital. Racing has always been a business. It is easy to forget that when you are working within the confines of a factory team. Today's economy has commanded people to find new ways to do business, which is what many individuals in the paddock today have done. My good friend Mitch Payton was at the forefront of obtaining sponsorship from outside the industry years ago. The folks within the GEICO group have done an excellent job through the years of building their sponsorship base. Of course most recently you have to recognize the job Bobby Hewitt and Dave Gowland have done with their team and Rockstar. These folks and others are committed to the ROI required to their respective groups to retain these sponsors.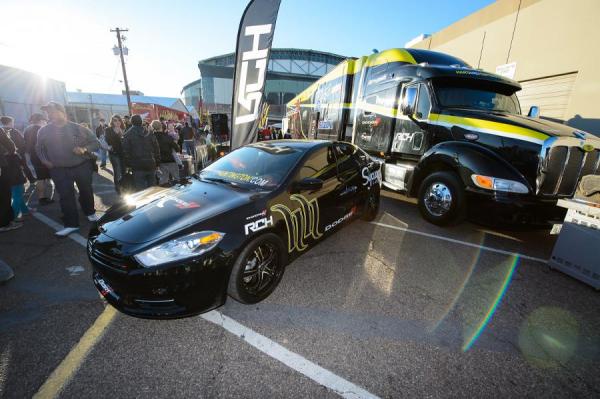 Mark Johnson is back, helping with Dodge/Sycuan Casino/Suzuki RCH.
Simon Cudby photo
That's one of the things I've been impressed the most with team RCH. Carey and Kenny [Watson] do a remarkable job on that side and we're fortunate to have the sponsor support from Dodge, Sycuan Casino, Suzuki, Bel Ray and all of our participating sponsors.
There are some big names under that awning. What is the goal of your role with the team?
It's funny, Ricky is consummate about the performance side of the team. He's adamant about the bike being the best it can possibly be and I'm confident I can help him in that effort. This should allow Carey and Kenny to focus solely on the commercial side of the business and insure financial stability for the team into the future. When I was with the Team Green and factory Kawasaki teams my goals were always to keep everything organized from the ground up and allocate the right people to the right places.
Carmichael is regarded as one of the most demanding personalities in the sport. Any pressure?
Hey, Andy, I've known you since you were 10 years old and have been going hard for a long time so I'm ready to slow down a just little. It's fun to be at the races and enjoy that again. Ricky and I have enjoyed a strong relationship that stems from way back in the day. We both understand each other's desires and feel this is a great opportunity for everyone involved. No single person has the entire weight of the team on their shoulders and we're all in position to contribute to the overall success of the team.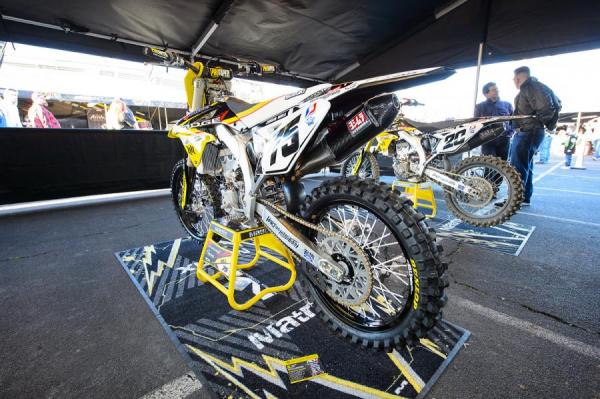 Hill and Tickle look to improve upon their results tonight in St. Louis.
Simon Cudby photo
You've only been with the team for a couple weeks. How do you feel your guys stack up?
I came on board back in San Diego and I'm getting into the swing of things pretty quickly. Being in the race shop with the team has been good in the sense of getting to each other. We have a strong staff in place lead by Kyle Bentley, and veteran Tony Berlutti is our Sr. Technician, backed up with Shawn Bell, Phil Perry and Brian Swead. Carey's team has been around a few years, but never in this capacity with the new alliance with RC and factory Suzuki. Building a championship effort is a building process and we're a young team. We're being realistic and no one is looking at a title right now. We have great young riders but it's their first year on the equipment and I'm excited to work with them and keep everything moving forward. As a team we need to insure we have a solid financial and technical foundation in place allowing us to grow long term.
Anything else you want to add?
Again, it's a good feeling to be back and its almost like coming home in a way. Working with the folks at Suzuki and renewing friendships has been great. Pat Alexander heads up the competition department for Suzuki now. We traveled together as Suzuki mechanics in 1978. Our Suzuki liaison to Japan is Aki Goto, who I also worked with in '78 when I was with Suzuki. And Don Sakakura, who heads up all of Yoshimura, was a competitor in road racing in the early '80s. Of course I have to recognize Ricky, too, as our relationship covers 25 years. If I remember right I signed his first contract when he was 6 years old. A lot of things, including myself, have come full circle and we're looking forward to racing together.