Qualcomm Stadium
San Diego

,

CA
San Diego
Monster Energy AMA Supercross Championship
BTO Sports is your number one source for all of your motocross parts, gear, accessories and apparel. BTOSports.com is a motocross company who is truly dedicated to the sport and to the customer. Proud sponsor of your Racer X Podcasts and the BTO Sports race team.
Round six of the 2013 Monster Energy Supercross Series, an FIM World Championship, is ramping up and we're done with the Southern California rounds. And yes, Davi Millsaps is still leading the points. In fact, not only is "The Duke" still leading the points, he stretched his lead out this weekend after winning San Diego. If you had called the National Enquirer back before A1 and tried to sell them on a story that Davi Millsaps would have two wins and a nice points lead for the issue six weeks from that day, they've would've hung up on you and went with the "Bigfoot impregnates a camper" story because at least with the Bigfoot story, they wouldn't be laughed at THAT much.
Before we get into all that, lets' talk about the track. I liked it from a viewing aspect because it had tough whoops, but the riders all complained about it. Not just the guys that had bad nights, but a lot of dudes that did well said they just couldn't pass on it and that was too one-lined. I've never raced supercross before (we'll forget all about that amateur day in Atlanta in '89 where I couldn't believe the size of the jumps - yes, I was a long way from Manitoba at that point) so I'll defer to the guys that do. I thought it was cool and had different stuff but no one seemed to like it. There's just no pleasing any of these riders, I guess. I suppose that the close racing but no passing that we saw in the mains was due to the slickness of the track. You just couldn't get out of the ruts and couldn't charge too hard otherwise you'd end up making mistakes. No doubt it made for some cautious racing out there.
I feel like I need to touch on Chad Reed and his race San Diego. It's no secret that he loves the building and has won a ton of races there, but this week, I thought that none of that would matter. He simply wasn't going that fast. Ninth in combined qualifying times (although only 1.1 seconds off the fastest guy) seemed to indicate that Reed wouldn't be super charged in the stadium that the San Diego Chargers play in.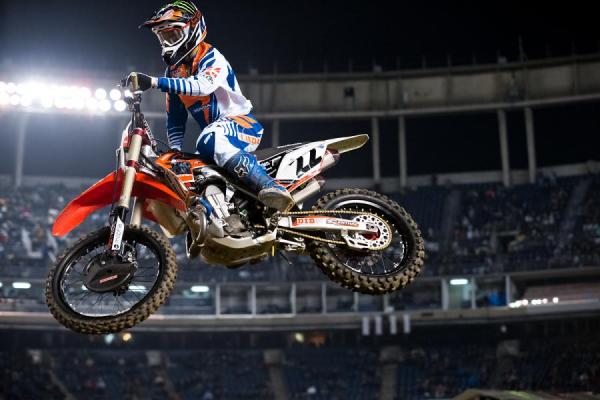 Reed was off the pace early, but again found himself in position for a San Diego win.
Garth Milan photo
But you would be wrong, as the 22 got off the gate well, reeled in Millsaps and appeared to be ready to make his move. It made a lot of people in the stands really happy. From a two second deficit to looking for a way around the 18, it appeared that the Aussie was writing yet another impressive chapter to his career. But when he went down in a right hand berm, his momentum stopped and he was forced to switch over to salvage mode.  And if you're an air fork non-believer and think that these guys' bikes don't look all that good this year (like Reed himself has said), Chad's crash won't put your mind at ease. The front end just went away from him and his hopes washed out right then and there.
So when does the "Davi Millsaps may win this 2013 supercross title" talk start really happening? Not many people in the industry thought he'd be here at this point. Sure his Anaheim 1 win was cute and he does appear to be much, much better this year than ever before, but there's still a lot of non-believers out there in the pits. But look, the guy's got two wins (tied with Villopoto for the most this year) and a nineteen-point lead! At this point, he's as legit as MC Hammer was. He's even got the works air forks from Showa!
If there's one man who's always been on the Millsaps bandwagon, it's this writer. Yeah, seriously- just check out THIS story. Oh, and THIS one also. I love how people remind me of these stories on Twitter and email but forget that they were written a few years ago when, shocking, Millsaps wasn't using his talent for good. If anything, those articles make me look even smarter because in them I state that Davi has a ton of talent and can win if he worked a little harder. I suppose I don't need to wonder why not very many MX media guys write stories like this. One day fans will throw it back at you so why bother?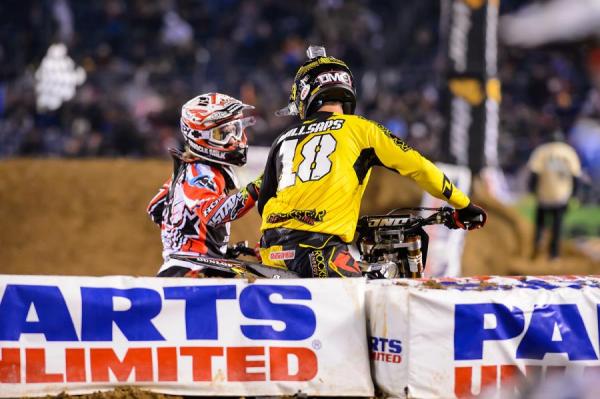 This is the Davi Millsaps many thought Davi Millsaps was capable of being. But it's still surprising!
Simon Cudby photo
I spoke with Rockstar Energy Racing team manager Dave Gowland and predictably, he's pretty happy about this whole year. He's got Millsaps leading the 450SX series and Jason Anderson is really emerging in the 250SX series so why wouldn't he be pumped? I'm a little worried though, I've had Davi and Jason on the Pulpmx Show and they don't seem to know anything about Dave's past glories in wrenching for Ross "Rollerball" Pederson or managing Doug Dubach to wins and titles in Canada. I don't get it, it would be required viewing for the new hires if I was Dave.
GEICO's Eli Tomac was unstoppable early on in the 250SX series but with just one crash in Oakland, his season took a U-turn. He needed to stop the bleeding, ASAP. So his win at San Diego was big and clutch and all that. He rode great in staying ahead of Roczen, who had all the momentum from a couple of dominating wins. Tomac also gained three important points. I know there were some questions about Tomac's pass on Anderson in the main because of some yellow flags, but before the area where the flags were being waved, Tomac was in the air and diving to the inside of the turn. He then made the pass but it wasn't, in my opinion, a dangerous move. He was already committed and didn't make contact with Anderson. Anyways, Tomac was pressured by Roczen for most of the way but held 'er strong the rest of the way.
Let's take a look at the results shall we?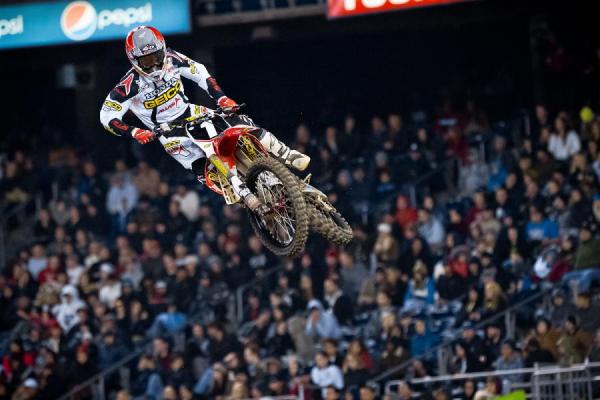 Eli got back to his winning ways.
Garth Milan photo
250SX
1. Eli Tomac Honda CRF 250
2. Ken Roczen KTM 250 SX-F- Roczen was good this weekend but a little off the stupendous levels of the last couple of weeks. He logged his fastest lap of the night on the last lap so that's good, I suppose. It's weird, next time you're at a SX watch Roczen on the parade lap- he treats it like a race. Oh those Germans…
3. Jason Anderson Suzuki RM-Z250- Anderson's just getting better and better. He's got more confidence, he's running up front, he's got Ross Pederson's old mechanic grooming him- just the total package really. 2014 is the year of the Ando.
4. Austin Politelli Honda CRF 250- This kid on the HRT Honda has been pretty good this season and in San Diego, it was a career best.  This is the second year for Austin and he's a 170lb monster in a class of lightweights. It's looking like he might head north to Canada for a return to the series that he raced a couple of years ago. Hey, a guy's gotta eat.
5. Kyle Cunningham Yamaha YZ250F- WOW. What a night for Star Yamaha's Kyle Cunningham. He won his first ever heat race then blitzed from dead last all the way to fifth by the end. He was closing fast on the top four guys as well. Cunningham had a bad start to his season but the last two weeks he's been great and it's rides like this that always leave you wondering (like Davalos) why Kyle can't seem to ever be consistent. Nevermind wins, he's never even had a series where he's finished top five in the points and for a veteran like Kyle, that's not very good. Regardless, a nice two-week stretch for Kyle and Yamaha.
6. Travis Baker Yamaha YZ250F- Baker's best ride of the year and like Cunningham, he's probably wishing the series could keep continuing on and he can build this momentum up. The Valli Motorsports Yamaha team had Larry Brooks jump on to try and help out Travis with some video similar to that Dartfish company that I was talking about in Observations after Phoenix.
7. Zach Osborne Honda CRF 250- Zach was on the move to the front and riding well when he went down late in the main event, losing some time and a few spots. I know that Osborne has been frustrated at his results, and I think if there's one guy that has been riding better than his results show on paper, it's Zach. Still, that and five bucks get you a Latte at Starbucks. I also don't think that Zach appreciates me telling him he was better at supercross when he had a carburetor and oil tank, like the stock YZ250F has that Zach podiumed twice on last year. He could possibly try to beat me up one weekend.
8. Tyla Rattray Kawasaki KX 250F- Just another sub-par race for the South African. I bet there aren't too many guys looking forward to the break more than Tyla, who can get outdoors and get busy doing that.
9. Martin Davalos Kawasaki KX 250F- Davalos was fastest in both practices and blitzed his heat race. It was all there for "Marteen," except for the fact that he's Martin Davalos and things just never seem to go his way. He was looking awesome but at this point, his biggest obstacle to him winning is between his ears.
10. Jessy Nelson Honda CRF 250
11. Joey Savatgy KTM 250 SX-F- Savatgy was pretty good this weekend and deserved better than an eleventh. Unfortunately for him, Osborne came in and gave him a bump off the track that was a little nasty. If there's one thing that I can think of for Savatgy to build on, it's his fitness but otherwise, his future is bright. Does anyone not think he's going to be able to get a good ride for motocross if his JDR team is unable to continue?
12. Josh Cachia KTM 250 SX-F
13. Christian Craig Honda CRF 250- Craig's from nearby El Cajon, California but he couldn't repeat the magic that worked for other El Cajon legends Ron Lechien and Rick Johnson. I think Christian should get on a 450, but what do I know?
14. Jean Ramos Kawasaki KX 250F- Brazil's finest has been a fixture in the last three main events this year.  It says here he's on a Kawi but with his graphic designer taking some acid before he made Ramos' graphics, you'd never know.
15. Cole Seely Honda CRF 250- Bad night for Seely as he was forced to go to the LCQ and then he crashed in the main. Two weeks ago he was eleven points out of the lead, but after two bad races, he's facing a 43-point deficit. And that's all she wrote for his title hopes, folks.
16. Aaron Siminoe Kawasaki KX 250F- I don't know anything about this guy.
17. Chad Gores Honda CRF 250- Ditto but nice to see some privateers in there and mixing it up. You can bet that I'll be asking around about Siminoe and Gores from now on.
18. Travis Bright Honda CRF 250
19. Chris Plouffe Honda CRF 250
20. Malcolm Stewart KTM 250 SX-F- Man, my Mookie Fever was coming back big-time as Malcolm rode in fourth for most of the main event. Early on in the day it was clear that Stewart was the fastest guy in the whoops but it was also clear that him going that fast in them could bite him at any moment. And with five laps left, it did.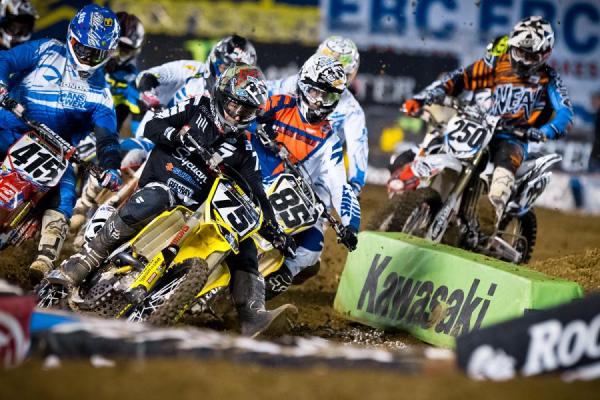 LCQ action with Hill versus Partridge.
Garth Milan photo
450SX
1. David Millsaps Suzuki RM-Z450- I haven't seen a comeback like this since Travolta in Pulp Fiction.
2. Justin Barcia Honda CRF 450-Bam did everything he could to win and pressured Millsaps for almost the entire main event. One little slip up by the 18 and the 51 would've gone by and grabbed another win. No matter how he does at the end of the year, Barcia is going to look back at Anaheim 2 and Oakland and wonder, "What if?"
3. Ryan Dungey KTM 450 SX-F- Dungey's battle with Brayton was interesting to watch. It was a case of wondering whether Ryan was off or Brayton was on. In the end, it was a hard track to move forward on due to its slickness and I'm sure Dungey was being careful out there. Hey, look who's second in the series? Yeah, that's right- it's Dungey.
4. James Stewart Suzuki RM-Z450- Stewie won the heat in a great ride and I thought that, once again, we were seeing more and more of his magic. He even admitted on the TV broadcast that he was riding during the week again which means he can start working on getting better. In the main he rode all right but didn't move forward as much as I would have thought. Can you believe he doesn't have a podium this year? What kind of world are we living in where James Stewart doesn't have a podium yet? I'm so mad at his knee, it's not even funny.
5. Chad Reed Honda CRF 450- So close…
6. Ryan Villopoto Kawasaki KX 450F- So far this year Villopoto's been the fastest qualifier three times and Stewart's captured three poles as well. Don't you think there should be an extra point for this at each race? Or maybe five points at the end of the year for the guy who qualifies the fastest the most times? I know, SUPER weird to change anything in our sport and best to just leave the points system that's been there for three decades years intact. We wouldn't want to change ANYTHING up at all. I mean, it's not like every other professional sport changes rules every once in awhile to make the competition better or anything.
7. Justin Brayton Yamaha YZ450F- Once again Brayton's finish on paper was worse than what he deserved. Justin ran fourth for a long time and had three riders with a grand total of seven supercross championships unable to really make time on him. In this game called 2013 supercross, you make one mistake and that's it. Brayton made a couple of small ones and ended up seventh but really, he was very good. He and Weigandt can build on this result going forward.
8. Trey Canard Honda CRF 450- I have a theory on Trey and it's sort of come true the last couple of weeks. It's that he gets thinking too much about what's going on out there and it wrecks his main events. He had some small crashes in practice the last two weeks and since then he hasn't looked as good as he normally does because he's mentally stressed. Trust me, the mental game of supercross is a big one and you have to be right and relaxed upstairs to make it happen when the gate drops. I think if Trey's practices don't go according to plan then it jacks him up for the rest of the night. Not sure if I'm right or not, it's just a theory I have. I bounced it off his mom in the security line on Sunday morning and while she didn't totally agree, she didn't disagree either.
9. Andrew Short Honda CRF 450- Short's still on the Kranyak Racing team but that may be coming to an end as the team doesn't have the funding to keep going. So Andrew will either be on a new team on a Honda or on a new team on another bike or by himself out of a pickup truck. Yep, he's stressed about all this, don't even ask. Still, one of four riders (Millsaps, Canard, Dungey) to put it in the top ten in all six main events this year. When I told him that fact Andrew said, "You're the only one who cares about that, Matthes." I'm not sure if that's an insult or a compliment.
10. Mike Alessi Suzuki RM-Z450- Mike battled all day and in the end, a tenth is a good result. He wasn't that good in, (where els?) the whoops, but being the racer that he is, he put in work all day long. In the main he was a ways back and worked his way up to this spot. It wasn't a good start and fade to the back type of finish- this was a good ride.
11. Broc Tickle Suzuki RM-Z450- This was not a good race for Tickle. We've literally been waiting two years for Broc to get a start in a 450 main so that we could see what he could do. Well, this weekend he started second and then, for lack of a better term, freaked out. Tickle's big test was a complete failure as he went backwards fast and appeared to be holding guys up big time out there. Broc's best to not even watch this tape. He should burn it, move on and hope that he's better this week.
12. Matthew Goerke KTM 450 SX-F- Did you know that Matt's one point out of tenth in the points? That's awesome and amazing all at the same time. I'm happy for the Butler Brothers guys, they finally dropped that dead weight of Jason Thomas and seem to be taking their program to a new level. That Truman guy also, he was nothing but trouble.
13. Matthew Lemoine Kawasaki KX 450F- Lemoine was great all day, and in the third practice he was in the top five for a long time. Whatever it was, Lemoine was very good, although a crash in the main while in tenth set him back.
14. Weston Peick Suzuki RM-Z450- After two weeks out, Peick's back into the main and back to doing well again on his privateer RMZ. In four mains Weston's got three fourteenths and a fifteenth. And he probably doesn't even care.
15. PJ Larsen Honda CRF 450- Nice ride for PJ- he might be on a 250 next week when that series starts up, or he might not. Nice reporting eh?
16. Robert Kiniry Yamaha YZ450F- Once again Kiniry crashed on the first lap and was way back on the first lap. Like, way back. So he did what any meathead would do and charged all race on a deteriorating track to sixteenth.
17. Chris Blose Yamaha YZ450F- Blose made the main last week but his bike broke and this week, he was in there again after a great heat race. Chris is a good rider and looks approximately 41 percent better on the Yamaha than he did at Anaheim 1.
18. Joshua Hill Suzuki RM-Z450- Hill's on-again-off-again Hart & Huntington career does appear to be, finally, back on again. Josh made his first main event in almost three years (where does the time go?) and sure, he looked a little winded out there but what do you expect? He'll get better, he just needs to stay on the track. On another note, I'd like to thank Carey Hart, Ricky Carmichael and Kenny Watson for the Chipotle burritos on Saturday. Heavy on the Watson part.
19. Ben LaMay Yamaha YZ450F- First main event of the year for LaMay and he earned it. He's been riding hard all season but doesn't have much to show for it. In San Diego it all came together. Like so many other guys, you have to get into the mains all the time to start getting a base down and actually focusing on results rather than getting through the mains and worrying about the blue flags and such.
20. Kyle Partridge- The whoops in San Diego were tough and gnarly and when they're like that, Kyle Partridge usually shines. Predictably, Partridge made his first main event of the year. As far as what happened to him in the main, I have to admit I have no idea.
Some more stuff from SDSX:
When Roger DeCoster went over to KTM from Suzuki it was stated by Roger that this would be his last deal and then he would retire. He would spend three years getting the KTM program up on its feet and he was out. The former World Champion and motocross legend (don't forget he guided Tim Ferry to the '97 125 East SX title as well) was going to put his feet up and kick it. But the 68-year-old has enjoyed a late career renaissance with KTM and recently renewed (for another three years) with KTM to keep the ship heading straight. And really, if Roger's up to it why wouldn't KTM want him to keep on keeping on? He's turned the program around over here and it's now a supercross and motocross powerhouse.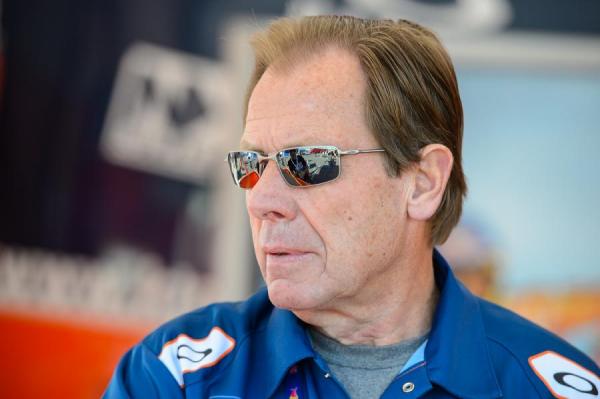 RD has turned his three-year KTM deal into a six-year stay. At least.
Simon Cudby photo
In speaking to Roger he indicated that he did indeed mean it when he said he was going to retire upon initially agreeing to guide KTM, but that it was "nice to be wanted" (IE- They threw a crap-ton of cash at me). I remarked that it was probably the opposite of what he felt like at Suzuki when they offered him a one-year deal, and he corrected me and said it was a ten-month deal at Suzuki. So KTM and Roger are clearly both happy and nothing changes under the orange tent for the next three years.
In talking to Roger about the air shock failure on Dungey's bike last week he said that they were able to go out to the test track this week and duplicate the failure. DeCoster mentioned that they hadn't had an issue all year but that at a certain RPM the harmonics of the bike caused a seal to fail. A little less RPM's or a little more RPM's and there were no problems. It was that one specific pitch and vibration that made the seal go bad and let the air out. Roger said that they're working on sourcing out a better seal and that he does think the air shock will make a return on the back of Dungey's KTM450SXF.
If anyone reading this needs a mechanic for their team, you'd be wise to consider Nate Alexander who was Andrew Short's mechanic on the L&MC Honda team. Alexander's been out of work for a while now and I hear he's working at a KFC. Seriously. Email me at matthes@racerxonline.com if you're looking for a good guy and hard worker, and I'll forward the word on.
As we all know Justin Barcia is working with Jeff Stanton this year and because of Barcia's up and down results, it looks like Stanton is going to be at a lot more races than anticipated. I was talking to someone close to Justin and they were saying that the loss of Erik Kehoe at Honda was bigger than they thought it would be for Barcia. Kehoe, as we've talked about here and there, was locked into a salary dispute with Honda and although everyone seemed to think it was only a matter of time before he came back, it now seems that he indeed is not coming back to the red riders. And Barcia really likes to have that ex-racer (like Kehoe was) type of guy to give him advice and help him out. Hence, the increased role for Stanton. Not sure what's going on at Honda with Kehoe not coming back but for Barcia, Canard and the guys that are there that worked alongside him for years, they all say it's a big loss.
Some injury notes. Jake Weimer is week-to-week with a rib injury, Josh Grant is the same with ankle and shoulder problems, Kyle Chisholm crashed in practice and was out of the night with a concussion but should be back for Dallas and Jake Canada is still dealing with the effects of a blow to the head a few weeks back and didn't race.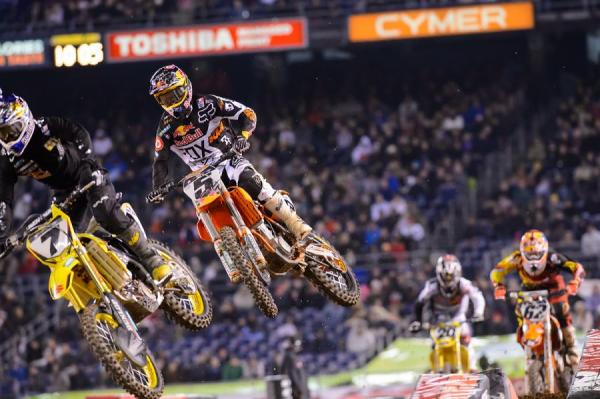 His season didn't look good early, but just like that Dungey is second in points.
Simon Cudby photo
I don't get this Kranyak Racing deal and I hope I'm not the only one. Mike Kranyak has had a team for a number of years and even won a couple of supercross titles with James Stewart and Chad Reed. But the San Manuel Casino money dried up so Kranyak teamed up with Jeff Ward last year for a team that seemed like a good operation from the outside looking in. They even signed Dean Wilson for 2013. Well we know how that turned out but the team did pick up Josh Hansen (who brought some sponsors with him) for this year. Then they showed up at Anaheim out of a sprinter van and things again looked bleak. But then they were back with a semi but with no logos on it. No sponsors or anything, just all blue. So that was weird, and it seemed that the team didn't have much backing. But the same crew remained and despite Kawasaki backing for Hansen, the team next showed up with Andrew Short and his Honda. Hansen's been "sick," but in reality he's been fired or quit but no worries, Shorty's been riding great and getting his expenses paid by the team. But again, the team has no logos on the truck or crew shirts or anything. Mike, out of the kindness of his heart, is supporting his guys and Andrew at the races. But yet there doesn't appear to be the cash there to head out east and put Short in the truck, as Mike doesn't want to lay out the money himself, and I get that. But it's the dipping your toe into the water and not diving in that confuses me. Why bother at all if you're going to sort of have a team with Hansen and then Short? While I think it's awesome, I'm confused by the intentions of Kranyak. What's going on here? Is there a team here or not? I'm not judging one way or another but I am scratching my head here like a lot of other people.
Vince Friese didn't make the main but it wasn't for a lack of "Friese-ing" out there in the LCQ. First he came underneath Jimmy Albertson and rode him hard outside the berm. While not dirty, it was certainly pushing it. A lap later it was Kevin Rookstool's turn as Vince tried the same move in another turn but this time both guys went down. I didn't see it but with Vince, you know it was controversial. The proof that it wasn't a good move? Friese went down as well. Not smart.
Funny moment in track walk when I asked Tony Alessi what the hot gate was while nearby, James Stewart was checking out the gates. Once Tony informed me that it was fourth gate from the center, I passed this on to Stewie, but he said he was starting on the inside gate and smiled. Clearly a reader of Observations!
Thanks for reading, shoot me an email at matthes@racerxonline.com and we can chat.