BTO Sports is your number one source for all of your motocross parts, gear, accessories and apparel. BTOSports.com is a motocross company who is truly dedicated to the sport and to the customer. Proud sponsor of your Racer X Podcasts and the BTO Sports/BBMX Suzuki race team.
In thirty years, the Bercy Supercross has produced some memorable moments. Just about everyone who is anyone in this sport has raced Bercy over its 30 years (unless your name is Ryan, as neither Dungey nor Villopoto have raced here), and this year, while there were no "superstars" present, there were still some up and coming American racers who will soon be standing on a 450SX podium near you.
By the way, I can now say, "450SX," because for 2013, the powers that be in Monster Energy Supercross have erased the class names of, "Supercross," for 450s and, "Lites," for 250s. Now we can call them, "450SX" and "250SX," which does, you know, make PERFECT sense. It's taken a while now to make the decision to change from the insane names of Supercross and Lites but hey, a wrong has been righted and I'm happy about this. Steve Whitelock, who in my opinion was perhaps the worst thing to happen to the sport in the last twenty years, instituted these new rules during his reign of terror years ago and as soon as MX Sports Pro Racing got control of the motocross series they changed the class names. Feld Motorsports waited a few years, but now, it's done. And thank you because I was getting tired of saying "Ryan Dungey races the supercross class at the Supercross" and then have to explain a "Who's On First" thing to someone who was new to the sport.
Anyway, back to Bercy. As always, the track was tight and tricky, but for the first time since I've been going there, the dirt got pretty hard and slick. Generally speaking, the exposure to the heat in the arena causes the dirt to harden up over the course of the weekend, but this year, even on Friday it was pretty hard and slick in spots. There definitely were some ruts- the finish line approach was gnarly- but if you closed one eye, it could remind you of Carlsbad a bit. Okay, maybe I'm exaggerating a tad but you get what I mean.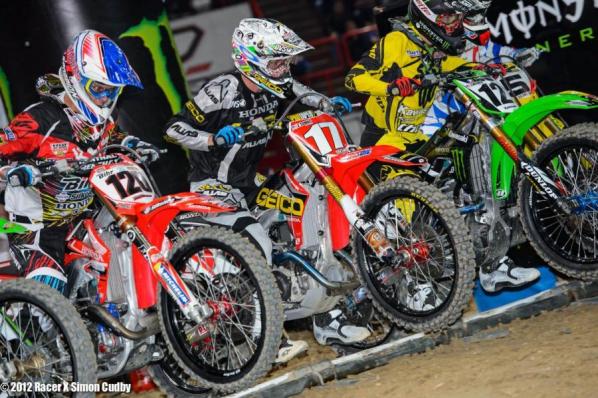 Another good one added to Bercy history.
Cudby photo
Jake Weimer, Wil Hahn, Eli Tomac, Kyle Chisholm and Justin Brayton made up the American group of the 450 Class. You'd be hard-pressed to find a more normal group of racers. These guys are pretty low-drama, and aren't really ones to cause waves and it showed. Weimer and Tomac were pretty equal in speed but never once had any issues. All the guys got along great and the cool part of Bercy is that the American riders all hang out together, eat dinner together, and visit each other's pits. Normally, they would be secluded in semi trucks or surrounded by their entourages, but here,  the good times usually roll (thanks to Kawasaki for that slogan).
Last year, which was Jake Weimer's first time at Bercy. He was pretty fast but also inconsistent. Bercy's program is a little unique in that there are elimination races, a Superpole contest, heat races and a main event. Then repeat that three times! On a tight, 42-second track with sections where you're hauling ass pretty close to a concrete wall, it's a little unnerving at times. Last year, Weimer won a main event but also crashed out in a main event.
This year, Weimer was terrific right from the start of Friday's first practice. Jake ended up winning the King of Bercy title with 1-1-2 main event finishes and although it was close at the end of one main, he earned it.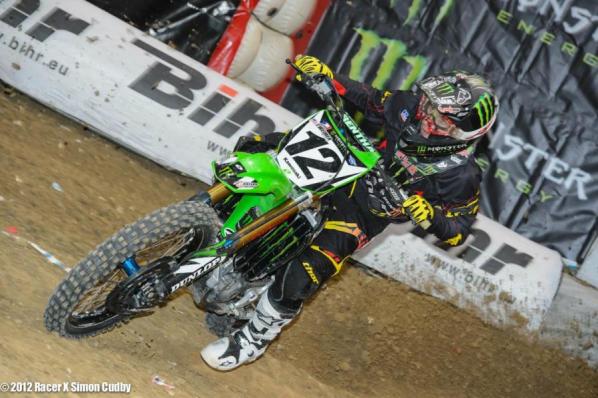 Weimer learned from his 2011 Bercy experience and delivered in 2012.
Cudby photo
Late in the last main event, Weimer was all alone in second when he washed the front end out. This allowed Brayton to get by for second and at this moment, it was Tomac who was going to be KOB (King of Bercy). I really thought that was it. I didn't think that there was any way that Weimer could catch and pass Brayton with three laps left. But a couple of things happened that benefitted Weimer. One is that the bike kept running and two is that Brayton jacked up the next rhythm lane badly, allowing Weimer to make up a good portion of the time he lost. In a nice move and some clutch riding by Jake the Snake, he made the pass on Brayton after the finish line, got second back and with it, the KOB title was his.
Does this mean anything for Weimer for 2013? Is this an indictor that he could break through next year and you should immediately enter Weimer as your number one pick in fantasy moto next year? Well he did ride great but with the season still a ways off and none of the big four racing at Bercy, I'm not sure we can take anything  from Weimer's performance, besides the fact that we already knew he was fast. Tomac, Brayton and Chisholm are all great riders but he's already in their class or better as we saw in 2012.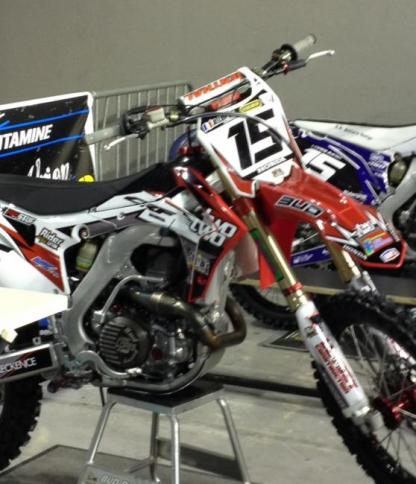 Spotted in the pits: Timmy is riding for Reedy?
Matthes photo
Last year Tomac went into the final main event in a winner-take-all scenario with Chisholm and in the end, ended up third to Chisholm's second and therefore second overall on the weekend. And this weekend he was in another scenario like that where he had to win on Sunday to claim the KOB title. But unlike last year, he needed Weimer to get third or worse. Tomac took care of business with a dominating win on Sunday and almost became the newest KOB, but Weimer was Clutchy McClutch.
That's two years in a row that Tomac's been second at Bercy and two years in a row that he's been really fast. On a factory Honda 450, Eli showed he's as equal to Weimer as it could get. With Justin Barcia bowing out of Genoa SX last weekend, Tomac jumped in as a replacement. Factory Honda had already shipped a bike for Barcia, so Tomac hopped on it. But Honda might just regret giving Eli that taste of greatness. Tomac badly wants to ride a 450 on the other coast (he's definitely going to race the 250 West series with his number 1 plate), and at the Nationals. Some races on one of the trickest bikes in the pits is sure to make him want it all that much more.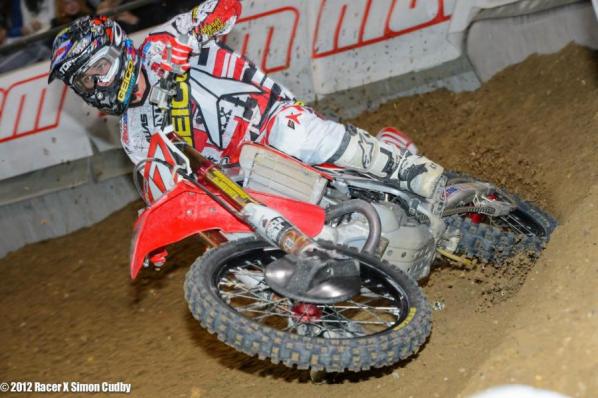 Tomac really likes that factory 450. Really, really.
Cudby photo
So with Tomac's contract up at the end of this year and Honda not wanting to lose him, maybe they let Eli race the 450 indoors (on the East Coast) and out. Or maybe they play hardball, get him mad and lose him for nothing? Don't count on the latter; Tomac's going to be riding Hondas for a long time. You only get so many chances at the 250 crown so if I'm him, I give the 250MX title another try. It wasn't like Blake Baggett, the champion, was much better than him. Yes, Tomac is worried about being too big for the bike and not getting the start, but his average start was only three spots worse than Baggett's and he led the second-most laps in the series. He can win the 250s, no doubt about it, but I'm not sure he can win the 450s. Why not stay as long as you have to in the 250 Class? The championship plaque would look pretty good on the mantle (as would the financial terms of staying another year) when it's all said and done.
Interesting to note that had Bercy stuck to its way of tabulating the King of Bercy that they've used the last few years, Tomac would've won the KOB title. In years past, they've tabulated every single elimination race, Superpole and main event in determining who would be King and with Weimer's fourteenth one night in Superpole (he crashed), Tomac would've won it.
One of the more bizarre things I've seen was Tomac picking up a nail out on the track not once but twice! He got one nail right in the hole in his tear-offs. Yes, a nail got shot up at him and went right into the hole, that is the exact size of a nail, flapping in the breeze on the tear off. You read that right. Attached is a photo of the nail: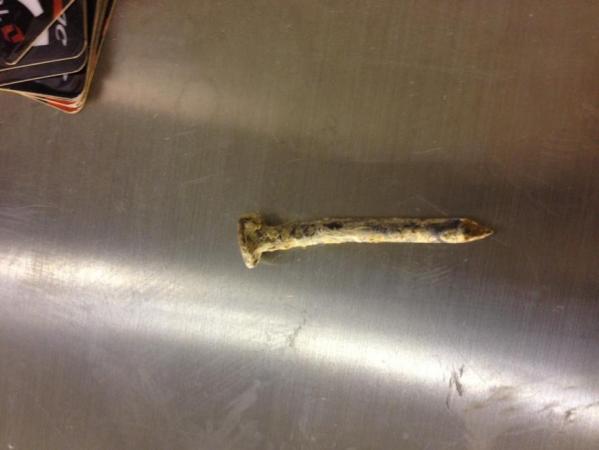 Tomac seriously got this nail caught in the nail-sized tearoff hole in his goggles.
Matthes photo
And right after that, Tomac picked up a nail in his tire that caused him to finish last in the last elimination race. I can see the Cycle News headline now: "Tomac gets Nailed in Bercy!"
Justin Brayton's back on a JGR Yamaha after a year away on a factory Honda and he's sort of like the new Larry Ward of Europe. I know he bristles at that comparison but it's somewhat true. Brayton's won a lot of races in Europe over the years and generally hauls butt, win or lose, much like Larry did for so many years. Brayton's won Bercy before and gave James Stewart a nice run for his money in doing so. He  won last weekend in Genoa, Italy, so clearly, he's feeling fine on the new (old) Yamaha.
At Bercy, it was a good news/bad news sort of thing with Brayton. The good news is he was third overall at the end of the weekend, the bad news is that he wasn't ready to challenge Weimer or Tomac at any point. Those two simply passed or pulled away from JB (and sometimes, both). I thought Brayton's whoop speed was pretty good. He didn't carry the most speed into them but he never got out of shape in them either, while most everyone else did at one point or another.
Interesting to hear from talking to Brayton that he left JGR for Honda because it was his dream to ride for Factory Honda and he couldn't turn them down. He also learned at the end of it that no bike can make the difference between winning or not. While the team and bike were great, he learned that it wasn't the magic button or the one thing to push him to a new level. Honest talk from a rider for sure. Remember this when you read, "I'm X seconds a lap faster on my new bike," from a rider in an interview this off-season.
The defending King of Bercy Kyle Chisholm hurt his ankle/foot on Sunday during the elimination races and was forced to sit out the rest of the day. Prior to that, he had gone 4-4 in the two previous main events. Last year, Chisholm was the equal to Weimer and Tomac and ended up beating them in the overall, but this year, he wasn't on their level. So what happened? Did Chiz get slower or did Weimer and Tomac get faster? I think a little bit of both. Kyle's team, JWR, is slowly ending and that has to be affecting his program a bit. Weimer and Tomac brought full works bikes and let's face it, that had to help out a bit. Kyle rode well but just like his season in the USA, he was never up there off the start and that hurt him.
The thing with this race was the practice times determined your gate pick for the heat race, that position decided where you would start for the elimination races and then your position in those races got you your gate pick for the main. It was one constant battle to do well each and every time you were on the track. And with the tight track and even tighter first turn, gate position was key.
Speaking of key, I happened to be standing around when Paul Malin, the commentator for the race on MX Life, needed someone to be his color guy so all three nights I got to sit in and try to sound smart. There were a few different guests from time to time sitting in with Paul but I can guarantee you that none of them brought up Tim Ferry, Manitoba titles, Malin's '94 MXDN win and Kurt Nicoll's freestyle skills.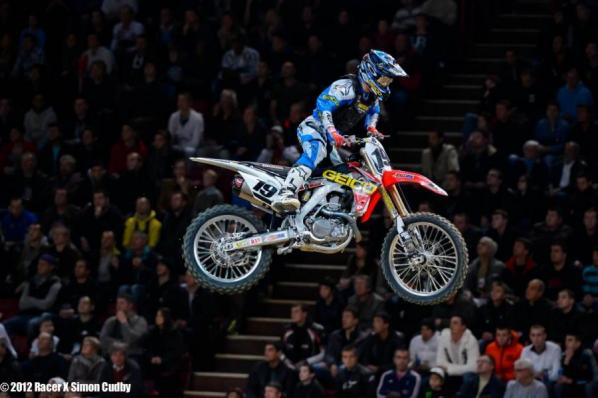 Hahn learned the ropes of international racing. Meanwhile, you can learn the new national numbers.
Cudby photo
GEICO Honda's Wil Hahn was there on a 450 and amazingly enough, Hahn had never been outside the USA in his life. And yes he'd been to Toronto for the SX but I'm not counting that. Weird right? Anyway, Wilbur did okay. With the time change, the three nights of racing and all that, Bercy can confuse the senses. He was a tick off the top guys but was able to slice through the pack of Europeans pretty well all weekend long. Remember last year, Hahn filled in on the factory Honda 450 when they needed someone and he did a decent job. That, and Bercy, are all experience logged for his future career.
I hadn't seen Christophe Pourcel race since Freestone 2011 when he pulled off the track on his MotoConcepts Yamaha and never raced again in the USA. Ironically enough, MotoConcepts owner Mike Genova was at Bercy for a night. He was in town for a hot tub convention. I swear I didn't make that up. Anyways, the enigmatic Pourcel had a great first half of the GP season and then a poor second half to end up fourth overall in the MX1 class. He then left his team/got fired and picked up KTMs. He was at Bercy and was really a shell of his former self. His bikes were stolen from his house a week or so ago so it's hard to say if the bike he rode at Bercy was his race bike. It appeared to have a stock exhaust and some suspension work, but mostly it looked like a production bike.
And he would literally put in one lap in each practice to pull him inside the top five, and he did manage to win a heat on Saturday, but for the most part, he wasn't who he used to be. Not sure what's going on with CP377. We didn't get much of a chance to see him as he crashed on Saturday and that ended his weekend. It wasn't a performance that you could write home about (ninth in the one main he completed) that's for sure. His next move, once he recovers, is to head to Florida and perhaps he'll race again, but I'm not sure he'll ever make it back to where his talent level indicates he should be.
They had a 250 class for the first time in years at Bercy and it was filled with French riders and Tyler Villopoto, who was making his Bercy debut. TV was slow in the practices, but he turned it on for the races once some bike changes were made. Tyler went 2-4-2 and was looking good in second place in his fourth race when he crashed hard in the tunnels. That was it for Tyler; a bad knee forced him out for the rest of the weekend. The winner of the Prince of Bercy was Josse Sallefranque, who went 3-1-1-2-2-5 and benefitted from Villopoto and favorite Valatine Teillet crashing out. You've got to finish to win and Josse did just that.
All in all, I drank a lot of coffee, had some great laughs with some good guys, had some good conversations with John Tomac that really taught me a lot, hung out with JMB and Paul Malin, ate some terrific pizza on Sunday night, had Justin Brayton buy me two meals, hired and fired Wil Hahn for "my team" and cut my finger open putting on Hahn's backgrounds. Oh yeah, there was some great racing as well but that's not what I'm going to take away from Bercy- it's really about everything but the racing.