Hello, everyone, and welcome to the Rev Up. We're already halfway through November and the new year will be here quicker than you can say, "holeshot." In fact, when you look at the upcoming 41st Annual Thor Winter Olympics at Gatorback Cycle Park, things already look like 2013. Thousands of kids will be traveling from all over America, and 95 percent of them have long been riding and racing their '13 mounts. Most will be debuting their new gear and making first appearances in respective new age classification and bike classes. It's a very exciting experience as a kid, and I competed in my first event with my family way back in 1987. Some of my favorite motocross memories are from the Mini O's, as they were called.

Back then there were four events: TT, Supercross, Motocross, and Grand Prix. It was the most dynamic event of the year and winning the coveted Bronze Boot was, to me, right up there with a Loretta Lynn's title. It was a lot to cram into one week of racing and at times the schedule was chaotic as hell. The activities off the track were similarly busy, with the Thanksgiving Feast being the highlight. John Ayers from GEAR and SCOTT's Bevi Forti emceed years of fun for motocross families. From tug-o-war, to volleyball, to the ill-fated Gong Show, we used to run around in the evening Florida humidity like wild Indians. Wow, they even had a "run to your bike" start for the Grand Prix finale. That remains the gnarliest thing I've ever done in motocross. The GP course ran through the entire Gatorback motocross circuit, then the trecherous Christmas Tree Forrest, thru the Supercross track, and out into the huge grass field and back around.

Today they just do supercross and motocross, which is probably better. The level of competition has grown and it's one of the only times of the year an amateur gets to ride a supercross-style track. Same as always, there will be guys that excel at supy, then others will bring the heat on Gatorback. If an amateur racer wants to win the Pro Circuit Platinum Pipe, the Thor Copper Helmet, the SCOTT Golden Goggles, the Dunlop Silver Tire, or the Fox Bronze Boot, he needs to be salty at both. I never liked the supercross track so much because it got so rough and choppy. If you had a moto late in the day, the bottom of the ruts would be well into the white lime rock under the clay. They have more time to groom the track now, but it'll still get worked. But so do the supercross tracks inside Anaheim that some of the lucky ones will see soon.That supercross-style track was tough, which makes it just like the real deal.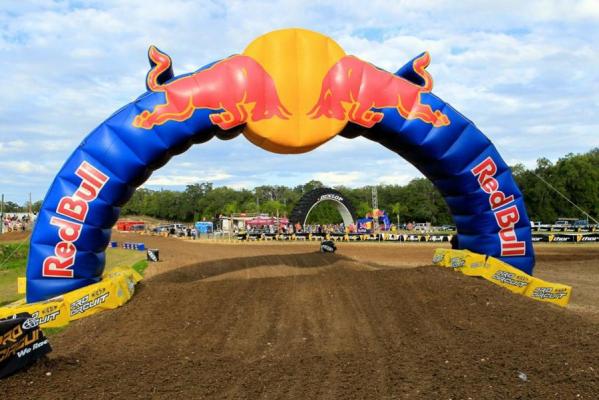 Action from the 41st annual Winter National Olympics kicks off next week.
Rob Koy photo
On the other hand, I loved Gatorback. The high speed drop offs, sweeping corners, and huge jumps fit my style and I was my fastest there. I wish they still had a national there, because it still is a national caliber beast. We will see some intense racing as the "motocross" portion of the event begin this time next week.

I remember some riders came all the way from California, and we were intimidated by anyone that would drive twice as far as we did to race. "They must be fast," I thought. Its funny how the little things intimidate young motocrossers. Seeing high speed scratches on a kid's helmet, guys riding with their sleeves rolled up, or a crazy sounding name like Ezra Lusk, or Gregory "Golden" Rand always got me. Three digit guys even tripped me out. #167, #511, and #298 just seemed like scary fast numbers. They also were from weird towns like Baton Rouge, Louisiana, and Bainbridge, Georgia. I was Andy Bowyer #77 from Kansas. How vanilla was that? Man, I miss those young days so much. It's only like that once for a motocrosser.

My favorite aspect was the family element. Our first trip was one of the coolest for the Bowyer family. We went to Sea World, and saw the ocean for the first time when Pops drove us to see Daytona Speedway. All we wanted to do was leave and build a double jump on the packed sand of Daytona Beach for our BMX bikes. I remember driving home with cuts and bruises from head to toe. Some from the track, some from the pits. More than a few lime rock stained scratches on my helmet. Brought home big trophies a couple times, too.

That's what it is all about. A great family bonding event, but pure competition is its heartbeat. The racers driving all the way from California aren't there for fun. Those entered are the best in the country and this is one of only a handful of chances a year to show it. For some it is the first time. It is the victory, failure, and pain on the race track that bonds racing families and friends forever. Showing up to the Turkey Feast when you're winning is the best way to go. All of it begins this Sunday and I want to wish all of the families safe travel and safe racing.

Thanks for reading, see you next week.