by
Eric Johnson
Great Races: Jeff Stanton and the 1991 Motocross des Nations
Tuesday, September 18, 2012 | 9:40 AM
Tweet
With the 2012 Motocross of Nations hosted on a rough sand track in Lommel, Belgium, we are reaching into the Racer X Illustrated Archives for Eric Johnson's story of a very similar 'Nations affair from over 20 years ago. Witness the drama and pressure that are always flowing through this race, and you'll be all pumped up for Lommel this year!
Here's EJ's story from 10 years ago, covering a race that had taken place 10 years before that:
This Sunday in Holland, the FIM World Motocross Championship series will embark on its forty-first consecutive season. The opening round of the 2002 tour of Europe will take place at the fabled Eurocircuit in Valkenswaard. Based in the sandy north of the Netherlands, the Eurocircuit—beginning with a 125cc World Championship round in 1974 won by Sylvain Geboers on a Suzuki—has staged exactly seventeen Grand Prix events. However, to most Americans who keep an eye on motocross history, Valkenswaard is best remembered as the site of the 1991 Motocross des Nations, in particular for the performance of one U.S. rider on its sinister, cocoa-brown sand. It was there that Team USA—Jeff Stanton, Damon Bradshaw, and Mike Kiedrowski—in a full-on cliffhanger, won a race for the ages.
In 1981, a young American team consisting of Johnny O'Mara, Donnie Hansen, Danny LaPorte, and Chuck Sun showed up in Lommel, Belgium, for the Trophee des Nations (as it was then called). After a two-year absence, Team USA was once again participating in the Olympics of motocross. As the format then dictated, the American foursome rode their blood-red works Honda 250s to a stunning upset over the heavily favored Belgian team (Andre Vromans, Harry Everts, Eric Geboers, and Marc Velkeneers). To a certain extent, that day marked the emergence of America as a motocross world superpower. For the next nine years, Team USA failed to lose the Motocross des Nations.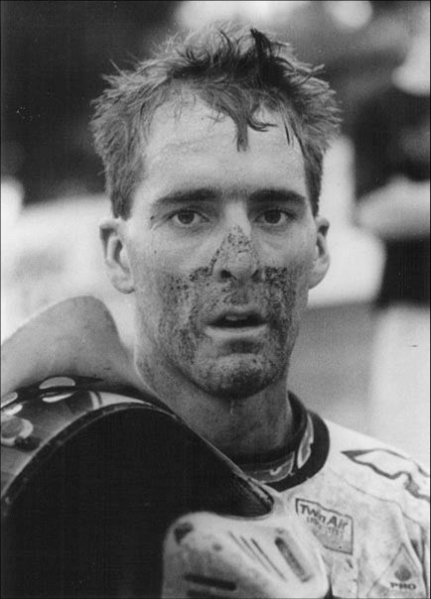 Jeff Stanton returned to the 1991 USA MXdN team one year after winning in Sweden.
Thom Veety photo
On Sunday, September 16, 1990 in Vimmerby, Sweden, Jeff Ward, Jeff Stanton, and Damon Bradshaw dodged a bullet when they won the Motocross des Nations over Team Belgium by a single point. In fact, if not for an epic ride by Jeff Stanton on the whooped-out sand of Vimmerby, it would have been all over with (Stanton, who tangled with a Russian rider at the start of the third and final moto, came from way, way back to place second). Smelling blood and tired of getting their asses kicked for a over a decade, the FIM went looking for another sand circuit to host the 1991 event. Knowing that the Americans were out of their element in the silica, they chose the rough-and-tumble Eurocircuit in Valkenswaard, Holland (for the first time ever) to promote and produce the storied event.
If you drive along the border of northwest Belgium and southern Holland, you'll come across the epicenter of European motocross. For it's here, smack in the middle of the Low Countries, that the notorious sand circuits of Lommel, Mol, Genk, Oss, and Valkenswaard reside. It is on these tracks that riders such as Stefan Everts, Marnicq Bervoets, and Joel Smets honed their amazing sandcraft. And to drag contemporary motocross into it, Grant Langston and Chad Reed - both now superstars in America - based their Grand Prix headquarters on the outskirts of Lommel, where they rode and trained in the deep sand day after dreary day.
Heading toward the Dutch border, Team USA drove - as fate would have it - right through Lommel. Coming full-circle, Jeff Stanton, Damon Bradshaw and Mike Kiedrowski - who were chosen to represent Team USA in Holland - headed toward their destiny of defending America's decade-long win streak.
The sand-loving Dutch and Belgians were at their battle stations and waiting.
"I think the U.S riders are not much faster this year," said recently crowned 125cc World Champion Stefan Everts, whose father, Harry, was on the losing Belgian effort at Lommel in 1981. "They will have to fight very hard for a Motocross des Nations win against Belgium." He was teamed with Marnicq Bervoets - who was rapidly coming into his own as a world class rider - and a revenge-seeking Dirk Geukens.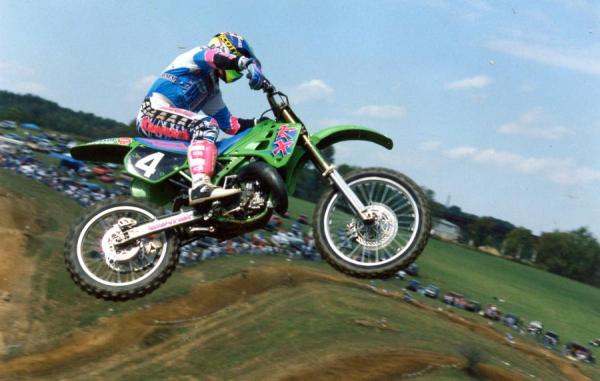 Kiedrowski at Steel City early in the 1991 season. He was chosen to represent Team USA later that year in Valkenswaard.
Thom Veety photo
The year before in Sweden, Stanton, in his frenzied charge to the front of the field in the high-drama final moto, intentionally "parked" the 500cc rider, sending him and the Belgian team's hopes headfirst into the sand. Nobody in Belgium had forgotten about it. Meanwhile, just across the pit area, Team Holland was poised to send out Gert-Jan van Doorn (500cc), Edwin Evertsen (250cc), and the sensational Pedro Tragter (125cc).
Beneath slate gray skies in Valkenswaard, an epic crowd of over 30,000 fans - many of them Belgian - rolled into the Eurocircuit to see if the men from the Low Countries could finally hand it to the Yanks. As the time to launch the first moto approached, the tension and excitement had reached fever pitch levels.
"The Dutch had a very underrated squad," offered lauded British journalist Jack Burnicle, who covered the event for a host of publications across the globe. "Gerrit Wolsink, the fabled five-time winner of the Carlsbad 500cc USGP, had chosen a young team of Pedro Tragter, Edwin Evertsen on the 250, and the wonderful Ger-Jan van Doorn on the 500. Belgium had a tremendous team with Stefan Everts on a 125, Marnicq Bervoets on the 250, and Dirk Geukens on the 500. Everyone there was just waiting to see what they could do to the Americans."
When the gate thumped into the sand to launch the opening 500cc/125cc moto, it was Marcus Hansson of Sweden out front and pulling away. For six laps, Hansson held the point; Stanton, who had passed a man a lap, then flew by the Swede. From there, the Michigan rider bashed out lap after lap, taking the win some 35 seconds clear of Hansson and Van Doorn. Meanwhile, the 125cc machines, screaming across the sticky, brown sand, scrambled for whatever places they could. When the checkered flag flew, it was Everts with the win (earning a sixth-place on-track position), followed by Tragter, Germany's Pit Beirer and Kiedrowski (who had come from twenty-second place).
Moto two brought out the 250cc and 125cc bikes. On the opening lap it was Finland's Pekka Vehkonen running away from Bradshaw, Alex Puzar (Italy), Peter Johansson (Sweden), and Marnicq Bervoets. Ten minutes into the moto, Bradshaw shoved his way past Vehkonen, as did Bervoets. The battle was on: the tough-talking American against the demure Belgian. Bradshaw held station ahead of the blazingly fast Bervoets, but with three laps remaining, Bervoets - then considered the best sand rider in the world - went by the Tar Heel to take the moto win. In the eighth-liter class, Everts completed a Belgian sweep, taking the measure of Kiedrowski and Tragter.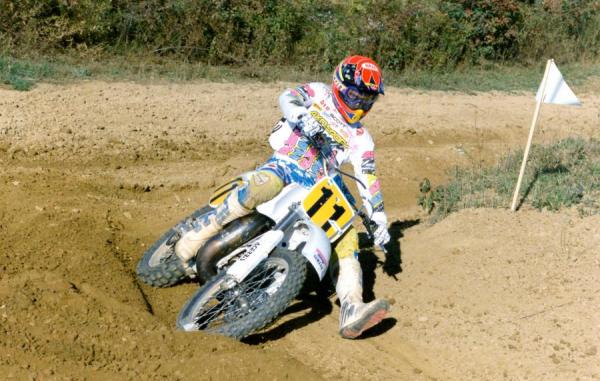 Damon Bradshaw, also at Steel City in 1991, was the third memeber of Team USA.
Thom Veety photo
The massive crowd got what it had come for: a third-moto showdown for global bragging rights. With one heat remaining, it was Team Belgium in the lead with eight points, Team USA in second with nine points, and Team Holland, third with 13.
Says Burnicle: "By the time the third moto came around, the conditions were terrible. The black Valkenswaard sand was heavy and wet and sticking to everything. The skies were so dark that the venue had this otherworldly feel to it that was so dramatic. The atmosphere was electric as over 30,000 rabid Dutch and Belgian fans awaited the final drama."
Then it was on.
Once again, it was Marcus Hansson with the holeshot. However, three turns in, a large and collective groan went up as Belgian Geukens, the weak link of the Belgian effort, bailed—and somehow managed to take Bervoets with him! It was over for the Belgians. However, all was not well for the American effort either, as Stanton had also crashed. Picking himself up, he frantically kicked the big Honda 500 to life and took off like a wild man.
Bradshaw was tenth. The Dutch crowd went berserk as van Doorn ran in third and Evertsen had gone by Bradshaw. Stanton, back in twentieth, kept blasting through the sand. A few laps later, Evertsen was up to third and van Doorn (who had recovered well from a small miscue) was fourth and leading the 500cc Class. The Dutch now held the lead of the 1991 Motocross des Nations!
As the race boiled down to the halfway mark, the skies darkened and rain began to fall. Back in ninth and 30 seconds adrift of van Doorn, Stanton kept coming.
"I fell down on the first lap and my bike was all tweaked, the handlebars bent, and I'm last and I said to myself, 'Oh God, here we go, this is not good!,'" Stanton recalls. "So I just got up and knew I had forty minutes and just started picking guys off. Every time I would pass the mechanics' area I would see all the Americans with droopy faces, but I kept going and next thing I know I'm passing Bradshaw."
Roy Janson, a principal at AMA Pro Racing at the time, was trackside that day as part of the American effort. Says Janson,  "Jeff Stanton rode that last moto with the entire weight of the U.S. team, U.S. motocross, and what American motocross stood for upon his shoulders. All through the moto we had written our chances off, but Stanton kept going and going, and at the very, very end, I remember thinking, My God, we're going to win this thing!"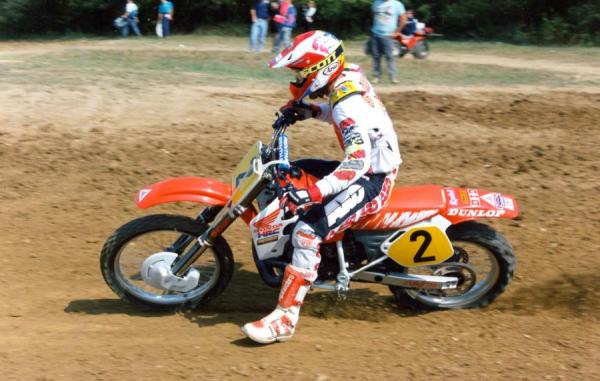 Jeff Staton (at Steel City in 1991) carried the weight of Team USA later in the year at Valkenswaard.
Thom Veety photo
Valkenswaard had become a survival-of-the-fittest affair, and nobody that day was fitter than Stanton. With two laps to go, he appeared through the blinding roost ahead of Soren Motensen (Denmark) and Hansson. On the verge of victory, he set out after 500cc Class leader van Doorn.
"I remember thinking, This bastard's going to win it for them again!" laughed Burnicle. "I remember Gert-Jan van Doorn had the face of a haunted man. He knew Stanton was coming for him and his face had this expression of agony and anguish. He knew Stanton was going to get him." And he did. Halfway around the final lap, Stanton and his growling Honda passed the Dutchman like he was standing still. It was over. Team USA had won the Motocross des Nations, pushing the win streak to eleven. Through Jeff Stanton's heroic effort, Team USA had played in the Dutch and Belgian sand trap and kept a firm grasp on the Peter Chamberlain Trophy.
"I just kept picking it up," said Stanton, who is Justin Barcia's trainer. "I could see the enthusiasm on Bevo Forti's face more than anybody. He and everyone else was screaming and urging me to keep going. Then, with only minutes to go, all the Americans are going ballistic, so at that point, Dan [Betley] had on the board who I had to pass. And sure enough, that's what I did."
Share this article:
Did you like this article?
Check out MOTO GIFT GUIDE
in our Latest issue of Racer X available now.

Our annual gift guide has something (or maybe even a few somethings) for everyone on your holiday list. Page 146.
Look for the verified symbol
The Conversation