Angel Stadium
Anaheim

,

CA
Anaheim II (A2)
Monster Energy AMA Supercross Championship
By Chase Stallo and Aaron Hansel
10. Two Timing
Nobody thought it would happen, but it did: four winners in four races. Who will become the first multiple race-winner of the year? Villopoto and Dungey are both due, but James Stewart seems to have gotten his groove back, and you know Reed is always going to be in the mix too. Of course, you can't count out the possibility of someone like Kevin Windham, Andrew Short, or Jake Weimer stepping up for a win, either. Four winners in four races is cool, but not as cool as five winners in five races!
9. One Way or Another
With the Western Regional SX Lites series nearly half over, Eli Tomac holds a fifteen-point lead over Dean Wilson. While that's a sizable lead, A2 is still a critical race for Tomac. A win tomorrow night means that Tomac can finish in second for the rest of the year and still take the title, while a poor finish from the GEICO Powersports Honda rider is exactly what his competition needs to get back into the championship race. On the other side of the spectrum Wilson no longer has the luxury of having an "off night," or a bad round. He is now faced with having to shut down the hottest rider in the Lites class if he wants to challenge for his first career Lites SX title. Has time run out on Wilson's championship hopes?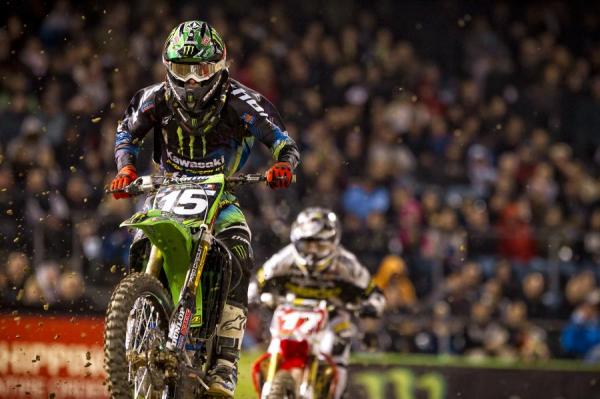 Can Wilson overcome a 15 point deficit and challenge Tomac for the Lites West title?
Photo: Garth Milan
8. Speed's Curse
So far, the fastest qualifier has not won a supercross main event. In fact, Villopoto has been the fastest qualifier at every single race, except A1, where he was victorious. Will A2's fastest qualifier break the trend?
7. Moss Flows, Momentum Grows
Matt Moss is surging right now. After an eleventh place at A1 and a DNQ in Phoenix, he pulled an eighth in L.A. and a fifth in Oakland. If he keeps improving at this rate, he'll be on the box tomorrow night.
6. A Bid Farewell
It's rare to see one of the hottest riders of any class leave one series to follow a championship in another. But that is exactly what Zach Osborne is doing. Honoring his contract to contest the 2012 GP series, the Virginia native, who is coming off back to back podiums and currently sits third in points, is heading to Club MX in South Carolina to begin preparations for the 2012 GP season. But Osborne accomplished what he came here to do: open the eyes of the industry, before he makes his full return to the States in 2013. Somewhere Steve Matthes is weeping heavily into a pillow.
5. The Heat is On
By now the four winners in four races on four different brands has gotten more play than a high school prom after party. With KTM, Yamaha, Kawasaki and Honda taking the podium hostage, the heat is squarely on the shoulders of Suzuki to begin producing, and more specifically, Brett Metcalfe. After a tough start to the season Metcalfe looked to have gained momentum after a fifth in L.A., but it was quickly rendered back with a 14th in Oakland. Can Metcalfe bounce back in Anaheim and bring Suzuki its first podium appearance of the season?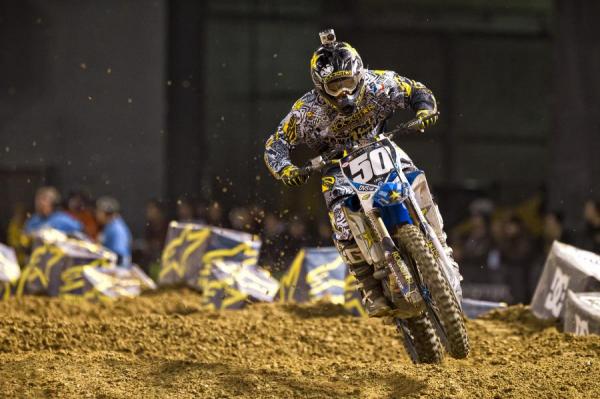 Can Nico Izzi find a start in A2 and challange for a spot on the podium?
Photo: Garth Milan
4. Back in the Mix
Monster Energy Kawasakis Jake Weimer has shown he can run with the big boys. After his first career podium in Phoenix, Weimer settled in to the top spot in L.A., sending a resounding message to the leaders that they have company. But the Weimer bandwagon grinded to a halt when he and James Stewart came together, giving Weimer his worst finish of the season. Things continued to go south for the Idaho native in Oakland as he failed to make a real play at a top five finish. Can Weimer regain his form in Anaheim and continue to play devils advocate to the "four winners in four races?"
3. Ride for Show, Start for Dough
You may not have noticed, but Rockstar Energy Star-Valli Yamahas Nico Izzi is starting to regain the form that made him a prized amateur prospect. The reason you may not have noticed is because Izzi has failed to produce a good start all season. Instead he has been forced to make waves coming through the pack. In Oakland Izzi rounded the first lap in 16th but was able to fight his way into seventh before the night was over. In L.A. Izzi rounded the first lap in 19th and finished 11th. At A1 Izzi worked his way up to 12th after starting 16th. Can Izzi finally nail down a start in Anaheim and challenge for a spot on the podium?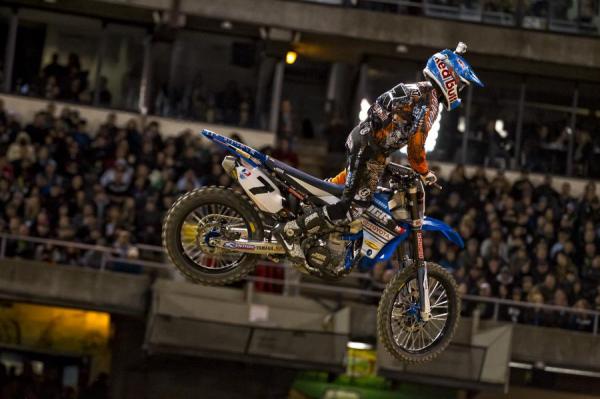 Can Stewart close the points gap this weekend in Anaheim?
Photo: Garth Milan
2. Run at the Points
Overshadowed by the headlines of getting his first win of 2012, his first with JGR and overcoming the death of his practice mechanic Mark Adams earlier in the week, was that James Stewart gained a valuable seven points in the championship race. Faced with a 19-point deficit heading into Oakland, Stewart was facing a must win situation. After winning in Oakland, Stewart now sits only 12 points back of co-leaders Chad Reed and Ryan Dungey. With the deep field that crowds the landscape of Monster Energy Supercross today, Stewart is no longer faced with having to go on a long win streak to find himself back in the thick of a championship hunt, like he did a few years back when he had to chase Reed down. If things play out the way they did last week, which is a big "if" in this parity ridden year, Stewart will have made up a minimum of 10 points in two rounds. A far cry from where many expected Stewart leaving L.A.
1. Dueling Red Number Plates
For the second time this season, we have a tie for the lead in the supercross class, which means Chad Reed and Ryan Dungey will both be sporting red backgrounds at A2. With the top guys being so close in both speed and points, there's a good chance we'll see this happen several more times this year. In fact, if Ryan Villopoto takes second tomorrow night and either Dungey or Reed takes third, we'll have yet another tie for the lead!