Welcome to Racerhead. Today is the 11th day of the 11th month, which is always Veterans Day and Remembrance Day around much of the world. It stems from the end of the "war to end all wars," World War I. After four years of slaughter engulfed much of Europe and many of the world's countries, it finally ended with the Treaty Of Versailles, which was signed at the 11th hour, of the 11th day, of the 11th month of 1918. Twenty years later, the second World War broke out with even more terrible consequences.
But today is a little more special, just because it's also the 11th year of the new millennium: 11-11-11. And the United States of America is still at war, albeit a much different kind of war. But the consequences are still terrible, and today is a good day to think of all of the sacrifices soldiers and their families make for the safety and well-being of the rest of us.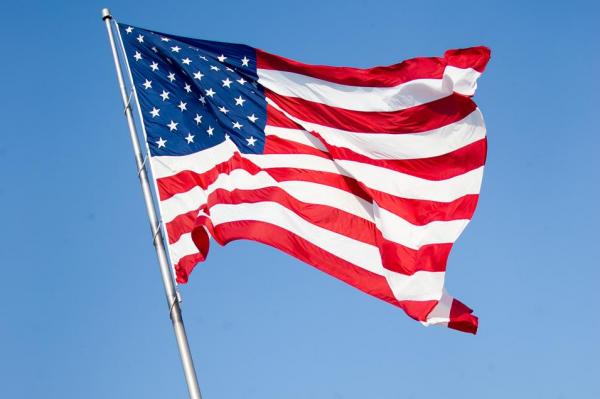 Happy Veterans Day from the Racer X staff.
As far as motocross goes, we did a fun little thing where we used The List to reel off the top ten 11s going back to the seventies. If you missed it, check it out right here.
Which insipired Giovanni Bartoletti to send us this.
Just read your "Best 11's".  2 notes:

1) I think my guy Travis Preston deserved a picture, too, perhaps as the 11th best "11" and one of the very few guys to have beaten James Stewart in a title chase.

2) I realize that the article is about American riders because today is Veteran's day.  However, I think Steve Ramon (#11 in the GPs) deserves to be celebrated, too, given that he seems to have recovered well from the back/neck injuries he sustained last summer (MXGeoff posted the link on mxlarge.com).
Good points Giovanni.
It was another tragic week for the sport, this time a death coming in freestyle. Jim McNeil, a well-liked, highly respected and very good rider lost his life at Texas Motor Speedway.
The first news of McNeil's fatal crash came through an email from Charlie Biancheri from CBM Racing. He heard it from a rider he works with who was there at the Speedway. The news soon spread across Twitter, the ESPN networks, Facebook, and more.
"Our family has lost another great person and rider," wrote Rich Kerns on his Facebook page. "We make this shit look easy, and it's the only sport where you have to be on your game with every jump! There's no strikeouts, fumbles, or missed baskets here. There is no second shot on a free throw line..."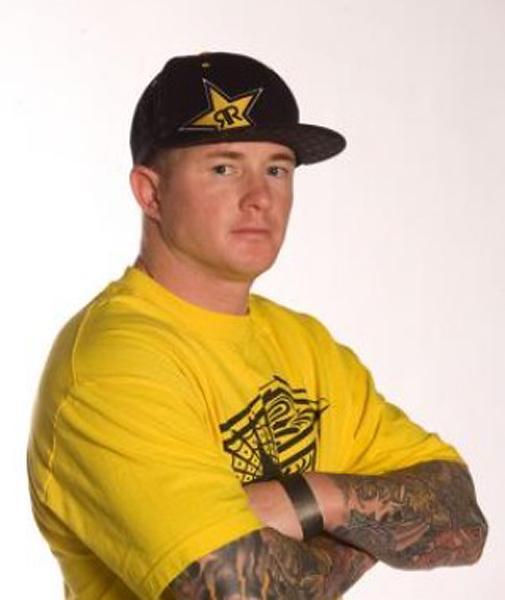 RIP Jim McNeil.
The details of how McNeil crashed have not been released, but it was a backflip, and he reportedly came up short. He was transported by helicopter to a local hospital, where he was later pronounced dead. He was 32 years old. He was the second well-known X Games athlete to die performing the backflip in the last two years, the other being Jeremy Lusk.
Our sincere condolences go out to Jim's family and friends.
The first week of the 2011 GoPro/Racer X Amateur Film Fest is in the books, and the first contestant to advance to the finals is New York's Ian Gutierrez. It was a close fight, but Ian edged out Pennsylvania's Mike LeGrand. You both did a great job with your entries, and a huge congratulations to Ian for making it to the finals, which begin on Dec. 2.

Week 2 is now underway. This time it's a West Coast battle between Nick Gust and Kyle Galbraith. You decide who makes it to the finals for a chance to win an awesome prize package from GoPro, Answer, MSR, Pro Taper, and Racer X. Watch and vote now!
We've been running a cool "Moto Plate of the Day" over on the Facebook page for American Motocross. If you have one you want us to include, feel free to send it on over to Courtney at MX Sports: CZ@mxsportsproracing.com and she will get it in the rotation.
If you don't already Like the American Motocross page on Facebook (the FB home for the Lucas Oil AMA Pro Motocross Championship), do it up now. The folks are always putting together cool trivia and contests, and you can get your license plate featured as well!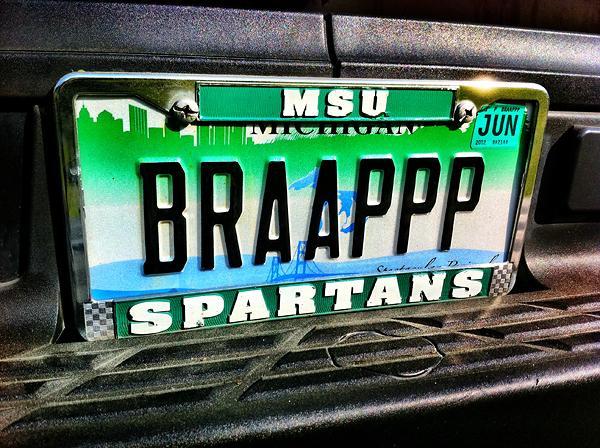 Congratulations go out to Charlie Mullins, who became the first American in seven years to claim the Can-Am Grand National Cross Country Series title. He is the husband of Rachel Ayers of Moto-Tees and Gear Racewear fame, and the son-in-law of John Ayers, a former AMA National MX and off-road pro. And best wishes go out to John after his crash at Sunday's GNCC final at Loretta Lynn's. Ayers won his class in Friday's first round of the double-header but then crashed hard on Sunday, banging himself up pretty good, breaking a collarbone and some ribs. Ouch!
Racer X contributor Rob Koy recently spotted Tim Ferry out doing some motos on a blank Kawasaki at a private track near Gainesville. So we might as well turn it right over to Steve Matthes here....
Thanks! Ferry's on a Kawasaki and wearing Fox--it's like 1992 all over again. If only he had #77 on the bike. Still, very good form in that turn. Looking ahead, attacking...that picture just reeks of speed in my opinion.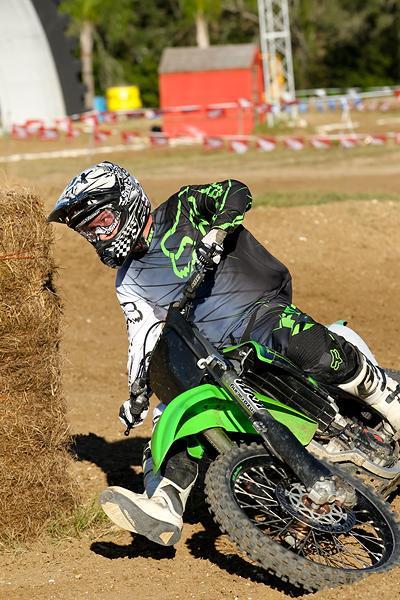 Here's Ping:
Lake Elsinore Motocross Park is opening back up on December 3rd. Rumors have been swirling for the past year or so about what was going to happen to the once-popular track and it finally has an opening date. Go to www.racele.com for more information on the grand opening. Marc Peters has been in charge of track design so there the layouts should be great. I'll definitely be out there on the third to check it out.

This is totally not MX related but football fans will understand. I thought it was pretty funny.

Braaap Energy Bar has it's website up and running. If you haven't tried the moto-inspired bars yet you should. They are easily digested, gluten free, soy free and they taste amazing. Check out the website and all the flavors at www.braaapenergy.com.

I know it's early to be talking about dark horses for the 2012 season already but I think Justin Brayton is going to blow some wigs back this year. He and his new dirt bike seem to be getting along really well. Justin has been steadily making gains every year for a while but I think the stars are lining up for him this year. The number 10 bike will run at the front regularly this year. Seriously.

Tony Alessi as team manager for MotoConcepts Racing. Could it really be true? Could the dream team really be coming together after all this time? After years of trying to make it happen Tony finally has control of a team that includes both his kids. Stay tuned, folks, this rig could be drama filled next year.

Troy Lee Designs and Adidas have teamed up with the Fighting Irish for this weekends game. The PR will be out shortly but check out the helmets.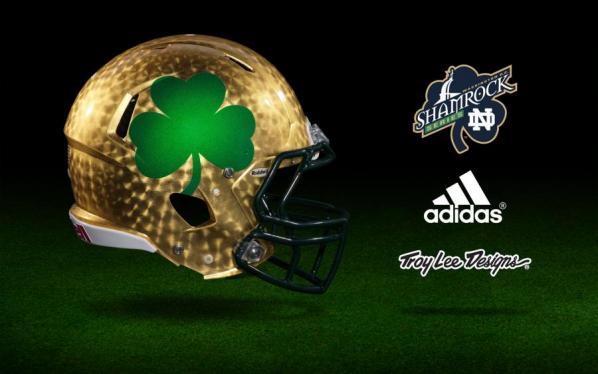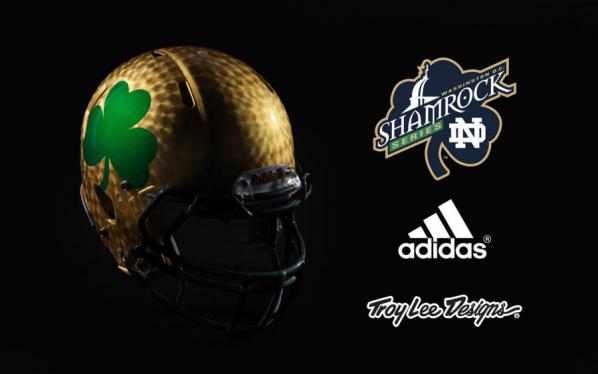 Now let's turn it over to Jason Weigandt:
When I first heard the rumors that Larry Brooks and Jeremy McGrath were building a new Honda team, I immediately starting thinking of the reality-show potential. Isn't Chad Reed also running a Honda team? Did this mean there was a chance that Reed and Brooks would meet up again at the Honda track? Reunited and it feels so good!
Well, Reed is a savvy one, and apparently he saw that situation coming and made sure to stop it before it happens. I texted Chad this week and he assured me his deal is structured to where he and his team will have no interaction with Brooks' squad. You will not see LB and CR at the track sharing set up secrets. It's a bummer if you wanted to hear new stories of high drama, but I guess that's not really the main goal for race teams.
Reed seems to have gotten exactly what he wanted in his new Honda deal. That's not easy to do. While he has earned respect for his results on the red bike in 2011, results alone don't cement a relationship. Marrying a factory team with a privately-owned unit in a way that proves beneficial for both is not easy. Especially when the factory still has a team of its own.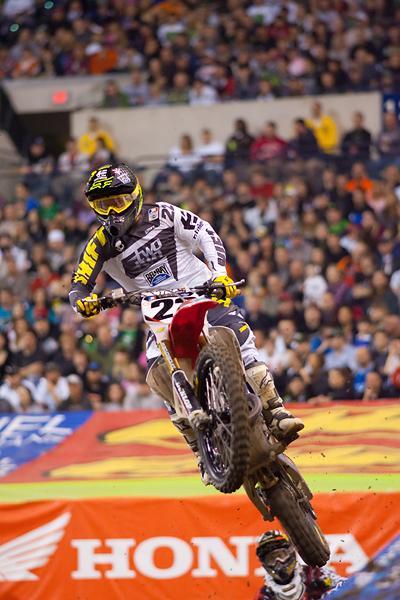 Reed will be back with Honda for the 2012 season.
Photo: Andrew Fredrickson
As an example, once James Stewart signed with JGR, on the outside, it made sense to see Suzuki maybe take the money they had for Stewart and court Reed's team with it. After all, Reed rode well on Suzukis in 2009. But it's just not that simple. Suzuki signing Stewart would have meant adding another rider to the existing Suzuki team. Suzuki signing Reed means integrating a privately-owned team and its employees into the factory effort, and that's very complicated. From what I hear, Suzuki people did have some casual conversations with Reed, but it never progressed even close to the point of making a real offer. I also hear Suzuki will stick with a one-man team with Brett Metcalfe for 2012. Remember, it wasn't that long ago that people were buzzing about (false) rumors of Suzuki shutting down its entire race program, so it's good to hear they have reorganized (under the Yoshimura banner) and will indeed be at the track in 2012.
Sounds like the final team place to be put into place is the Star Racing/Valli Motorsports teamup, which Ping has mentioned here in Racerhead before. A source at Star tells me deals are just about to be made concrete but they're not ready to make anything official to the public yet. It will happen soon, and when it does, we expect it to include the same riders Ping mentioned—Ryan Sipes, Kyle Cunnigham, Kyle Peter and Gareth Swanepoel on Star Racing 250Fs, Jessica Patterson in WMX and Austin Stroupe, Nico Izzi and Ryan Morais on 450s.
For more silly season stuff, check out the update we posted midweek.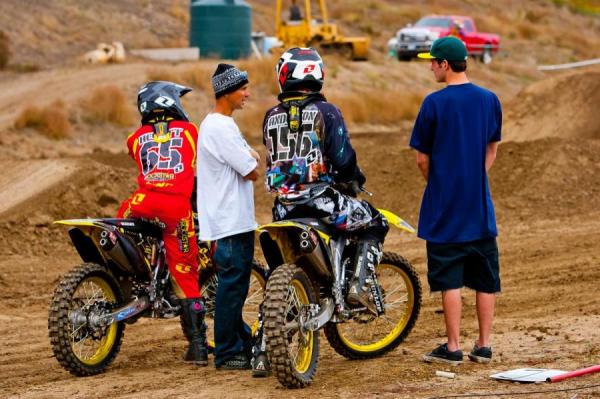 Hunter Hewitt and Jason Anderson were out at Lapaglia's on Thursday getting ready for supercross.
Photo: Matty Fran
So now most of the riders have homes, and it's time for them to get down to the nitty gritty of preparation for 2012. After all of the drama of this year's silly season, by the time we get to Anaheim, things will look as they always do, and the racing should be superb.
Thanks, Weege. A few more details before you get going with your weekend:
Check out Mike Alessi practicing out in Germany for the Stuttgart Supercross race coming up this weekend. There are a few big names out there, so check out our Pre-Entry list HERE . We'll have results from the racing as well, and stay tuned to live timing right HERE.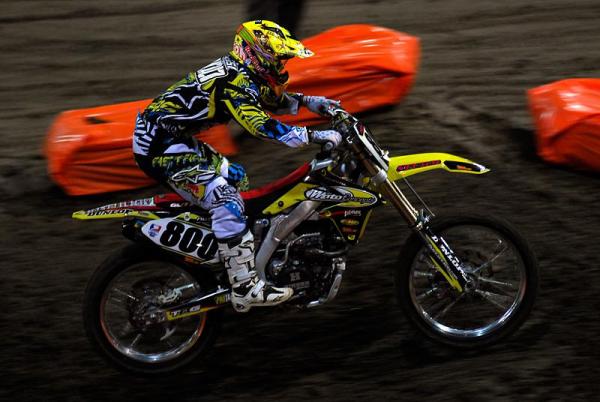 Pat Schutte spotted this old-school toy set for his collection of All Things Evel, which probably rivals my own at this point.
"1970s Ideal EK Daredevil Stunt Show Stadium," wrote Shoots. "Looks an awful lot like the X Games' version, doesn't it?" He's right on there!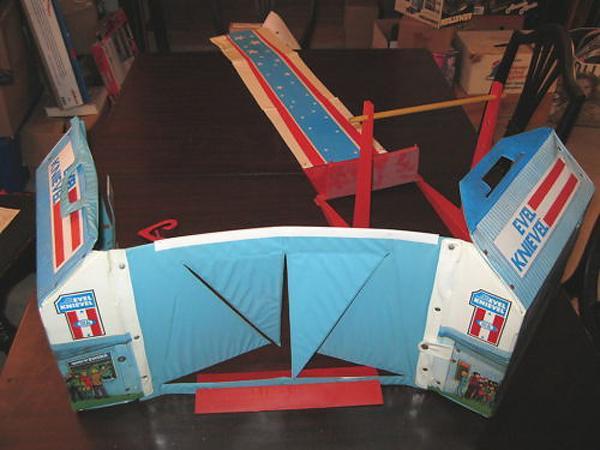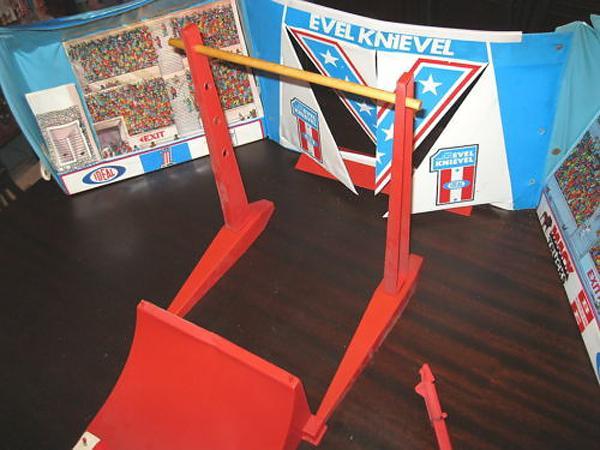 And speaking of collections, here's a trailer we spotted at Durhamtown last week that shows some faithful GNCCing: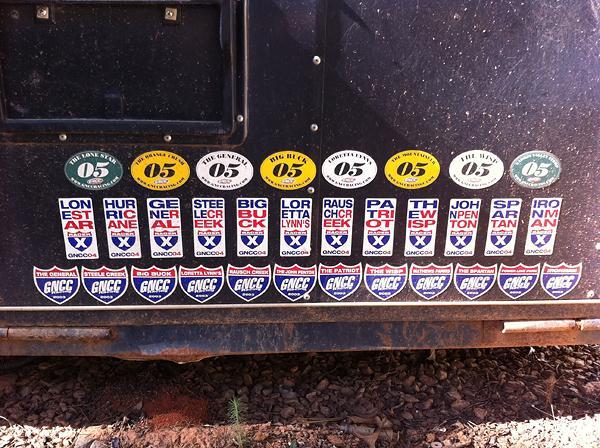 This is one of those "small world" deals: My friend R.J. from here in Morgantown works as a stuntman  on movies from time to time, and along the way he's bumped into a few friends of mine from the motorcycling industry, including Rick Miller, the son of MXA's legendary editor Dick Miller, who has worked in the business a very long time. But recently R.J. was on the set of the next Batman film when he began chatting with a couple of other guys who were there to ride motorcycles. Turns out it was Regis Harrington and Davey Castillo! R.J. sent along this photo of he and Regis at a subway stop for "Gotham City."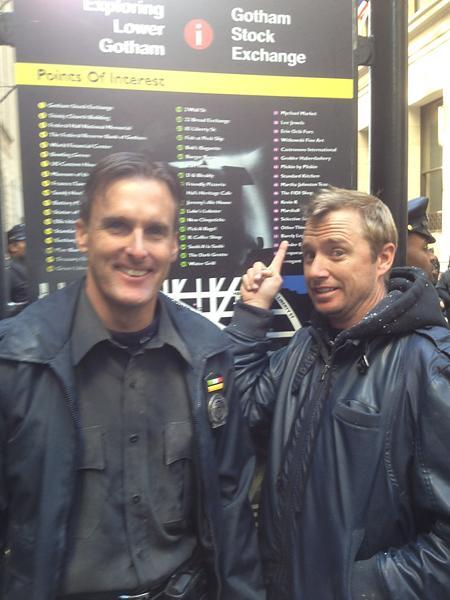 Moto Star Racing goes from sponsoring pro riders to pro teams for 2012. This supercross season Moto Star will not only sponsor a handful of privateer riders with rider support, but with what amounts to a twenty-five thousand dollar product deal that consists heavily on a promotional give away that will bring added fan fare to any teams effort. If you or your team is interested, Moto Star is currently interviewing teams. Contact them through their service form at www.MotoStarGlobal.com.
Here's some interesting news involving three very smart and talented friends.
Has anyone else noticed the freestyle motocross on Domino's latest pizza boxes?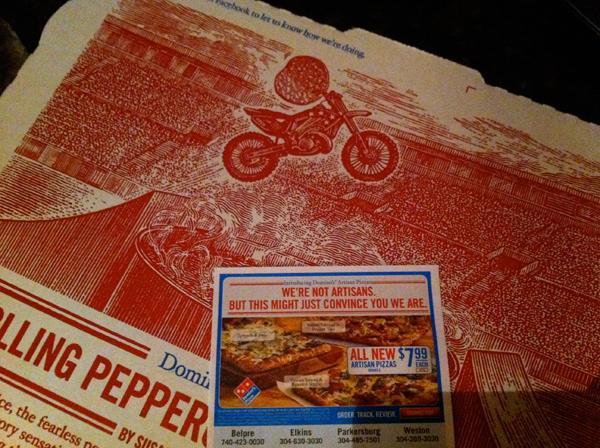 The latest issue of the FREE e-magazine Motocross Illustrated is online. Antonio Cairoli talks about his Motocross of Nations and also the loss of a good friend, plus there are looks at the Bercy Supercross, Monster Energy Cup and Australasian Supercross Championship. Also a feature on Motocross photography as we look at some of the artwork of British photographer Gary Freeman, and a look back to 2005 when Ricky Carmichael, James Stewart, Chad Reed and more. Check it all out here: www.motocrossillustrated.com
Don't forget to vote in the GoPro/Racer X Amateur Film Festival!
That's all for this week. Enjoy your weekend, and we'll see you at the races.