They say it's harder to defend a championship than it is to win one, and no one knows this reality better than 2010 Can-Am Grand National Cross Country Series champion Josh Strang. The Aussie off-road superstar seemed invincible last season as he swept the first four rounds of racing and then went on to capture his first GNCC title over two of the sport's most recognizable names
—
New Zealand's Paul Whibley (2009 champ) and Ohio's Charlie Mullins (2011 champ). Strang came out hot this season, exchanging race wins with Mullins and Whibley early in the year and even held a commanding points lead mid-season, but upon returning from summer break, things turned sour for the FMF Makita Suzuki racer. Anything that could have gone wrong, did, culminating in a crash at the season finale on Sunday at Loretta Lynn's that left him with a broken leg. We caught up with Josh Strang to explore what actually happened in the final rounds of racing to impede his chances of a repeat title in 2011.
Racer X: Did you feel the pressure coming into this season since you had that number one on your bike?
Josh Strang: Not really. I think the season started off pretty well for me, I only finished off the podium once so it was a pretty good first half of the season. I was leading the points going into break and that's exactly what I wanted to do. Last year, yeah, I won the first four races of the year but I mean, I'm not sure how many people have actually won the first four races before so I knew it would be pretty hard for me to do it again. I only won two races all year and they were both before the break so it was definitely not what I wanted to do.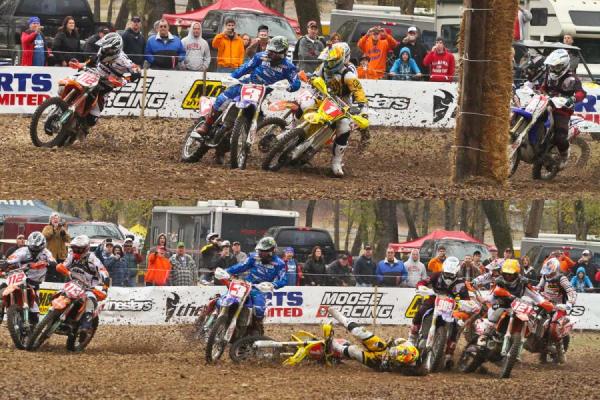 (Above) Strang began day one of the GNCC double-header at Loretta's with a crash in the first turn, only to have the same scenerio play out at Sunday's series finale. (Below)
Photos: digitaloffroad.com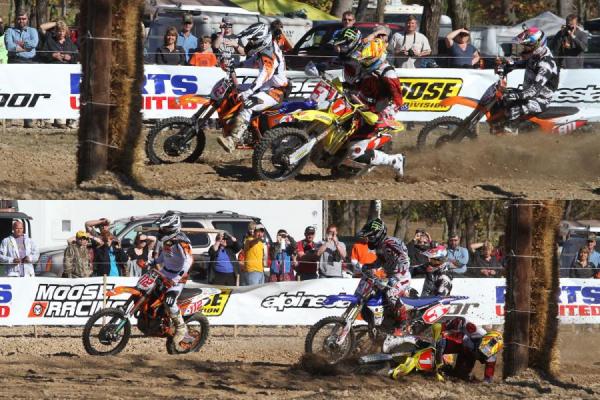 You had a 14-point lead over Mullins coming into the second half of the season and the first race back you collided with Cory Buttrick on the motocross track. Did that crash derail your focus at all?
No, I don't think it did. I mean, the crash at
Unadilla
was a bummer for both Cory and myself but I finished the race and scored a couple points there so it wasn't over for me at that point. The next race at Somerset, I felt like I was running good and the bike was running really well but that's when the little things started to happen and I'm not sure what caused it all, it just wasn't my time I guess. I busted a rear brake there and I could only manage to get a third, which was still all right, but I needed to win that race. Charlie started to come on strong about that same time as well. But yeah, since
Unadilla
my races just didn't go as planned but most of it wasn't in my control I don't think.
Yeah, bad luck seemed to sum up the rest of the season for you.
Yeah, when I got to Powerline Park it was weird, I think I had Unadilla and Somerset in the back of my mind and I crashed not too long after the start, which kind of seemed to set me up for a bad day. I was thinking, "oh no, here we go again," as far as another crappy race goes. I think I rode decent there, though, I got third again which is not where I wanted to be, but it was well enough. I just got caught up in a big mud hole on the last lap, but I mean that's just racing, that's normal. At Ironman my foot peg bolt just snapped off and I wasn't able to use my foot peg like I normally would. I don't think that happens normally so I guess, like I said before, it just wasn't my time to get the results I needed. Again, I felt like I rode good there and after the Suzuki team helped me out in the pits I got back up to fourth and I felt good the rest of the race.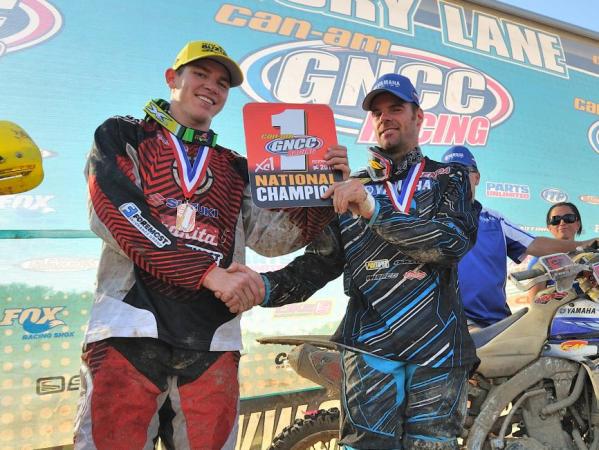 Strang (left) was unable to defend his 2010 XC1 title.
Photo: Shan Moore

Heading into the Loretta Lynn's double-header, you were still in the championship fight. What was your game plan for day one of racing on Friday?
Well, going into those last two races I got lucky because there was mathematically still a chance of Whibley or myself to win the championship but it was going to have to take something stupid for Charlie to throw it away. I was going into Loretta's wanting to win the races and if it ended up that somehow I won the championship, that would have been a bonus, but I just wanted to get some race wins to end out the season strong. That didn't quite happen, though. On Friday, Whibley got a little squirrely coming out of the start, I think he got a little excited about the holeshot money and I was already committed and going straight so we hit and I went down in the first corner, but I got back up and made my way up to Buttrick and eventually finished third.
Mullins had a big lead in the final stretch of the race and all he had to do was cross the finish line to win the championship on Friday, until he broke down. What did you think as you rode past him in the woods?
I was just racing. I needed to catch Cory and Whibley if I wanted a chance of winning the championship and that last lap after Charlie broke down—I think the three of us [Strang, Buttrick, Whibley] pulled our fastest laps on that last lap. It was hard to catch Cory and I knew Cory couldn't catch Whibley so we were stuck for that whole lap and I think it would have been difficult to get first or even second in that situation.
Moving to Sunday. You had nothing to lose and full intentions to get the final race win, but luck had other plans. Take us through your final laps of 2011.
Yeah, Sunday's start ended up being similar to Friday where Whibley and I got together on the start and I went down again in the first corner. It was pretty dusty on Sunday compared to how it was on Friday and I caught back up to fourth, just enough to where I could see Cory in front of me. I went through a woods section and I hit this batch of tree roots and it just spat me off into a couple little trees. It sent me over the handlebars and I guess my foot just got caught in between the tree and the bike or something like that. I was pretty far back in the woods so I just sat down for a minute and Jimmy [Jarrett] was nice enough to stop his race to help me out. We tried to take my boot off but I could feel the burn in my leg so we just left it on and the GNCC Trail Boss, Jeff Russell, got me out of the woods and back to my pits so I could go to the hospital.
What's the final verdict on your injury?
I ended up breaking the fibula bone in my leg. I went for surgery right away in Nashville and they put a rod in there for me.
Recovery time?
The doctor in Tennessee said about two months but I'm going to see a doctor here in Cali this week and since he works with some of the motocross and supercross riders around here, hopefully he'll be able to give me a better indication of when I can start riding and that sort of stuff.
Not a way to end the season but you've got some time to heal before GNCC starts up in March. What are your plans for 2012?
As of right now, I haven't made any decisions. That's about all I can tell you [Laughs].

I do want to say thanks to the whole FMF Makita Suzuki team, especially my mechanic Chris Wolf and Shane Nalley—those guys have been there for me no matter what and I appreciate everything they've done for me.