Photos from the Racer X Archives
Today marks 11-11-11 on the calendar. It's Veterans Day, Remembrance Day, and the end of World War I way back in 1918—"the war to end all wars." In its honor, we thought we would make this list about #11. With apologies to folks like Travis Preston, Rich Eierstedt, Barry Higgins, Bengt Aberg, and more, here are some of the more famous #11s in the history of American Motocross.
#10 (and 11): DAMON BRADSHAW: Back in the early nineties he was known as the "Beast from the East," and in 1991 he had to ride a beast, in the form of the WR500 air-cooled open class bike that didn't have a prayer against the likes of Jeff Stanton's CR500 or Jeff Ward's KX500. Damon faired better on the YZ250 in the 250 Nationals and AMA Supercross, scoring some wins in his second year in the main class and setting himself up for a championship run in 1992. Here he is leading Stanton in the 250s--regardless of number, Damon always had style.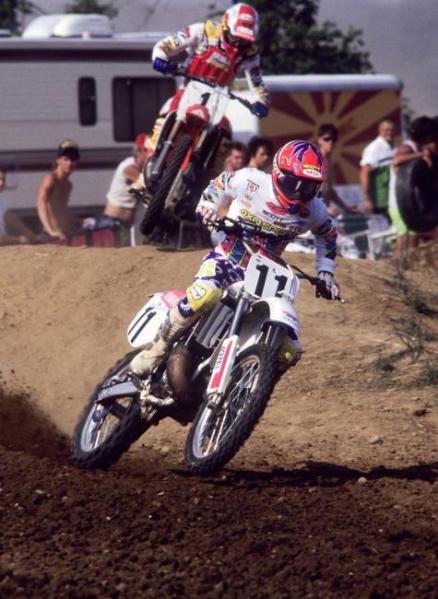 Damon Bradshaw leading Jeff Stanton.
#9 (and 11) GARY SEMICS: The Ohio-born Semics was one of the best starters in the history of motocross. He rode a factory Husqvarna, factory Kawasaki, factory Honda, and, toward the end of his excellent career, a factory Can-Am in the late seventies, when he wore #11. Semics is still involved in motocross, teaching a successful school that counts Jeremy McGrath himself as an early graduate.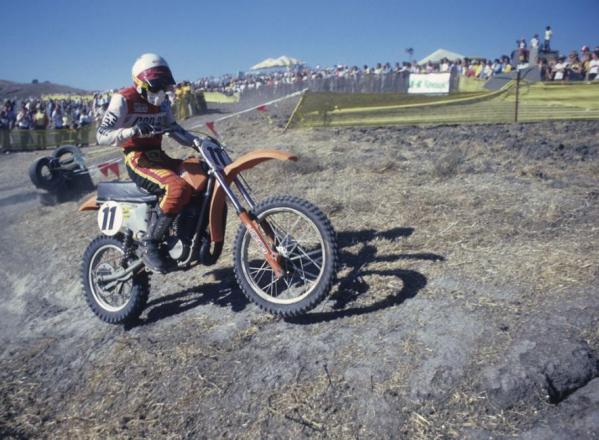 Gary Semics is still involved in motocross, teaching a successful school.
Photo: Dick Miller Archives
#8 (and 11): KYLE CHISHOLM: The young man who holds #11 now has had an up-and-down career, but his most recent results were all up. That's because Kyle Chisholm captured the recent King of Bercy title at the Paris Supercross on a Yamaha, with help from MotoConcepts, though he is now waiting on that call for a job for 2012. Someone needs to sign this guy—if he stays healthy, he can contend.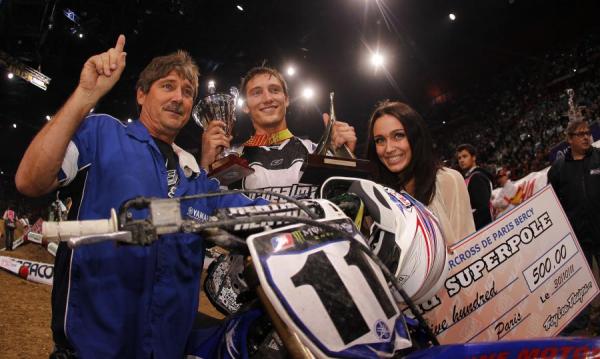 The 2011 King of Bercy.
Photo: Sarah Guiterrez
#7 (and 11): MARTY SMITH: Most folks remember Marty Smith as an iconic Honda factory rider, decked out in red-white-and-blue. But in the twilight of his career he raced a factory Suzuki (and then, forgettably and regrettably, a factory Cagiva). Smith wore all yellow in his year as #11 on Suzuki, and while he didn't win any races, he did stand out for his style and eternal cool factor.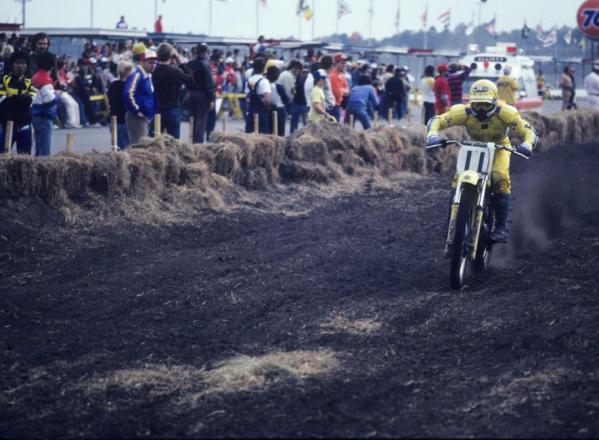 The former factory Honda rider, Marty Smith, on a Suzuki.
Photo: Dick Miller Archives
#6 (and 11): JIMMY BUTTON: When Jimmy Button decided to come back from Europe after an ill-fated journey to the 125cc Grand Prix scene, he found himself on what was then a fledgling Chaparral Yamaha team. JB made it work, even though he was the tallest man on the team—and probably in the class. He didn't win any nationals, but he did win the eye of his lifelong friend Jeremy McGrath, who also joined Chaparral Yamaha. It would also lead to a Yamaha factory ride for Button as a replacement for the retiring Doug Henry, and a win at the Washougal National.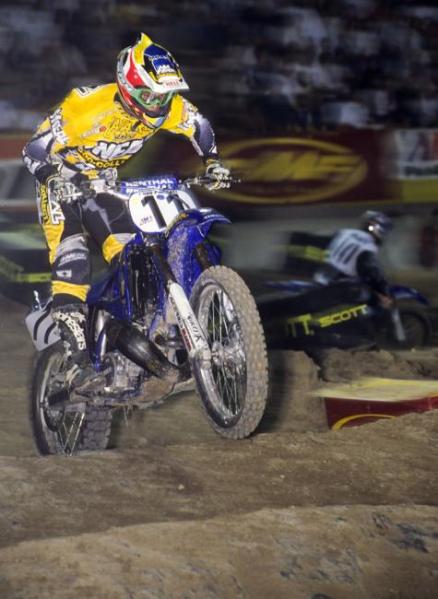 Jimmy Button on the Chaparral Yamaha team.
#5 (and 11): LARRY WARD: In 1995, Larry Ward was without a factory ride when the music stopped, so he ended up riding a Noleen Yamaha for Clark Jones' company. Big Bird made an honest run at the AMA Supercross title … well, as honest a run as you could make with Jeremy McGrath at the height of his dominance. Ward's second that season was a standard for privateers until Chad Reed came along this year and truly competed for the title, winning several races along the way (and on a bike with a pair of 11s affixed—his number is 22).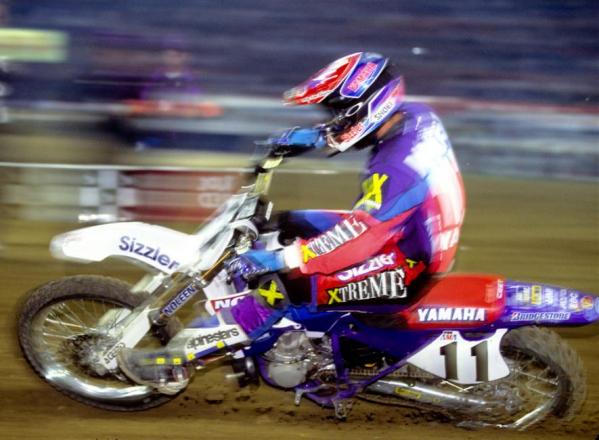 Larry Ward on a Noleen Yamaha.
Photo: Moto Verte
#4 (and 11): BROC GLOVER: When the Yamaha factory rider wore #11 in 1980 he was already a three-time AMA 125cc National MX Champion, but his success had mostly come on YZ125s. But it was in this transitional year that he began to show his chops on bigger bikes, and three AMA 500cc National MX Championships would follow (albeit with lower numbers) for the Golden Boy of motocross in a Hall of Fame career.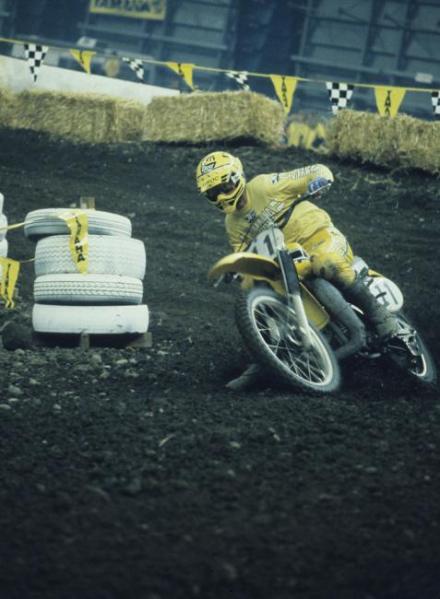 The Gold Boy of Motocross, Broc Glover.
Photo: Dick Miller Archives
#3 (and 11): JEFF EMIG: Fro Daddy didn't do so hot with #11—this was 1999, and he was struggling with a terrible slump that earned him that double digit in the first place after a tough run since his 1997 SX/MX title sweep. Then it really got ugly for Emig in August when he was arrested in Lake Havasu for possessing a beer can fashioned into a bong (the ash residue was the clincher for cuffs). Kawasaki fired their star and he ended up on the sidelines for the rest of the season. But then he decided to enter the U.S. Open in October on a privateer Yamaha, with help from buddies like Tony Strangio and Terry Varner. Emig somehow won, marking the last big win of his Hall of Fame career. The timeless image of him on #11 was the one after the race where he covered one of the 1s with his hand, his face showing off one big happy smile.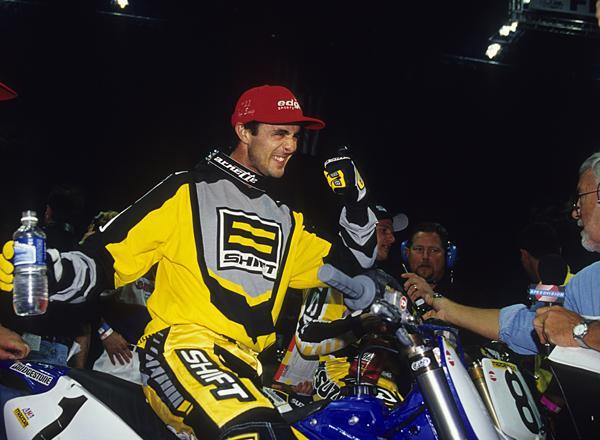 Emig at the US Open.
Photo: Simon Cudby
#2 (and 11): EZRA LUSK: Before Ricky Carmichael took over #4 for good, it was Ezra "Yogi" Lusk who rode with that digit, and he very nearly beat Jeremy McGrath for the AMA Supercross crown with it. But when it was time for permanent numbers, Lusk chose #11, and he wore it with pride on his factory Kawasaki KX250. His best years may have been behind him, but #11 seemed fitting for the fastest man never to actually wear #1 for a major title.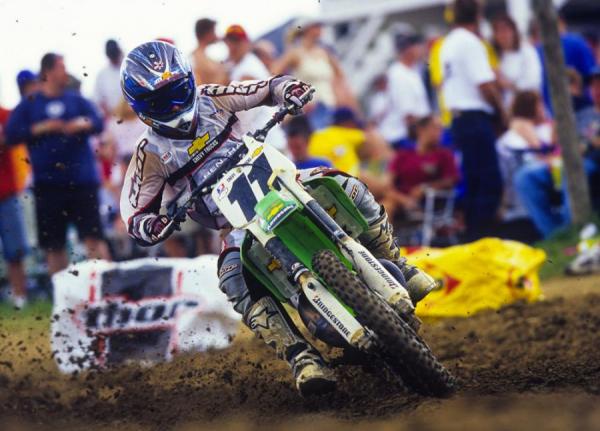 Ezra Lusk had some of his best years with the #11.
Photo: Simon Cudby
#1 (and 11): DAVID BAILEY: One of the all-time great stories of American Motocross was that of the man who was called "Little Professor" at the time (a nod to his stepdad, the Professor of Motocross, Gary Bailey). Bailey had been a Team Honda rider for one year, and with one win, when he rolled out for 1983 on the #11 works 250. Resplendent in new JT Racing gear, he won the Anaheim Supercross opener—his first AMA Supercross win—with a no-hander over the finish line that was captured on a rare NBC airing of SX back then. He went on to win the AMA Supercross tour over his veteran teammate Bob "Hurricane" Hannah, and he followed that with the then-premier 250 outdoor title. Add it all up and he was named the Grand National Champion in the best year of his Hall of Fame career.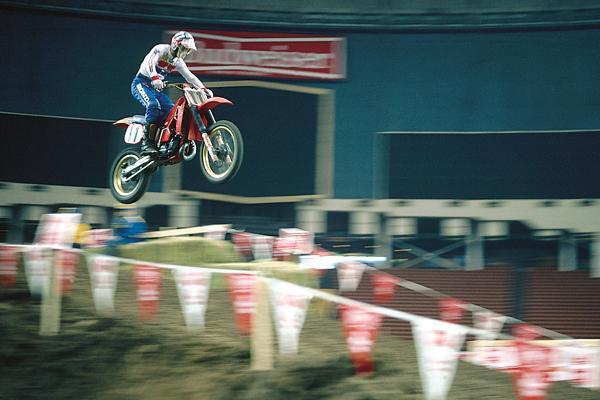 The Little Professor, David Bailey.
Photo: Moto Verte