Watch: SMX Playoffs Round 1 Highlights & Results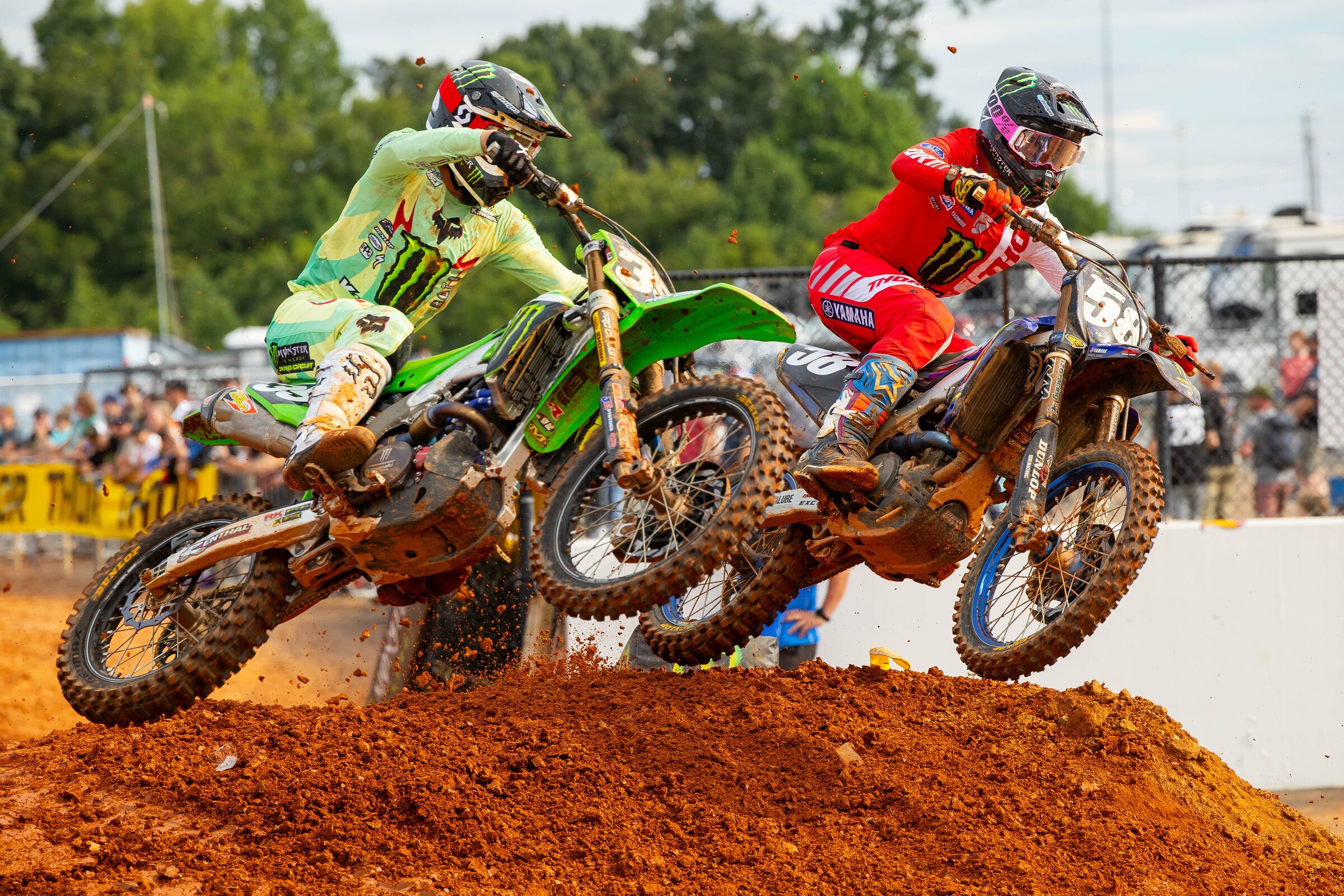 Concord, NC
SuperMotocross Playoff 1
SuperMotocross World Championship
Videos courtesy of SuperMotocross and NBC Motorsports
Check out video highlights from the first ever SuperMotocross World Championship (SMX) race in history at zMAX Dragway in Concord, North Carolina. This event was the 29th round of the all-new 31-round AMA SX, MX, and SMX season.
Jo Shimoda (4-1) claimed the 250SMX overall as Tom Vialle (3-2) and Haiden Deegan (1-5) rounded out the overall podium.
In the premier class, Chase Sexton (1-1) claimed the overall win over Ken Roczen (3-3) and Dylan Ferrandis (2-4).
Check out the post-race videos for the first round of SMX.
SMX Playoffs Round 1
250SMX Class Highlights
2023 SMX Insider Post Race: Playoff #1 SuperMotocross World Championship Finals
SuperMotocross: Post Race Press Conference: Concord, NC
The First Ever SuperMotocross Race! | Best Post-Race Show Ever: Charlotte 2023
SuperMotocross
| Position | Rider | Hometown | Qualifying Points | Points |
| --- | --- | --- | --- | --- |
| 1 | Haiden Deegan | Temecula, CA | 539 | 157 |
| 2 | Jo Shimoda | Suzuka, Japan | 468 | 152 |
| 3 | R.J. Hampshire | Hudson, FL | 474 | 122 |
| 4 | Levi Kitchen | Washougal, WA | 478 | 114 |
| 5 | Jordon Smith | Belmont, NC | 234 | 110 |
Full Standings
SuperMotocross
| Position | Rider | Hometown | Qualifying Points | Points |
| --- | --- | --- | --- | --- |
| 1 | Jett Lawrence | Landsborough, Australia | 550 | 163 |
| 2 | Ken Roczen | Mattstedt, Germany | 340 | 146 |
| 3 | Chase Sexton | La Moille, IL | 710 | 126 |
| 4 | Cooper Webb | Newport, NC | 451 | 120 |
| 5 | Aaron Plessinger | Hamilton, OH | 622 | 104 |
Full Standings