2023 Fox Australian Supercross Championship Dates Announced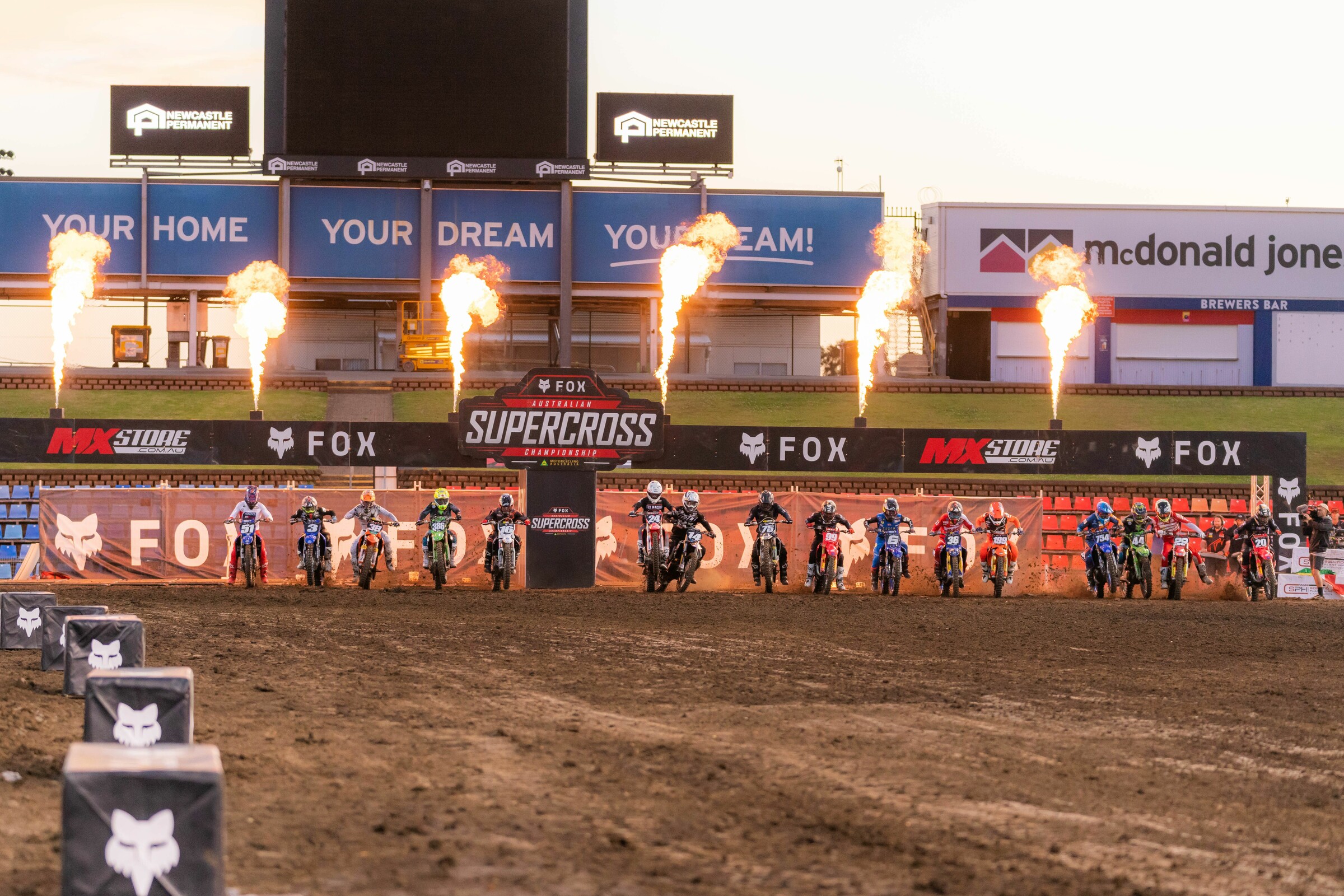 The following press release is from the Fox Australian Supercross Championship:
2023 Fox Australian Supercross Championship Dates Announced
*Newcastle, Melbourne, and Adelaide will host the 2023 three-round series.
*Re-introduction of 85cc Category.
*FOX Racing returns as naming rights partner of the championship.
*AUSX 3-year-strategy to support growth & sustainability of Australian Supercross.
The FOX Australian Supercross Championship is back with the 2023 series details announced today featuring three rounds in Newcastle, Melbourne, and Adelaide.
The series will open on November 11 with a return to Newcastle for the unique Triple Crown event at McDonald Jones Stadium, followed by a feature round at Melbourne's FIM World Supercross Championship event at Marvel Stadium on November 24, with the finale to take place at the iconic Adelaide Showgrounds on December 2 to draw the series to a close.
Promoters and commercial rights holders of the Australian Supercross Championship, AME Group, are thrilled to announce industry giant, FOX Racing will also return as naming rights partner in 2023, demonstrating their ongoing commitment to the sport.
Kevin Williams has joined forces with the AME team, as Director of Motorsport, to establish a clear vision for the 2023 series, the future of the FOX Australian Supercross Championship and its role in growing participation in dirt bike riding.
"Following industry feedback and considering cost of travel right now – we believe three rounds makes sense for 2023, with the view to move to four rounds in 2024 and then five in 2025," said Williams.
"Most importantly for this year, we wanted to prioritise quality over quantity when it comes to rounds & racing and create a stable footing for sustainable growth moving forward."
As well as confirming the return of the support class SX3 Cup (125cc/250cc 4-stroke), Williams also revealed the re-introduction of 85cc racing, with a revised 85cc class for 12 to 14-year-olds.
With past Supercross Champions like Chad Reed, Craig Anderson and Jay & Ryan Marmont all starting their Supercross careers on 80cc in Australia, AME Group's Mick Sinclair noted how this class has been reborn from the desire to help young riders and ultimately deliver more future Australian Supercross champions.
"We are excited and proud to see the return of the 85cc Racing category to the 2023 Australian Supercross Championship," said Sinclair.
"This pivotal decision highlights our commitment to nurturing young talent and shaping the future of Supercross in Australia. We recognize the immense significance of providing a platform for aspiring 12- to 14-year-old riders to harness and enhance their skills, as well as showcase their ability on the big stage.
"The reintroduction of 85cc racing will hopefully ignite a sense of excitement, empower the next generation to chase their dreams and inspire countless others to start their Supercross journey.
"We'll have more very exciting news on this category in the coming week that we can't wait to share with both riders and fans."
Another change from 2022 will see AME Group become the sole promoter controlling the Australian Supercross Championship series spanning rider/teams, event operations and production through to media, marketing, broadcast and commercial for all rounds, which will be paramount in delivering a consistent baseline for the events.
Kelly Bailey, Managing Director of AME Group, confirmed a three-year strategy has been developed around supporting the sport and series to deliver incremental and sustainable growth for supercross in Australia.
"AME is committed to building a community around Supercross and broadening its appeal in Australia," said Bailey.
"After delivering a successful Newcastle event in 2022 with over 17,500 fans packing out McDonald Jones stadium, we took away learnings, industry and fan feedback and now can't wait to see this come to life across all AUSX events to make them bigger and better moving forward."
Motorcycling Australia's CEO, Peter Doyle said he was thrilled to see the event return to Newcastle, Adelaide and Melbourne and is expecting more big crowds in support of the series.
"Last year we saw the FOX Australian Supercross Championship return in style giving supercross fans around Australia the high-octane injection they'd been all craving," said Doyle.
"Importantly the quality of events and racing was first-class, we saw large crowds in attendance and more local riders' names up in lights.
"The direction of the championship via AME's strategy and guidance is helping revitalise the sport and we can't wait to see what 2023 brings for the series and beyond."
More announcements regarding racing formats, revised prize money structure and television broadcast are to follow.
2023 FOX Australian Supercross Championship Calendar:
Round 1: McDonald Jones Stadium, Newcastle, NSW – November 11
Round 2: Marvel Stadium, Melbourne, Victoria – November 24
Round 3: Adelaide Showground, Adelaide, South Australia– December 2