Our man, "Filthy" Phil Nicoletti, is going to be out for a while after a gnarly wrist injury suffered in Oakland, but he's somehow typing with one hand and busting out answers to your questions. So please, keep them coming! We don't want Phil getting lonely or bored, he's depressed enough.
Questions? Email him at Phil@racerxonline.com.
(Note: Some questions have been lightly edited for clarity.)
Phil,
During the 2022 SX and MX seasons, the commentary crews focused on how long some of these riders have been racing against each other. Tomac, Anderson, and Barcia have been lining up against each other for decades. You have probably raced them a ton, also. But even from season to season the top riders can be seen battling largely the same people week after week, year after year. Does it get boring racing against the same guys for most of a professional career? Or is there something to knowing how most of your competition rides given how much SX and MX tracks can change during a single event? Did you enjoy the different competition in Canada or did everyone's unfamiliar riding style become a stress point? What about switching back to the 250s and racing newer riders? Does it matter?
-Scott
In my personal opinion, it's pretty badass that a lot of us have been around for so many years through the ranks. I mean, to put things into perspective, Josh Hill and I have now been racing since 7-9 60cc class at Loretta Lynn's in 1999! Obviously, he is racing a 450 and I am in the 250 class, but it is still really cool to see that we are still out there. Also, I went to Mini O's with Barcia and his family back in 2002. Bam is three or four years younger than me, but we are both +30 now and racing still. Everyone on the gate in the 450 class has been around each other for at least 25 years, from the time we were kids all the way until now. From racing local races, to regionals, to amateur nationals, all the way to 450 supercross. It's quite crazy to think about. Most sports don't get that. You mostly just meet in the pros on a rare occasion. Our sport is weekend after weekend from the time we were kids. It's wild as hell.
The only thing about racing in the 250 class with the new kids is, I don't like their mentality in the first corners. Not much thinking or care goes into what line they take off a jump, or angle in a corner. The 450 class has a lot more respect, and they can read the riders in the course much better than the 250 guys. They can picture how everyone is going to funnel in. The 250 kids? Yeah. See you in a decade and they'll know.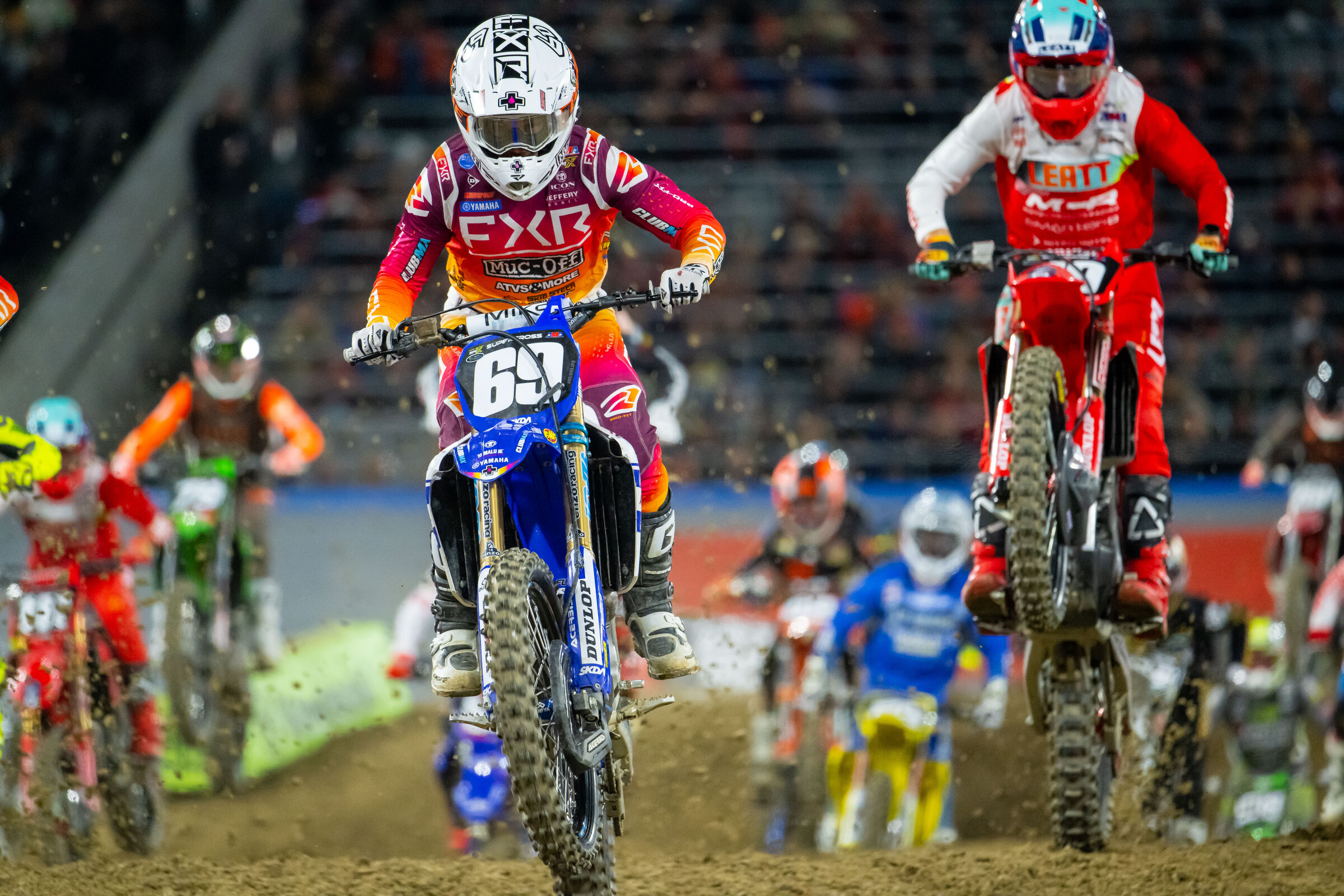 Hey Phil,
Sucks you got hurt. Nothing good ever comes out of Oakland. I wanted to know, have you ever thought about, if given the opportunity, working in the booth as a commentator? I would think with your knowledge of racing and you being "UnPhiltered," it would make the commentating a little more exciting. I would like to see you and Daniel Blair up in the booth. I think that could be a great combo. But I'm sure they'd need more than a few seconds of delay to bleep out some of your Philth.
-Spud
Haha, even though I say what I want, when I want, I do have a filter. Just in a normal setting, I'm going to act how I want to act and say what I want to say. Unfortunately, some people don't like it, but I can honestly say I don't give a shit. If some people say it's unprofessional or whatever, then so be it. But I bet they talk the same way in a group setting with their mates. Most are just hypocrites, really. I would actually love to give it a shot, I think there's so much that gets overlooked. I've talked to the guys who are in the booth and whatnot. They have to stay in a certain window of criteria, which is a shame. Our sport has so much to offer in terms of data, chassis, engine, and training yet it never gets talked about. 'They maintain max heart rate for 15 minutes, and it's the most physically demanding sport.' We hear them say it. Okay, well why? What's the difference between Haiden Deegan and Nate Thrasher's bikes? Or ClubMX vs Star bikes. What's the difference?
I want to talk about this stuff. We are all about dumbing it down to a basic audience, but most don't even know the difference between ClubMX and Star anyway. So why not try and make it elite. The "Science of Supercross" is just a janky way to show our sport. That's my personal opinion. For instance, Honda has a new GET data system. Why can't they show or have anyone explain if they can change the settings in a blink of an eye from one practice to another, or even during practice? Let's talk about the difference between tire compounds, etc. People in NASCAR are mind blown over our sport and can't even comprehend our chassis/suspension numbers. They are in awe when they see the data numbers from suspension. When I mean mind blown, I'm not bullshitting! These are high-end NASCAR engineers and they're impressed. Let's talk about it! Now I'm really going off. There is so much info out there and the dummying down needs to stop!
Just my opinion.
Hi Phil,
Huge J-Mart fan here. I have to ask about his first few races. I was hoping for an awesome performance at Daytona, and it didn't happen. Any idea what's going on? Is it arm pump, nerves? Could it be the bike is a tick off the factory bikes? I know you're pals and on the same team, so I understand you wouldn't want to say anything negative if that were the case. Hoping for some podiums soon!
-Average late 30s MN rider/Martin fan
I mean, it's pretty self-explanatory. J-Mart hasn't raced a supercross in two years or really any race in general, so it takes a long time to get that race intensity and race awareness back. Look at AC, he's going through the same thing. It comes to a point where you just want to get gate drops and put in the laps and learn. Doesn't matter how long you have been doing this shit. You have to build back your foundation after your house gets flattened by a hurricane. I even said it on the PulpMX Show. People were expecting Jeremy to get a podium at Daytona, but I realistically thought he would still be a fourth to sixth place guy. For him it's really hard too, because you have people all day coming up to you saying, 'This is your chance for a podium, it's Daytona, you kill it at outdoors! Blah, blah, blah.' That shit wears on you. I think he hoped he'd get on the box. We all do. I want all the riders on our team to get on the box. But Jeremy needs to just take it race by race. Log the laps, get the good results, and put points on the board. The race intensity will come with time, and it'll bring confidence. Things take time when you've been run over by a semi in back-to-back-to-back years. Trust me, I know.