Daytona, FL
Daytona
Monster Energy AMA Supercross Championship
When we left off, Part 1 of The List: Daytona Supercross History, we covered the initial Daytona races of the early '70s to Jeremy McGrath's third and final win here in 1999. Today, we're going from 2000 to 2022, an era during which the Daytona Supercross itself transitioned from an "outdoor supercross" to something a little more akin to the rest of the Monster Energy AMA Supercross Championship—going from a daytime marathon on an extended track to a nighttime race on a more modern track, though still the roughest round of all.
Jeremy McGrath was still the reigning King of Supercross in 2000, and he had more than proven himself a capable outdoor rider, not only by winning the Daytona SX multiple times, but by also claiming the '95 AMA 250 Pro Motocross Championship. But by 2000 he was a supercross-only rider, which made that year's Daytona visit even more of a challenge. He was still the SX points leader when the series reached Daytona, and he would go on to win his seventh AMA Supercross title in eight years, but at Daytona 2000 he saw the first real glimpse of the man who was about to usurp him, Ricky Carmichael. After stumbling and crashing through a year-and-a-half of premier-class supercross, Carmichael showed up at Daytona 2000 ready to take it to the King. He was, by this point, working with Aldon Baker, and he had transformed himself from a pudgy kid to a well-trained and trimmed-down athlete. That's what it was going to take to beat Jeremy McGrath: Fitness to mitigate the talent gap McGrath held on everyone.
At Daytona 2000 RC won his first-ever AMA Supercross on his Chevrolet-backed Kawasaki KX250, lapping all the way up to fifth. Jeremy was right there with him—for the first ten laps anyway—before he finally backed it down. Carmichael actually ended up doing 21 laps rather than the standard 20 after the flagger missed him the 19th lap around. Ricky didn't win another SX in 2000 but the die had been cast.
On a side note for the 2000 race, not only was it Carmichael's first-ever 250 SX win, it was also the first-ever for Travis Pastrana in the 125 class. Seems like a good race for Steve Matthes and Jason Weigandt's Leatt Re-Raceables series of podcasts.
In '01 it was no surprise that RC won again, as he was in the midst of a 13-race winning streak as he took over Jeremy's spot at the top of the heap. But what made the '01 Daytona SX a major game changer was the fact that on the flight out of Daytona after his win, Carmichael found himself seated next to Ray Blank, then the head of American Honda's motorcycle department. According to legend, they struck up a conversation, and by the time the plane landed they had decided to mutually investigate a deal for Ricky to leaver Kawasaki and join Team Honda.
One year later, a different Ricky Carmichael showed up at Daytona. He was now a Red Rider, as well as the reigning AMA Supercross Champion. But he was also behind Yamaha's David Vuillemin in points after DNF'ing the opening round of the series with a brutal crash at Anaheim. This was before the points leader wore a red plate, so had #12 Vuillemin raced Daytona, he would not have had red plates on his Yamaha YZ250. But Vuillemin didn't actually line up for Daytona, having separated his shoulder in an ill-timed magazine photo shoot. Ricky won, and suddenly he went from 24 points down to start the series to leading as the series left Daytona. It is probably from this experience that the GOAT started reminding folks that "supercross starts at Daytona." In the 33 years since 1990, the leader after Daytona has won the series 29 times. That's an 88 percent clip! (Thanks to our friend Clinton Fowler @3lapsdown for this cool stat.)
In 2003 everyone expected Carmichael to run off with his fourth straight win, which would match Jeff Stanton's winning streak ('89-'92). Ricky did win, but Yamaha's Chad Reed gave him fits. The Australian (who had won the 125SX east region the year before as a Yamaha of Troy rider) proved himself a worthy challenger to Carmichael at Daytona, and when Ricky had to skip the entire '04 AMA Supercross Championship due to a knee injury, Reed was more than ready to step up and fill the void, winning his first of three Daytonas in the premier class.
The 2005 race was set to be the year that Florida's own Ricky Carmichael and James Stewart met on the track, as the all-time best 125cc rider was moving up to the 250 class, but then Stewart got hurt at the second round of the series and that battle fizzled. When the series reached Daytona it seemed like Carmichael would just add another win to his resume. No one told Chad Reed. In one of the best rides of his life #22 pretty much wore Ricky down, which led to several key mistakes by #4. Reed rode flawlessly and ended up winning easily.
Carmichael rebounded in '06 on his Suzuki RM-Z450 and became the first four-stroke rider to win at Daytona, with Reed second. Carmichael also had a record five wins, besting Jeff Stanton's run. Stewart was in the lead early but went over the bars—one example of what would become a catalog of big crashes at the World's Center of Racing. (This was also the year that Travis Pastrana took the fight to Ivan Tedesco in his heat race, only to crash heavily in the whoops. He also tried to do a backflip in afternoon qualifying—it did not end well.)
Stewart would get one more crack at beating Ricky at Daytona, and it came in 2007 in what turned out to be RC's second-to-last SX ever. One week later, Stewart would beat Ricky again, this time in Orlando, in Carmichael's last SX race.
The 2008 race saw Chad Reed re-emerge at Daytona. The Yamaha rider, who would win the '08 AMA Supercross title, seemed to have a very wet and soggy Daytona—shortened to 12 laps due to the heavy rain—in the bag. With just two turns to go, however, his Yamaha's engine let go and his night ended on a Tuff Block. The winner? Kevin Windham on his Factory Connection Honda, who was more than a minute behind when Reed's night ended. The TV race call by Ralph Sheheen, Jeff Emig, and Carmichael is epic.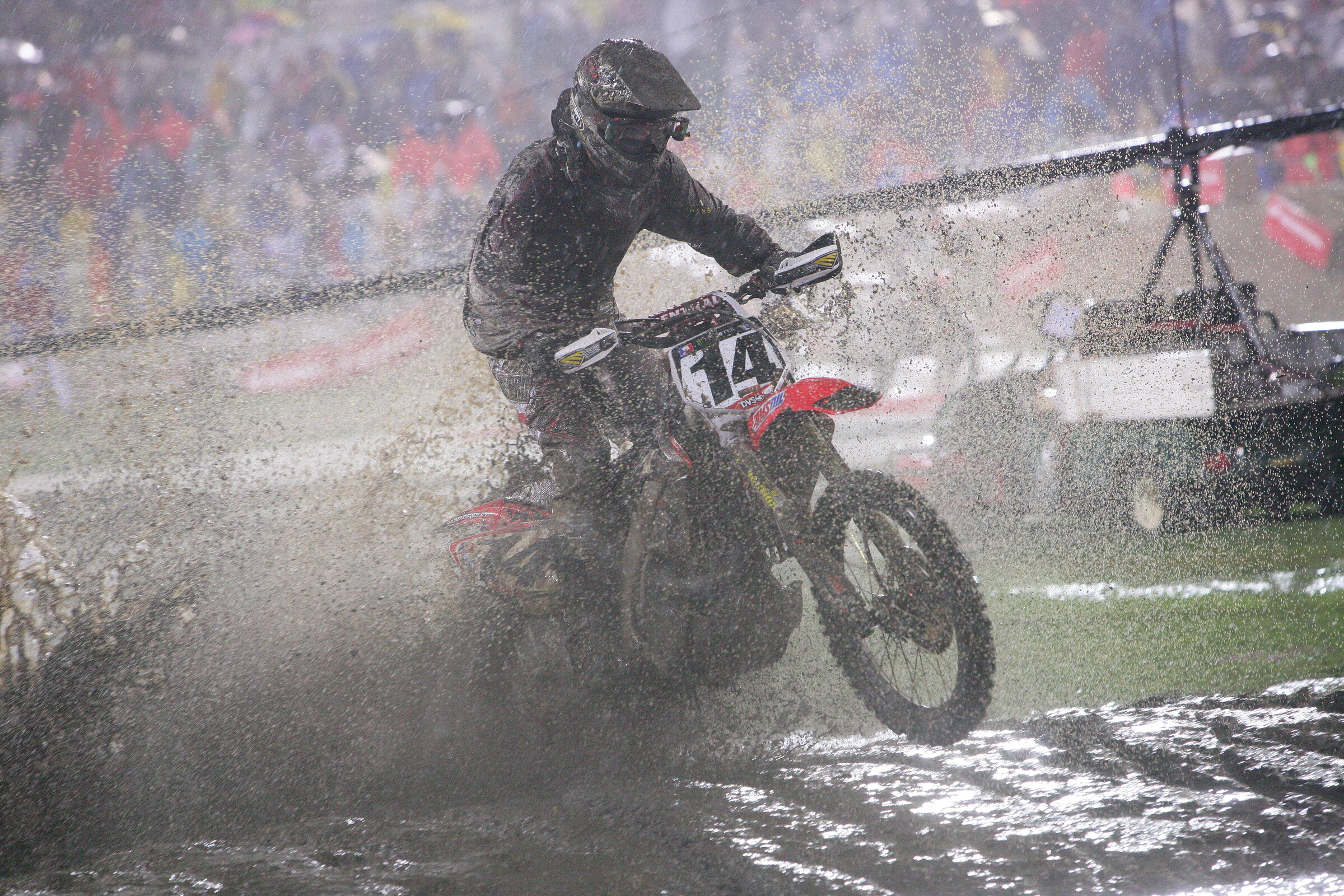 Reed would avenge himself the next year, only this time aboard a Suzuki, as a huge first-turn crash saw James Stewart (now on a Yamaha) go down, along with Davi Millsaps, Josh Hill, Michael Byrne, Andrew Short, and even Ryan Villopoto. Reed was stacked up too, but he made it through, while Stewart would first try to get on someone else's bike. Once he got going, he was nearly a minute behind. He would end up seventh. The real surprise was the runner-up, Jason Lawrence. Yes, in his first-ever professional 450 race, J-Law led fourteen laps and landed on the podium.
Villopoto's time at the front began in 2010. The Monster Energy Kawasaki rider would win four of the next five Daytona SX races: '10, '11, '13, and '14. The only one he lost in that period came in 2012 in what turned out to be another mudder. RV crashed off the side of the track and had to restart dead last. James Stewart and Davi Millsaps, teammates on the Joe Gibbs Racing Yamaha team, went 1-2 in what turned out to be the high-water mark for the late Coy Gibbs' SX team. It came fittingly on the infield of the only NASCAR track on the schedule at the time.
From 2015, after Villopoto's retirement, until now, there would be just three different winners at Daytona. In 2015 Ryan Dungey made history by becoming the first KTM rider to ever win in the premier class at Daytona. He also went on to win the first AMA Supercross Championship for KTM. Finishing second was then-Honda-mounted Eli Tomac.
And then in 2018 MotoConcepts Honda rider Justin Brayton would make history by becoming the oldest rider to ever win an AMA Supercross, as well as the rider who waited the longest to earn his first AMA Supercross win—13 years! Finishing second was then-Kawasaki-mounted Eli Tomac.
And that brings us to the end of this List, and the rider who is actually at the top of any list involving the Daytona SX, Eli Tomac. From 2016 until now Tomac has won this race six times, including last year's win on the Monster Energy Yamaha Star Racing Yamaha YZ450F. Tomac has been a dominant force here, and now he has an opportunity to win here for the seventh time, which would tie him with Richard Petty's NASCAR record of seven Daytona wins. And here's food for a final thought: Eli Tomac will be the only rider in the '23 field at have won the Daytona Supercross.