All Two-Strokes: Red Bull Straight Rhythm Returns October 15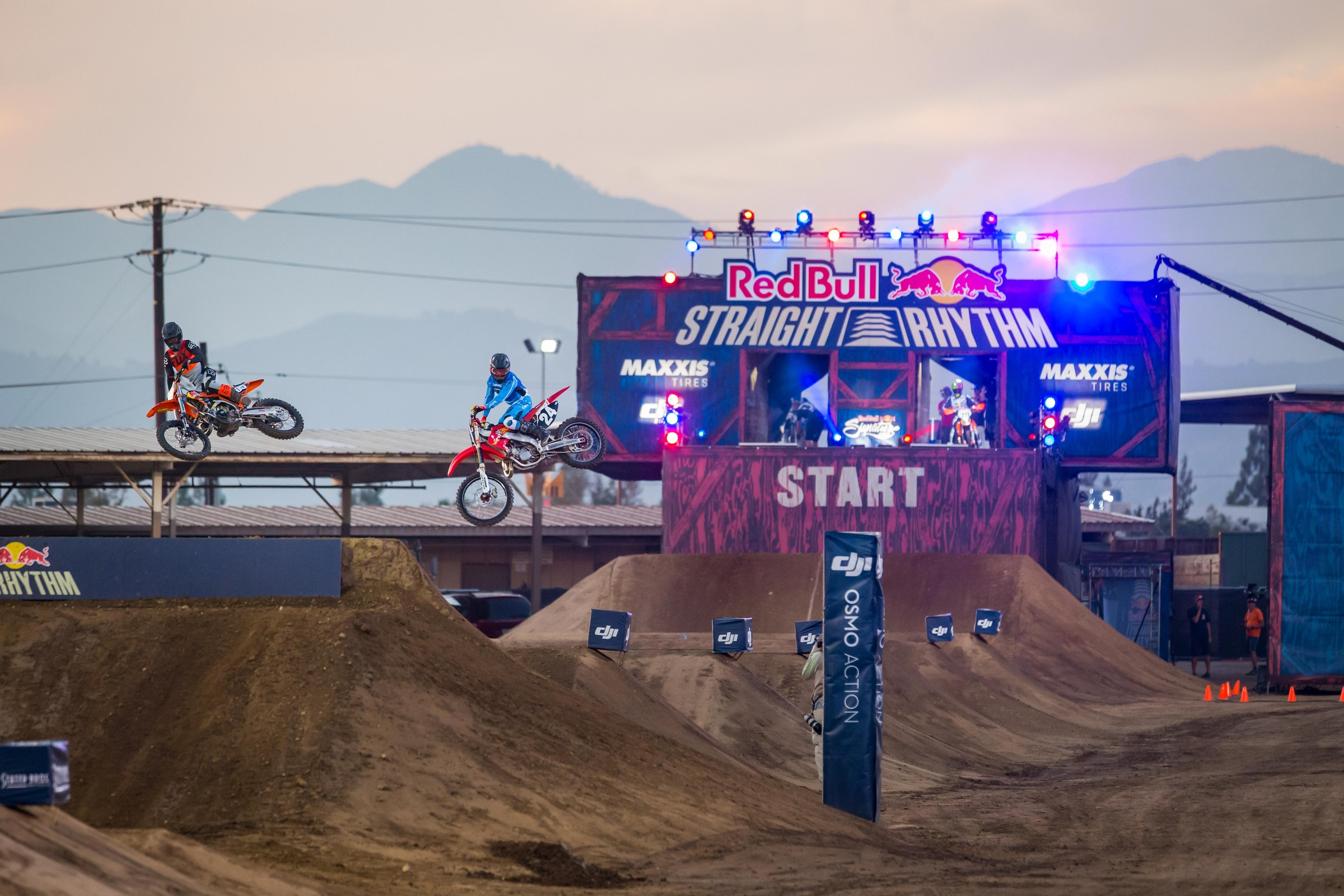 Huntington Beach, CA
Red Bull Straight Rhythm
Red Bull Straight Rhythm
Now even the big off-season races are coming out of the pandemic slumber, with Red Bull Straight Rhythm set for a return for the first time since 2019. In case you forgot, RBSR uses a straight track with supercross-style obstacles, and one-on-one bracket racing. And yes, only two-strokes are allowed.
The big change—besides the event actually making a comeback at all—is the new venue. Huntington Beach is now the hot spot, as the event will run in conjunction with the Moto Beach Classic (Roland Sands' Super Hooligan Flat Track Racing).
Red Bull provides the known details in a press release below:
Motors Will Be Pumping as Head-to-Head Racing Finds Its Flow Surfside with Red Bull Straight Rhythm Return
Moto Beach Classic and Red Bull Straight Rhythm: Two Iconic Events Combine for Dream-Come-True Day on October 15 in Huntington Beach
Huntington Beach, Calif. – You asked for it, or maybe you didn't, but let's pretend you did. After a three-year pause and keeping the fans and riders on their toes with great anticipation, Red Bull Straight Rhythm is coming back with all two-stroke racing on October 15. "What could possibly be better?" you ask. For the first time ever, Moto Beach Classic and Red Bull Straight Rhythm are joining forces for fans to experience both events live and in-person in Huntington Beach. There is a 98% chance the sun will be shining, the weather will be warm, and the UV rays will be high, so pack your sunblock, hats, koozies, umbrellas, surf boards and sand toys. Bathing suits are optional. If you're Jett Lawrence, bring your floaties.
An evolution of the events past, this year's Red Bull Straight Rhythm remains the same with a best-of-three race format. Practice, qualifying and finals all take place on the same day, with the finals culminating just before the sun sets into the horizon. But allow us to reintroduce ourselves with what makes this one of the most fun two-wheel races on the calendar. For its seventh year, two riders will drop into the half-mile track for a mano-a-mano battle down the unwound Supercross track with whoops, jumps, tabletops and more. No points at stake and unexpected matchups (and unexpected Ws) that you literally cannot find anywhere else. It's all about rhythm or "finding your flow" as the locals would say. And while there's no "carving," "epic cutbacks," or "barrel riding," there is guaranteed no lack of perfect harmony amongst two-stroke engines redlining, waves crashing and fans cheering, complemented by the sweet smell of sunblock, salty air and premix. The only thing that might sound better than a two-stroke may be the sweet sounds of Jason Weigandt and Daniel Blair on the race call.
The crowds will be flocking to the Huntington Beach State Park as the best of both worlds with action sports and motocross intersect. Tickets for the event are on sale now with early bird prices available until September 17. Each single-day ticket allows entry to Red Bull Straight Rhythm, Moto Beach Classic and the beach. OK, fine, beach access is free. 20,000 tickets with grandstands, concessions, vendors and more can be purchased at https://red-bull-straight-rhythm-tickets. Gates open at 10:00 a.m. PST for spectators to view the practice and qualifying rounds.
General Admission: $35
A general admission ticket allows entry to both events and full venue access with viewing from multiple points alongside the track. Price increases to $45 after Sept. 17.
Bleacher Seating: $50
A bleacher seating ticket allows entry to both events and full venue access with guaranteed seats in the trackside grandstands. Price increases to $65 after Sept. 17.
Red Bull Straight Rhythm debuted in 2014 at the Auto Club Raceway at Fairplex in Pomona, and saw James Stewart win in the Open Class, with Marvin Musquin taking home the top spot in the Lites Class. In 2015, James Stewart defended his title, once again landing on the top of the podium in the Open Class, with his brother Malcolm Stewart taking first place in the Lites Class. In 2016, Marvin Musquin returned to the event and dominated the Open Class, with Shane McElrath taking the win in the Lites Class. The 2017 event introduced the two-stroke class and saw Gared "Stank Dawg" Steinke win in the class, with Marvin Musquin winning the Open Class and Shane McElrath taking the win in the Lites Class. In 2018, the event went all two-stroke, and the classes changed to 250cc and 125cc, with Shane McElrath taking the 250cc class win and Carson Brown taking top honors in the 125cc class. In 2019, Ken Roczen was crowned the two-stroke king with Brandon Hartranft and Josh Hansen finishing second and third, respectively.
The inaugural Moto Beach Classic started out in 2017 as a wild idea from Roland Sands and crew and has developed into a Southern California motorcycle cultural explosion. Prepare to feel as close to racing as you can get without being part of the action yourself as Super Hooligan flat track racing hits the beach on a specialty-built dirt oval adjacent from the start of the Red Bull Straight Rhythm track. Moto vendors, art, custom motorcycles, and dirt track racing meets head-to-head racing in a family friendly day to remember. Go to motobeachclassic.com for racing and vendor information.
Since the last event in 2019, some riders have aged, some have retired, some have returned, and some new faces from overseas have emerged (hint, hint). Full rider roster and more event information will be released in the coming weeks. For those that can't make it to the event, catch all the action of Red Bull Straight Rhythm streaming live exclusively on ESPN+ on October 15, with coverage beginning at 2:30 p.m. PST.
Red Bull Straight Rhythm is supported by Honda, KMC, Oanda, Wolverine, Fasthouse and Amsoil.
Looking For Photos & Video?
Through the Red Bull network, hi-res video and still images are captured and made immediately available for editorial use for all media channels including television, film, print, mobile and digital. The content is centrally located in the Red Bull Content Pool for media partners. For photography and footage on Red Bull Imagination, visit www.redbullcontentpool.com.
About Moto Beach Classic
From massive concerts to racing on the sand in Huntington Beach, the Moto Beach Classic has always delivered the unexpected in the heart of Southern California surf culture. This year is no different. For the first time ever, Moto Beach Classic and Red Bull Straight Rhythm are joining forces for fans to experience both iconic events on LIVE and in-person on October 15, 2022, in Huntington Beach, California. Stay tuned for an insane amount of two wheeled action and good times for all!
About ESPN+
ESPN+ is the industry-leading sports streaming service that offers fans in the U.S. thousands of live sports events, original programming not available on ESPN's linear TV or digital networks and exclusive editorial content from dozens of ESPN writers and reporters. Launched in April 2018, ESPN+ has grown to more than 22.3 million subscribers.
Fans sign up to ESPN+ for $6.99 a month (or $69.99 per year) at ESPN.com, ESPNplus.com or on the ESPN App (mobile and connected devices). It is also available as part of The Disney Bundle that gives subscribers access to Disney+, ESPN+ and Hulu for $13.99/month (Hulu w/ads) or $19.99/month (Hulu w/o ads). Subscribers to Hulu + Live TV also receive ESPN+ at no additional cost.
---
Main image by Spencer Owens