Luke Clout and Wilson Todd Claim Overall Wins at Wonthaggi Opener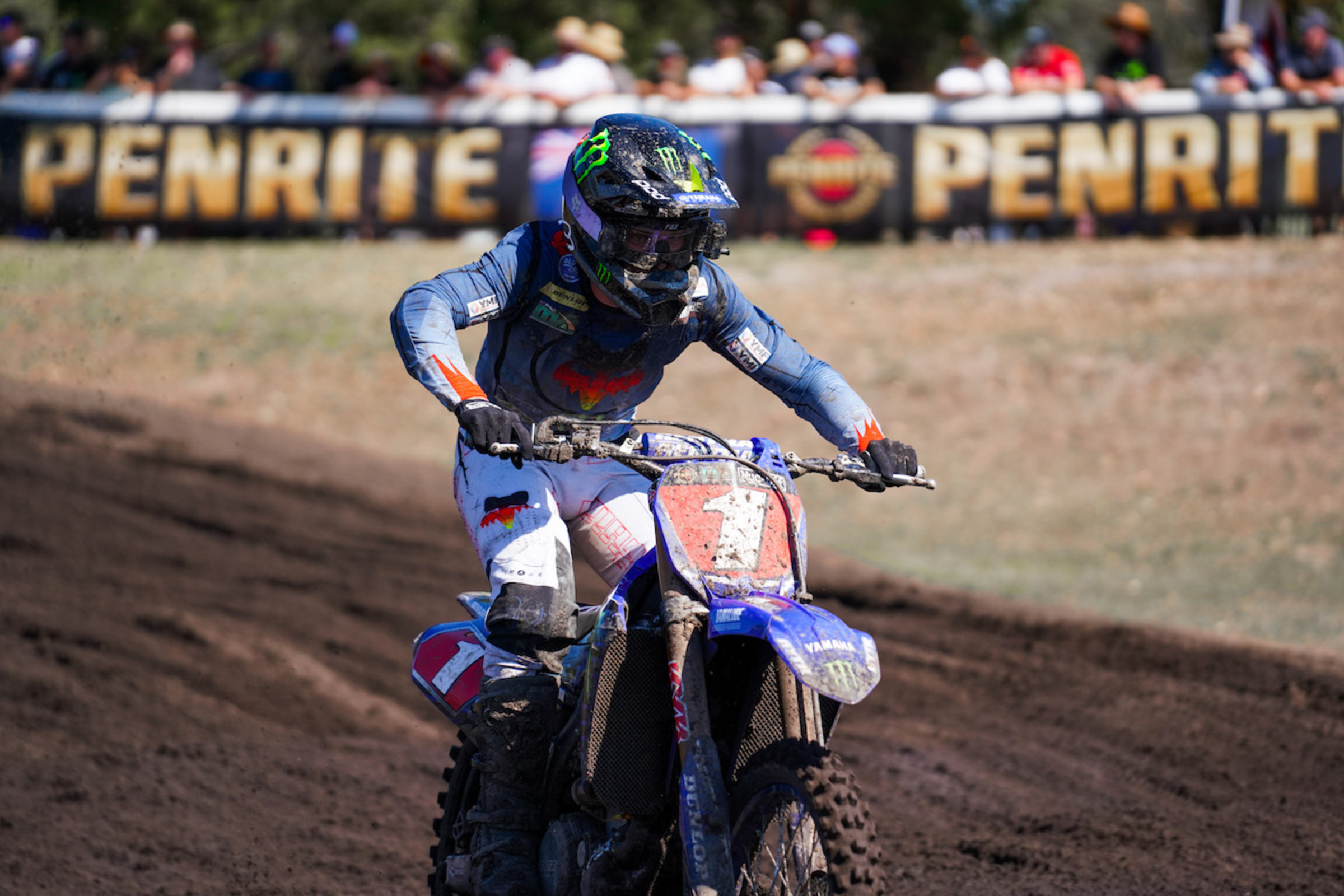 Wonthaggi, Australia
Wonthaggi
Australian Motocross Championship
The following press releases are from the Penrite ProMX Championship:
Luke Clout Victorious At Wonthaggi In THOR MX1 Season Opener
A huge crowd of 5000 spectators lined the fences to witness the incredible THOR MX1 class action at the sandy Wonthaggi track in Victoria, for the opening round of the Penrite ProMX Championship presented by AMX Superstores.
The highly anticipated debut of Team HRC Honda Racing's Kyle Webster did not disappoint, as Webster would set a blistering time in THOR MX1 qualifying, backing that up with setting the fastest time in the AMX Superstores Top 10 Pole Shootout.
With pole position, Webster would holeshot moto 1 and lead early, before going down and handing the lead to the defending champion, Luke Clout on his CDR Yamaha Monster Energy machine. CDR team mate Aaron Tanti would move to 2nd, with Todd Waters in 3rd aboard the Husqvarna Australia FC450.
Webster would mount an inedible charge through the field to close up to the rear of race leader Clout, but with two laps to go, Webster would push the front wheel in a turn leaving Luke Clout clear to take the moto win ahead of Kyle Webster in 2nd, Aaron Tanti in 3rd, Todd Waters 4th and Brett Metcalfe in 5th.
Moto 2 would again see blistering pace from Kyle Webster throughout the opening laps, as Aaron Tanti ran 2nd followed by a fierce battle of Metcalfe, Factory KTM's Kirk Gibbs and Todd Waters rounding out the top 5 spots.
As the race progressed, Clout would charge from outside the top 5 through to 2nd and take advantage of a late race crash by Kyle Webster to take maximum points from Round 1 with the second moto win. Tanti would finish 2nd, Waters 3rd, with Kirk Gibbs in 4th and Kyle Webster remounting to finish 5th.
THOR MX1 Overall Wonthaggi
Wilson Todd Takes 1-1 Moto Scores To Win ProMX Wonthaggi In Pirelli MX2
The Pirelli MX2 Class has seen much pre season hype and speculation over who would lead the charge in the 2022 Penrite ProMx Championship (ProMX) presented by AMX Superstores.The riders did not take long to show this was hype justified with incredible on track action in front of a sold out crowd and perfect racing conditions at the sandy Wonthaggi track.
In MX2 moto 1, it was Team HRC Honda Racing's Wilson Todd who would find his way to the lead after early race leader, Gas Gas mounted Noah Ferguson would crash out of proceedings early. Todd would extend a small lead early, only to be challenged for the entire moto by Yamalube Yamaha Racing's Alex Larwood. Larwood would match the pace of Todd but remain several bike lengths behind throughout the moto, as the pair would finish 1st and 2nd at the flag. Serco Yamaha's Jesse Dobson rode a constant moto to finish 3rd, with his team mate Bailey Malkiewicz in 4th and Haruki Yokohama rounding out the top 5 on his Empire Kawasaki.
Moto 2 was a familiar affair, with Wilson Todd leading from the early stages and Alex Larwood charging from a poor start to close in and match the lap times of the leader in second, trailing the previous MX2 champion for multiple laps around the sandy Wonthaggi track. Late in the moto, Todd was too strong and would take the chequered flag, ahead of Larwood in 2nd and Bailey Malkiewicz in 3rd, Jesse Dobson 4th and Ryder Kingsford 5th.
Pirelli MX2 Overall Wonthaggi
2022 Penrite ProMX Championship Schedule